AI-Powered A/B Tool
Use data science and powerful machine learning algorithms to make the right decisions every time
What works better - Variant A or Variant B? Using A/B testing, run a controlled experiment to validate your understanding of each customer and the efficacy of your efforts against key business metrics.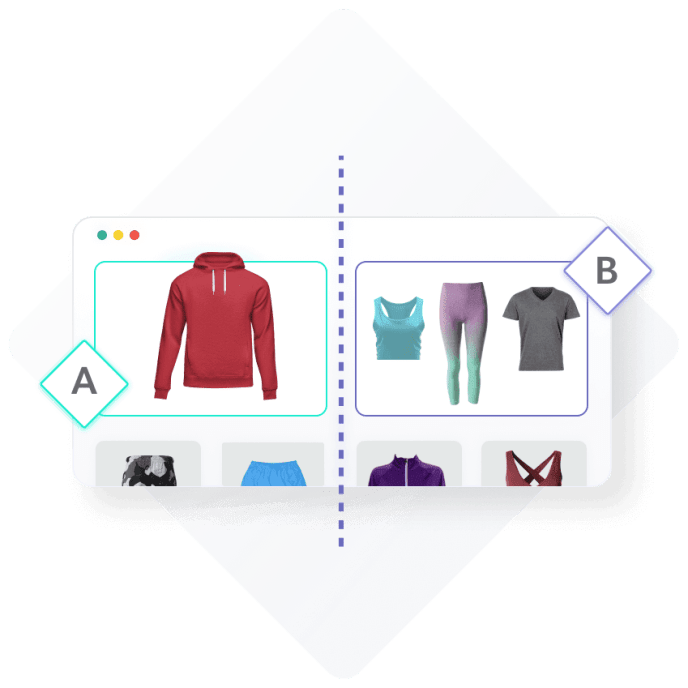 A/B testing tool essentials
A/B testing tool essentials
Control and Variation
Determine the impact of personalizing customer experience by randomly allocating visitors into a control and a variant. Or by allocating people into multiple variations of the experiment.
Test meaningful for statistical significance
Influence and change user behavior behaviors by using data and analytics to create impactful experiences.
Adopt industry-standard practices
Get the best test results in A/B testing by restricting the number of variations within an experience using adequate sample sizes and concentrating on smart traffic, observed trends, not day-to-day fluctuations.
Boost your conversion rates
Boost your conversion rates
Optimize key landing page performance
Use templates to quickly alter the key messages on select pages to improve performance, without requiring help from the IT team.
Make the user experience more compelling
Use personalized product recommendations , Search and Product Badging f so your customers can quickly find the relevant products they're likely to buy.
CRO (Conversion rate optimization), your developers will love


Optimize your revenue by boosting conversion rates and average order values by running multiple tests - easily.

Build compelling experiences using our command-line interface, native integration with the node package manager, and server-side capabilities for increased efficiency.
Prove the value of your efforts
Prove the value of your efforts
Validate visitor behavior
Draw on quantitative and qualitative insights to create experiences that influence visitors' journey across your entire digital presence.
Test targeted segments
Use multivariate testing to target underperforming customer groups or reach out to specific visitor segments to provide impactful relevance.
Understand customer behavior
Test experiences and use surveys to gather first-hand feedback from your visitors, gaining a deep understanding of their preferences and opinions.
Hey 👋! Any questions? I can have a teammate jump in on chat right now!
1