AI-Powered Zendesk Search
More knowledge, easily found
Find the content you need – from virtually any source – right within Zendesk Guide and Support. Start powering your search and recommendations with AI using Coveo's Zendesk integration.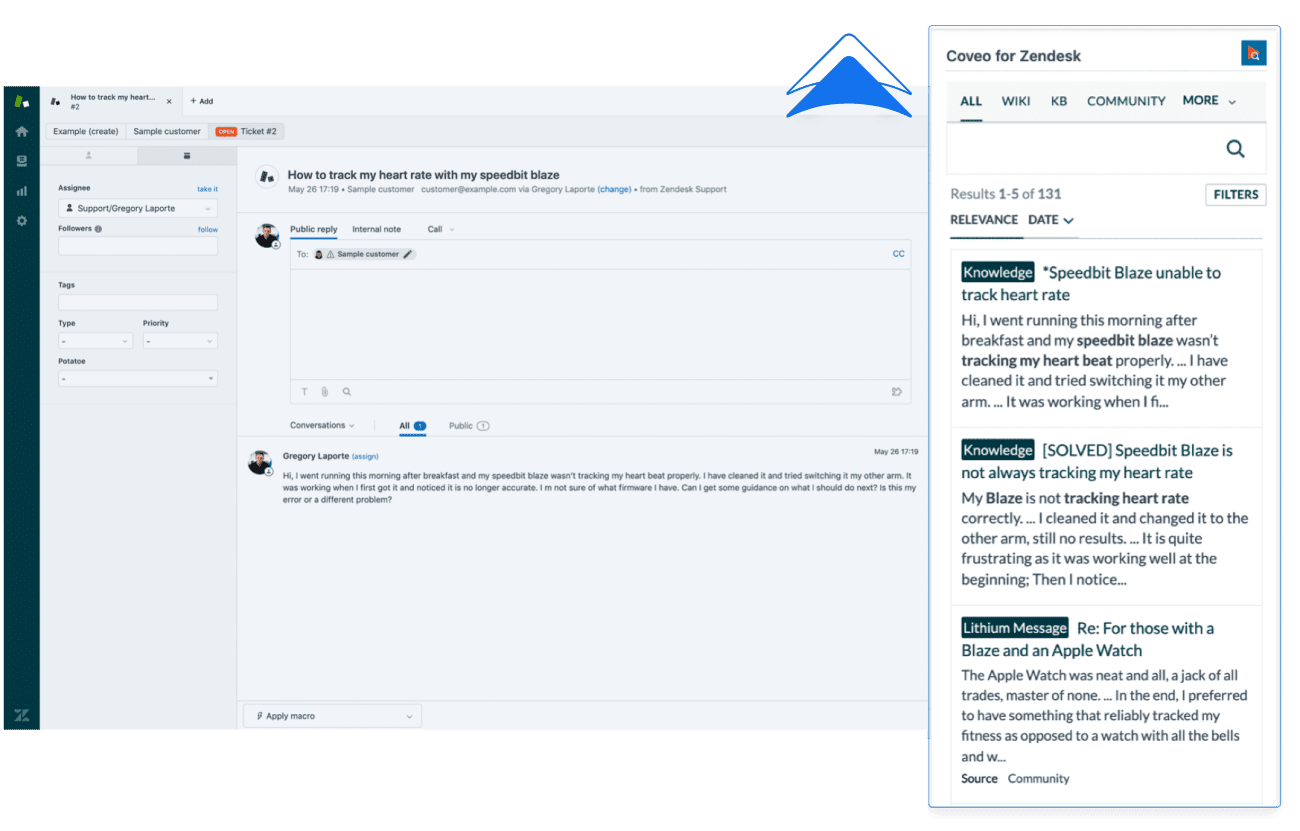 Overview
The smart way to find the knowledge you need
Sometimes the content you need lives outside Zendesk. With Coveo's AI, knowledge finds you no matter where it's from. Give your customers a truly effortless experience by indexing external content and knowledge without migrating or importing it, and surfacing it when they need it most.
Expand your self-service possibilities
From virtually any source to any channel
Whether questions come in from Zendesk support channels or others, always point customers to the best answer by unifying your knowledge, data, and journeys.
Personalization across platforms
Personalize content recommendations to each user – within Zendesk and outside. Detect intent, tailor content, and empower your customers with Coveo's Zendesk integration.
More knowledge, more resolutions
Use our Zendesk knowledge base API in combination with other source connectors to broaden access to service or product knowledge. Our built-in workflow enhances Zendesk's to recommend case-solving content and optimize for success.
Connect all your insider knowledge
No more swivel-chair
When case-solving content isn't in Zendesk, Coveo keeps it accessible regardless of format. That way agents don't have to leave their workspace or tap anyone's shoulder.
Intelligent agent assist
Display content specific to each case's context and give agents insight into a customer's recent clicks and pageviews, directly inside Zendesk. With an AI assistant, imagine how efficient your agents can be.
360° line of sight
Capture and unify signals across your digital channels – every click, swipe, and search. With rich insights, solve cases, measure success, and improve the experience.
Get the service analytics you need
Deeper customer insights
Measure and track customer self-service success in-product, on-site, and in chatbot conversations. With enhanced search analytics, understand what customers need and the actions they take to find it.
Knowledge optimized
Track your Zendesk (and other) knowledge base use and optimize content for a better support experience. Easily identify content gaps and areas for improvement. Plus, flag and boost content, so future users can find it faster.
Holistic customer support analytics
View and analyze data from Zendesk and other channels all in one place. Track case deflection and cost savings, or modify our easy-to-use dashboard templates to map out the KPIs that matter most to you.
See how intelligent Zendesk search can power great customer experiences
Hey 👋! Any questions? I can have a teammate jump in on chat right now!
1