Coveo for ServiceNow
Deliver more relevant employee, agent and self-service experiences with AI-powered search and recommendations directly inside ServiceNow.
Watch Video
Get Product Sheet
Deliver the Experience your Customers and Employees Have
Come to Expect
Every exceptional digital experience sets a new level of expectation in the minds of your customers and employees. How can you meet these rising expectations? Coveo can help you by harnessing the power of Machine Learning to deliver more relevant content directly within your ServiceNow workflows.
Unify Content Across Multiple Sources
Relevant content resides everywhere. And not always inside ServiceNow. Coveo securely indexes and applies machine learning to more than 50 cloud and on-premise content sources so customers, employees, and agents can easily access the most relevant knowledge without leaving their ServiceNow workflow.
See full list of connectors
Increase Agent Proficiency
Agents are more proficient at solving customer issues when they are equipped with the most relevant content. Coveo AI-powered search and recommendations eliminates agent 'swivel chair' by bringing case-solving content directly within your agents' ServiceNow CSM workflow – no matter where that content resides in your organization. Coveo enables you to tap into the knowledge of your crowd by providing every agent with proactive recommendations driven by Machine Learning and the context of the case-at-hand.
Drive Employee Engagement
Your employees bring their consumer expectations to work with them, so to drive engagement, you need to offer simple and intuitive employee experiences. Coveo AI-powered search and recommendations can provide that consumer-like experience they have come to expect and help them get the answers they need within their ServiceNow HR Workflow. Coveo Machine Learning analyzes past usage behavior and proactively optimizes the search experience by recommending content that others have found helpful – whether that be finding the right tuition reimbursement policy or the latest expense claim template.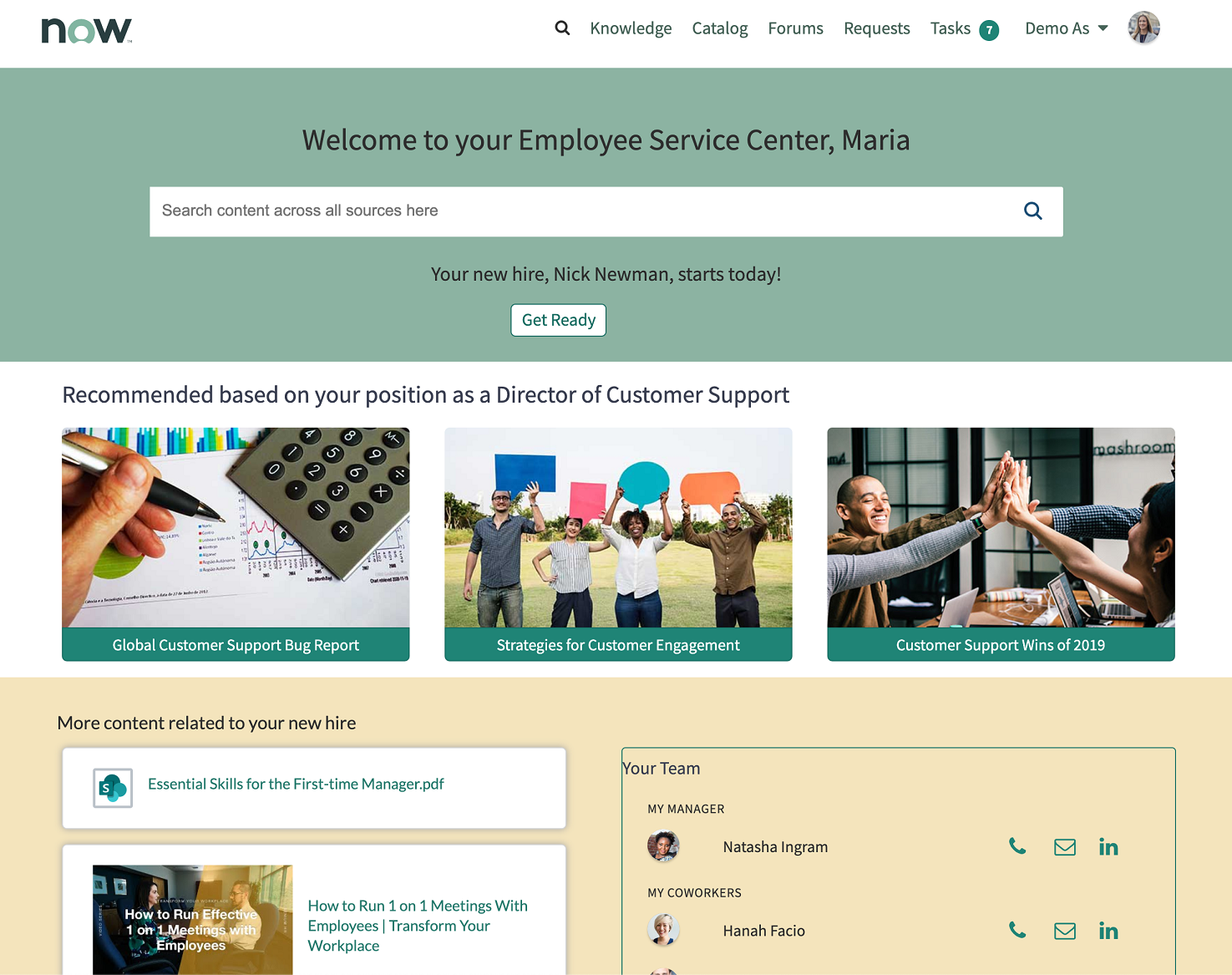 Improve IT Agent Productivity
Your IT service desk needs to respond fast and effectively to deliver on service expectations. Coveo AI-powered search and recommendations delivers the answers your fulfillers need right in their ServiceNow IT Workflow – whether that content resides in ServiceNow Knowledge, Sharepoint, Wiki sites or other sources across your organization. Coveo Machine Learning analyzes what knowledge performs best then automatically optimizes the search experience based on past successful outcomes, this reduces incident time to resolve and frees up your team to perform more value-added activities.
Increase Case Deflection and Self-Service Success
Whether your focus is on improving the self-service experience for your employees or your customers, Coveo AI-powered search and recommendations can help you create a more relevant experience by delivering the right content, in the right context, according to each person's intent. If a customer or employee starts the case creation process, then Coveo's built-in deflection workflow helps recommend the appropriate case solving content for potential deflection. This translates to lower support costs and higher employee and customer satisfaction.
Make Informed Service Decisions Based on Data - Not Guesswork
Data from your employee and customer interactions can provide powerful insight to drive better service decisions. Coveo captures and unifies signals across all your digital channels – every click, every swipe, every search – so that you can have complete line-of-sight into how your employees and customers search for and use content. This empowers your team with the data they need to identify content gaps, understand knowledge use, and measure case deflection and self-service success.
Continuously Improve your Customer & Employee Experiences
Your journey to providing relevant experiences is a continuous one that requires the proper people, processes and technology in place. Beyond our relevance platform, the Coveo customer success program gives you access to a team of search & analytics experts to coach and guide you in your journey to predictive recommendations, so that you can maximize the value of your investment and are best leveraging the extensive analytics and insight provided by the platform.