Coveo for SAP Commerce
Optimize ecommerce search for conversions
Infuse AI-powered search, recommendations, and personalization into your SAP commerce storefront. Because when customers find what they need easily, your conversion rates and cart values can grow.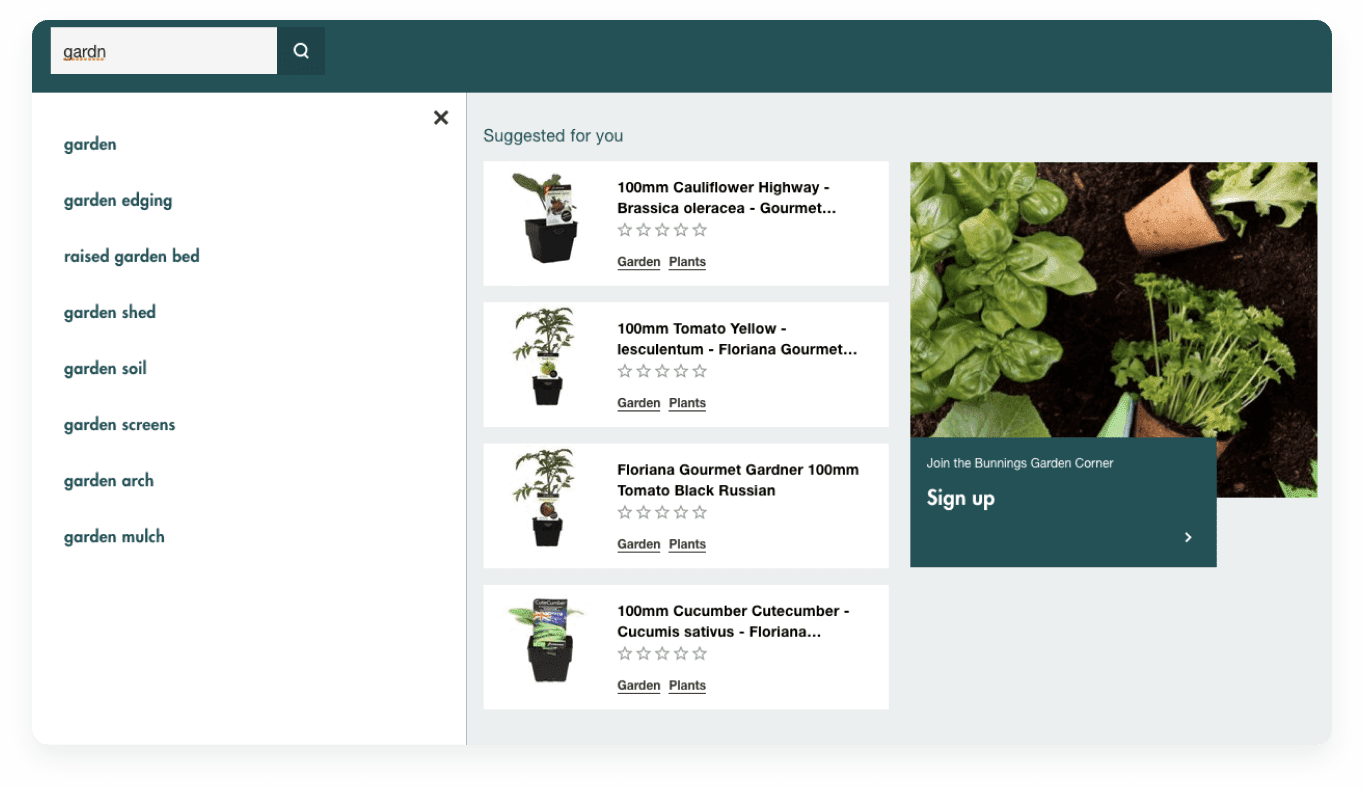 Overview
From site search to relevant shopping experiences
Extend the capabilities of your SAP Commerce store to deliver the kind of buying experience we believe today's shoppers expect: with fast, effective search, and on-point recommendations.
Coveo's enterprise-class AI complements SAP Customer Experience and helps you get the most out of your SAP Commerce Cloud or SAP Hybris solution.
Extend your capabilities
Powerful, insightful search
Help buyers find what they're looking for, with predictive and reliable search, AI-powered listing pages, and dynamic navigation that deploy seamlessly into the look and feel of your SAP Commerce storefront – with minimal manual tuning.
Richer results & relevant recommendations
Help shoppers discover more of your product catalog with intent-driven product and content recommendations.
Personalized & integrated experiences
Help each person engage more with personalized experiences that evolve in real time based on in-session behavior.
Unify the buyer experience
From virtually any source to your SAP store
With Coveo, you can securely index product content through our PUSH API from a wide range of systems, sites, and stores, including SAP itself.
Better information, more conversions
Help buyers add to cart with combined product information and rich content. Through search and recommendations, make content such as expert blogs, videos, or articles discoverable, so shoppers can learn more and convert more.
Full customer journey insights
Understand the entire buyer journey across channels with advanced analytics dashboards to optimize for business outcomes. Get insight on zero result searches, revenue attribution, and conversion from search. Plus, see the impact of recommendation strategies on average order value.
Scale with enterprise AI
Complexity simplified
Coveo is enterprise-ready with a single AI layer and a unified index to support millions of SKUs, complex catalogs, demand peaks, and multiple brands and sites.
Seamless integration
Leverage Coveo enterprise connectors as well as dedicated API endpoints, UI components, and headless controllers for a fast and simplified deployment approach.
Automation and acceleration
Let AI and machine learning do the work, instead of thousands of rules. Coveo search comes with predictive auto-complete query suggestions, as well as NLP and self-learning capabilities that you can use from Day 1 and scale up rapidly.
Be reliable and compliant
Enterprise-class search
Harness Coveo's 15 years of experience with enterprise security, data governance, and access control compliance.
Designed for customer trust
Deliver the right pricing, product, and availability information for each customer with consistency across the buying experience, to ensure your customers can rely on you, your store, and your reputation.
Trust matters
Ensure only enterprise-grade SAP app partners are integrating with your SAP Customer Experience. You can rely on Coveo to adhere to the strictest standards and protocols.
Resources
Upgrade your ecommerce search & discovery
10 Reasons to Rethink Solr for Ecommerce
Worried about keeping up with tech giants? As ecommerce grows exponentially so do customer expectations. You may need to rethink your search investment strategy in Solr to compete and win.
Your Guide to Delivering Intelligent Shopping Experiences
Buyers Want B2C Experiences
Coveo for eCommerce Pricing Overview