How would you rate your current customer self service?
Humans are incredibly adaptable. As each new generation grows up in their tech landscape, we have seen changes in how they use that technology. Millennials and Zoomers have been particularly adept at getting the information they want from digital means. Going so far as to dismiss IRL teachers and mentors in favor of YouTube influencers!
How does this translate into ecommerce and service? While younger consumers can access unprecedented amounts of information, their desire to figure things out on their own has limits. What are the right questions that will get them the answers they seek? What do they do with all that data after they ask?
This dilemma is at the heart and soul of why intelligent customer self support matters more than ever. We know that today's young consumer considers themselves quite the researcher. Businesses that empower them to find their own solutions to their problems will get the keys to brand loyalty.
What Is Customer Self Service?
Customer self service is the proactive resolution of issues and education of customers on the product or service they've chosen. Customers can independently troubleshoot and find answers or remedies, with minimal live assistance from the retailer's customer agent team. Today's customer self-service software is increasingly responsive, personalized, and digital. It focuses on and emphasizes customer success and satisfaction.
When executed well, it does play a role in case deflection, but the two shouldn't be confused. Self service and case deflection have two very different aims.
You've seen the memes about how younger generations hate phone calls. But when choosing between AI-powered chat or waiting on hold for a human, most would choose the former. DIY digital customer service benefits all customers and shouldn't be limited to brands geared toward younger demographics.
Benefits of Customer Self Service
Setting up your site to truly foster self service is a commitment. So, how can you justify making the move?
It's What Customers Want
For one, offering self service meets customer expectations. An incredible 73% of shoppers look upon self service favorably. They expect to use digital tools to do everything from resolving shipping issues to finding the right product. For them, limited human interaction is a good thing. They may gravitate to experiences that let them go from research to returns with fewer live customer service team touchpoints.
It Improves Internal Processes
It's also good for your contact center agents. They likely have enough going on. Help them out by delegating repetitive requests to self service tools like a customer self service portal. Agents can work focus on core competencies and move from menial automated tasks to more meaningful processes. As companies struggle to find the right talent for customer service representative positions, this will only become more impactful.
Breaking down this concept further, we see self-service supporting teams in key areas:
1. Quicker customer resolutions.
How long will your customer wait for a solution? Better yet, how long should they wait? When self-service is implemented correctly, solutions can be found in minutes. Sometimes even without a customer having to leave the product! Customers today want near-instant answers, and they will abandon purchases that seem too difficult or uncomfortable.
2. More efficient and informed agents.
When they aren't being pulled in too many directions, your customer teams can focus on resolving more complicated customer cases. They also experience less frustration, which keeps them at their best.
3. Increased sales.
How can a better customer experience lead to higher sales? It's not just about keeping the customer. Many self-service technologies actually upsell in very personalized ways. This creates additional revenue with every interaction and improves the end-to-end customer journey. 
You might think, a customer solving a problem isn't in a state of mind to buy additional products or services. But this is exactly what's possible when self service is handled appropriately. Often, a customer searching on a brand's website finds that it can easily be solved with a new-to-them product.
4. Lower overall operating costs.
The cost of everything is going up, but what if you could reduce just one area of your operating budget? 
As companies deal with supply chain woes and increase in raw materials pricing, self service could be the way forward during difficult times. It costs less than having 24/7 live operators on hand, while telling your customers that they aren't alone.
Does this seems like the natural way forward for your business? The next step is understanding how to successfully implement the tech. Here are the foundational stages to consider.
Successful Self Service Starts With Strong Knowledge Management
What is knowledge management (KM)? We define it as "the processes, people, and technology that allow organizations to record and set forth their knowledge assets."
Knowledge assets are the fuel that makes everything go and can be broken down into three categories:
Explicit, or tangible knowledge that is shared openly, such as in a book or social media post.
Implicit, or that which is gained by putting explicit knowledge to use
Tacit, also known as "expert" knowledge, or that which can't be easily passed on through tangible methods. Such as that which is gained over years of lived experiences in an industry
Your knowledge strategy should acknowledge the four phases of knowledge management maturity, including:
Phase 1: Recognition, which lacks systems and leans on subject matter experts to do the leading
Phase 2: Instantiation, which starts building out processes for capturing, using, and sharing tacit knowledge through collaboration
Phase 3: Value realization, which harnesses robust tools and creates automation in the processes. It's also scalable and measurable over time
Phase 4: Strategic, where your program touches every corner of your business. It provides input to make your knowledge bases even better
These are general phases. They'll look different for each aspect of your company, from culture to the technology you buy. You should also consider if certain KM processes are right for you, such as Knowledge Centered Service (KCS)*. 
While they offer huge opportunities for your business to offer new levels of self service, they require commitment and agility. You must know your company's strengths, weaknesses, and goals before deciding.
Not sure how to tell? Check out our guide
Make Self-Service Intelligent With AI-Powered Search
With knowledge captured, deployed, and measured, you'll have quite a bit of useful data at your fingertips. But that also means you know what to do with it. That's where the beauty of artificial intelligence (AI) comes in. And AI in customer service may be one of the more incredible tech leaps of the recent ecommerce timeline.
Customer service empowered with AI works best when open-ended and doesn't limit customers to clicking through support articles. Relevant search gives customers new ways to look for answers without forcing them to make specific requests either. 
AI expects what customers might be looking for, anticipates their needs, and directs them to the most likely resource for other users in a similar journey. All of this can be done without sending customers to another site or making them open a support ticket through a generic support center.
And AI continually evolves, getting better over time. It uses search queries and behavioral data to predict trends. Your teams can look at data trends to create additional educational content, change the design of your site, or even use the search requests as research and development activities. 
This is all data handed to you by your customers, those most likely to buy from you in the future.
Are you ready for the cookie-ocalypse?
Self Service Channel Examples
We've discussed some of the broad concepts behind customer self service and the goals that it can achieve. So, what exactly does it look like from the customer and agent perspective? These are the most commonly accepted uses for digital self service, with each option somewhat open-ended to meet your brand aesthetic, preferred marketing channels, and communication mission.
Help Center Content
Most customers are familiar with the help pages that appear when you click the support button on most brand websites. The format is somewhat standard across the board, with articles to click on listed by most popular or by category.
Where digital self service can really shine, however, is through relevant search that matches up to the data in your knowledge base. Customers may not know what articles will meet their needs and tire of clicking from page to page. 
To ensure self service truly works here, you'll need to make sure your knowledge base is up-to-date, spans all relevant information libraries, and responds to each of the unique search queries your customer may use.
This help center technology should make the customer feel like they are interacting with the brand and not a standalone site just for support issues. One way to accomplish this is through integrations like the one Coveo offers for Zendesk.
FAQ Page
Most customers may not know the difference between a help center and an FAQ page, but the FAQ page is typically a true "best of" collection of help resources that can be easily viewed from any device and that closely matches the aesthetic of the brand's other digital assets.
Brands can group the most popular questions together for easy access, but they can go further for even better accessibility. Top self-service features include predictive search suggestions, rich thumbnail photos, and quick views of the answers for each question so that the customer doesn't have to click away to a new page to see if the suggested answer is the right one. 
Clicking through pages and pages of "top" articles (and wasting customer time) should quickly become a thing of the past. 
Product Training and In-App Support
Customers often dive headfirst into buying something they feel passionate about, without completely understanding the best methods for using a product. They may also be compelled to use a product or service, such as when it's required by their employer or school. Two ways that self-service really shines is in product training and in-app support, which can look quite similar to the customer using them.
How do they work? In the case of Xero which used intelligent self-service capabilities from within their app environment to answer questions and provide guidance. The customer didn't have to leave the app, and Xero was able to control the customer experience so that it met its highest quality standards.
By reaching customers right where they are at, during their exact moment of need, you can educate them on how to use and enjoy the products and services they love and provide support services at the same time. Whether you choose to educate with pre-recorded instructional videos or offer a robust, interactive tutorial, there's no reason to send customers offsite.
Community Forum
Are forums still a thing? If the popularity of Reddit and Facebook groups is any indication, they most certainly are. While the exact platform technology will differ from brand to brand, the way these platforms are used for customer support and service have some common themes.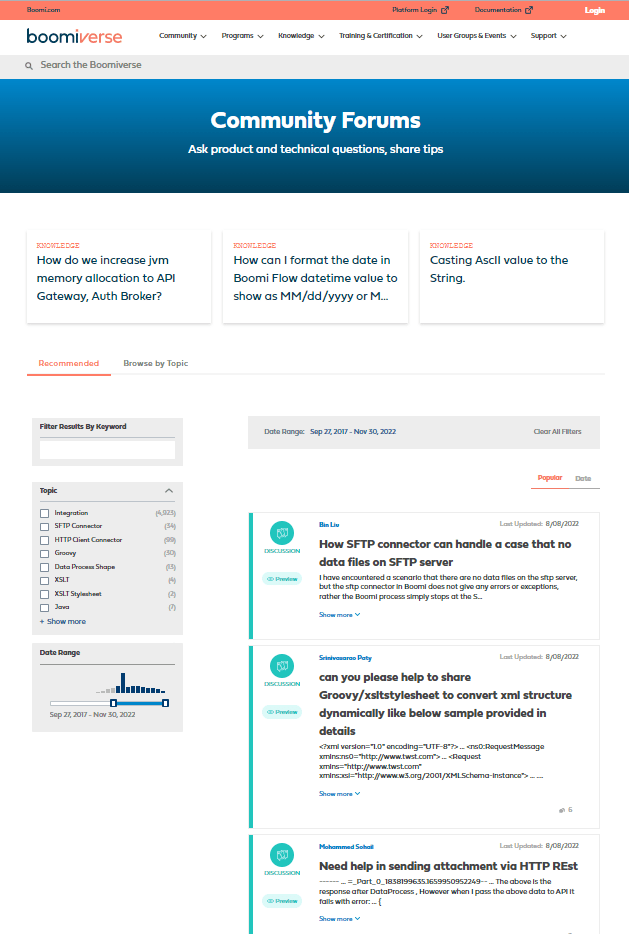 Consider how tech company Boomi connected all 12,000 customers into one cloud community platform, giving them a single point of search and resolution that pulled from all their knowledge bases. By moving their community to Salesforce's Experience Cloud and then harnessing the power of Coveo's integrations, they kept their community educated and engaged.
AI-powered Automation
Let's admit that automation done wrong can hurt your brand. People know that they need people, but they are also incredibly independent. How can companies bridge the gap between empowerment and abandonment?
AI-powered automation is one way to give customers the space they need to self-serve on their own time while also ensuring that service is warm, personalized, and delights at every interaction. Some of the ways AI is doing that today include:
Chatbots
Chat tech combines AI-powered search and knowledge bases to respond to customers 24/7, then directs them to the resource that best fits their needs. Whether chatbots send them to a tutorial, FAQ article, or the next live available rep, customers are getting responsive service any time of day or night.
Chatbot technology with embedded conversational AI can also be tweaked based on data trends and times of year. For example, knowing that a customer may be inquiring about how to purchase a Christmas display versus how to return a swimsuit based on previous customer data.
Content Recommendations
These require just a few information inputs from the customer to direct them to more relevant data or the support team best equipped to help them. 
Coveo's Case Assist is one example of this technology making it easier for both customers and support agents, since it narrows solutions to those most relevant and only passes along cases that haven't been resolved by self service.
Natural Language Search
A great search engine acknowledges how people really talk. Instead of only recognizing a customer query written out in complete sentences or proper terms, it recognizes the most likely way a person will search, including incorrect terminology, slang, and local phrases. 
When combined with browsing history and context, such as in Tableau's customer tools, fewer customers will be denied the correct resolution based on how they talk. Natural language search is increasingly inclusive over time. 
Mobile App
More people are using mobile apps to shop, such as the millennial and Gen Z customers referenced above. They are used to typing on small screens, but small screens aren't always equipped to handle complex search requests.
Smart Snippets thoughtfully brings relevant answers to the top, creating a filtering benefit that doesn't overwhelm users on small devices. Answers are previewed right within the page without a need to navigate away or open another cumbersome app.
Escalation Options
For all this talk of AI and automation, it's still necessary to offer a human touch when necessary. The timing can depend on the customer or the situation, and your plan for escalation can be embedded in the chatbot. Is a customer using the same phrase over and over? Do they refuse to share details of their situation? Are there words or phrases used that indicate frustration or an overall negative sentiment?
Figuring out a plan of action and programming it into your automation can ensure no customer gets lost in the shuffle and that — when they do demand to speak to a real person — they are met with a team that's trained to handle these more important matters. All of this can live in the customer's current shopping or service environment for a seamless handoff to live help.
5 Best Practices for a Better Customer Self-Service Strategy
Now that you know what's possible and how the industry has grown to offer so many innovative tools, what can you do to make it work for you? Threading the above features through your digital channels is one tactic, but make sure you think through what you want your digital customer service experience to be like.
Almost as important as the tools is the strategy, so here are the things you should focus on to get the best results from your self-service efforts.
1. Discoverability
Customers can't find what's not accessible to them. This starts by connecting content repositories into a unified index, so that content is not just available but also ranked according to that specific visitor's need. 
This same principle should apply to internal teams, as well. Your reps should know that there is guidance to be had if they seek it.
2. Accessibility
Of course, you can't connect to information that's locked away inside someone's head (at least, not yet anyway). Tacit knowledge, as we discussed above, is only as good as it is made available to those who need it. 
To ensure that accessibility requires active knowledge management, so that new knowledge is captured even as it's created, indexed, and made available to the appropriate audiences. 
3. Proactivity
Speaking of that "need help" link, is there a place on every page where customers can reach out for help? Is it prominently displayed and obvious? 
Better yet, AI-powered search can see the beginnings of a customer self-service opportunity almost anywhere on the page, from a product search bar to a lingering moment on the shipping and returns page. 
Rather than making the visitor go to where the content is, bring it to them.
4. Clarity
How well do you really know your customers? Do you know the language they use when looking for help? How about when they get upset? Do you still know that language? 
By writing clearly and writing for humans, you can reduce frustration from misunderstandings – an issue that can erode customer loyalty and lose you sales over time.  
5. Adjustment
The most exciting and sometimes discouraging thing about AI-based customer self-service is that it gets better over time. That means that your current attempts at helping may be no good after you really have a chance to understand your customer. 
Don't just guess what customers want. Take a scientific approach by using data and metrics to measure, adjust, and measure again.
If done with persistence and intentionality, you can even see your customer service KPIs soar.
Dig Deeper
Want more examples around delivering intelligent self service? Our Guide to Delivering Intelligent Self-Service offers best practices, industry examples, and more. 
Ready to simplify your self-service strategy?
Ebook: Guide to Delivering Intelligent Self-Service
*KCS® is a service marks of the Consortium for Service Innovation™
---