Improving customer service and experience has been a key driver for Coveo customers as they look to provide better self-service to reduce call volumes. But in today's tight labor markets, with call center agent burnout and churn at alarming rates, many customer service managers are turning to Coveo to enhance the employee experience and improve overall productivity.
Even medical professionals, who are employing "virtual healthcare on-demand" models, are demanding AI-driven relevance platforms to speed up diagnoses while providing the personalized care patients require.
In a recent Coveo Relevance 360 event, Coveo Founder, President, and CTO Laurent Simoneau, shared an insider's look into the latest innovations for the AI-powered Coveo Relevance Cloud™ for commerce and service.   
Contrary to traditional search engines, Coveo's Relevance Cloud adds layers of sophisticated indexing, called vectors, to match user behavioral data, user profiles, and all related product information, documents, knowledge bases, etc. together to deliver highly relevant customer and user experiences that go beyond "simple" query results—and generate true business outcomes.
Let's look at the advantages of using the platform's newest features in more detail.
AI-Powered Personalization to Increase Conversions 
Several new enhancements to the platform for both B2C and B2B companies. On the B2C side, Coveo's relevance platform has elevated the game in terms of merchandising.
In late 2021 Coveo acquired Qubit, a UK-based leader in AI-powered personalization technology for merchandising teams. The combined technologies provide robust and innovative solutions for retailers to accelerate—at scale—their digital transformations and address new customer expectations around relevance and personalization made possible through AI.
During a quick demo, Laurent explained how Bass Pro Shops, one of North America's premier outdoor and conservation companies founded in 1972, leverages Coveo's integration with Qubit to boost conversions and revenues per visit.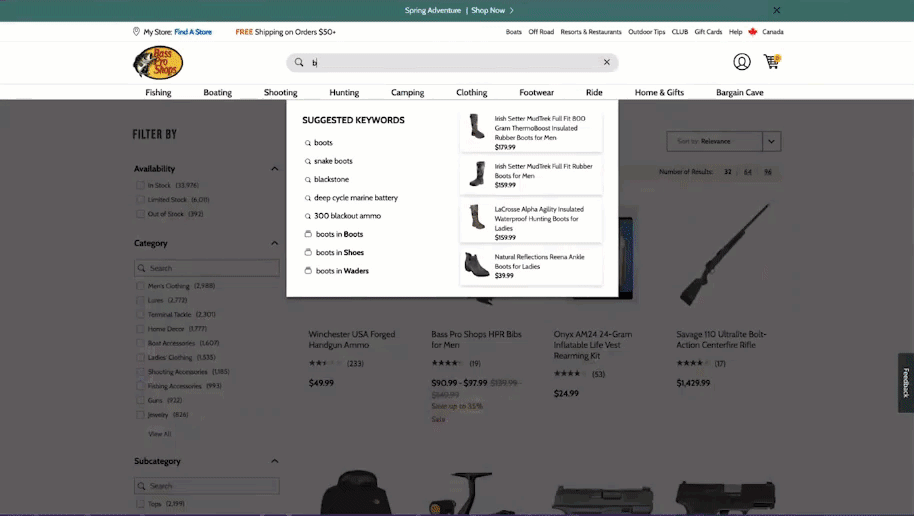 With 177 brick-and-mortar stores across the US alone, Bass Pro Shops has a solid online following with digital-first natives. The company configures its Coveo relevance platform to customize what information is presented based on user behavior and search journeys. For example, potential customers interested in fishing will not be served up the same experiences as hunters. Everything displayed during a visit is tailored toward user intent and interests.
In addition, Coveo's relevance platform is connected to Bass Pro Shops' ERP, which enables customers to get real-time visibility into store availability, product variants (colors, styles, sizes, etc.), and more. This personalization at scale, even with anonymous sessions, has directly impacted conversion rates, average order sizes, revenues per visit, and total revenues.
In the backend, Coveo's Product Insights guides merchandisers as to the performance levels of product placements and campaigns, highlighting what products and promotions are resonating with customers. Merchandisers can also carry out A/B testing to identify which storefront initiatives — such as calls to action, product recommendations, and upselling tactics — drive results.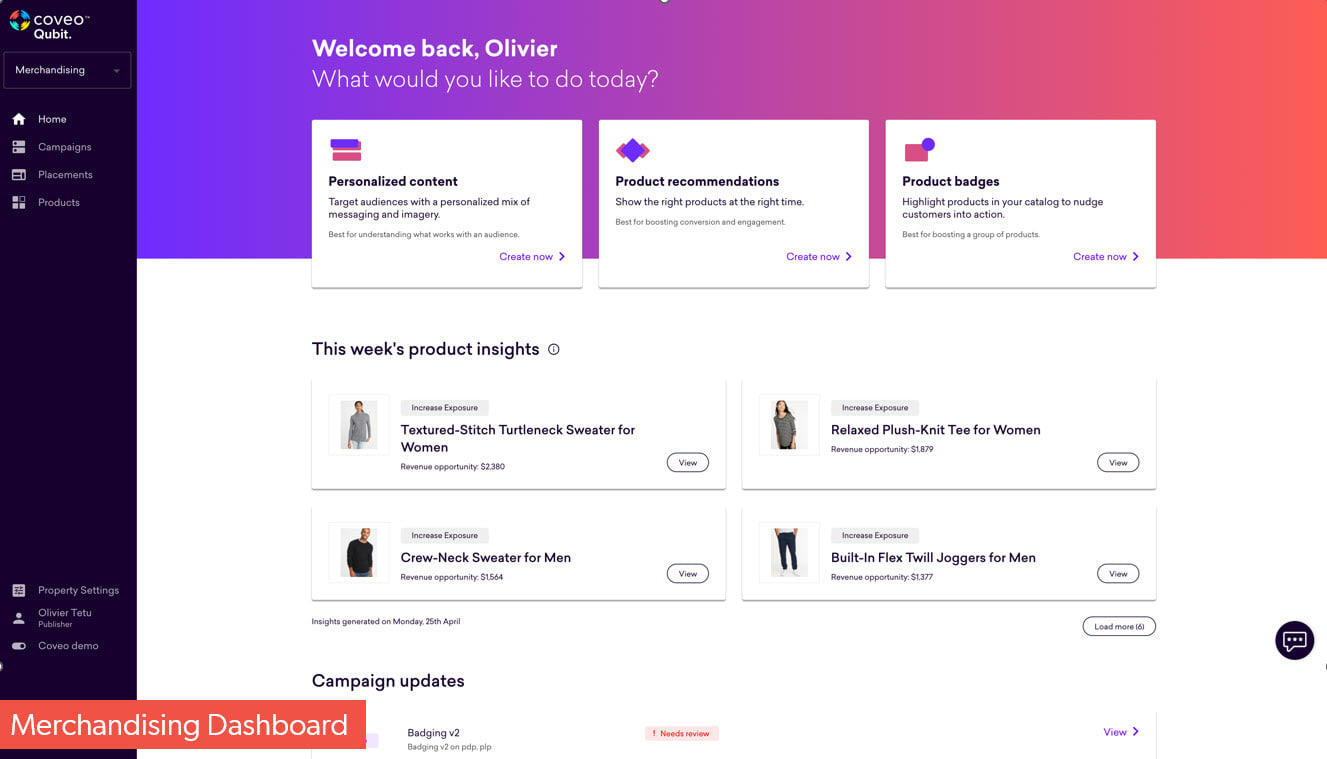 Coveo also integrates with SAP's Spartacus, an angular JavaScript-based storefront designed for SAP Commerce Cloud. Major SAP customers will soon be able to benefit from the SAP commerce catalog and entire commerce ecosystem and Coveo's robust AI-enabled relevance platform.
Losing at CX with Solr for SAP Commerce?
Ebook: 10 Reasons to Rethink Solr for SAP CX
Integrated Search for Salesforce and Slack
Based on discussions and projects with call centers and healthcare organizations, Coveo developed a seamless integration with Slack and its sister Salesforce products. Whether with private or group channels, Coveo can tap into Slack messages and conversations to glean important information based on various applications. 
Three outstanding applications that should help ease employee pain include Intelligent Swarming, using Slack as an intranet, and creating insight panels for service agents.  
The Intelligent Swarming℠ methodology* has been a hot topic in the industry. And now, Coveo has made it simple. A customer service agent struggling with a problem can now launch an internal "query" to incite other agents to "swarm" a case.
A Slack channel is instantly created so that, as a team, they can collectively resolve the issue before it becomes a bona fide case.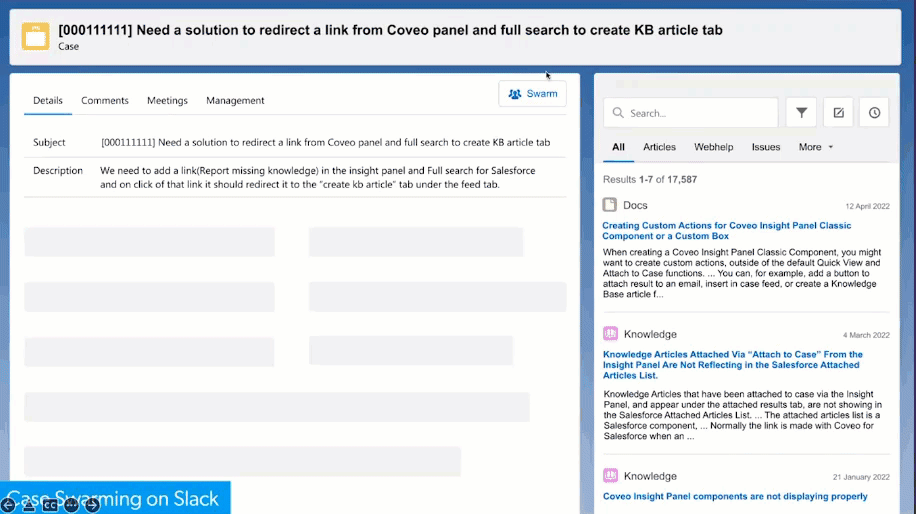 For Slack as an intranet, it's just what it sounds. Since all of us spend our days tethered to Slack and conditioned to its Pavlovian chime, it makes sense to just turn Slack into an intranet. With a single click or slash command, you can have it bring up any and all applicable assets from your Google Drive, Salesforce Community, internal knowledge base — wherever. 
Coveo has also released a new version of its Insight Panel Lightning Component, a search interface included in the sidebar of the Salesforce Lightning console. When a customer logs a case, agents can access extensive behavior data, including user activity timelines, recent queries, etc. Thanks to a simplified user interface, agents can easily view the customer's path to resolution and provide the right information to avoid an escalated case.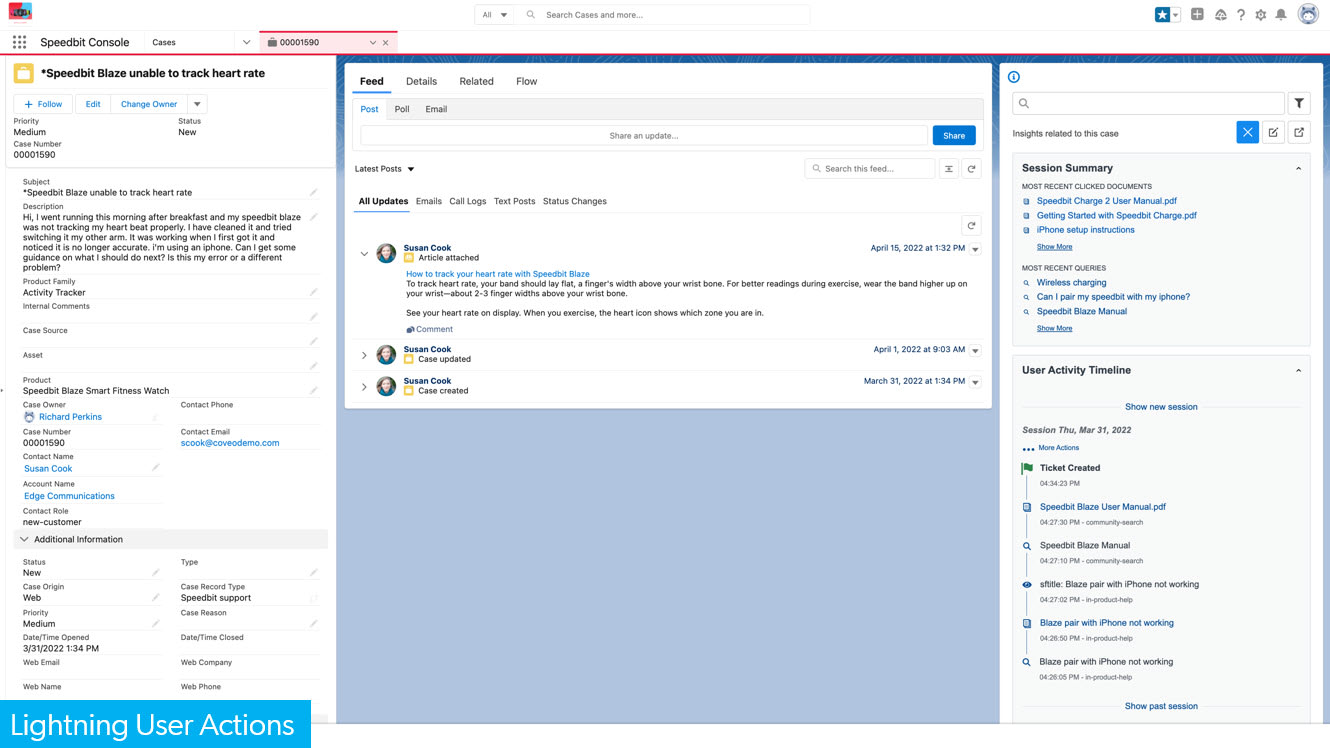 In a similar capacity, medical patients can be prompted to search for or describe specific symptoms of what ails them. Healthcare professionals can quickly access vetted content-based, again, on the patients' journey throughout the facility's website, FAQ section, and more.
Integrated Search for Adobe Experience Manager
Coveo's relevance platform also connects to Adobe Experience Manager, a comprehensive content management solution for websites and mobile forms. In just a few clicks, developers and even other less code-inclined users can configure Adobe Experience Manager.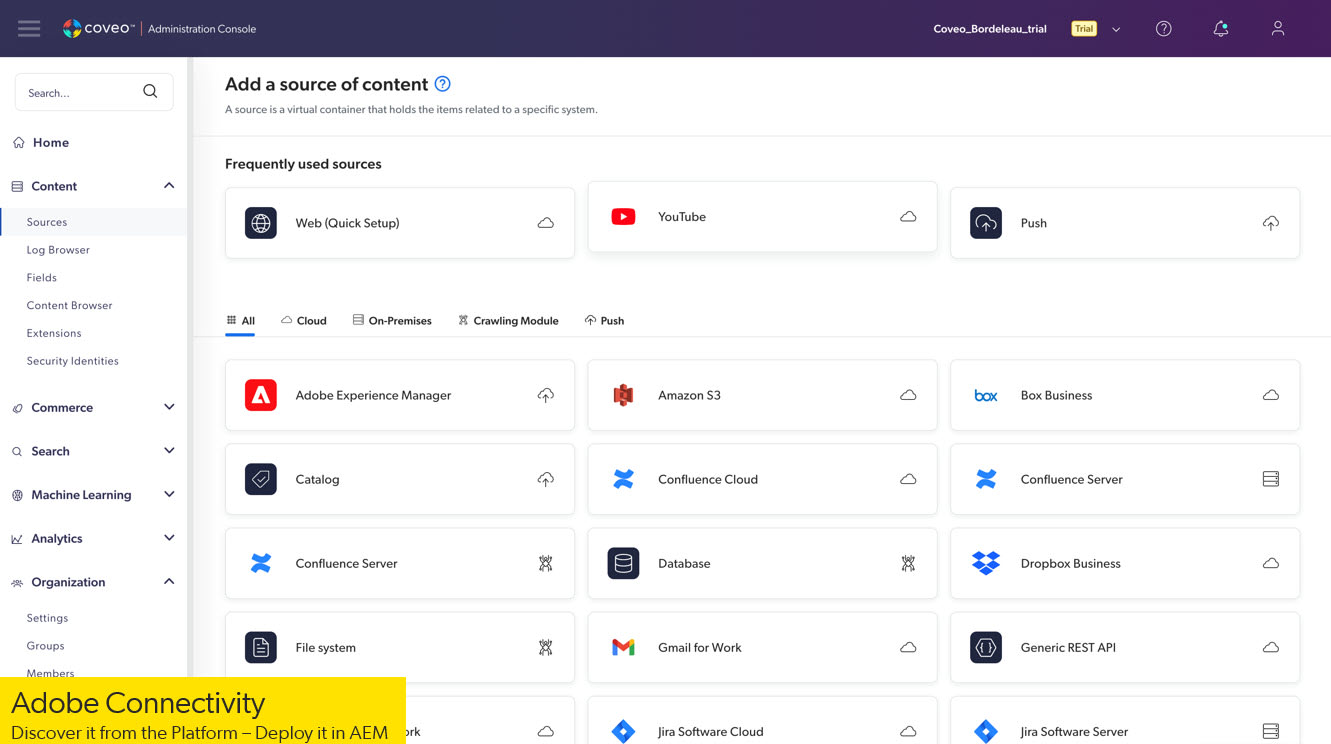 Coveo enables Adobe websites to feature the high-performance AI-driven search and relevance capabilities formerly accessible only to ecommerce juggernauts.
Interested in watching the complete webinar? Access it anytime for free on our website.
Listen to the full presentation
Coveo Relevance Cloud: The Road We've Traveled and The Way Ahead
* Intelligent Swarming℠ is a service mark of the Consortium for Service Innovation™.