As covered by the must-read article How to Choose the Best Enterprise Search Solution, it's getting harder and harder for employees to search within the piles of various systems to find the information they need to complete their work.
Coveo's 2022 Workplace Relevance Report revealed that 60% of employees have to search within four or more sources every day, and almost 20% bounce between seven or more.
To help employee engagement, and protect them from burnout, we now have no choice but to centralize knowledge within our existing platforms.
But that requires your employees to acknowledge one central knowledge platform, and adopt it as such. And adding yet another employee app, intranet software, or knowledge base into their daily routine is the last thing they need. So, to avoid friction, what if you could bring important information via unified search into your most highly trafficked productivity tool? Say, a messaging app like Slack.
And, what if you could do it in less time than it takes to boil pasta?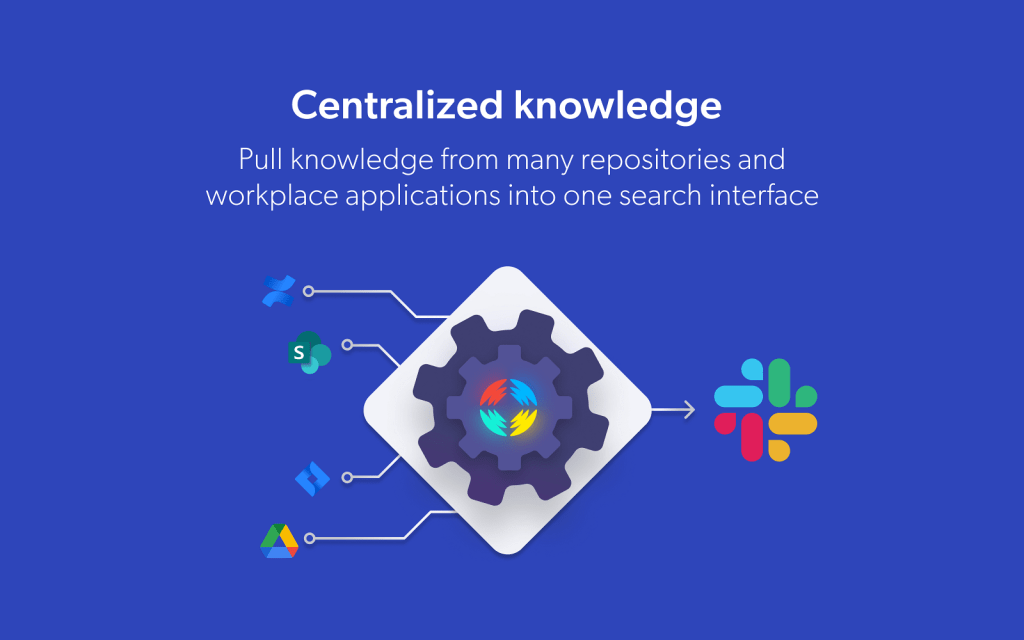 Centralize Knowledge in Slack, the Modern Intranet
Turns out, users spend more than 9 hours per working day connected to Slack. So, what if you could surface all the content in your Google Drive, your SharePoint, and your Confluence in the place where your employees spend the most time connected?
That's right, turn Slack into your intranet platform with the Coveo AI Search and Recommendations.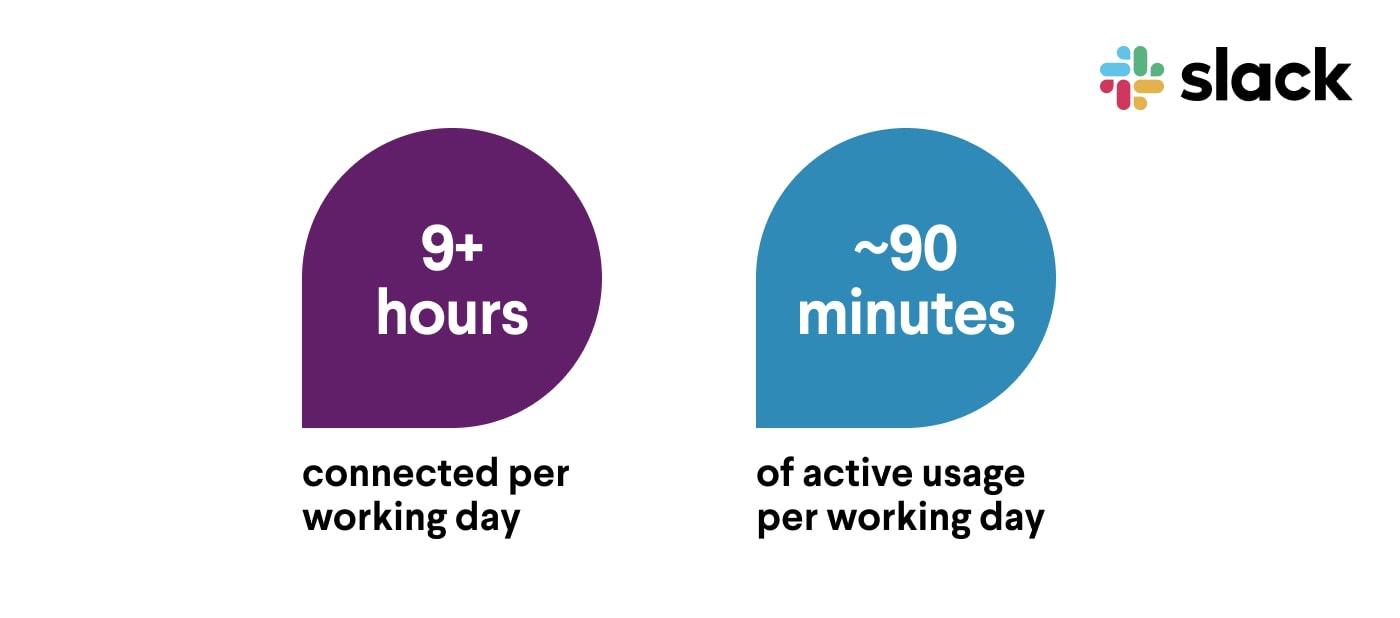 Why Slack as a Collaboration Tool Matters More Than Ever
The power and potential of Slack was already clear when Salesforce spent $27bn to acquire the company in 2021. Co-CEO Marc Benioff said Slack had become essential for enterprises to accommodate new modes of remote and hybrid working.
"We believe so strongly that the world has changed, that the past is gone, and that we are in a new world," Benioff said.
Of course, this "new world" hasn't arrived without challenges. The disconnected user experience across a proliferation of digital platforms in today's workplace has become exhausting and overwhelming for many. But Slack offers a method of asynchronous communication that encourages team collaboration at distance without spending entire days trapped in video conferencing calls.
And ahead of Salesforce's 2022 TrailblazerDX conference, CTO Parker Harris confirmed the company had been running "async weeks" to encourage this way of working.
"Now we're thinking about each individual video call and reconsidering if it needs to be on live video," said Harris in an interview for Salesforce.com. "Maybe, instead, it could be a chat, or a shared document, or even a video clip in Slack."
Searching the Digital HQ
Salesforce clearly sees Slack as the future centerpiece of the digital workplace – hence why they've labeled it the "Digital HQ."
And the only thing Slack needs to rightfully claim this title from your traditional intranet is the ability to serve up enterprise-wide information. That's where Coveo comes in.
Seamless Integration – No Code Required
If you are already using Coveo's Relevance Cloud™, and have administrative privileges in your Slack organization, moving search into Slack is easy. Set the timer for your boiling water, add your noodles, and let's dive into the step-by-step setup.
Navigate to the slack app directory and search for Coveo AI Search and Recommendations. Then click on Add to Slack (make sure you are logged in if you don't see the button) and allow the permissions required.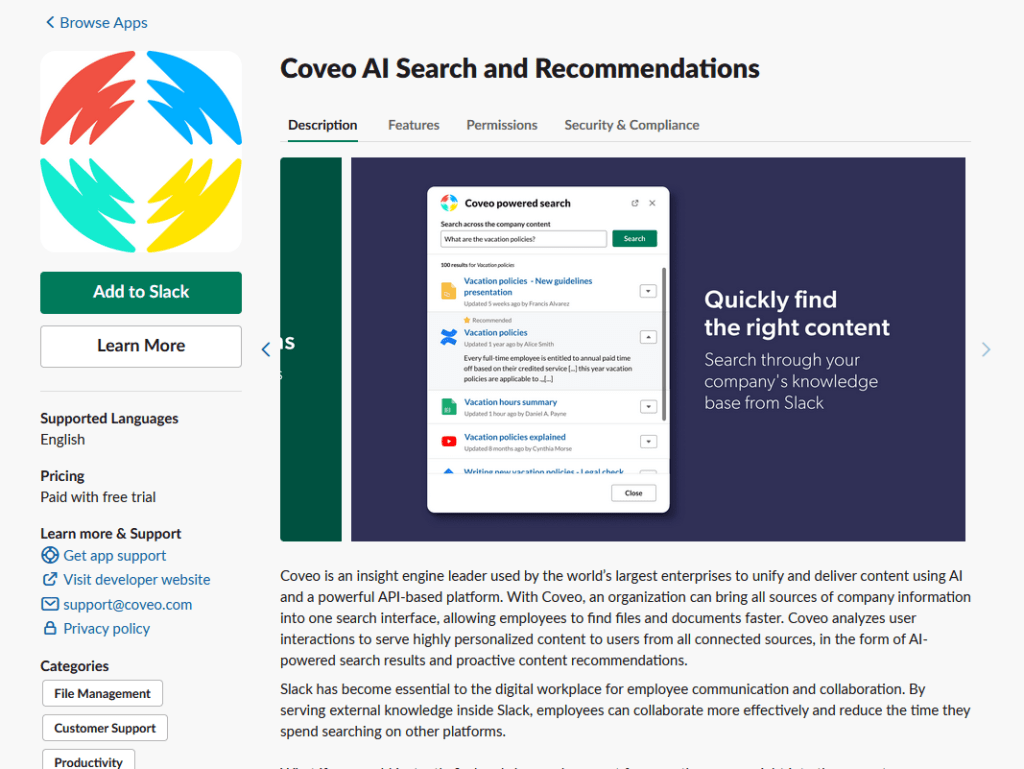 To use your new app, you will need to connect your Slack app to your Coveo organization via the app homepage or using the slash command /connect-coveo.
Once selected and confirmed, you're ready to roll! The '/search-coveo' command is now your access to all your company indexed content, all within Slack!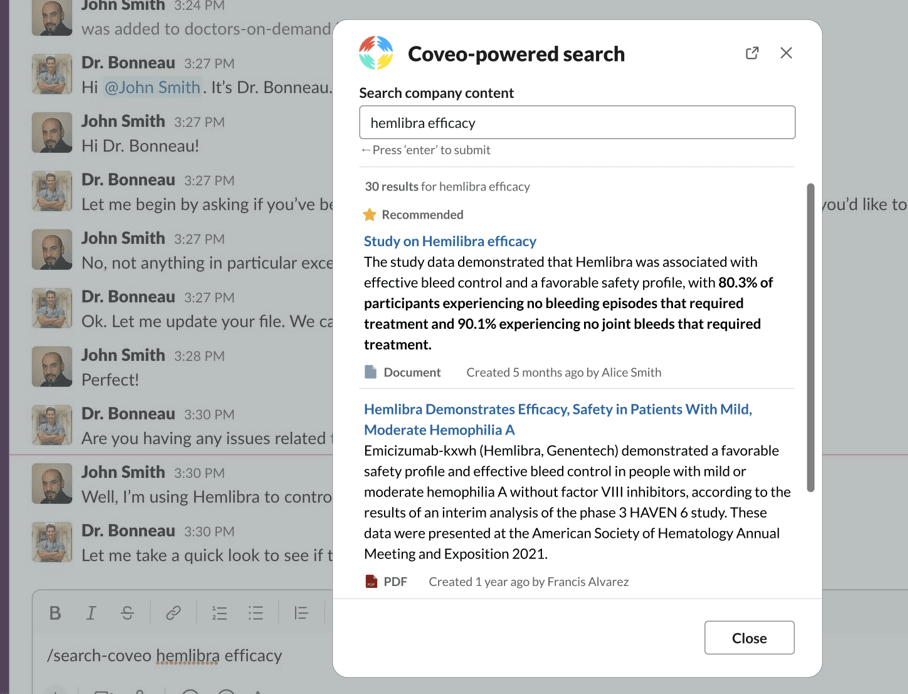 At this point, your users will be able to either:
Use the app homepage
Or use the slash command (/) to summon the Coveo result model
And that's it! Permissions will be dealt with and users will have access to the files they need within their new Slack intranet. Get going on providing company news, internal communication, and more within the instant messaging platform they're used to. In one fell swoop, their employee experience is upgraded.
Oh, and then go enjoy the pasta you made. Enjoy your dinner while reading more details on bringing AI-powered search into Slack via our ebook:
Ebook
AI-Powered Search for Slack
Dig Deeper
It's one thing to bring content into your Slack. It's another to bring Slack chats and channels into other search hubs. Wondering how to do it, or if you should? Our UX team walks you through what to consider when asking these questions.
Looking for other ways to enhance your digital workplace? Check out our ebook on building an AI-powered employee experience.
Ebook
Guide to Delivering AI-Powered Employee Experiences