The customer service agent's job is getting more difficult.
By the time customers contact an agent, they've probably been routed through several other self-service alternatives that didn't work. As a result, they are likely to be frustrated—if not a little cranky. Not the best scenario if you're trying to improve customer retention, and decrease agent turnover. In this piece, we'll show the cost of agent attrition – and what you can do to ease their burden – and temper the churn.
High Cost of Agent Attrition
Retention of agents, especially in call centers, has always been a problem. And it's only getting worse after COVID-19. Sources for attrition estimates vary widely, ranging from 15 to 45%. Turns out, regardless of percentage, attrition of any size is costly.
The Quality Training and Assurance Connection reports the following:
According to the Human Resource Institute, turnover costs about $10k-$15k to replace a frontline employee
A Deloitte survey showed that it takes about $12k to replace a frontline employee, and that cost is tripled for a manager
Turnover costs were in the 25 to 30% range of a full salary and benefits package
Agent turnover can also have a detrimental effect on how long customers wait in the queue – which can lead to missed sales opportunities and a tarnished reputation.
Agents Get the Crankiest of Customers
Companies have been investing heavily in a variety of customer self-service tools over the last 20 years. These range from IVR to chatbots and a variety of technology-driven solutions. Indeed, many customers would rather find the answer themselves through the company's website or chat rather than speak with an agent.
These two factors mean that agents tend to get the hardest questions. And that translates into increasingly difficult issues agents need to solve.
In addition, consider the customer's journey. They've been through a series of gates and hurdles, trying solutions that didn't work. They weren't happy spending their time on fruitless avenues to resolve their problem and are frustrated by now.
If you've ever called tech support, nothing is more frustrating than having them regurgitate all the steps you've already taken. (And that you know didn't work!)
Wouldn't it be ideal if the agent had a roadmap of the customer's journey to avoid frustrating the customer even more?
Strong Relationship Between Employee and Customer Satisfaction
Aside from the fatigue of dealing with irritable customers, another reason agents give when leaving is lack of training. According to Middlesex University, 74% of workers cited this as being a major hurdle. In fact, according to LinkedIn, 94% said they would stick out a job if they only had better training.
Turns out, feeling proficient at work is a thing. This means support agents need the right tools on hand to help customers solve problems. And in turn, there's plenty of empirical data that shows employee satisfaction correlates to overall customer satisfaction.
An obvious remedy is to create an environment that allows the agent to be more proficient, knowledgeable, and more effective.
The question is, how?
An 'Insight Panel' Designed for Support Agents
This was the issue ConnectWise, a market-leading technology service provider providing application software and services, grappled with. With a massive support team, support agents were looking for information across a mass of content sources. This included their knowledge base, technical documentation, and the ConnectWise University.
"[Agents had] two or three screens open at once while they're trying to work a ticket," said Matt Breejen, director of education. Agents were searching through the weeds.
Breejan and his team had a mandate to unify all this information. Traditional federated search didn't work, as it just lumped various links under topics organized by source. What they needed was one unified search that ranked the most relevant answers first.
When they retooled to unify their systems, the Connectwise team made sure to offer an "insight panel" that was embedded directly in the agent portal, and was accessible for all their employees. Fed by a unified index, they now had a window into what content customers found most popular and valuable.
Using all fields of an open case, an insight panel provides contextually driven AI-powered recommendations to your agents from any relevant application or knowledge source right within their flow of work.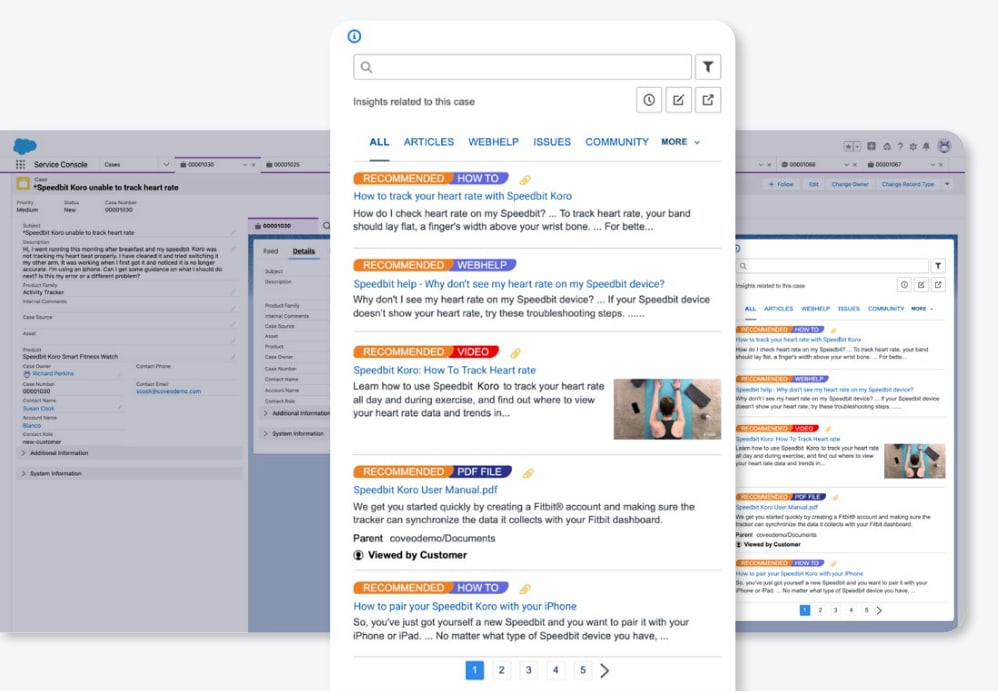 This integration brings a "User Actions panel" into the new agent workspace UI. The User Actions functionality provides support or service agents with insight into actions performed by both customers and employees on your website or portal – viewed searches, clicks and more – and brings together the browsing journey from beginning to end.
Pulling those pieces together allows agents to avoid replying with documentation that their customer, or an employee, has already seen. Chances are, if an individual has already looked at a specific piece of content and is still opening a support case, then they need something else to help solve their problem. So giving agents easy access to User Actions directly within their workspace means less frustration for customers and employees as well as less time to solve for agents.
It turned out that the insight panel was also a form of continuous training. Each support agent learned from those who had solved answers before them. Insight panels were used to empower every decision, fortifying it with the deepest amount of knowledge.
Keeping Up With Changing Knowledge Landscape
One and done training is meaningless. ConnectWise knew that all agent jobs aren't the same; one size does not fit all. Tools need to fit the situation. They also need to adapt to the dynamics of the information environment.
In areas where product offerings change rapidly, the knowledge landscape constantly fluctuates. Insight panels can automate the recognition and retrieval of information on new products, saving time and increasing the relevance of the information presented.
Product information from logged-in customers' profiles or previous support tickets can boost search relevance. By incorporating this knowledge into an agent's search query, agents have relevant details when they answer a customer's call. Seeding search queries with relevant information can retrieve the most up-to-date content, including known bugs and workarounds.
In health insurance, where government, medicare policy, and managed care guidelines play a role, understanding new developments and incorporating them into the results increases relevance. For insurance agents, a similar situation might involve highlighting newly introduced coverages relevant to the client.
Capture and Surface Tribal Knowledge
A different example is the customer service agents in the call center of a major helicopter manufacturer. They need to provide answers to questions requiring knowledge of all helicopters that their company produces that are still in service. Since helicopters have a service life of up to 50 years, this requires a wide span of knowledge.
This span is widened by the fact that solutions vary by region and configuration. In this case, the agents have an engineering background, making them an expensive resource. Giving them a way to pick out the relevant snowflakes in the information blizzard is key to performing their jobs efficiently.
This can involve furnishing agents with information that previously resolved a similar customer issue. Imagine the power of leveraging what your colleagues and their customers have done to solve earlier problems!
Since the onset of the pandemic, more agents have been working remotely. This means agents are isolated from each other, limiting the problem-solving ideas exchanged in informal settings like breakroom chats or over lunch. This situation has an especially severe impact on the performance of inexperienced agents.
While there isn't an out-of-the-box solution that suits every agent, insight panels are a great starting place. They offer information that agents' need to understand a customer's problem, what solutions have been attempted, and reveal other avenues to reaching a resolution. Coveo offers a variety of ways to configure insight panels to make the agent more effective.
Ways to Increase Insight Panel Relevance
We've already mentioned increasing a search's relevance by including already reviewed content, which can be achieved with machine learning.
Machine learning also can adjust search results based on information gained from the universe of customer and agent interactions. For example, if the agent sent an article to the customer, this information is used to adjust the model to retrieve additional relevant results.
Significant power is added to insight panels when we incorporate machine learning and analytics based on the large numbers of customer/agent interactions.
Using the cases of more experienced agents can also compensate for agent isolation. It may not entirely replace an informal watercooler chat, but it's a huge step up from leaving them to find the information on their own.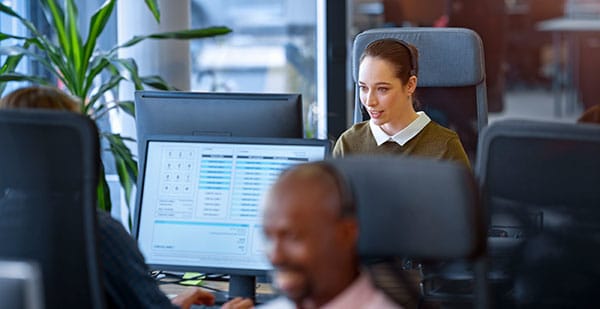 Make Manageable Mole Hills Out Of (Information) Mountains
Support agents have mountains of information. Insight panels are key to providing agents with just what they need to help their current customer. All other information is a distraction.
With this in mind, best practices for winnowing down customer support information include:
Relevance to the current customer's issue.
Leverage experiences with other customers (i.e., the community at large).
Easily navigated and consumed by the agent.
Provide guided knowledge (e.g., if this worked before, try this).
Collect, analyze, and distribute information from the case to inform stakeholders.
Support agents are overwhelmed by cranky customers and irrelevant information. An insight panel can help agents support customers more efficiently. Which in turn, can significantly impact customer retention – and agent turnover.
And that directly impacts the bottom line.
Dig Deeper
Insight panels are just the beginning of how Coveo can help improve your agents' work experience. Grab a free copy of our ebook, Creating a Better Agent Experience Inside Salesforce, for all the details.
Free Report
6 Strategies for Building Better Agent Experiences in Salesforce