You can now make changes to search results templates, filtering, and other Insight Panel settings directly in Coveo Admin Console. That's because the Insight Panel has a new option: the Hosted Insight Panel, a low-code/no-code iteration that hosts your changes and their deployment within Coveo.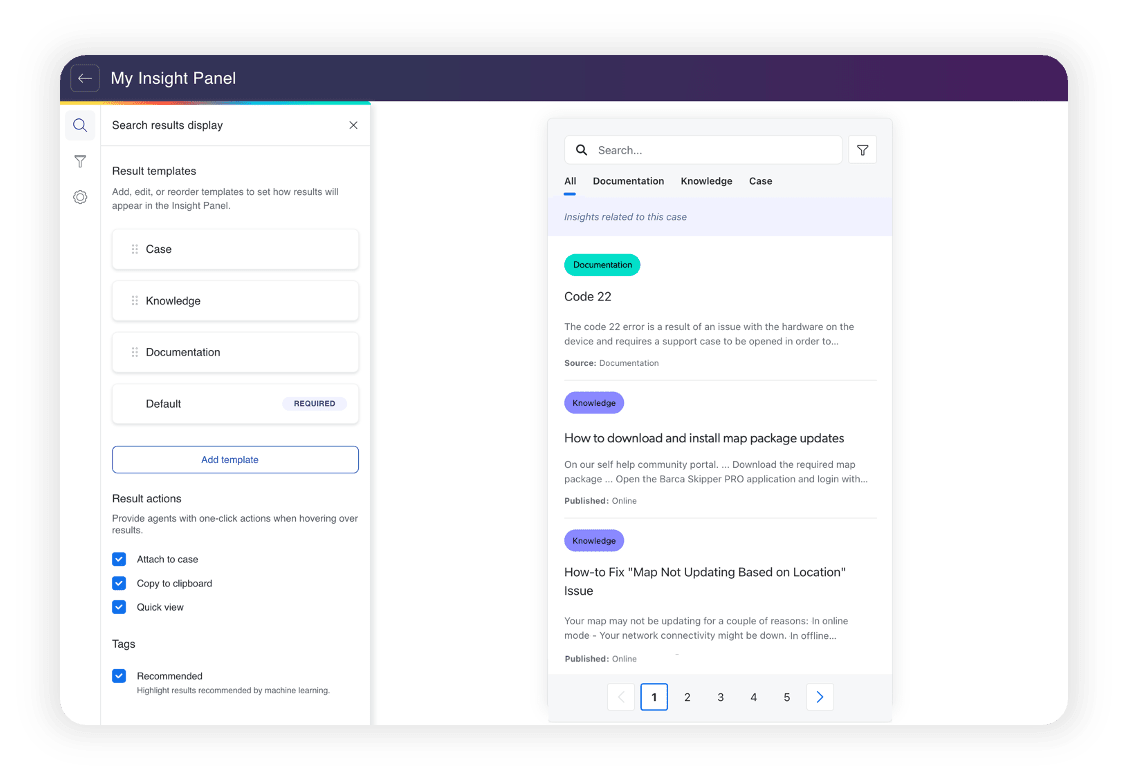 The Hosted Insight Panel's release is the result of a long hard look at customer feedback, countless support requests, and as much customer journey data as possible. This rigorous process revealed the plain truth: as good as the original Insight Panel is, many Coveo Admins end up going through IT or the Coveo support team to make even minor updates.
Not anymore. For the Coveo Admins that use Hosted Insight Panel, expect the following benefits:
Improved time to value for new updates
Easier implementation, configuration, and support
Faster resolution for upgrades and permissions
Effective self-service without intervention from IT
Quick adaptation to new business requirements
Best of all, there's no need to write code for any of the scenarios mentioned above. But even though the Hosted Insight Panel simplifies much of the process, there's a lot to unpack with this new feature. So let's look a bit closer at how Coveo Admins can realize these benefits in their day-to-day work.
"It's Hosted" and What That Means For Coveo Admins
If you're a Coveo Admin (or happen to work with one), you're likely familiar with the first iteration of Coveo's Insight Panel. Even with the new option, the heart and soul remain the same: to give customer service agents access to contextually relevant content, recommendations, and user rights without having to leave the case record in Salesforce.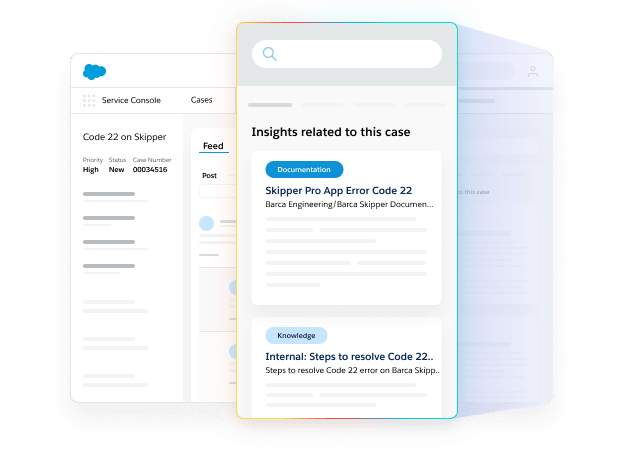 Of course, customer service is a bit different from enterprise to enterprise. Customer behavior changes. Service channels evolve and expand. All of this means customer service teams must constantly adapt their agent experience to better support customers. In the past, however, Coveo Admins had to contact IT to make their desired changes in Salesforce, often waiting weeks to see those changes rolled out in production.
Examples of the now-codeless UI configuration and design
Result templates
Result actions
Tabs, filters, and buttons
Moving forward, this process will be hosted thanks to a completely out-of-the-box solution that brings configuration into the Coveo platform itself. Using the Insight Panel Builder powered by Coveo Headless and Coveo Quantic technology, Coveo Admins can now customize their own responsive search interfaces, Insight Panels, and more, without having to wait.
What the Hosted Insight Panel Looks Like in Practice
Because there are countless use cases for the Hosted Insight Panel, let's walk through a typical example. Let's say you want to add the case number to the search result template. In the past, you might have waited one, two, or even three months to realize this change, which would require the following steps:
Open a request: define requirements and then submit the request to the IT team
Acceptance: the IT team evaluates, analyzes, and accepts the request
Development: the request goes through the full development cycle, which includes requests from other teams
UAT/QA: the request goes through the full UAT/QA cycle, along with all other requests from other teams
Release: the enhancement is released into production for your users
With the Hosted Insight Panel, that same process happens in three steps over three days, at most. The hosted process goes like this: 
Access the Coveo Builder and make your desired change; 
Review the impact of the change in the Builder preview; 
And then save changes and see those changes reflected in Salesforce.
That's it.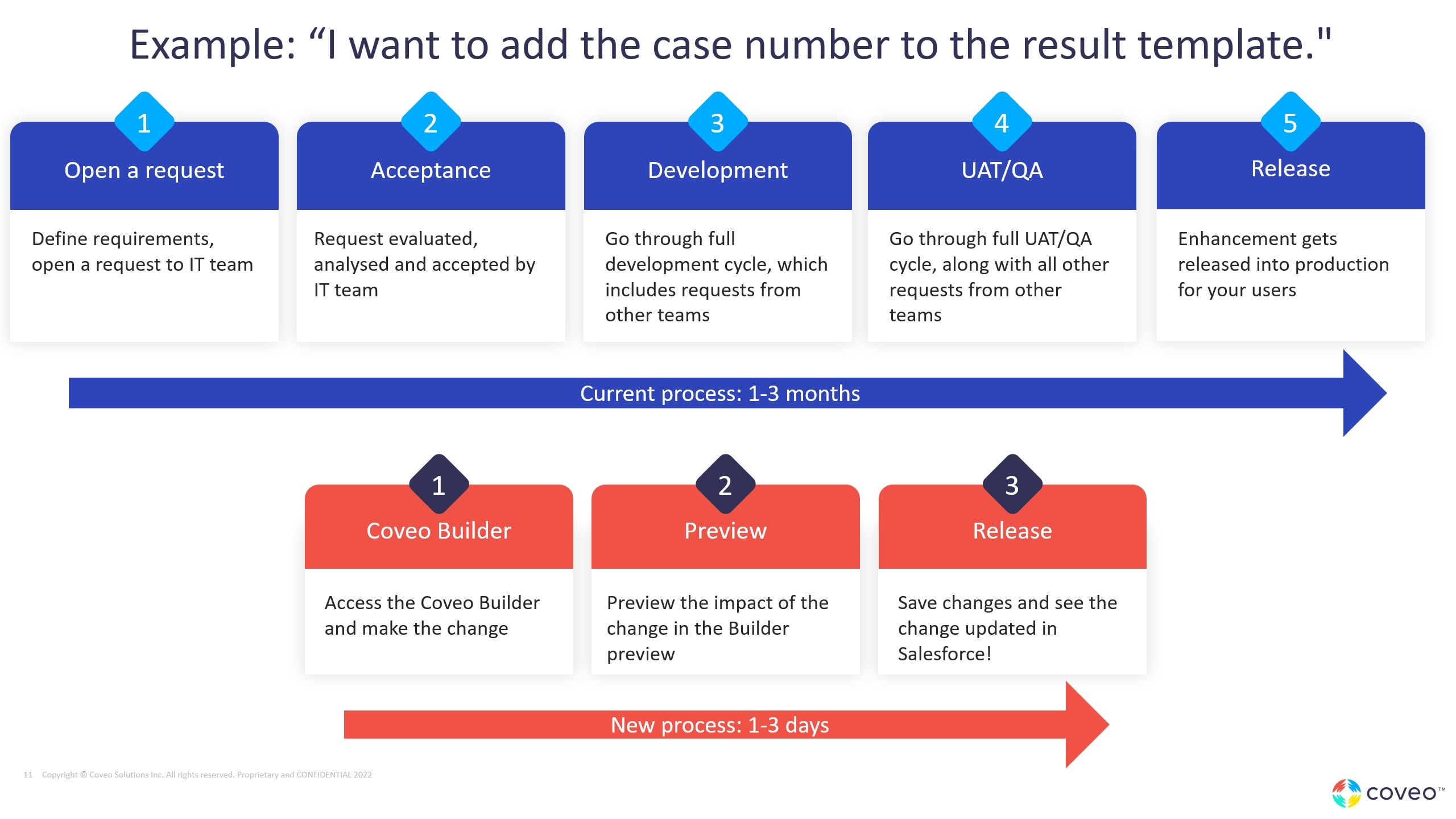 Who Benefits from Hosted Insight Panel?
As with the original Coveo Insight Panel, it's the customer service leaders, contact center leaders, knowledge managers, and IT/Admin teams that stand to benefit most from the release of the Hosted Insight Panel. For all of these groups, the Hosted Insight Panel is a new option in Salesforce Service Cloud. If you're an existing Coveo customer, then Hosted Insight Panel will become an option alongside your existing Insight Panel. 
Here's what that means for each stakeholder group.
Customer Service Leaders
You can expect the Hosted Insight Panel to make it easier and quicker to implement agent feedback, making the information they need more accessible. This in turn ought to improve customer-agent interactions by reducing time to solve and, when needed, making it faster and easier to adapt your Insight Panel to new business requirements.
Contact Center Leaders
What we've said above is worth reiterating to leaders in the contact center: with Coveo's Hosted Insight Panel, there's no longer any need to involve IT or a Salesforce admin to modify the agent search experience. If we know our contact center leaders as well as we think we do, that ought to be music to their ears.
Knowledge Managers
By its very nature, Knowledge Centered Service®*, or KCS,  is about continual improvement. For the organizations that choose to adopt KCS, the agent's view is a critical component. It's often knowledge managers that are helping to customize this view, including agent search experiences and field visibility, to enable agents and improve KCS. Hosted Insight Panel allows for this customization in near real time.
IT Teams
That fewer requests come in as a result of the Hosted Insight Panel is a win for IT teams in and of itself. Generally speaking, the Hosted Insight Panel allows IT teams to reduce the technical debt, friction, and errors that tend to impede configuration journeys and increase case volume. All of this is due to the ability to customize the Insight Panel from within Coveo, instead of Salesforce.
For Customers, Agents, and the Admins that Enable Them
It's only natural to focus on the service professionals who use Coveo's Hosted Insight Panel every day. For Coveo Admins, service leaders, knowledge managers, and IT, the benefits of faster time to value will be real and immediate. But it's customers that stand to benefit most, because an evolving and adapting agent view means more relevant help, less waiting, and far less friction during issue resolution.
That's welcome news, indeed.
For more, Get Started With the Coveo Hosted Insight Panel Solution.
Learn more
Get Started With the Coveo Hosted Insight Panel Solution
Dig Deeper
Our Insight Panel is one of many ways Coveo can enhance the agent experience. Learn more about embedding artificial intelligence throughout Salesforce to build productivity and proficiency in your contact center.
Support Agents with the right information at the right time
6 Strategies for Building Better Agent Experiences in Salesforce
*KCS® is a service mark of the Consortium for Service Innovation™