Is headless commerce B2B the next big thing?
Headless ecommerce is growing in popularity due to its ability to streamline the digital experiences that ecommerce businesses provide to their customers. Popularity is proven out by the substantial increase in people searching for "headless ecommerce"since Forrester first conjured up the issue in 2013.
And while the benefits are obvious for B2C, is headless something that B2B must consider? 
First, a little background: in a 2019 Forrester blog, Joe Cicman, senior analyst digital transformation for Forrester, pointed out that the 2013 report "called out ecommerce vendors for not keeping up with the tooling needed by digital experience practitioners." Instead, he explained by loosely coupling content management to the ecommerce system, "your beautiful marketing content seamlessly flows into 'add to cart' and 'checkout'."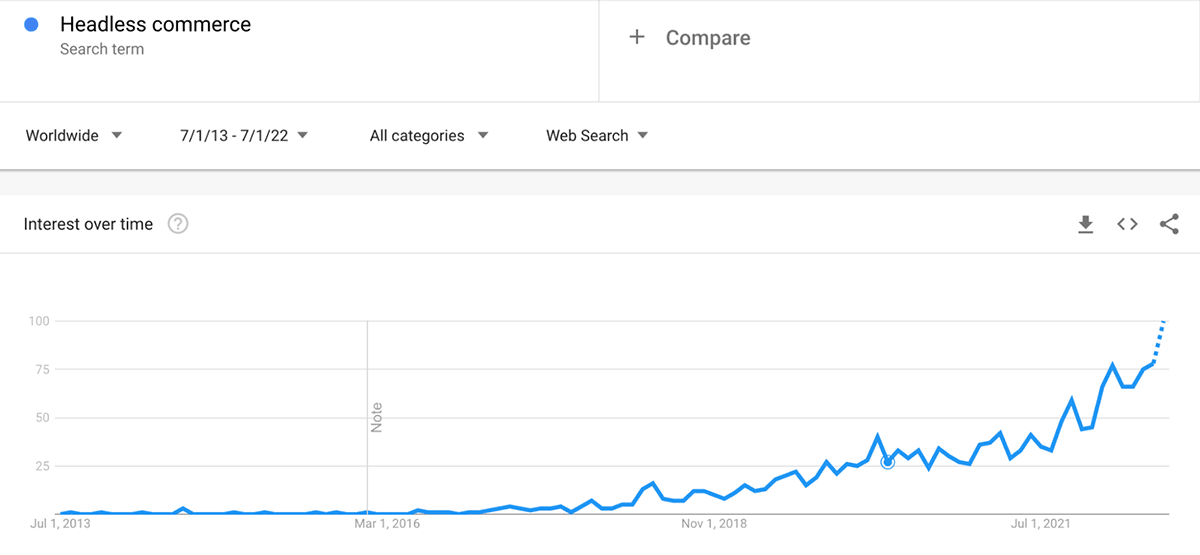 Unfortunately, he added, "the market was accustomed to buying packaged suites."
Why Headless Commerce?
With the help of people like Cicman, eventually ecommerce companies saw the wisdom of decoupling the front and back ends,  and the term "headless" was born. So it's encouraging that headless ecommerce is now the number one trend in the world of retail, according to 52% of digital agencies and 46% of merchants who participated in Webscale Networks, Inc.'s 2021 Global Headless Report. 
Source: 2021 Global Headless Report | Webscale
While it is obvious how omnichannel B2C storefronts would benefit from this decoupling approach, what is notable is that an increasing number ofB2Becommerce sellers are also adopting headless. 
Recent research shows that59% of B2B respondents claimed to be using headless. Another 29% of the respondents to that same survey mentioned that while not currently using headless they were considering moving to it. 
So if you're one of those thinking about considering headless, here's what you need to know.  
What Is A Headless Commerce System?
While headless ecommerce is defined differently depending on whom you ask, the term generally refers to an architecture that decouples the technical backend functionality of an ecommerce application from the frontend. Or, as Cicman might say, the marketing UI from the ecommerce backend.

Alternatively, and less formally, headless ecommerce refers to a method for using APIs to connect a growing number of digital touchpoints with core commerce features. 
If you're new to APIs, think of them as a communication mechanism between software components. Need machine learning? Just add an API to machine learning. Need search? Just add an API. (And if you want AI-powered search, well, Coveo has an API for that.)
This approach differs from traditional commerce models, which used to be the all-in-one monolithic model mentioned above. These are self-sufficient, jack-of-all-trades systems that provide businesses with a centralized, feature-rich system to meet their needs. Many brands used this approach – and many agencies even recommended it for enterprise and well-established businesses. 
The key benefit to a monolithic platform is the built-in frontend, which makes it easy for nontechnical users to create an online storefront quickly. Plus, everything was packaged together with those legacy ecommerce platforms, making it easy to set up systems and use pre-installed tools.
Built-in frontend and pre-installed tools, unfortunately, also represent monolithic systems' Achilles heel. 
Monolithic systems can inhibit your ability to be flexible by locking you into one vendor's pre-existing development environment. The "feature" that was good when you bought it may not be relevant now. 
Businesses often lament that they feel handcuffed by traditional commerce models, with monolithic strategies entailing slower go-to-market timelines and non-trivial development costs which can hinder innovation. Further, monolithic platforms promising a one-size-fits all solution prevent a best-of-breed approach — ideally you would want to select the most optimal services since you have several vendors to choose from – each specializing in its own niche.
That monolithic approach may have worked a decade ago (or even five years ago) but no more. With people shopping via mobile and various social platforms, even B2B organization are migrating from traditional commerce to a headless commerce architecture. 
Advantages of Headless Commerce
On the other hand, headless allows you to remedy the above-mentioned shortcomings by decoupling the frontend from the back end. 
By going headless, B2B companies can achieve the following benefits:
Eliminate the dependency on a single solution with limited capabilities
Experience fast and easy deployment, changes, iterations, and strategy modifications
Deliver seamless, relevant, and personalized experiences across channels and touchpoints without making any performance tradeoffs
Disadvantages of Headless Commerce
This doesn't mean a headless commerce solution is necessarily the best solution for everyone or that there are no potential challenges to face. 
For example, using multiple vendors for a single site can, in principle, increase both cost and complexity. So, rather than streamlining processes with headless, one may sometimes risk adding complexity with too much customization if you haven't designed a strong roadmap. As with any technology integration, this is something that always needs to be factored in during a migration project. 
Moreover, the companies that are generally most successful with headless commerce platforms are those that have a relatively large and sophisticated team of developers who can take advantage of the additional flexibility. A strong systems integrator can also accompany you on the implementation journey and ensure you can keep leveraging best-of-breed solutions to suit your needs.
Headless Powers Customer-Centric Experiences
On the other hand, in spite of these potential problems, as we've mentioned, headless ecommerce brings many benefits to ecommerce players. 
While it's hard to sum up all the advantages, a headless architecture can provide more freedom and agility to choose the right toolset and to build a truly customer-centric customer experience while easily keeping up with market trends. 
Let us dig into some of the aspects and benefits of moving to headless ecommerce and – see how they also apply to B2B Ecommerce.
How B2B Can Benefit From A Headless Solution
As noted, older monolithic platforms promised a one-size-fits all solution that does everything. This hurt, especially in revenue and profit generating parts of the platform.
At B2C companies like Amazon and Walmart, entire teams of hundreds of people could focus on initiatives such as product search and discovery. But monolithic platforms treated these as an afterthought and left revenue and profit on the table for their customers. 
In particular, good search and discovery can be one of the biggest differentiators in providing a great ecommerce user experience. Not only do customers like using website search, they're two to three times more likely to convert than visitors that only browse. Whether they're using SAP Commerce Cloud, Salesforce Commerce Cloud, or another commerce solution, retailers are unsurprisingly opt for modern,best-in-breed components like Coveo for Product Search and Discovery, which can be seamlessly integrated into a headless commerce platform.
The same considerations very much apply to B2B commerce as well.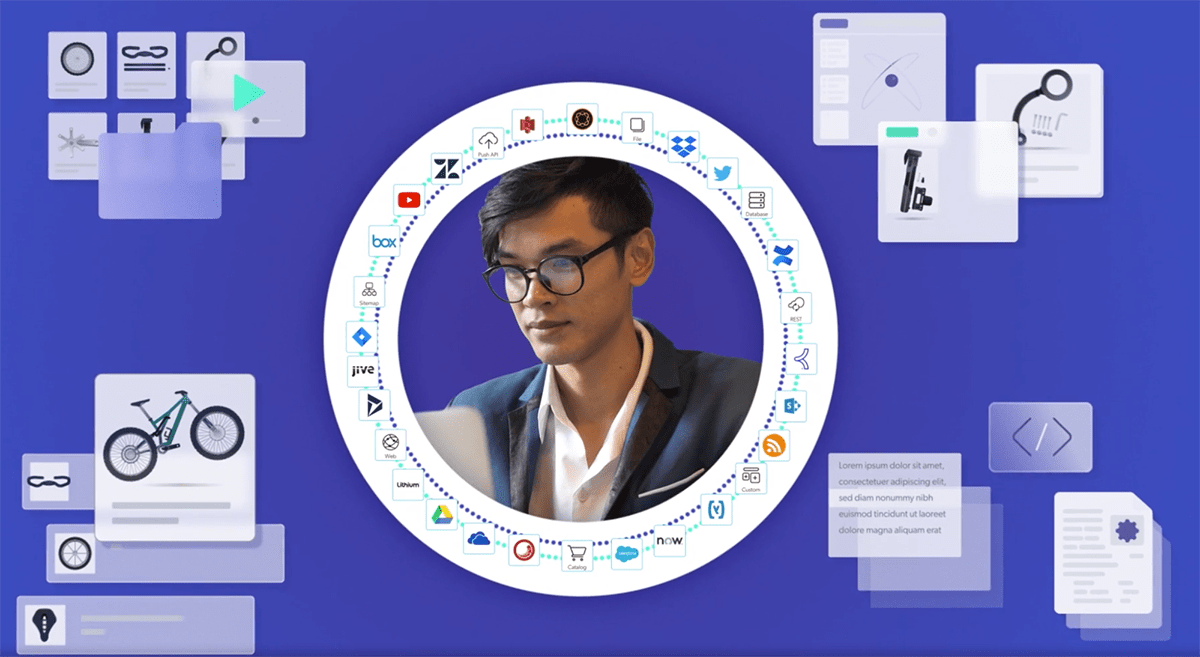 Better Buying Experiences
Survey after survey reveals that search and navigation are critical to the B2B shopping experience. 
However, while 49% of B2B sellers claim to offer advanced search and merchandising to help shoppers find products online, the reality is that 63% of corporate buyers still report findability issues as their biggest frustration​. In fact, only 7% rate the B2B ecommerce site they use as excellent.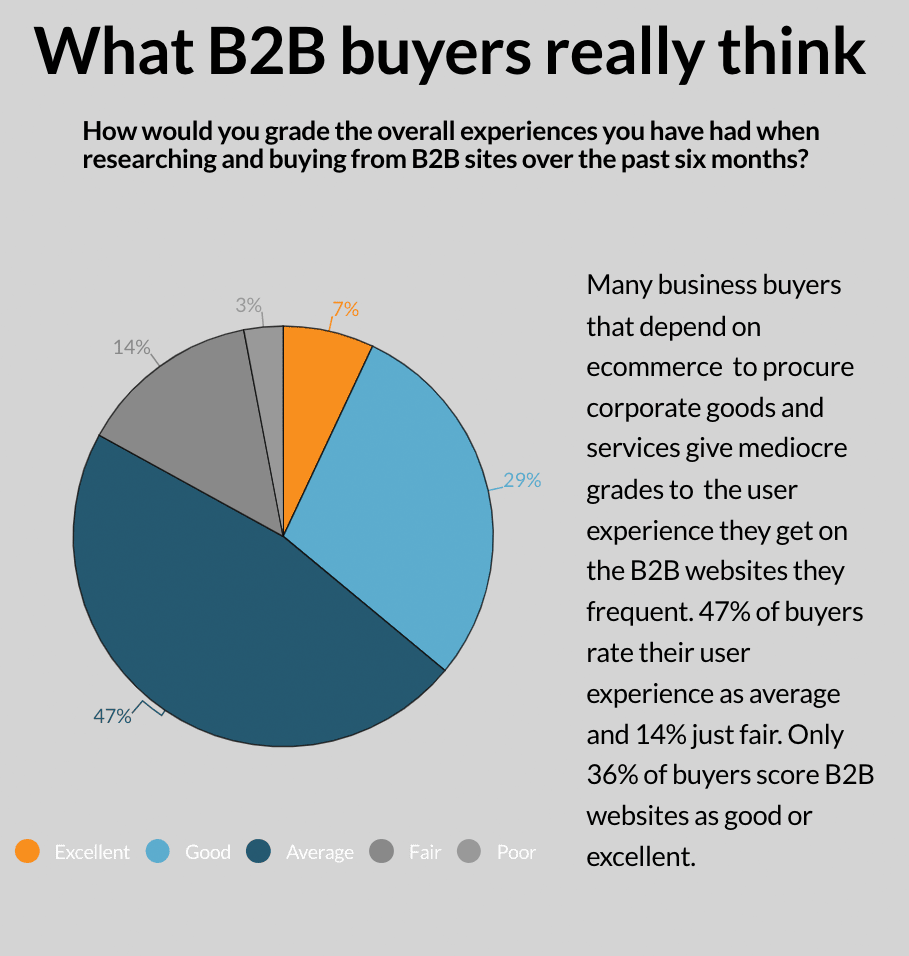 More generally, according to McKinsey, B2B customer experience index ratings significantly lag behind those of retail customers. B2C companies typically score in the 65 to 85% range, while B2B companies average less than 50%.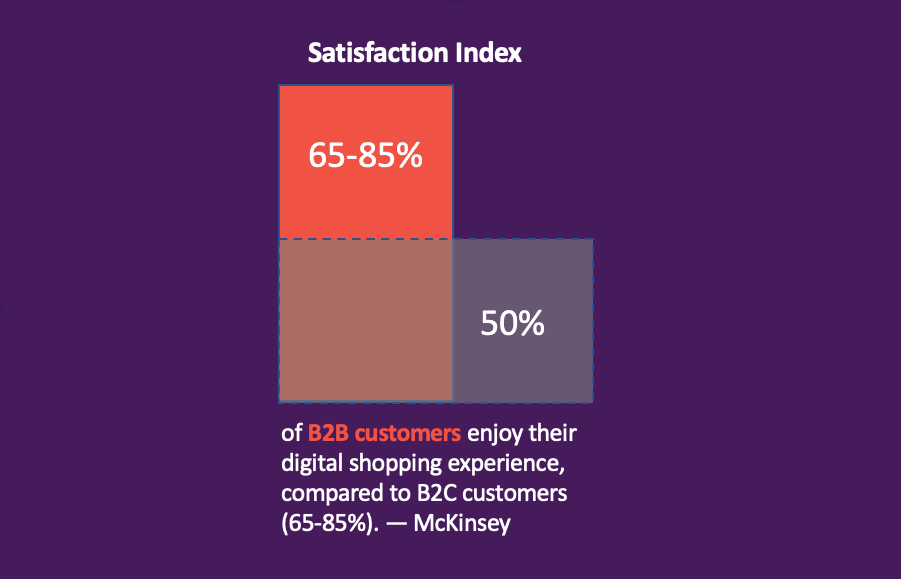 Improving B2B buyers' experience should therefore be a high priority. First of all, every B2B customer is also a B2C shopper. Having been trained on the best B2C sites,  they refuse to wait more than one second for a page to load and want the same easy-to-use websites they shop on for their personal needs. 
B2B sellers also need to acknowledge the reality and risk of the 'two-window phenomenon.' This is where buyers have a B2B website open in one window, while searching for important information on a B2C competitor. While B2B ecommerce warrants first-screen logins and a more business-like user interface-a B2B buyer still expects the most relevant experiences found in B2C competitors. 
So, if you're a B2B seller serious about keeping up with Amazon Business or keeping up with best in class B2B companies in your space, the answer is clear: there are great benefits from being able to decouple, as you can deliver better customer experiences. 
Seamless Buying Across All Channels
The traditional, 'full stack' approach to web stores made sense when ecommerce sites were focused on one experience — the desktop. However, at a time in which buyers are shifting toward newer tech and touchpoints like mobile apps, businesses need to rapidly shift their content to match these new purchasing habits. 
Unfortunately, traditional ecommerce systems don't necessarily have the capability to offer a seamless user experience across all these channels. 
Headless ecommerceis very suitable for companies that want to focus on unified commerce, omnichannel experiences — where flexibility and scalability are key business requirements.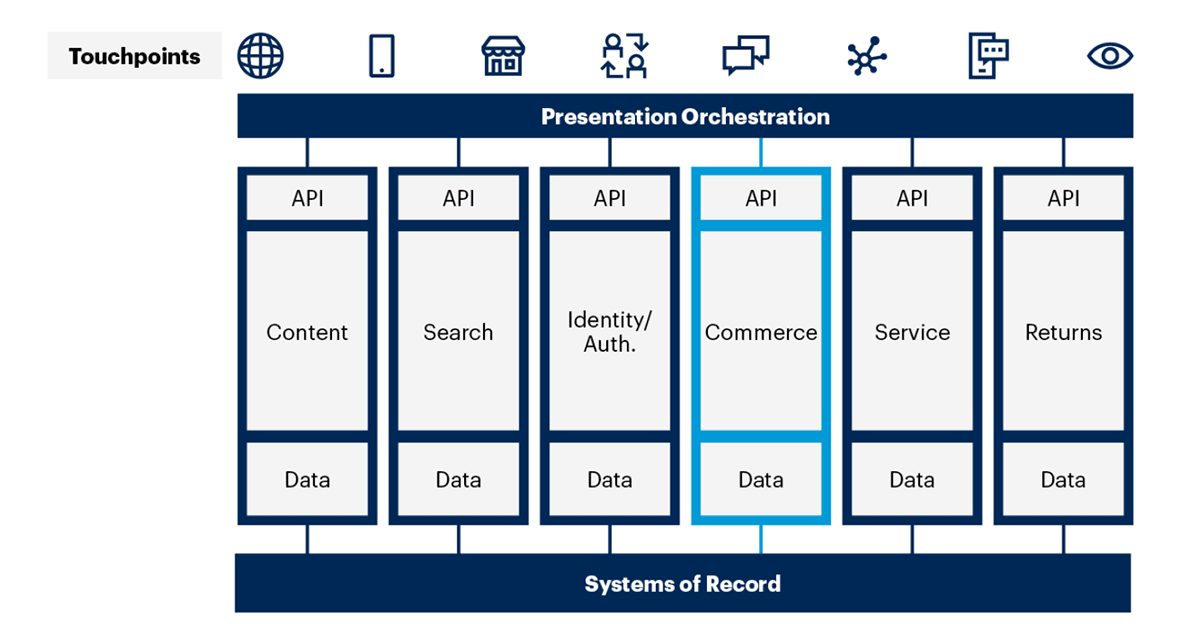 Headless can empower businesses to quickly adopt new technology touchpoints, shaping the buying journey. So, a crucial benefit of headless ecommerce is its ability to create seamless buying experiences across all channels. This omnichannel capability allows B2B sellers to show the consistent, unified experiences across multiple channels that B2B buyers crave and deserve. 
This is indeed very relevant to B2B ecommerce. On the one hand, it is true that omnichannel is often associated with B2C ecommerce and consumers. However, demands for omnichannel, consistent and unified ecommerce experiences have become increasingly important to B2B ecommerce as well. 
Millennials and Generation Zs — who soon will make up the bulk of B2B buyers – are moving away from in-person buying to making more online purchases. 

Overall, it no longer is enough for B2B sellers to rely on disjointed experiences that that cause friction for customers. Customers' needs change along their buying journeys, and they should receive a consistent experience across all touchpoints no matter how, where, or when they interact with your company.
So, B2B sellers should thus consider headless ecommerce to make it easier to be present and relevant everywhere their buyers are. 
Increasing Agility With a Headless Platform
Overall, it is hard to overstate the benefits of a headless ecommerce approach in terms of agility. 
Digital transformation requires increased agility to launch and test new initiatives in a matter of weeks rather than months. A headless approach helps with that, allowing for incremental dynamic changes using API microservices, such as adding new search and discovery capabilities for your B2B ecommerce websites.With such an infrastructure in place, B2B sellers can rapidly roll out multiple sites across brands, geographies, divisions, and portfolios while customizing and adapting the experience for all touchpoints individually.
Headless platforms provide the agility you just can't achieve with monoliths. They give you the freedom to experiment to see what suits you best. You get to choose the tools that best suit your needs, and continuously investigate new services to fit different use cases while avoiding the vendor-lock associated with monoliths. 
This creates a high potential for optimization and differentiation, giving teams the freedom to innovate and design engaging digital experiences. Both in B2C and in B2B ecommerce. 
Dig Deeper
Digital giants like Amazon and Wayfair have set the bar for B2C expectations. And now, B2B shoppers are demanding the same personalization and relevant digital experience.
Our guide zeros in on the five unique challenges of B2B search and how to take advantage of Coveo AI and Machine Learning to beat the odds and drive conversions.
Download your copy today
Ebook: 5 Big Challenges of B2B Search VS Rising Customer Expectations
---