If you are in content marketing or editorial, and feel (endless) mounting pressure to produce more and more content (and do it fast), you're in good company. Eighty-five percent of companies agree that they feel the same pain.
The web is something of a beast, and it needs to be fed. Not every food will do. It requires a steady diet of quality content aligned to every need of a customer. Product details. Support articles. Expert insights. You name it, and it's probably part of a healthy content breakfast.
Satisfy that hunger and you wind up with a great digital experience. And that's where the pressure comes in. Seventy-six percent of companies say that personalization is driving the need for more assets — like, way up, to 10 times more assets for many companies.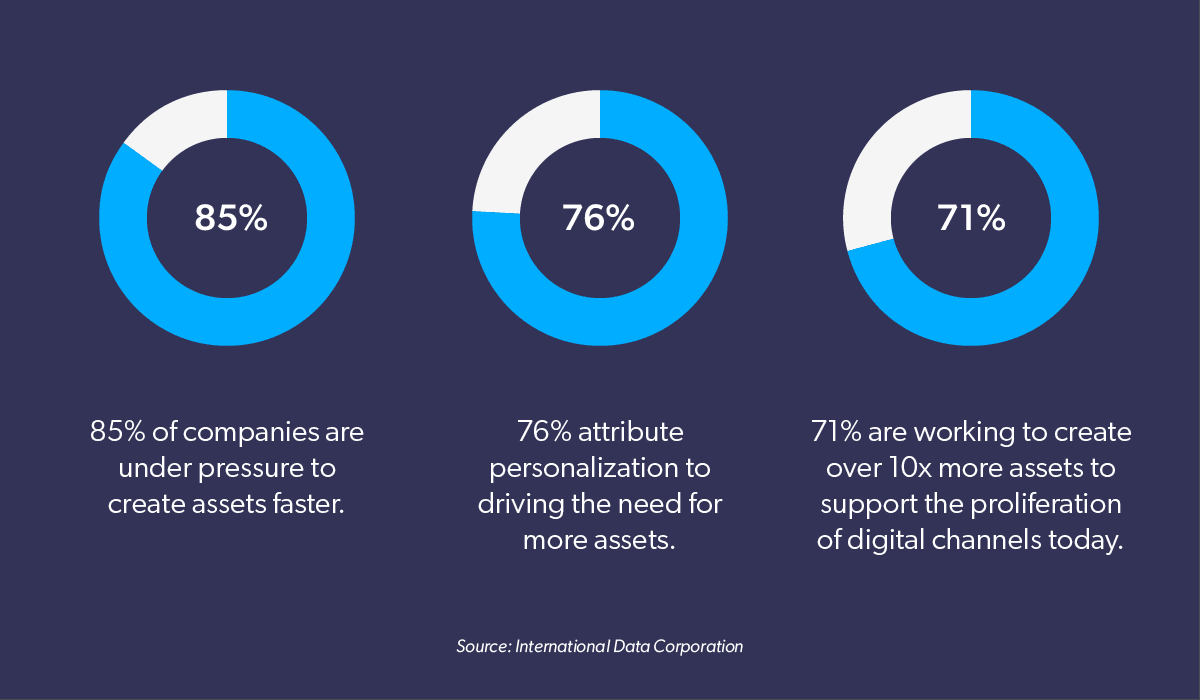 So why do we do it to ourselves? Because those great digital experiences matter.
In an always-on world, people are interacting with your brand right now. That's true 24 hours a day, seven days a week. And they're interacting with a goal in mind. If you aren't there for them, in their moment of need, with the content they're looking for — poof. All the trust and consumer loyalty disappears.
So ramping up content production makes sense. That's how "content velocity" began – as a measurement of how much new content we send out over a period of time. Recently, it's shifted to become a metric for content quality rather than quantity. 
But there's one missing part to this equation: none of your content will have value if customers can't find it in the first place. And you can't measure an asset's impact if you aren't measuring that asset's findability.
What is Content Velocity?
Content velocity has been making the rounds in digital marketing, search and social media circles for at least 10 years.
In those early days, it simply meant content creation done as quickly as possible. Brands were no longer just brands; they were now publishers, too. New and existing content needed to reach people no matter what device they were using, at every stage of their non-linear customer journey.
The solution was more, more, more. More was a double-edged sword, though. More content covering more needs used more resources to create.
But recently, the focus shifted toward better, better, better. After all, velocity, at least in the framework of physics, is not all about speed and time. It also measures direction. And you'll find that in the inclusion of content velocity as a metric in Adobe Experience Manager.
Rather than measuring content produced over time, content velocity now describes the impact a piece of content has on a visitor's journey. As a calculation within Adobe Analytics, it looks like this:

In practice, it's how much impact a piece of content had on another piece of content downstream.
While that's a better gauge of content quality, it doesn't tell the whole story. It doesn't capture the entirety of a customer's journey, their context, their search intent or the "why" behind the next click. It doesn't account for multiple touchpoints across multiple channels.
So there must be a better way to frame what a piece's content velocity really is – an accurate indicator of its true impact.
Is Quality Content Valuable If It's Not Discoverable?
To consider that kind of value, we need to dive into another term that rose to popularity around the same time: content discoverability. And it's important to consider for one simple reason: a piece of high quality content won't have any impact if a customer can't find it.
Discoverability requires us to think about the quality of our web content along with the path customers take to find it.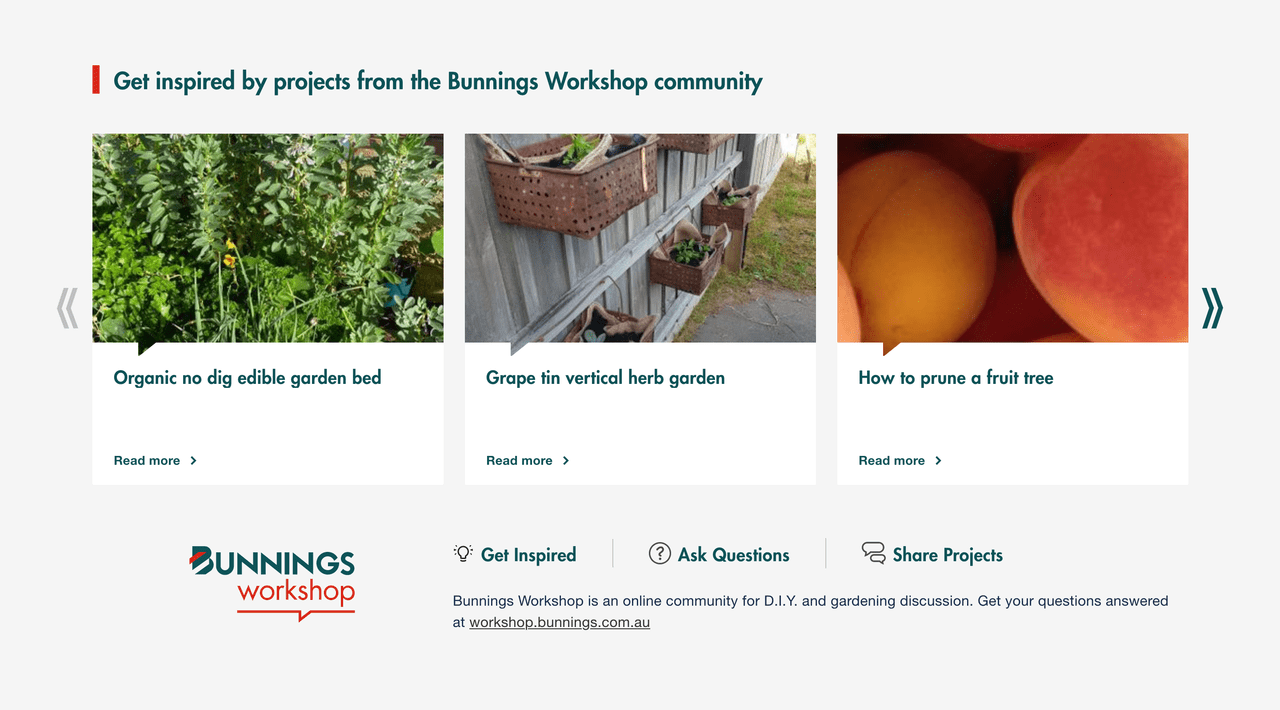 Best case scenario, searchers get results that answer their questions or address their needs, upfront, on the first try. Worst case, there are no search results… or the results are irrelevant content that simply doesn't matter.
To make that best-case scenario a reality – to make sure great content shows up at the right time along that journey – content velocity alone just isn't going to cut it. Rather, you'd need a digital experience that considers factors like:
What is the User's Context?
The individual intent, habits and preferences of one user are different from those of the next. While the search terms they use may be similar, they're looking for vastly different types of things. You need to be able to parse out what's going on behind the clicks quickly.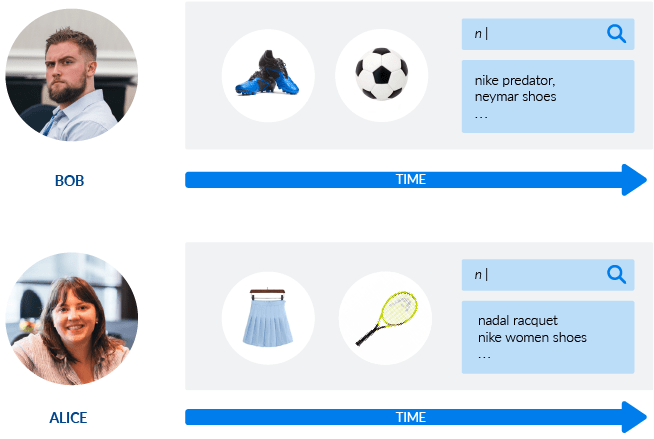 That kind of insight requires data. Profile information, on-site visitor behaviors, previous interactions and even data aggregated from other users with similar patterns are key to delivering a truly personalized digital experience that makes people feel special.
What is the User's Channel?
Visitor journeys no longer happen in just one place — that's the idea behind an omnichannel strategy. While your marketing campaign or content strategy likely revolves around a very specific target audience, your visitors don't care about the box their information comes in. They see your brand as a single entity and care about the relevancy of the content they receive. They expect the same experience whether they're interacting with social media, your mobile app, a customer service rep, or a piece of website content.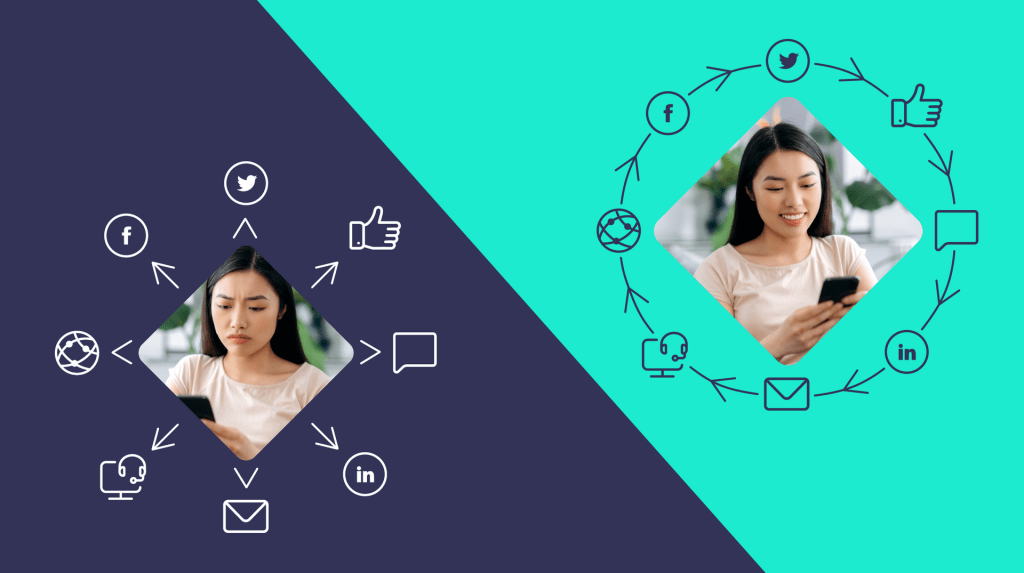 Look no further than the number of customers reaching out to businesses for service or support on Twitter. According to SproutSocial, 57% of consumers who reach out on Twitter expect to hear back from a company within 12 hours. They'll tag a business in a tweet, respond to a company's tweets, or send a direct message (DM).
No one does social media support better than Chewy, an online pet food and supply delivery company. Twitter is just one of the many ways they go the extra mile when a customer has an issue, as this example demonstrates:
Kora is once again having stomach issues so I needed to quickly order some of her prescription wet food because she will obv eat that quicker. Made a mistake, called @Chewy and they handled everything in two minutes. So appreciative of their customer service and fast shipping 🤍

— Kate (@kayteekay1221) February 15, 2023
And it's not just your own channels they're measuring you against. While 61% of US shoppers start an online search at Amazon, they don't necessarily purchase from the retail giant.  Globally, 36% of shoppers start their product search on a regional online marketplace.
Even if they find you on a third-party marketplace, shoppers still expect the same kinds of experiences when they approach your brand.
So, if you want a customer to convert on your site, you need to surface what's relevant consistently. Their experience, regardless of touchpoint, should be the same. That means stitching together what you know about them, their personal context and their journey… in real-time, right where they're interacting with you. 
And if you want to do all of this on a personal level and at scale, you'll need a little technological help.
Relevant Search Is Discovery-Oriented Search
Adobe Experience Manager provides a robust set of tools for content creation. But will all the content your visitors need reside solely in your content management system? Think about knowledge articles generated by your support team to resolve customer issues, visitor-generated threads living in your customer community, courses on your learning platform, and so much more. 
This means you need a way to bring those disparate content sources together into a unified customer journey. And what's one of the main throughlines for digital experiences?
A unified index that powers site search.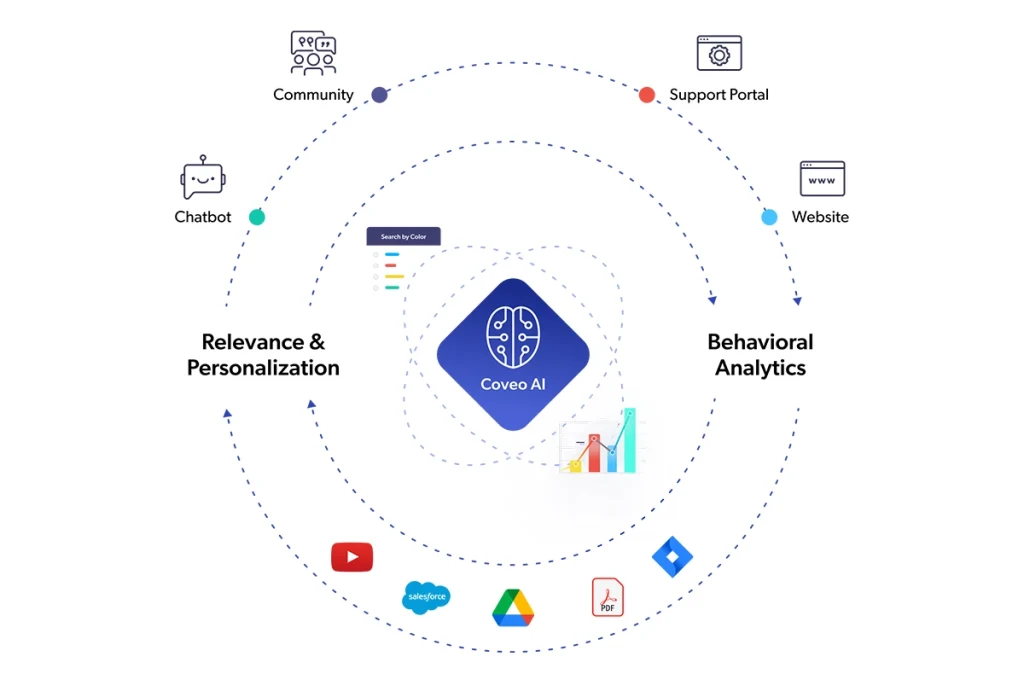 Federated Search vs Unified Search
In the early days of search, visitors discovered a content asset by signing into a bunch of different sources and searching each one independently. It took time and effort to remember where to search. Then you'd have to recall your credentials. Lather, rinse, and repeat across each platform until you (finally) find what you need.
We call that traditional search. Search results relied primarily on factors like metadata, keyword relevancy, and internal and external links. It's now considered outdated, ousted by the next iteration of search smarts: federated search.
Federated search connects to and indexes those disparate systems so visitors don't need to rifle through them one by one. Instead, you get a single point of entry and the search engine, using artificial intelligence (AI) and machine learning (ML), does the digging through each silo in the background to present one combined set of results.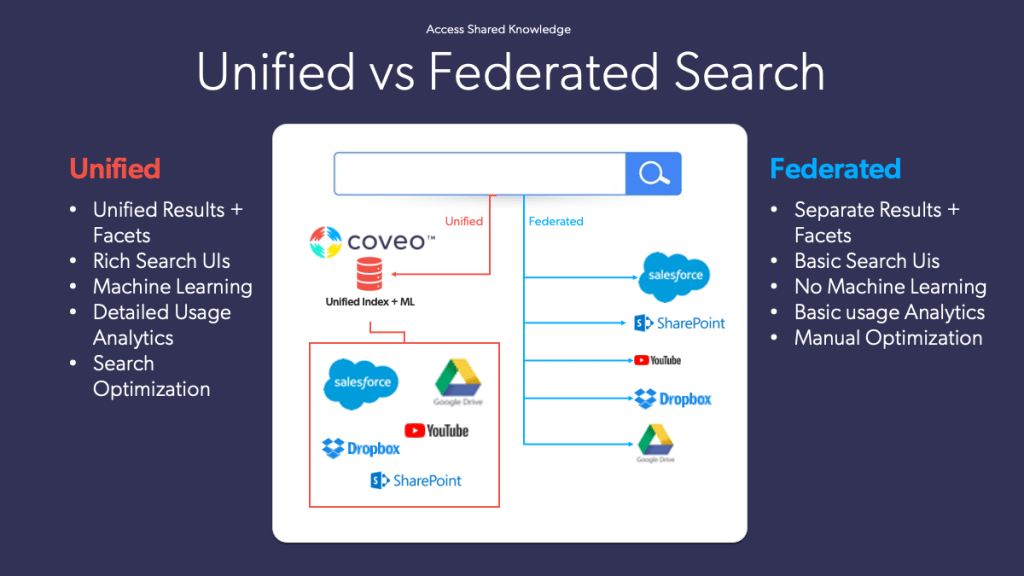 But to make content velocity and discovery truly accurate and relevant for each individual visitor – and to do it at the speed they demand – we need to look beyond federated search.
Unified search carries forward that single point of entry for searchers. But rather than indexing each source separately, it creates a single, unified index of content from across all repositories-including the option to crawl or push content stored in the cloud or on-prem via connector library or APIs. 
Within that unified index, it can meaningfully rank each source to deliver one-to-one personalized results.
How AI Fuels Content Discoverability
To surface relevant results to every single visitor as quickly as possible, pulling from every source and delivered consistently across every channel, scalability matters. For it to work, you need automation. Manually ranking and tweaking every piece and every source of digital content just isn't going to happen when the demand for content is continually rising and your content output rises with it.  
AI isn't just a good idea here. It's an essential element to providing the kind of experience that customers expect.
It's the enabler that ties the insights you gather about your visitors, their intent, and their journeys together with omnichannel experiences and the content in your organization. (The good news: with off-the-shelf AI options becoming more widely available and increasingly popular, you don't need to worry about tackling it alone or reinventing the wheel!)
And the benefits of AI-powered search stretch far beyond content velocity and discoverability. To name a few:
Identify gaps in content where visitors get no results or don't appear to find value in what's already out there
Provide relevance to first-time visitors based on the journeys, searches, and results of others who share the same profile information and behaviors
Highlight ongoing trends where demand is the highest based on increased traffic to specific pages or an influx of visitors searching for a new term
Prevent bounces or calls to customer service by delivering only the most relevant results and cutting out the noise
Free up internal resources that are otherwise held back by disparate data sources or rifling through content silos
There's More to Content than Velocity
Personalization matters. Customers are used to it through other experiences they have online. And they've come to expect it across every digital touchpoint. 65% of global consumers in a 2023 Salesforce survey saying they'll remain loyal to companies that provide more personalized experiences. 60% expecting brands to use their personal data to provide more relevant services. 
The more personalization you offer, the higher conversion rates climb – 1.7% for two pages with personalized elements grows to 3.4% when there are three pages of personalized content.
Personalization may be a driver of more content, but it's with a good reason. That content beast is only hungry for more because your customers are hungry, too. And the solution isn't to simply feed it more, but rather help people find the stuff that matters most via site search.
Effective search not only helps you stand out from competitors, it enables open access to all your content assets, increases brand awareness, and improves the customer journey.
Dig Deeper
Learn how AI and Adobe Experience Cloud pair to deliver best-in-class digital experiences for all audiences.
Looking for tips and tweaks for conversion-creating site search in Adobe Experience Manager? Check out our ebook, Top Tips to Boost Conversions with Personalized Site Search in Adobe Experience Manager.
Download your copy today
Ebook: Tip Tips to Boost Conversions with Personalized Site Search in Adobe Experience Manager
---