Is your omnichannel retail strategy not working out the way you'd hoped? You paid top dollar for a great website; you're selling through social media. You even have a mobile app that's on multiple operating systems! There are so many ways your customers could interact with you. So why isn't your omnichannel marketing strategy working?
Sixty-four percent of modern shoppers start their journey in the digital space. And we don't even mean actually making a purchase – shoppers that prefer to buy in-store use ecommerce tools to research and plan shopping trips.
And if ecommerce is going anywhere, it's only going up.
The U.S. Census Bureau reports third-quarter 2021 sales at $1,648.6 billion, a 6.6% increase over the same quarter in 2020. Online store sales made up 12.4% of total sales in Q3, proving that online transactions can make or break omnichannel strategies.
Having a well-made website or digital channel isn't all that matters. Every brand offers a website to shop at, leading to incredible competition. And then there's Amazon and Google, where 57% of consumers prefer to start their search according to a recent survey we commissioned. Unless your content ranks number one, it's harder than ever to stand out in the sea of digital entities offering similar products.
So what's the solution? The thing is, omnichannel marketing can't be done haphazardly. There are three recurring challenges we've seen time and time again in conversations with our customers.
Are the following obstacles sinking your online growth, dampening customer engagement?
Read on to find out what makes a successful omnichannel strategy, what are the three problems that most marketers face – and how to fix them.
What is the Omnichannel Approach?
The omnichannel approach of today offers a single, seamless experience across the shopping journey. And your data can better help you create that experience for your shopper.
But before we get into the marketing challenges you might be experiencing, you should know – for sure – that your approach is an omnichannel retail strategy. The term "omnichannel
" gets thrown around quite a bit, but it's often confused for its predecessor, the multichannel marketing approach.
How can you know that your approach is a genuinely omnichannel strategy? Put yourself in the shoes of your consumers and ask yourself these questions:
If they were to pop onto a single channel and try to shop, then pop onto another channel and continue their journey, would they have to start over?
Is there a completely different process to purchase from each? Likewise, does your internal structure reflect that journey?
Do you have segmented marketing efforts and possibly even teams that each handle a different channel's efforts?
Is your Instagram shoppable ads team separate and autonomous from your website team?
If you answered "yes" to these questions, you're likely running a multichannel retailing operation.
Watch On-Demand Webinar from our 'Rethinking Relevance Roundtable'
How to optimize your omnichannel strategy?
3 Tips To Improve Your Omnichannel Strategy
So, you're certain your marketing strategy truly is omnichannel. Why isn't it working the way you'd hoped? Whether it's a lackluster conversion rate or that you're attracting the wrong type of customer for your offering, your failure may be connected to three common and repairable errors.
While these tips for a strong omnichannel strategy are all possible to implement, they may take considerable time and resources. There's also the reality that changes in the market happen very quickly; the nimbler your retail marketing teams can be, the better you'll be able to respond to the significant changes we saw in 2020 and 2021.
Tip #1: A Brand is a Brand – Regardless of the Marketing Channel
Brands go all-in with what they consider "user experience." This includes the color palette they choose for their website buttons to the clever quips they share on social media. All of these details matter, for sure. But they don't necessarily add to what the customer perceives as their unique personalized experience. (At least not in a way that they're aware of, anyway.)
Picture this: you're working hard to make your Instagram feed fabulous. Then you create amazing product landing pages on your store website. But if a shopper clicks through from an Instagram post showing a specific product only to land on a category page or even your homepage, they'll be confused. In this scenario, you lose a big opportunity to pull omnichannel customers seamlessly from one channel to the other.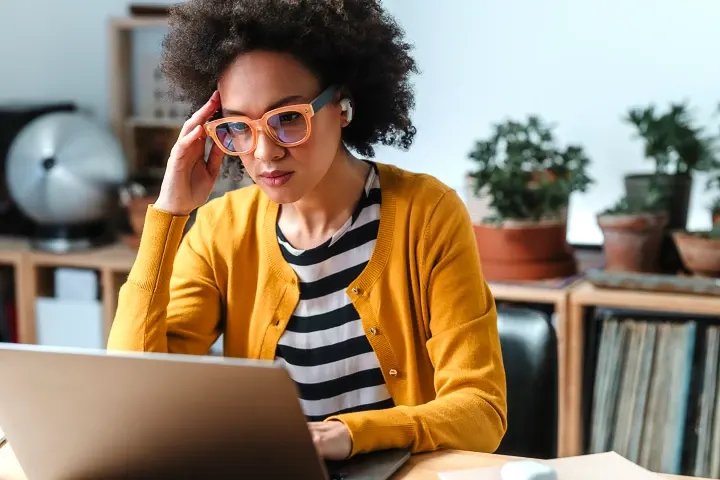 A similar situation is customers searching for a product on a website that they want to purchase in-store. If an item was identified as being available at a nearby location, but the customer discovers that they were misinformed upon arrival, that could lead to a lot of confusion. They could see this shopping journey as impersonal, disjointed, and possibly even frustrating. Brace yourself to bid customer loyalty adieu.
Why is this? In truth, customers don't see channels, whether it be an Instagram ad or a shopping site. They only see the brand and expect a consistent look and feel at every interaction point. If you aren't prioritizing an omnichannel customer experience, you may be missing out.
How To Build A Consistent Omnichannel Customer Experience?
To start, you need to know your unique customer. Customers of a grocery store, for example, may want to do everything from nutrition research to meal planning to checking for in-store stock all from their phones. They may end up putting items into a virtual cart for curbside or in-store pickup. You must design your brand experience around their expectations.
Let's take a different example. A high-end furniture store patron may not want to do any of their shopping online. Instead, they want to explore design trends, read about the history of the brand, or find out where they can touch and feel their next sofa at the closest showroom. Remember, what your customer wants may be completely different from the customer of another brand.
63% of customers are influenced by personalized homepage recommendations and rely on search tools to make the right buying choice.
You aren't just selling products based on price or item description. You're selling solutions to lifestyle needs through channels that fulfill those experience expectations. Not understanding and implementing this can be fatal to your retail efforts. Especially now that we know 63% of customers are influenced by personalized homepage recommendations and rely on search tools to make the right buying choice.
The Fix: Build your website to attract your ideal customer and keep them coming back. Make it easy for shoppers to get a consistent and seamless customer experience each time they visit, whether it be to research product reviews, add items to their wish list, or complete their purchase right at their desktop.
Two areas where AI-driven solutions can come into play include:
Ranking, which helps customers find the products they want to see right away, through dynamic content ordering, dynamic content boosting, and automatic facet selection.
Recommendations, which help buyers see the things related to what they've already purchased based on user context.
Create a strong presence across all of your touchpoints that leaves no doubt that that experience is part of your brand. And anything associated with your brand will deliver on this same, excellent shopping experience.
Tip #2: Personalize for Anonymous Shoppers – Without Cookies
Previously, we said 57% of shoppers start their customer journey on Amazon or Google. There's a reason for that – both tech giants have changed how we interact with businesses. In the same vein, Netflix, Spotify, Alibaba, and others have respectively disrupted their own industries and changed our expectations around what an online experience should feel like.
The issue? Traditional personalization has relied on third-party cookies – pieces of data about a particular user saved to the browser. Customer data privacy is becoming a more mainstream concern for shoppers, although it hasn't (as of yet) shifted their buying habits to any significant degree. In fact, a recent"https://www2.deloitte.com/us/en/insights/industry/technology/protecting-consumer-data.html"> Deloitte study shares that while a small segment of the consumer market will avoid a product or service due to privacy concerns, the majority (75%) continue to accept the default cookie settings on websites they frequent at least half the time.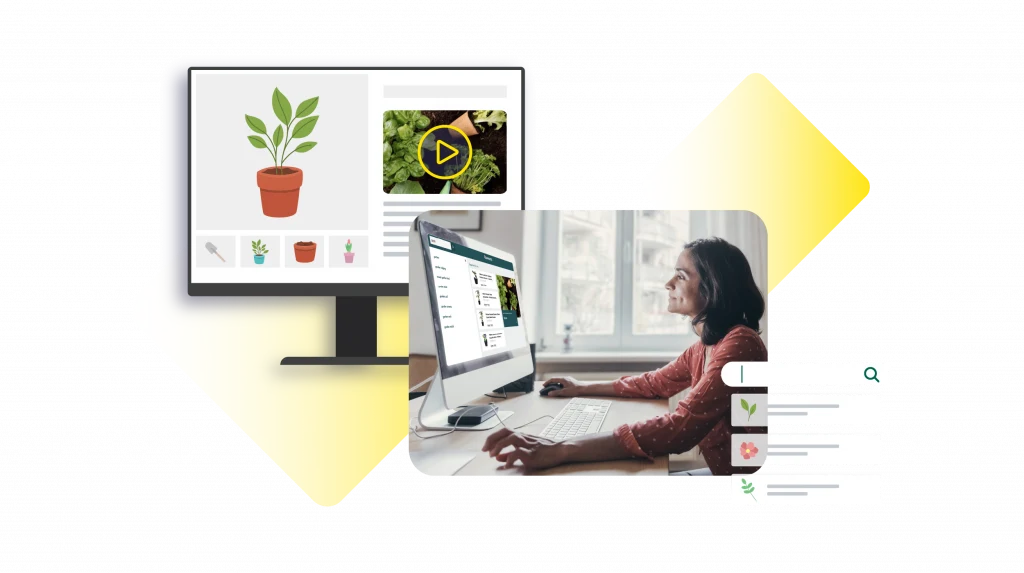 What do the rest do? One quarter always refuses permission, and others may use blocking services that do the heavy lifting for them. This means shoppers may not fully realize what cookies do or how they affect their shopping experience. They may not seek to take proactive measures to deal with cookies anytime soon.
Does this mean you should continue using third-party cookies? Not necessarily.
In fact, while previous personalization strategies relied heavily on these tracking methods to show shoppers relevant ads and keep outreach efforts at least seemingly "custom", the day will come when more shoppers demand better privacy protections.
ABANDON THIRD-PARTY COOKIES ALL YE WHO ENTER HERE
Whether you prepare for that day now or later is up to you, but consider:
Regulatory groups may be forcing your hand. GDPR is one such measure that's made it harder to track activity across sites without explicit opt-ins and a full disclosure each time a new user visits your online shop.
Many top antivirus and security software solutions come with cookie-blocking as a standard feature. Even without knowing it, shoppers might have these cookies turned off as a condition of using these privacy products. (Browsers have also joined the trend, offering "incognito" browsing and third-party cookie-less experiences by default. Those that don't automatically block them dispose of them after a set time period.)
The media is increasingly hostile to the idea of tracking data. Even as most media sites use cookies to deliver custom ads and ensure subscribers can access content behind paywalls, news stories about social media data scandals abound. Consumers have more opportunities to learn about the bad actors in data and may use these stories to form opinions about all data collection practices – even the widely accepted ones.
WHAT ARE YOUR ALTERNATIVES TO THIRD-PARTY COOKIES?
Despite the pushback developing around third-party cookies, customers likely don't want to be a nameless, faceless widget in an eCommerce system. They reportedly want a balance of privacy and relevance. This can be easily achieved through behavioral and contextual data collection, via first- and zero-party cookies. Consumers are most open to targeting based on purchase and browsing history but are also open to experiences that are contextually relevant to other sites they enjoy.
Consumers are most likely to share data and information on the sites they already shop; a.k.a, the brands they trust.
Their least favorite targeting approaches include demographic data collection and usage, something that we've coincidentally found to be less relevant to the overall omnichannel retailing customer experience than behavioral data.
Consumers are most likely to share on the sites they already shop, as well as social media platforms. The best method for collecting data in these places is through first-party cookies, which seem to succinctly address the privacy vs. personalization paradox.
The Fix: Skip the outdated third-party cookies in favor of data your customer is happy to provide. From past purchase details to abandoned cart data, there's enough information willingly given to retailers to make the consumer experience a rewarding one.
Behavioral data also saves the shopper time, helps them find purchases that fit their lifestyle, and reduces frustration associated with buyer's remorse. You can use data to nurture relationships first, which can ultimately lead to bigger sales.
Remember what we know about customers and channels: they really don't see them anymore. If a customer learns about a promotional offer online, they may have no recollection if they learned about it on Twitter, Instagram, or through a pop-up on your shopping site.
This makes it essential to have a consistent brand voice and customer experience across every sales channel. Even pulling in data from one channel to the next to offer personalized support to the same customer as they navigate various points in the sales cycle.
Tip #3: Put Yourself In Your Customers' Shoes
While you might think you know your customer experience journey well, remember there are always outliers and dramatic shifts in shopping trends. Having a consistent experience ensures you capture these sales and are proactive to market changes rather than being reactive. Here's an example:A shopper wants to find a boy's suit for her child for an upcoming last-minute wedding. The online store can be seen in both desktop and mobile apps. When the shopper looks at the desktop site at home, she finds several suits in her child's size that could possibly work. She's unsure of the fit, however, and would like to get a better look at the color to ensure it matches the accessories her son already has. The online website offers a store finder, plus facets representing fulfillment options. She chooses to filter for child's suits available for purchase onsite at a store nearest to her home.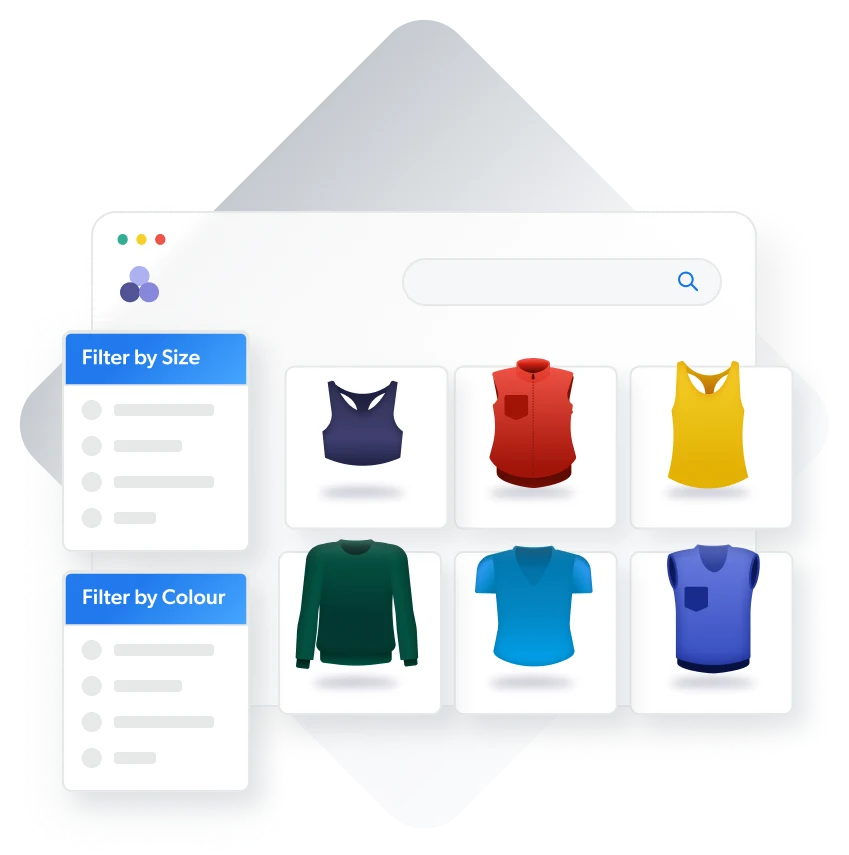 Encouraged that the retailer closest to her has the items she wants in stock but determined to purchase in person, she packs her child into the car to drive to the store. Before she even leaves her driveway, she pulls the store's mobile app up on her phone to have it ready with product names to ask for. This time she checks from her phone's mobile app, and sees that there's a far more limited selection of products than what she saw from her desktop. This merchant might lack real-time inventory updates between channels where their products are advertised. They also might lack a mobile-friendly experience that offers the same facet options as the desktop website, which means inventory is shown differently on the shopper's phone.
And because of this, she's confused.  She might ask herself, did the stock change in the time it took her to buckle her child's car seat? Are the mobile and desktop apps somehow not registering inventory correctly? She places a call to the local retail store and gets a national call center rep who gives her the same information she received from the mobile app. She checks Twitter, hoping to find an account for the brand, but sees accounts set up for each and every retail location in the U.S. and is unsure which accounts are staffed or monitored.
FIVE HOURS LATER…
Frustrated, she looks past Google Ads and heads straight to Google Business listings to find the number for the physical store near her. The sales clerk assures her that they do, in fact, have her choice of suits in stock, and they'd be happy to set them aside for her to see in person.
Did you see what happened here? While the use of online inventory tools is useful and even expected by today's modern shopper, the experience of researching and seeing the items in person was hindered by a lack of accurate inventory updates. The option to reach out via social media was hindered by confusion over which account is appropriate to interact with. Getting accurate information required her to bypass branded efforts and reach out to her store directly. The solutions didn't match up to actual customer behavior.
What could be done? Depending on the brand's goals for customer service and sales, they could have tightened up the shopper's journey through behavioral data that followed the user to see what suits she had purchased in the past, where her closest store was located, and even shared a concierge-type customer service channel that she could use to chat from her phone's mobile app.
With so many possibilities, there's no reason for a customer to feel lost in the sea of channels. While this customer knew there were at least six ways to reach out to the company, she didn't know which one would get her issue resolved the fastest. True omnichannel strategy delivers this quick resolution no matter which channel she pursues, meeting customer expectations (and often exceeding them) in the process. This is what makes a repeat customer.
The Fix: One path to consistency across all touchpoints is unified search. The customer's search history (both on the desktop site, the mobile app, and even through Google Business) could have minimized her frustration if it was relevantly linked. Her willingness to use technology should have made it easier to serve her, not lead her down several dead-ends at channels that didn't tie into a more holistic shopping experience.
Ultimately, customer service from the retailer site or app could have used search history to clue them into the efforts this shopper had already taken, getting them up-to-speed faster and equipping them with the information needed to resolve the shopper's issue in time for the big wedding.
How To Meet Your Omnichannel Customers Where They Are?
Omnichannel strategy can work only for those who avoid certain pitfalls. Even the best marketing strategies need continual refinement to ensure they hit the mark. One way to guarantee you're being proactive with your customer journey is with a unified platform that allows for search across different content repositories.
What are the next steps? If you're new to relevant search, getting up to speed on what it offers is vital. Next, you should examine what channels you already use that are geared for this technology. As discussed often throughout this piece, there is a strong desire for "phygital" – a unified experience across both physical (in-store) and digital (mobile, web) presences. You can use data from both to create the experiences customers are telling you they want.
Then, there's the possibility that you're already collecting the right data and just need a way to unify it through omnichannel retailing. This is common, and you, fortunately, don't need to reinvent the wheel. With Coveo's search relevance platform, we can help you process this data to create a picture of what your omnichannel shoppers will and can experience. Connecting the dots is what we do best.
Dig Deeper
What we've covered here only scratches the surface of omnichannel personalization in ecommerce. Get more information about what it takes to meet the high expectations around personalized online shopping experiences in our ebook, The Ultimate Guide to Personalization in Ecommerce.
Get your ebook today
The Ultimate Guide to Personalization in Ecommerce