One of the biggest business headlines of the past year has been the accelerated growth of ecommerce due to the coronavirus pandemic. In 2020, online sales reached a level thatexperts had not expected to see until 2022.
But look behind those headlines, and there's another story. In a survey of 2,000 consumers, Coveo found that 50% said they sometimes or always have problems when shopping online. Those findings have consequences for brands. Almost three-quarters (73%) of customers will abandon a brand after three bad experiences.
What's behind shoppers' disappointment? The Coveo survey found a clear theme in the problems they experience while shopping online: a lack of relevance. In other words, on too many websites, consumers just can't find what they need, when they need it. These sites haven't found a way to replicate the customized guidance and advice a knowledgeable sales associate can provide at a brick-and-mortar store. With 90% of consumers expecting that online shopping be as good as or better than in-store buying, that relevance gap is a big problem.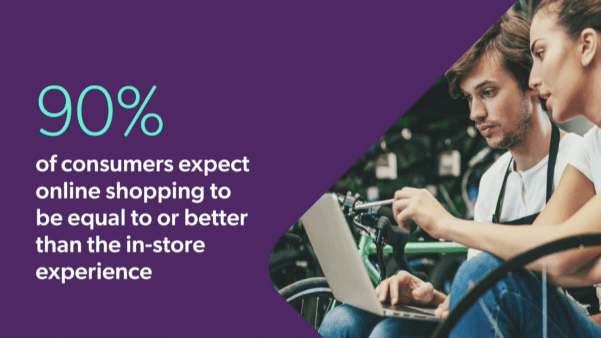 The giants of online retailing — like Amazon, Home Depot and Wayfair — have closed that gap, and they'rereaping the rewards. But you don't have to be a mega-brand to deliver the relevant shopping experiences that consumers expect. Here are a few key areas to target.
The Smarter Search Box 
Using thesearch box is a signal that a website visitor intends to purchase, Jessica Frame, ecommerce manager atCaleres, said at Coveo's recentRelevance 360 event. Caleres owns and operates such popular shoe brands as Famous Footwear, Dr. Scholl's Shoes and Naturalizer. As Caleres undertook a digital transformation with help from Coveo, improving site search for its family of brands was one of the major opportunities.
Customers use the search box when they have a specific need in mind, Frame said. When the search box helps them quickly find what they need, they're more likely to make a purchase. But if the search doesn't yield relevant results, they could give up and leave your website.
In the Coveo survey, 47% of respondents said they felt frustrated by website search while online shopping. For many, this frustration stems from a lack oftailored search results. In other words, just having type-ahead in your site's search box doesn't cut it anymore.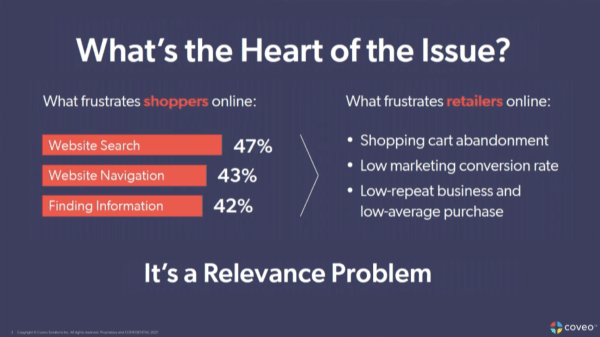 Thanks to machine learning, the search box can do a lot more than predict the next letters your customer is going to type. By using a relevance platform, your brand can present better search results by leveraging data from past users' experiences on your website. What did they search for? And then what did they ultimately end up buying? With each interaction, the platform gets better at quickly understanding what customers want and showing them relevant search results.
Caleres' experience shows the potential of improved search. By switching to Coveo for all of its brands' websites, Caleres saw a 20-25% lift in conversion rates for customers using search – in comparison to what they were on their legacy platform, which did not use machine learning.
Experience the new Caleres experience for yourself: 
Flexibility to Customize Facets
Relevance doesn't just happen in the search box, though. On a search listings page or category page, search facets can speed the site user's path to the product they want.
For example, if a customer on the website of Famous Footwear, one of Caleres' largest brands, clicks on "Women's Sandals" from the home page menu, they are taken to a page where they can refine their results based on facets like brand, color, size and price.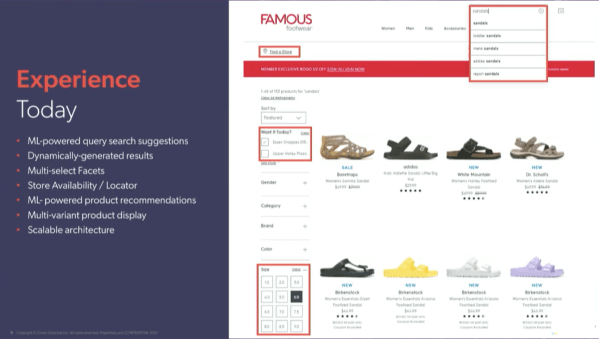 The stakes are high for getting facets right. In Coveo's survey, 43% of shoppers said they're frustrated by confusing website navigation. For Caleres brands, about 30-50% of site visitors engage with facets during a session, Frame said. And those visitors have a 50-60% lift in conversions compared with visitors who don't engage with facets.
Facets are more likely to be used when they're tailored for a product category or if they are based on popularity.  For example, a women's listing page for sandals might have the first three facets as Category/Brand/Color, whereas a listing page for clearance items might have Gender/Category/Brand. 
Frame appreciates that, with Coveo, facets can be easily managed by merchandisers, or they can use machine learning to dynamically reorder facets based on what is selected the most by shoppers. 
"It really allows us the flexibility to own the experience," she said.
BOPUS Connecting Online and In-Person Shopping
Facets can help brands take advantage of another ecommerce trend: Besides accelerating the growth of ecommerce as a whole, the pandemic has also led more consumers to embrace hybrid shopping options such as curbside pickup.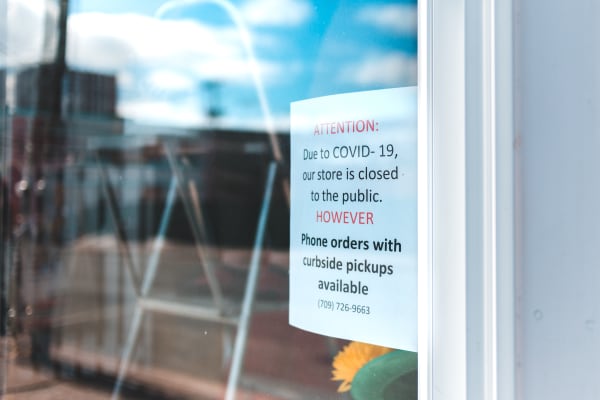 When buying journeys start online and conclude at a physical store, brands have an extra challenge in providing relevance. They must customize a shopper's experience not just based on the product they want, but also on the availability of that product at their desired pick-up location.
A relevance platform enables this level of personalization. For example, if a customer on Famous Footwear's website needs to pick up a pair of shoes immediately instead of having them shipped, a facet on their search results page allows them to only see the options that are available at stores near them.
"We use Coveo to not just search products but also to search our store locations," said Craig Fels, functional analyst lead at Caleres.
Machine Learning vs Manual Tuning Search
Beyond technology changes, improving relevance on your brand's website also means a culture shift.
As Frame puts it, on other, older platforms, decisions about boosting products were made based on subjective viewpoints. "But now we can lead with data to understand the impact and help make those decisions," she says.
Caleres has seen the benefits of this data-driven approach by comparing pipelines powered by machine learning vs. those with manual tuning. Machine learning is yielding an average 13% increase in click-throughs and, in their most recent test, a 23% increase in conversions.
Now that they have completed the rollout of Coveo across thirteen of their branded sites, including Famous Footwear, Frame and Fels look forward to more insights on customer behavior that will help them continuously optimize and increase relevance even more — which serves the company's larger goal of building lasting relationships with customers. 
Dig Deeper
To take a deeper dive into how Caleres uses Coveo, and to see Coveo's relevance platform in action, check out a replay of the session "More Relevance, More Buying" from Coveo's recentRelevance 360 event.