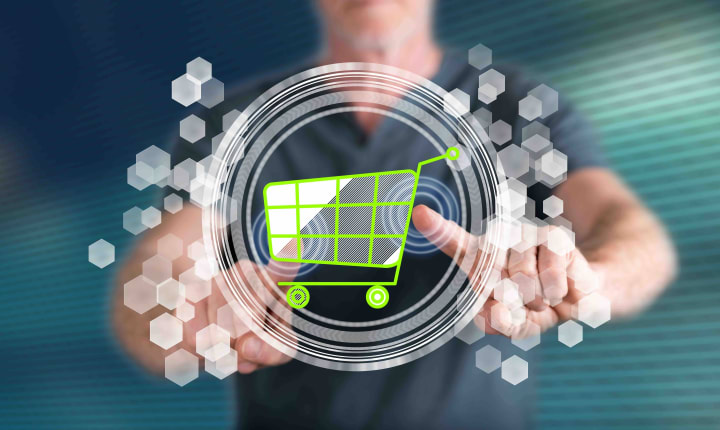 It seems like everyone's talking about Headless Ecommerce these days. What is it, what does it mean, and should you be using it?
At Coveo, we're big believers that the most important thing is providing a great experience for your buyers, whether that's B2B or B2C. In today's world, your buyers are expecting experiences as seamless and personalized as Amazon, and it's on you to ensure those expectations are satisfied. So which approach should you take?
What Is Headless Ecommerce?
As new customer experience touchpoints emerge and shopper expectations continue to rise, Ecommerce is the last place any company can afford to lose flexibility and agility.
Headless Commerce is where back-end Ecommerce functions — such as managing pricing and promotions, product catalogs, customer setup – are entirely decoupled from the front-end customer experience of the site (the head). It's a popular choice for companies that want to take advantage of the functionality of a specific Ecommerce solution without having to conform to its design constraints.
Essentially, your commerce engine sits in the background but does not power your customer experience directly. The customer experience is driven by a CMS (Content Management System), a completely bespoke system or built into a mobile app, such as Google Maps.
Think about when you're using the popular app Citymapper, and it gives you an estimate of the price of an Uber. That's Uber using headless commerce, and Citymapper taking advantage of it.
What Do the Core Platforms Offer?
Most of the large Ecommerce providers are offering some semblance of a Headless solution. Salesforce Commerce Cloud, for example, has an available and mature Open Commerce API driving Headless experiences. The ability to couple this flexibility with their Marketing Cloud, Service Cloud and Heroku experiences is compelling, and they are market leaders in artificial intelligence (AI). For B2B, this AI (Einstein) works well with Sales Cloud, enabling sales teams to be more strategic in maximizing order value.
We've recently announced our partnership with commercetools, a headless, API-first, multi-tenant SaaS commerce platform that is cloud-native and uses flexible microservices. There are offerings from most of the main Ecommerce providers, including BigCommerce, Shopify, Adobe and SAP. Headless commerce empowers your brand to handpick the technologies you need to succeed – but it's not without some investment and a DIY attitude.
Pros and Cons of Headless Ecommerce
Headless commerce gives you full creative control across all your touchpoints to design a cohesive customer experience for your brand. That's pretty compelling.
The primary benefit of Headless commerce is extreme flexibility. This can benefit large companies that have established Ecommerce strategies and/or strong preferences for specific functionality and design.
Headless commerce is preferred by companies that want to lead their industries and use technology as a differentiating factor. Going headless allows them to pick the right components while proving simplicity to the end-user. It's often chosen by companies that want to pair their online Ecommerce experience with other customer touchpoints. Examples of this include mobile/app experiences, in-store experiences, social media, and user-generated content. For software or gaming companies, this can even include product experiences.
By using different vendors and solutions for different parts of the site, brands can tailor the site to be exactly what they need and want. When designing an experience for your end customer that represents your brand, the last thing you want is to be restricted by technology.
What are the cons? Generally, using multiple vendors for a single site can drive up both cost and complexity.
It also can make implementation and integration more complex and site maintenance more difficult. Rather than streamlining processes, with Headless, you're adding complexity, and can end up in a customization nightmare if you haven't designed a strong roadmap or try to do everything at once.
The companies that are most successful with Headless commerce are those that have a relatively large and sophisticated team of developers who can take advantage of the additional flexibility. The greatest advantage that traditional commerce offers is rooted in the fact that everything is packaged together. Either way, it's important to work with the right partners to advise you on how to maximize your approach – whichever you choose. Good partners are like gold dust and will help immensely along your transformation journey.
How Does Headless Impact Personalization and Search?
Headless or traditional, personalization and powerful search is critical to maximizing the value of every visitor on your site. Whether that's through predicting what a shopper is searching for, to tolerating spelling mistakes, or re-ordering search results based on what the customer is most likely to buy.
Coveo's approach is customer-centric. Whichever Ecommerce architecture is right for your business, we can integrate it with Coveo so you can see the results of relevant, personalized and contextual search and content on average order value and conversion rate. When it comes to search, our motto is: 'If you can't find it, it doesn't exist'. We also have some strong views on the importance of personalized content on brand loyalty in B2B.
So, Should I Go Headless?
There's no clear cut answer on this one. My best advice is that Headless and non-Headless have pros and cons. It's essential to consider your use case, resources, and short and long-term Ecommerce goals when deciding which architecture is right for you.
If you are trying to figure out whether headless is right for you, we have an ebook to help you explore the benefits: Win and Grow Customers in the Experience Economy with Headless Ecommerce.
There's also tweaks and changes that can be made to drive website growth without needing to redo your entire Ecommerce architecture. In fact, we've launched a new free Commerce Assessment tool to help you understand how your website is currently performing and where the opportunity is: Free Ecommerce Site Search Assessment.