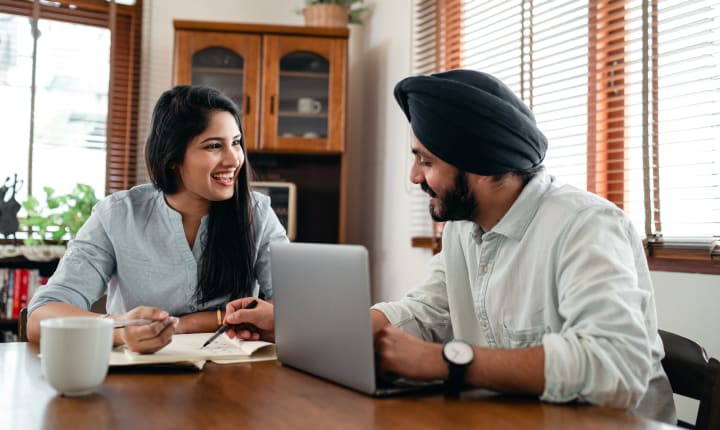 It wasn't until I found myself working from home that I realized just how often I turned to my nearby colleagues to ask them questions and get their insights. These brief chats played a key role in my day, as they allowed me to cover the gaps that arose as I carried on with my work.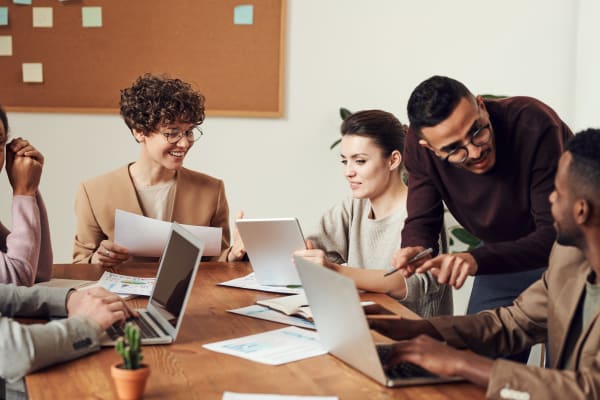 More companies recognize the importance of fostering good employee experiences (EX), but the move to work-from-home over the past year has really thrown a wrench in those plans.
When it comes to the employee experience, the COVID-19 pandemic exposed just how important it is for digital workplace leaders to create a relevant digital workplace for our work-from-home future. And it did so by highlighting the dangers of not creating a digital employee experience (DEX) that exceeds the old in-person ways of sharing and obtaining institutional knowledge and insights.
COVID-19 Exacerbates Existing Frustrations for Employees
In our recent Relevance 360 event, Tracy Carson, Director, Customer Experience at Coveo, noted, "In a time when there's no hallway chats or kitchen catch-up sessions, frustration is running especially high." Anyone who's had to trade out the ease of a quick word with a neighbor for the frustration associated with the interminable wait for a Slack message or email response while working remotely knows how much this change has hurt productivity.
Our new survey-based report quantifies that frustration in more ways than one:
1) Workers spend 2.5 hours every day searching for the information they need to do their jobs.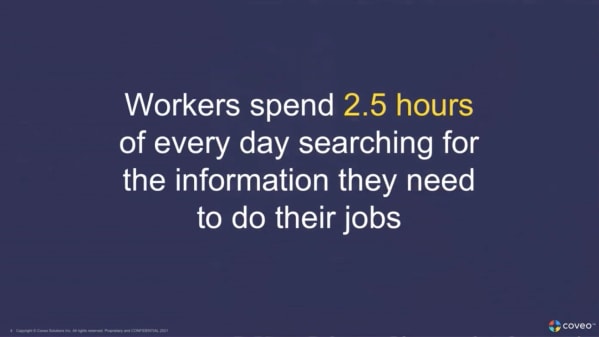 There's a huge opportunity for companies to improve the employee experience when more than a quarter of the workday is devoted to finding information (on top of the constant Zoom meetings!).
2) 41% of all the information companies provide to their employees is irrelevant to their specific job role.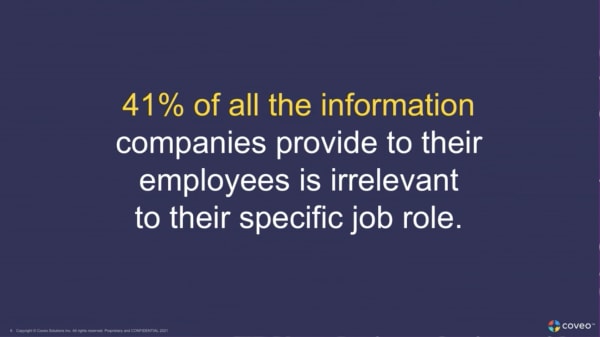 One way to drastically cut down on the wasted time is to ensure the information they are surfacing is relevant to their job. At the moment, most employees are wading through a lot of irrelevant info.
While these frustrations certainly aren't new, the cost of not addressing them has skyrocketed over the past year, as the in-person employee experience can no longer be used to compensate for digital shortcomings.
The Dangers of Ignoring the Digital Employee Experience
Every initiative that you have, every goal your company is working towards, relies in large part upon the success of your employees doing their jobs effectively. Unfortunately, the employee experience has not always received the same level of sustained attention as customer experience (CX).
CX and EX go hand in hand, but most companies have yet to get a grip on improving the latter. Many best practices have been developed for improving CX, but the next leap in the customer experience will require EX improvements first.
"What's left are the harder projects and smaller gains, often delivered in an agile or incremental way," argues James Robertson in CMSWire. "Within many businesses, the potential gains are still great and largely unexploited. This is where digital employee experience (DEX) comes in."
Think of it this way: one of the great focal points of improving the Customer Experience is to smooth the bumps that occur in a multi-channel journey. We've all experienced the disconnect in our interactions with a company when we move from social media to customer support to the website. Information and experiences never seem to be the same from channel to channel.
Due to digital transformation efforts, a similar fragmentation has occurred within our workflows. From communication channels like email and Slack to content repositories and dozens upon dozens of applications, we're switching from window to window without anything to unify that experience. Once the casual in-person chats with colleagues disappeared, those gaps in the digital employee experience were magnified.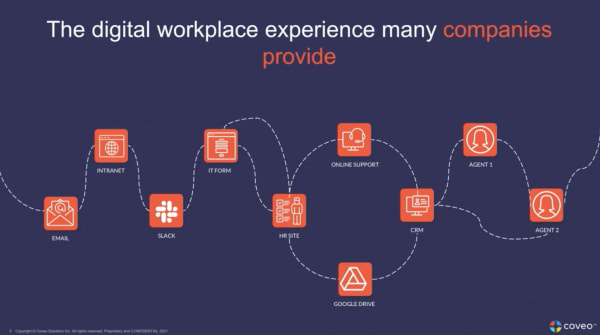 The danger of a bad digital employee experience — whether it's a remote or in-person workplace — comes from the fact that high levels of frustration and disengagement can lead to poor job performance and high rates of turnover. In fact, a survey by Gallup found that up to 70% of employees are either not engaged or actively disengaged from their work. Such behavior has costly ramifications.
The Keys to Building a Relevant Digital Workplace
Building a relevant digital workplace is about more than avoiding the pitfalls of a bad digital employee experience. It certainly is a mitigation tactic, but it is also an additive exercise – delivering an exceptional digital experience to your employees has a direct impact on the bottom line. In fact, Gallup found that "companies with highly engaged workforces outperform their peers by 147% in earnings per share."
As we head towards a "new normal" where work-from-home and in-person work are likely to exist alongside each other in every company, what do digital workplace leaders need to do to ensure they're delivering a relevant digital workplace that engages the workforce?
1) Meet employees where they are
Even employees with the same job title require a different experience. The customer support agent who's a five-year veteran needs a much different content experience than the agent that started this week. Your digital workplace needs to be able to adapt to anyone who's interacting with it.
2) Connect the digital workplace
In 2019, the number of apps employees used was 9.39 – that's a lot of little silos. The relevant digital workplace seeks to unify these disparate sources to create a seamless experience across all of them.
3) Deliver true employee self-service
Do-it-yourself is not just a nice-to-have option anymore – employees, like customers, need the flexibility of 24/7 self-service. That self-service experience needs to provide relevant content based on where the employee is on their journey.
What Employees Need in a Relevance Platform
When Manulife sought to improve their digital employee experience, they started with improving the search functionality of their company intranet. Because it was important to deliver role and task-specific information alongside general company information, it was important for them to have an AI-powered relevance platform that connected all of their critical tools and served up the best content for the employee.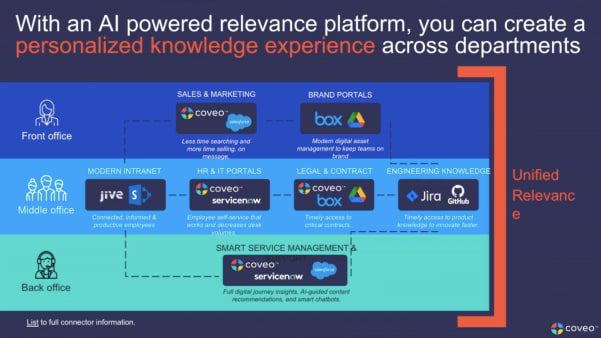 As a result of their transformation, Manulife significantly improved their employees' digital work experience. With 65,000 average monthly searches – over 70% of those are now guided by AI-driven suggestions.
If your goal is to provide an engaging and helpful digital workplace experience for your employees, here are a few of the boxes you need to check when searching for a Relevance Platform.
A central location to find and access trusted information.

Don't make your employees spend their days searching across applications and accounts for the information they need.

One search and knowledge experience across all applications.

This is important for all employees but is particularly important for newer employees in work-from-home environments.

Recommendations for the right content in context.

Keep the most up-to-date content ready-at-hand and deliver it exactly when employees need it.

Recommendations for the right people to connect with.

It can be hard to find the right person in any company – even when everyone is physically present. The move to work-from-home has made fostering connections between employees more important than ever.

Actionable and seamless Helpdesk and IT support

to help reduce employee frustration levels.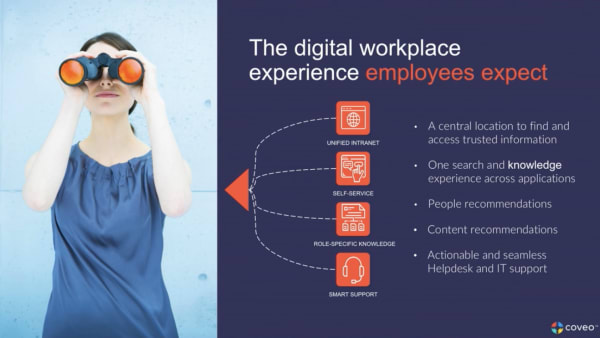 Dig Deeper
To learn more about building a relevant digital workplace to improve the employee experience at your company, watch the full Relevance 360 session Unify the Digital Workplace with AI-Powered Relevance.
Curious how to boost your employee experiences inside of ServiceNow? Check out our ebook, which details how to reduce portal fatigue, create personalized experiences, and capture intelligence to drive improvements.
You can also learn more about how Coveo's AI-powered Workplace can empower your employees to be more productive in the office or at home.