Personalization helps both distributed and in-person employees work more efficiently and achieve more by giving them relevant information when they need it, according to panelists at Coveo's Relevance 360 event.
We've all been there—trying to find an answer without success, said Sara Feldman, director of member engagement at the Consortium for Service Innovation, during a Relevance 360° Week panel, "Enterprise Knowledge Management in the Hybrid Workplace," on Sept. 8, 2021. Sometimes we find a document, but we're not sure if it's the most up-to-date version. Other times, we know one exists, but it doesn't come up in search results. 
Often, it's easier to walk over to someone's desk (remember when we could?) or shoot a work buddy a Slack than to go hunting for an answer in the company files. Even then, we still might not get the answer that suits. With 80% of companies planning to allow employees to work remotely at least part of the time after the pandemic, balancing the needs of both employees and customers in a hybrid workplace is top of mind.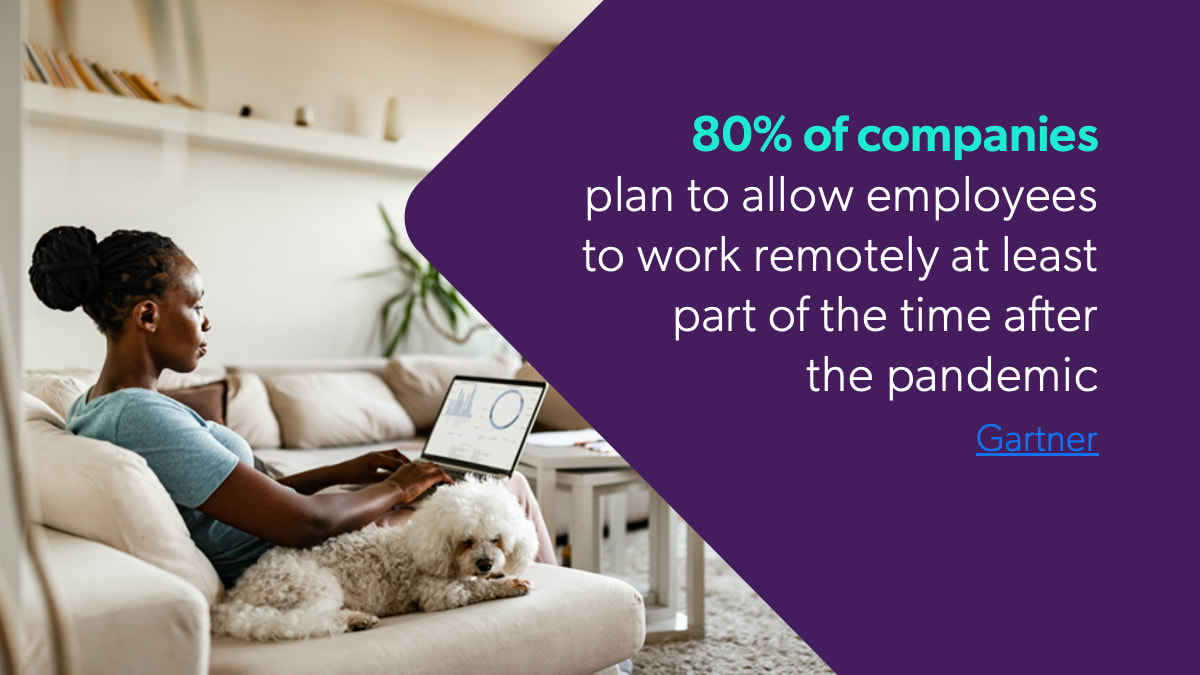 That's because "each employee will have a different perspective of what's important to them or what they need in the context of their work," said Bonnie Chase, director of product marketing at Coveo.
What's more, increasing employee access to knowledge strengthens the customer experience. "Enabling employees with the information they need to do their job is the strongest way to create a better customer experience," Feldman said. 
The key is understanding what employees need to find for their respective jobs and how that information relates to products and/or customers. In other words: Context is king.
Successful Knowledge Management Strategies Start With a Plan
Finding the context that provides relevant results begins with a solid knowledge management strategy that has four building blocks: align, access, evolve, and reinforce. 
Aligning the vision of what knowledge management should achieve is important to arriving at a solution that works across the enterprise, Feldman said. 
It involves understanding that knowledge sharing adds value to all levels of the organization and exploring the long-term benefits, such as easier collaboration and better customer experiences.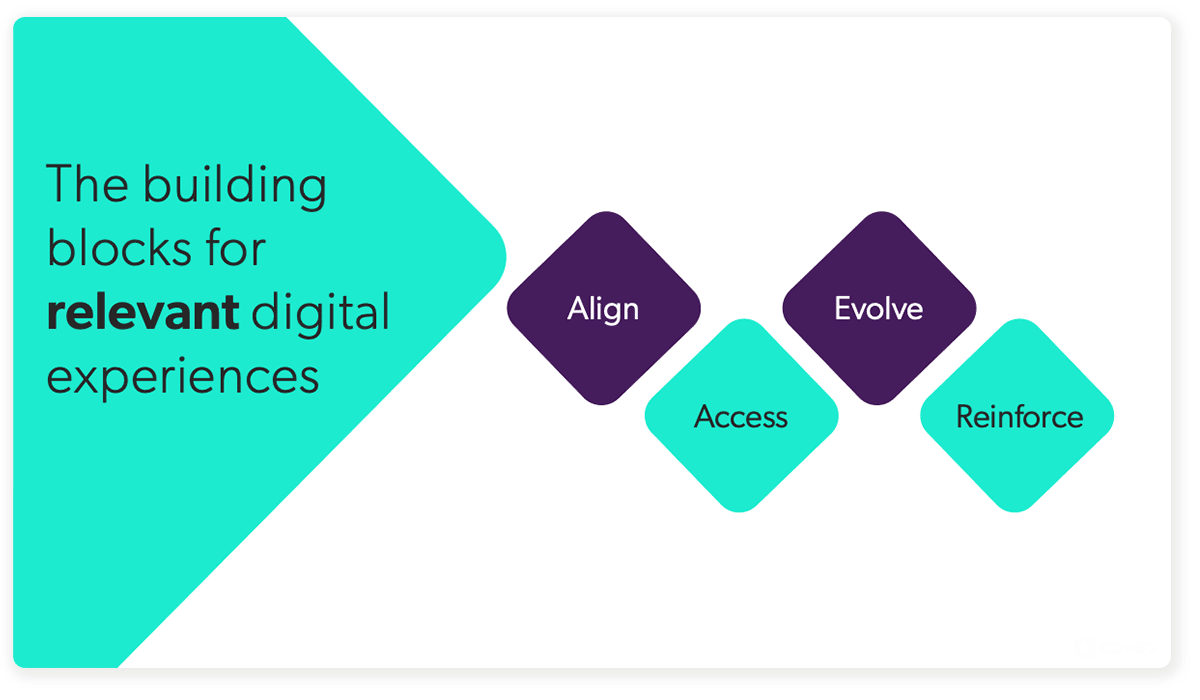 This helps employees invest in the knowledge management strategy. Having folks know why you're making a change is important to getting them on board.
Part of this process means examining the current approach to knowledge management, including questioning assumptions about why information is arranged and accessed and checking metrics for determining success. These help determine the elements that need to go into a new or adjusted knowledge management solution. 
"Think about how many disparate places people go looking for information," Feldman said. "You need to map all of that before you start making any changes."
Access to Knowledge Has to Be Easy
Understanding how elements in the organization connect is key to designing a solution that is easier than asking a co-worker for the information, Feldman said. Start by taking an inventory of knowledge requirements across the organization so that you know what people are looking for and how they're searching for it. This also uncovers stale content, which can muddy search results.
It also helps to determine the part that data storage plays in access to knowledge. Federated search—when information is spread across data stores that have to be searched separately—needs a lot of manual optimization, Chase said.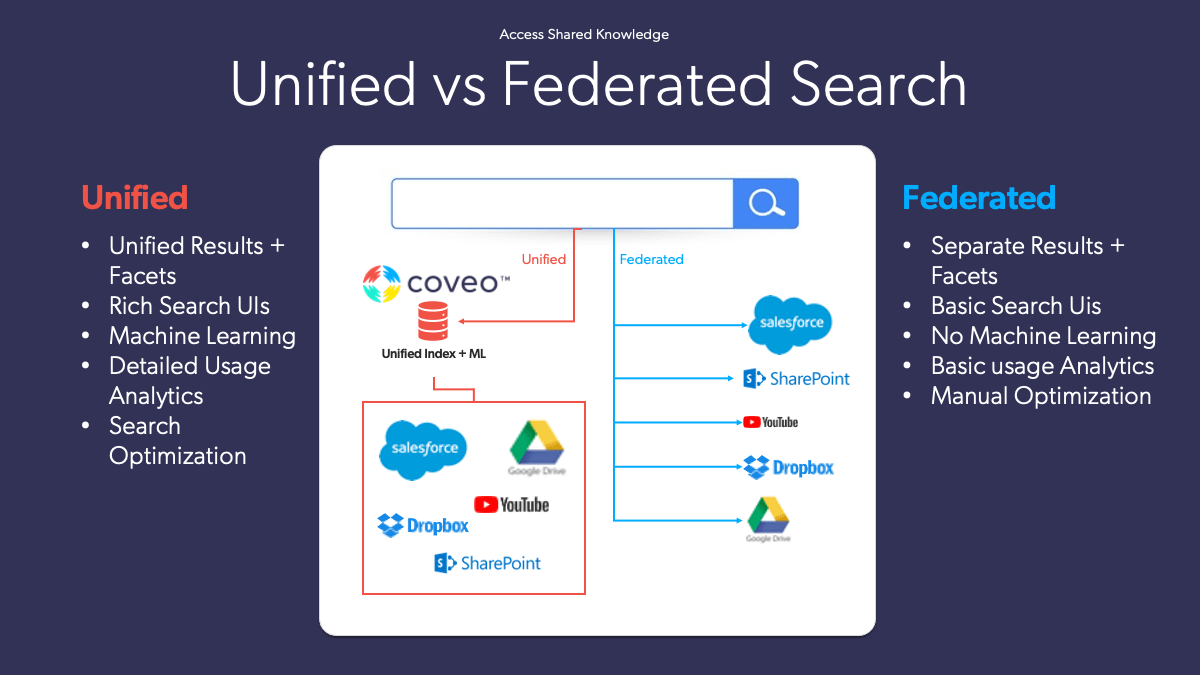 Unified search returns results from multiple data stores at once, giving employees richer results for less work. It's also less work for employees who have to manage the maintenance and tuning of federated search. In short, "If you want to make sure that people can find the right information, you'll need a unified search," Chase said.
Knowledge Isn't Static; It Matures
In the evolve stage, you enable your employees to contribute directly to shared knowledge as it evolves and changes. Documents can quickly become out of date, and encouraging employees to contribute to updating knowledge gives them more ownership and independence, Feldman said.
Knowledge evolution also looks back to see if the knowledge is being used, who is using it and how, and tying the use of the knowledge to customer success metrics. In other words, you analyze your knowledge to see if it's helping you achieve what you want to do.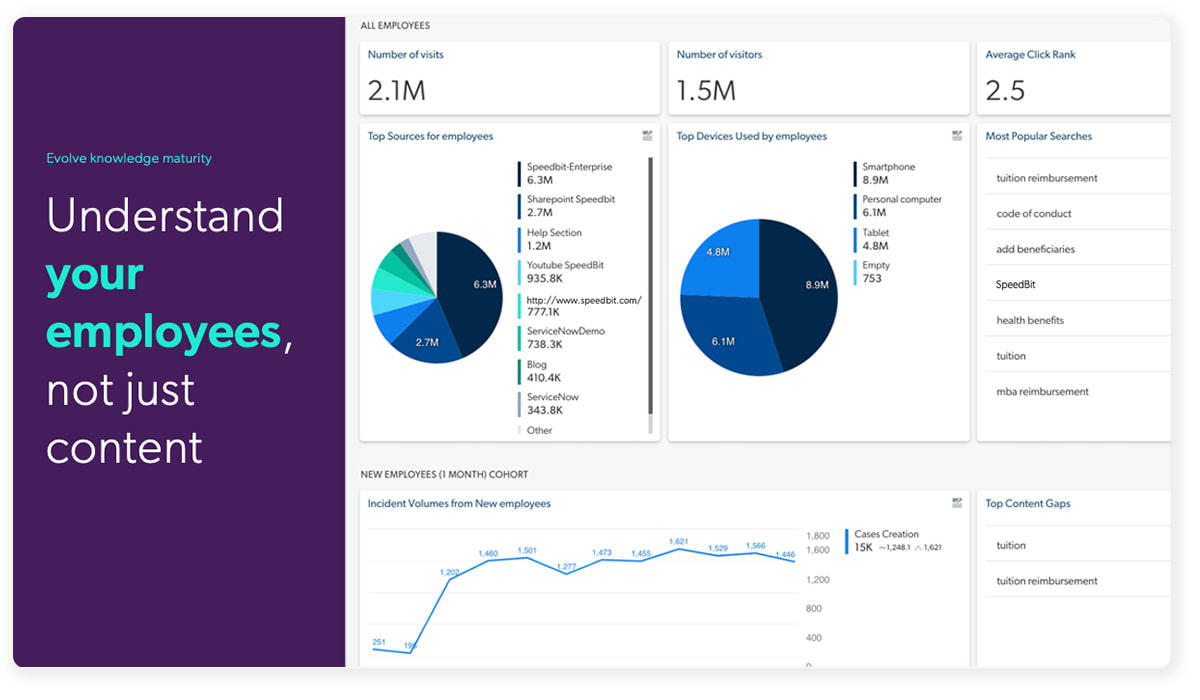 "We're creating this environment of knowledge… and it needs to evolve with us as our needs change and in the context of each individual," Chase said. This helps organizations decide on how they can optimize their content moving forward.
Analytics also can help determine what employees are searching for and the knowledge that they turn to the most—giving the organization an idea of areas where they might need to improve processes, such as onboarding, and gaps in knowledge and how they can use it for product improvement.
Reinforce Value of Knowledge and Best Practices
As your understanding of knowledge management needs grows—by looking at people, processes and technology—so does the need to underscore how important it is to the smooth functioning of an organization, Feldman said. "There is no set it and forget it in knowledge management."
Go about this by telling stories "about the painful before and the better after" and rewarding employees for contributing. 
Those rewards should focus on outcomes, not activities. For example, setting a goal of editing a certain number of documents a week encourages people to edit documents, not create high-quality documents. Creating a document that many employees use is focused on outcomes.
Other examples of outcomes are: 
Employees can self-serve more easily and efficiently.
The organization makes employee knowledge available to customers through the appropriate channels.
Employees duplicate work less often.
Customer inquiries change, even if the volume doesn't.
Collateral will be used by X number of people instead of making five new things for the sales team. 
Those outcomes should connect to the organization's values, which are ideas and concepts that employees should already be bought into.
Best practices in knowledge management strategy building include starting small so that you can get a thorough understanding of one area at a time. Pick one team's knowledge area to map at first, Feldman said, adding that two teams will also work if you want to bring their shared knowledge together. 
"Try to find some strong connections that you can start with," she added.
As people hear of successes in one area, the knowledge management project will gain momentum. Capitalizing on that moment is important to the health of the project. 
Starting small and getting additional employee buy-in allows you to realign the knowledge management strategy as the discovery process grows. This is essential as the change management process never stops, Feldman said.
Chase said that several Coveo clients have had success using this model for building a knowledge management strategy. In fact, Coveo is starting this process so they can capitalize on knowledge within the company. "We align within the organization, making sure that we have the same goals and that we know what we're doing and why."
And AI can help, especially in knowledge evolution when AI can understand what a user is searching for based on user type. For example, AI can show marketing employees documents related to their specific roles, making sure results are always optimized. 
AI can also help capture how employees search for information and analyze that data to show more relevant results every time another employee searches for that information.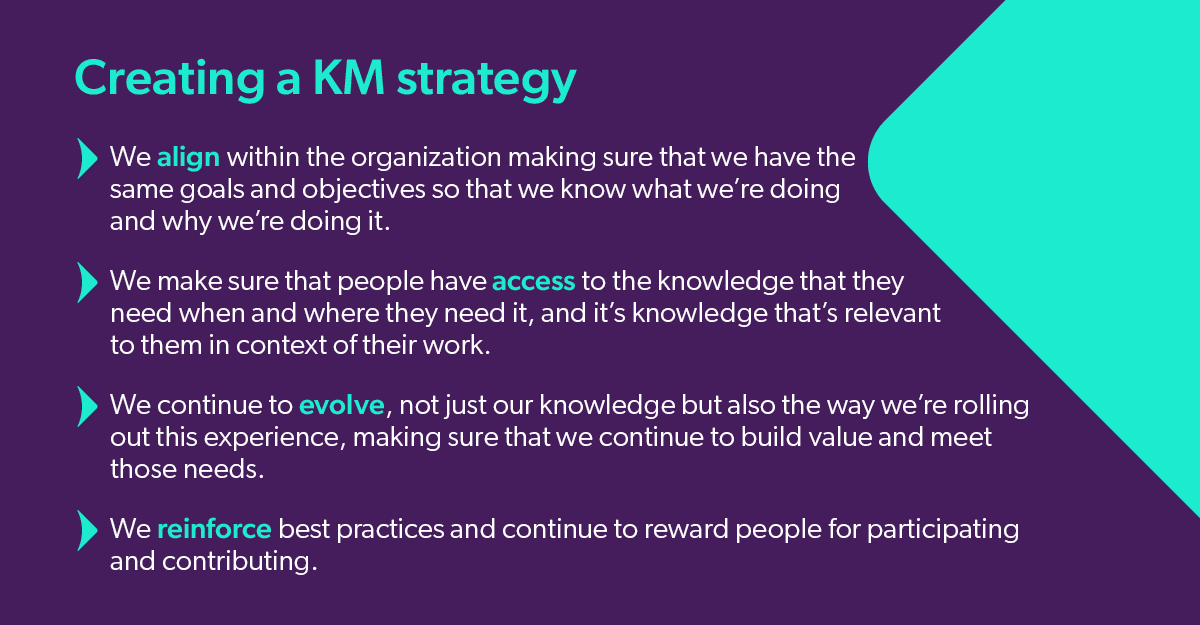 Knowledge Management Gives Your Employees a Voice
Good knowledge management does much more than simply capture information; it can show what employees might not be saying. 
"If I'm in HR and trying to create a good employee experience, I want to know that employees are curious about tuition reimbursement, for example," Chase said. "That's something I might not get from a survey. It comes from the searches, instead." 
Knowledge management paired with search gives insight to both the voice of the customer and voice of the employee. And search technology should support knowledge management initiatives, not dictate them. 
"We shouldn't have workers adapt to technology," Chase added. "Technology should adapt to the flow of work." 
Managing KM across programs, teams, and departments? Here's our advice
Ebook: 5 Best Practices for Multichannel Knowledge Management
Dig Deeper
Looking to upgrade your employee's remote work experience? Whether distributed or in-person, everyone benefits from secure access to critical and trusted information resources. Here's our Guide to Build a Connected Workplace for your Remote Workforce. 
---