"Search as a service" is a vendor that offers enterprise search or site search that's ready out of the box for specific online scenarios, such as ecommerce or customer support. This search service is offered via a software-as-a-service model, also known as SaaS. SaaS is provided through the cloud, allowing businesses to cost-effectively innovate, organize enterprise knowledge, and offer answers to external customers faster. 
Up until recently, site search as a conversion tactic was often forgotten. Marketers were often more focused on getting visitors to the company's website. Whether or not those visitors could find what they were looking for on the website was, unfortunately, their concern. With increasing expectations around digital channels, search service is quickly becoming an indispensable factor in an online business strategy.
Today, 43% of website visitors go straight to the site search box. Offering an exceptional user experience means supporting that journey with exceptional search. Here's what you need to know about search as a service, and how to choose the right provider.
What Are the Benefits of Search as a Service?
A DIY search engine solution (like Apache Solr or Elastic Enterprise Search) can be costly to build, difficult to maintain, and requires significant IT investment to develop innovations.
With the advent of cloud architecture, it's easier to outsource managing the details of search technology infrastructure to experts. Then your business can focus on your site visitors' experience.
Here are just a handful of the benefits your business can gain with search as a service:
Offload Maintenance
One of the biggest perks of any SaaS product is that you don't have to maintain it. Your vendor is tasked with the nitty gritty of keeping things running — your internal teams don't have to pour hours into solving logistical issues, troubleshooting, or developing features.
This is especially important when 96% of >600 tech practitioners said they struggle to find talent for enterprise search initiatives. (Such as data analysis and business intelligence expertise, search engine result ranking experts, or data ingestion knowledge.)
Instead, your internal teams can focus on your core business, developing content, and relevance tuning — the ingredients to creating a great digital journey.
Lower Cost of Ownership
Similar to offloading maintenance, your business takes on less infrastructure and operational costs with a SaaS product (moving from a CapEx to an OpEx model). You won't need to employ dedicated operations teams for a search service, which simplifies your tech stack.
Scale With Your Business
Your search must grow along with your business, adapting to changing customer needs and preferences. DIY solutions require developers to manage backups, resolve network latency issues, and fix unresponsive search.
A search service, on the other hand, lets you outsource all of that to third-party best-of-breed solution providers. Choosing a platform with artificial intelligence like out-of-the-box machine learning models can also take relevance tuning to the next level, allowing you to offer 1:1 personalization at scale.
Gather Insights With Search Analytics
People don't lie to their search box — sifting through search queries, clicks, and other on-site behavioral data, your business gains invaluable insight that informs marketing campaigns, product development, and much more.
Search analytics unveil insight into what your visitors are searching for, from keywords, efficacy of clickthrough language, and more. You can identify which searches were most successful, and which weren't. This gives you the power to tailor your online offering in the way that best meets your visitors' needs.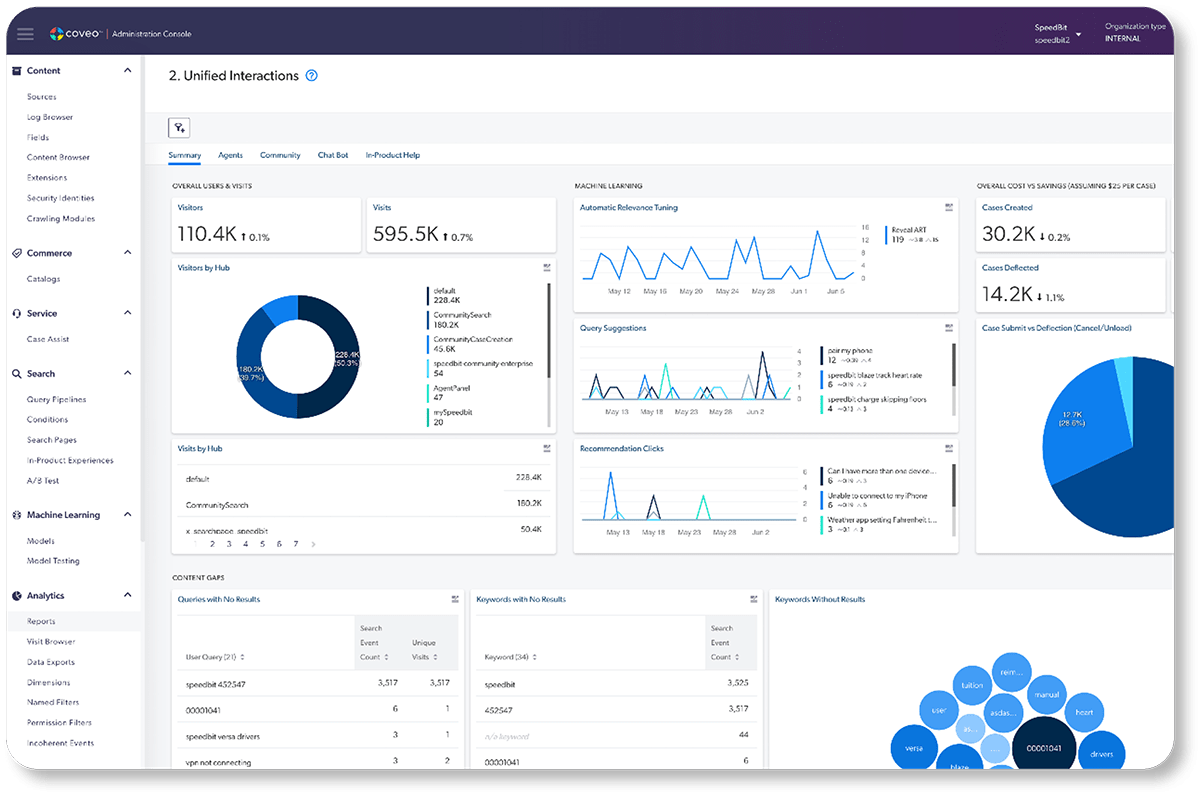 Meet Intent with Personalization
In a survey of 4,000 consumers across two continents, 93% expect their online experience to be similar to if not better than in person. And with all the personal data online brands can collect about their customers, it's hard to forgive when those digital experiences don't measure up.
An AI-powered search as a service platform can use clicks and queries to shape the experience for that specific online visitor. The right platform can also leverage "wisdom of the crowd" to make recommendations based on previous interactions, related interests, and affiliations.
And with automatic visitor data stitching, the right platform can keep that experience flowing from one digital channel to the next so it's always consistent.
Build Omnichannel Experiences
Part of personalizing the experience is meeting customers where they are, even if the first visit was on a mobile device and the second was to your website from a desktop computer. The right search as a service platform should be able to use authenticated data to remember that user and what content they've already interacted with.
And each experience is relevant, because they all operate from the same single source of truth (that is, the unified search we spoke about before).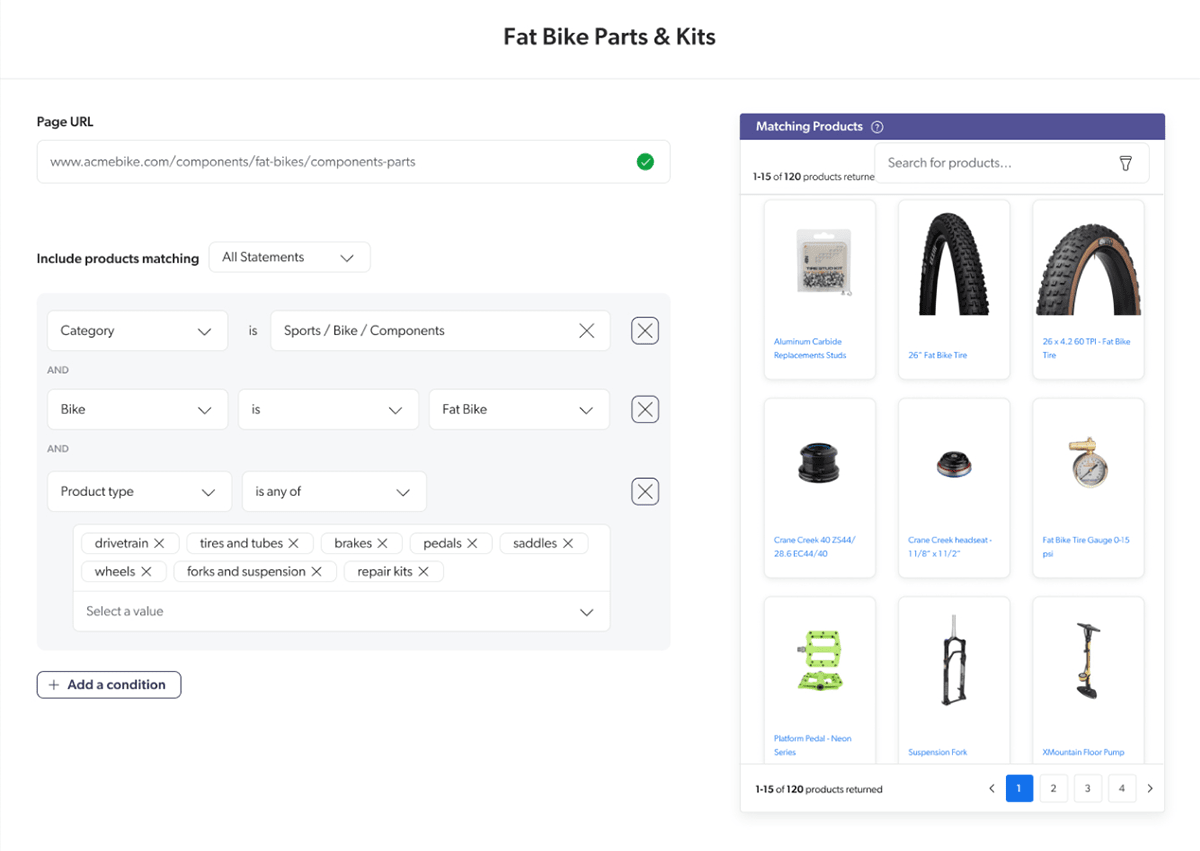 Easily Design Seamless UX
A good user experience is one that's rich with information, and not just a string of search result blue links. The right search as a service platform offers flexible frameworks to design site search interfaces to help your user find their answer fast.
With features like facets , smart snippets , and recommendations , you won't just answer what they need now, but also what they might need next.
From images, languages, file types, and much more, you can pack a lot of detail into a very small space. Rather than overwhelming visitors with choice overload , you supply the detail they need to make the best decision for themselves.
How Does Search as a Service Work?
The expression "______ as a service" has become pervasive in the IT community. In simple terms, whatever blank is, there exists a set of Application Programming Instructions (APIs) that can be applied across a network to facilitate an interaction. These APIs are operations that exist over a public or private cloud. Thus, platform as a service means that the platform runs through a web browser rather than as a stand-alone app or a dedicated virtual private network or VPN.
The advantage of such an architecture is that the person using the functionality does not need to have the app sitting on their hard drive but can instead make use of the power of cloud architecture .
How does this work from a business perspective? Search as a service vendors offer their services through a pay-as-you-go contract — another way to view this is a monthly subscription where you only pay for what you use.
Upon agreement and contract signing, the service provider offers one or more APIs that the client company can connect to the content platforms that they wish to make searchable.
This can include content on their website, metadata, or even unstructured content like Microsoft Word docs, PowerPoints, or PDFs. The search service platform then organizes, compiles, and indexes the information.
Service providers have different proprietary ways of building an index. Coveo offers unified search , which centralizes indexing and search across a wide range of content and data sources.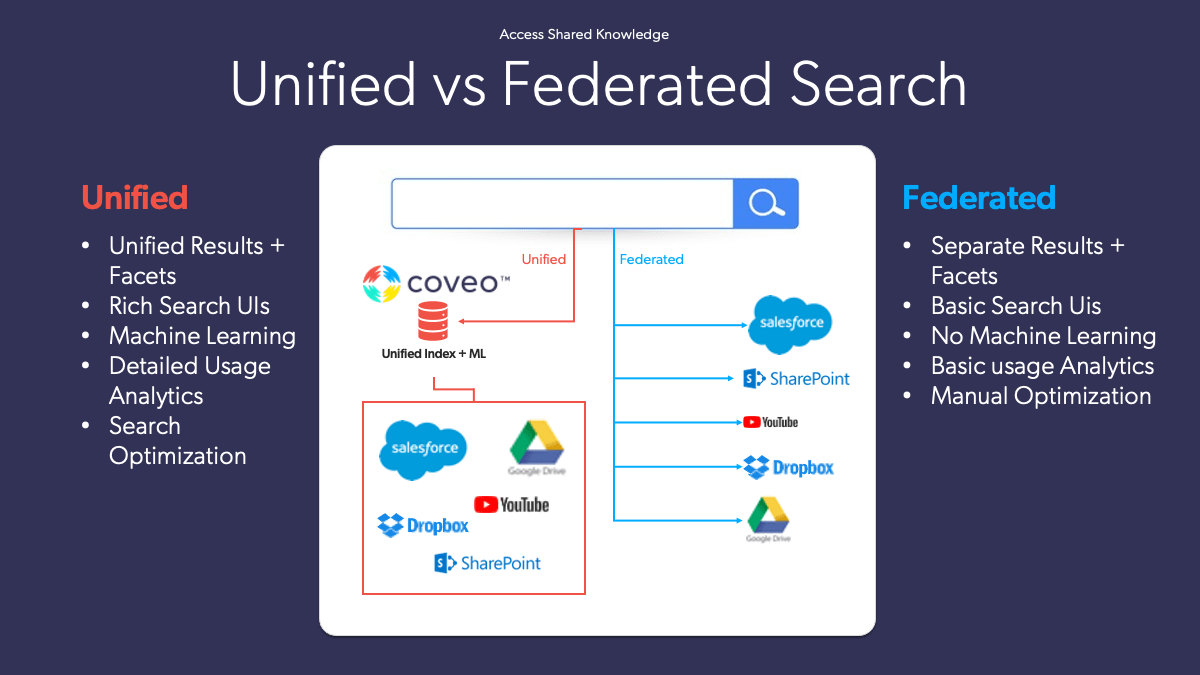 Let's walk through this with some real-world examples:
Traditionally, if an employee wanted to search inside, say, Microsoft Word, Google Drive, or the company CRM, they'd have to go inside each of those repositories individually.
Or if a support agent needed to access a proprietary system, they might have to leave their Customer Service Management (CSM) interface and log into that system to access documentation, jumping back and forth between windows.
Or a customer might search for a pair of shoes they believe are sold by one outlet, but are actually sold by a different outlet owned by the same company. Because search is siloed between sites, they can't find what they're looking for — regardless of the numerous terms they use.
With unified search, all of these users can instead search from a single interface that ranks all content in one place related to their search query.
This might sound a lot like federated search. The key difference is that there's only one index that's searched, as opposed to searching individually through each data source's index. This leads to faster, more accurate results for your site visitors — and less frustration and bounces.
Is Your Search Where It Needs to Be?
Users want every search engine to "work like Google search."
The thing is, Google — and other enterprise-level search as a service providers — are constantly reinventing what "work like Google" means. Why shoulder that burden yourself when there are best-of-breed search engines on the market?
Coveo is the intelligent search service platform designed to make content discovery effortless, with AI-powered results you can see starting on Day 1. Want to see it for yourself? Get a personalized walkthrough.
Dig Deeper
Don't just take our word for it. In this on-demand webinar, Formica explains how they leveraged Coveo to connect customers with the exact surfaces for their needs and preferences.