Today's fast-paced, technology-driven environment has given way to a smarter, more demanding customer base. As a business, you face an entirely new set of challenges and customer expectations.
The average customer is now an expert in self-education. They can — and often will — seek out information about your products and services before ever speaking to a sales rep. You're expected to provide around-the-clock customer service via a multitude of channels. And your product must integrate seamlessly with the workflows and systems customers are already using.
There's a tangible disconnect between how companies think they're doing around customer experience (CX) versus what their customers think.  In a recent study by CX platform Emplifi, 87% of brands felt they provide excellent CX while just 11% of customers agreed.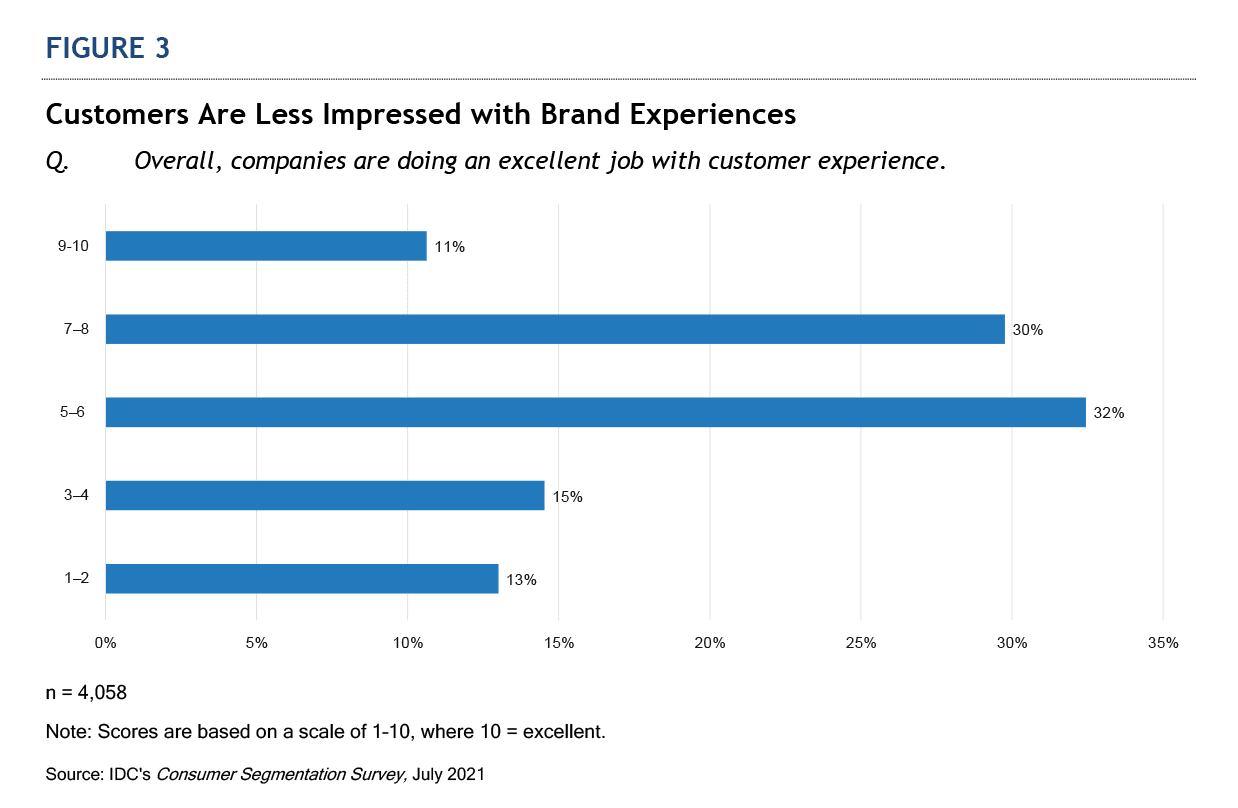 The customer experience is central to customer centricity, but it's not the only factor. To succeed in this new customer-centric culture, businesses must shift their focus from being product-oriented to being customer-focused. This means making your customer's needs and wants the driving force behind every decision you make — and using the data you have available to inform those decisions.
What is Customer Centricity?
Gartner defines customer centricity as, "the ability of people in an organization to understand customers' situations, perceptions, and expectations." 
Customer centricity often gets confused with customer service or customer support. But meeting customers' needs goes beyond just providing good service. It's a mindset that defines your entire company culture. 
Companies who are successful at customer centricity have happy loyal customers. In Forrester's 2022 CX Index, the top 5% of brands — those that excelled at customer centricity — were successful at providing "emotionally positive experiences for customers."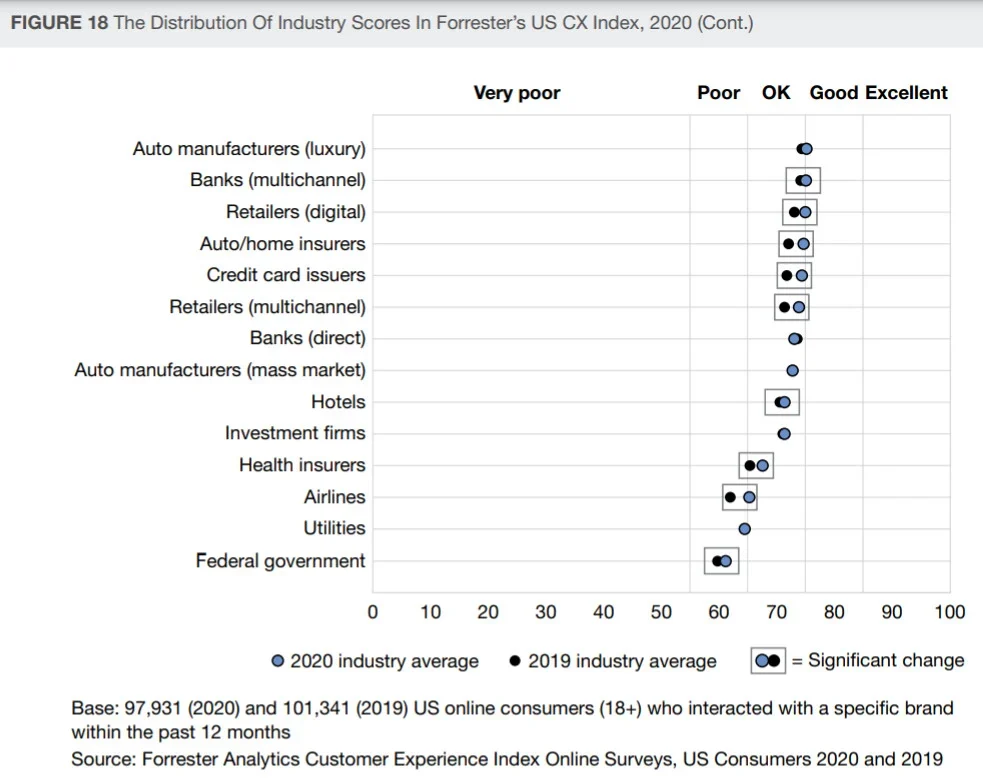 For a customer-centric approach to succeed, you need access to customer data and feedback to guide your business decisions. And while most companies have a wealth of data about their customers, they're not always using it to its full potential.
Enter Big Data
Big data — a term that refers to the large volume of structured and unstructured customer data being generated every day — can help businesses improve customer centricity. 
Big data has given businesses unrestricted insight into their customers and prospects. It's now relatively easy to create a comprehensive profile of your best buyers, their life-time value, their habits, their buying preferences, their preferred communication channels, the services and tools they rely on, and much more.
With the help of big data, you can understand, meet, and even predict your customers' expectations — making it easier to create a customer-centric business strategy. Below, we provide a 6-step roadmap aimed at helping you create a data-driven customer-centric strategy. 
1. Appoint a Customer Experience Leader
You can't be customer centric without obsessively focusing on customer experience, yet only 16.5% of companies have dedicated CX teams, per recent data from eMarketer. It's one thing to prioritize customer experience, but without someone to lead the initiative, it can be difficult (or impossible) to enforce a customer-centric business strategy and monitor customer experience across all departments.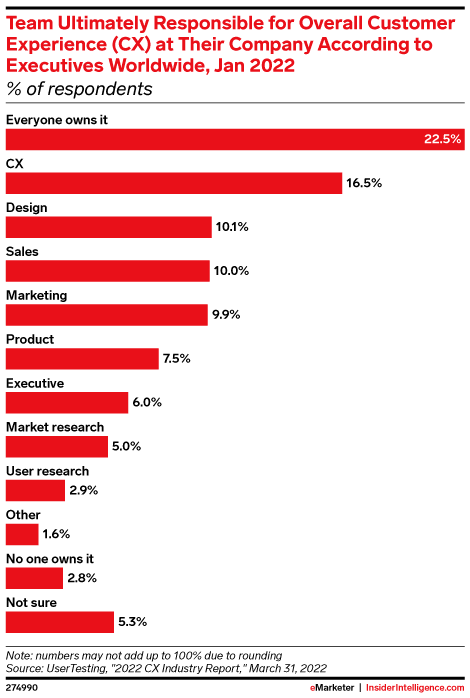 That's why you should start by appointing a CX leader. It's fine to tap an existing employee or seek a new hire, but the person spearheading this initiative should be in a leadership position. This individual establishes best practices, communicates the customer-centric mission to all employees, analyzes the current state of customer experience, and works with all departments to improve it.
Your customer experience officer puts a face to the initiative and establishes a certain level of accountability across your entire organization.
2.  Get to Know Your Customers Using Data
Creating a customer-centric culture requires a thorough understanding of your customer. This includes evaluating customer interaction data across touchpoints, customer relationship management (CRM) data, and employee engagement with customers. 
You can then begin to create a customer or buyer persona by asking:
What problems do your customers face? 
How does your product make their life easier? 
What leads someone to make a purchase? 
Who — specifically — are your customers? (age, location, job types, etc.)
What are they looking for when they interact with you?
Search analytics can help you answer some of the above questions by providing insight about customer intent. Search analytics factor in things like browser activity, top-performing content, and customer journey tracking. Reviewing advanced search metrics helps you unearth content gaps and customer pain points, but they also provide insight into your customer's entire digital journey (from their perspective).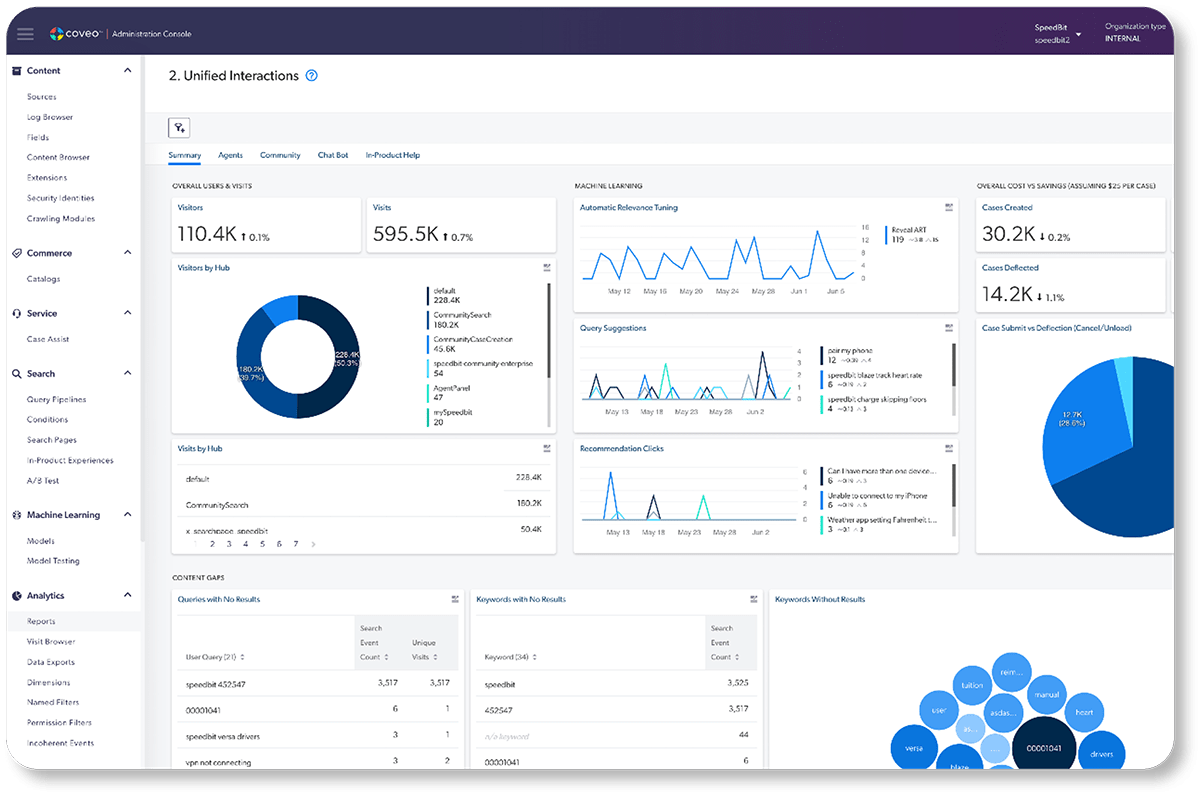 This is exactly what Coveo customer athenahealth did as part of their internal initiative to become a Knowledge-Centered Service (KCS)* organization. KCS is a customer service methodology that empowers service agents by making relevant information readily available to customer-facing teams. 
Part of athenahealth's KCS transformation involved evaluating customer search data to understand what content was being looked for but not found. They reviewed average click rank (ACR), a metric that measures the average position of a clicked item. If an item appears low on the list of results, it could mean there's a lack of information about the topic. 
This is a good way to plan content that supports KCS and customer-centricity.
3. Establish Best Practices for Positive Customer Experience
Once you've clearly identified and outlined your customer persona, you can plan a customer-centric road map that includes how you want them to interact with your brand. To do this, you'll need to establish best practices for customer experience. This involves looking at customer touchpoints and evaluating the customer journey. 
A customer touchpoint is any interaction between a customer and your company—from an advertisement they see on TV to an in-person meeting with a sales rep. The customer journey is the path customers take as they move from first becoming aware of your company to becoming a customer or client. 
Data from search and other sources helps you understand how customers interact with your brand throughout the customer buying journey. One way to approach this is by building a customer journey map, using the search data you have at hand. Look for patterns and identify areas where customer experience could be improved. 
Using insights gained from the data analysis process, consider the following questions:
What channels do customers use to communicate with your business?
How do your customers prefer to communicate?
What is the general age, education level, and job function of your best customers and how do these factors inform your brand's voice?
How long are customers willing to wait for customer support?
Do you have the resources in place to facilitate a faster response time?
What methods are being used to collect customer feedback?
How often do you meet to discuss customer experience?
How often are updates made to products and services?
How can you reach more prospects that share the characteristics of your best buyers?
How does your marketing team segment campaigns?
Is there a better, more personalized way you can communicate with your prospects and customers?
The key to running a customer-centric business is to personalize every aspect of the customer's journey. More than 70% of people now expect companies to understand their "unique needs and expectations," according to a recent Salesforce survey. The same survey revealed that 62% of respondents expect companies to anticipate their needs and 56% expect offers to always be personalized.
All these metrics are up in 2022 versus 2020, as the following chart from Insider Intelligence demonstrates: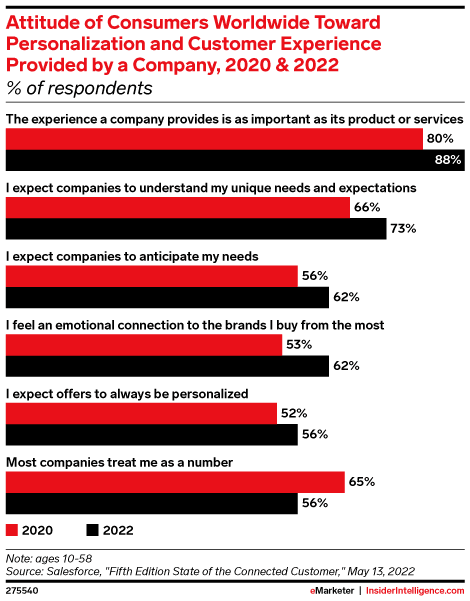 4. Align All Departments Around a Customer-Centric Culture
In a customer-centric company, all departments are focused and aligned with customer needs. A designated customer experience officer should oversee aligning the teams within your organization — including leadership, product development, marketing, service, and sales.
Alignment is a struggle for a lot of companies. Forrester's latest CX index revealed that 20% of brands have a lower CX quality now versus a year ago, with only about 3% of companies being "customer obsessed." Customer obsession means that a company is more concerned with putting the customer before anything else. 
5. Use Data to Test and Refine Your Approach
Adopting a customer-centric mindset in your organization isn't something you can 'set and forget.' It takes continuous time and effort. Success comes from evaluating your customer data, testing new ideas, and evolving your strategy based on the insights you glean from your analytics (not to mention customer feedback). 
Here are some ways to leverage analytics to help you refine and improve your customer centric approach:
Measure user adoption. Monitoring things like user location, most frequently used interfaces, what devices people use to access content, and customer satisfaction helps you understand how customers obtain information and what can be improved.
Analyze customer behavior. Use analytics to track customer interactions from first visit to purchase (or other goal). This helps surface opportunities to improve customer experience and engagement. 
Test different support channels. Try using social media, chat support, or phone support to see which channels your customers prefer — then track customer satisfaction levels over time to see if CX is improving.
Build out comprehensive customer self-service tools. Customers have increasingly come to expect self-service tools like chatbots, help forums, and publicly available documentation. In a recent survey by CX platform NICE, 81% of consumers indicated they want more self-service options. (With nearly 20% said they want "much more".) Self-service tools are available 24/7, help customers solve problems on their own, and can reduce support costs.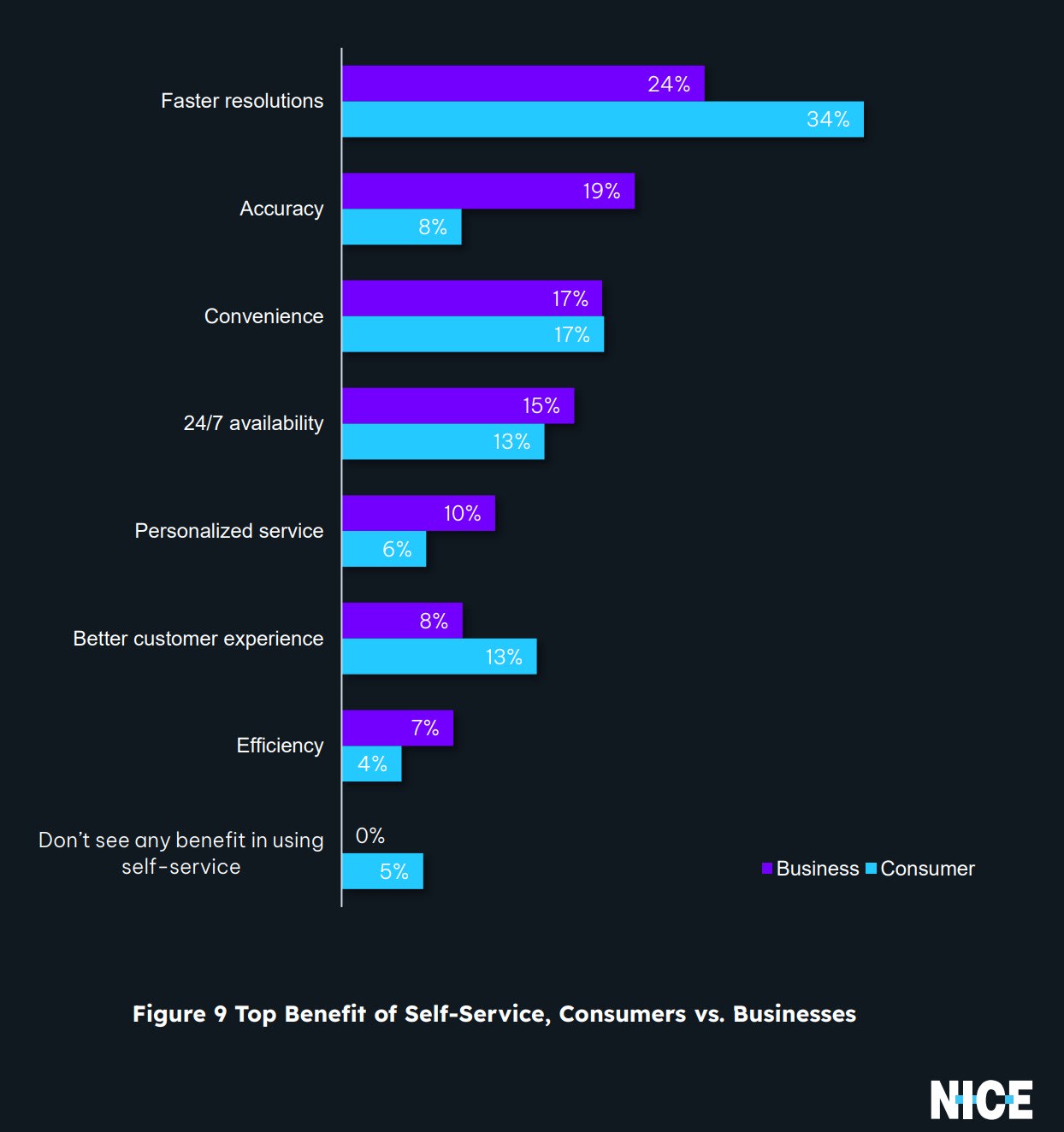 There is no 'right' way to become a customer-centric organization. The best way to find out what works for your organization is to continually test different approaches and refine your strategy based on customer feedback and data.
6. Use AI to Get Data-Driven Customer Insights  
Search analytics can help you evaluate the effectiveness of your customer-centric strategy, with insights into the success rate of your self-service content. It can also help you understand the adoption rates of devices used for searches, and gauge the proficiency of your agents. 
You can build dashboards that provide you with an enormous amount of information that identify opportunities to improve your customer experience.  
For example, you might see that a customer is regularly searching for the same thing. Yet they're not finding the answer they need in your self-service content. You can use this information to update your FAQs or create new support articles.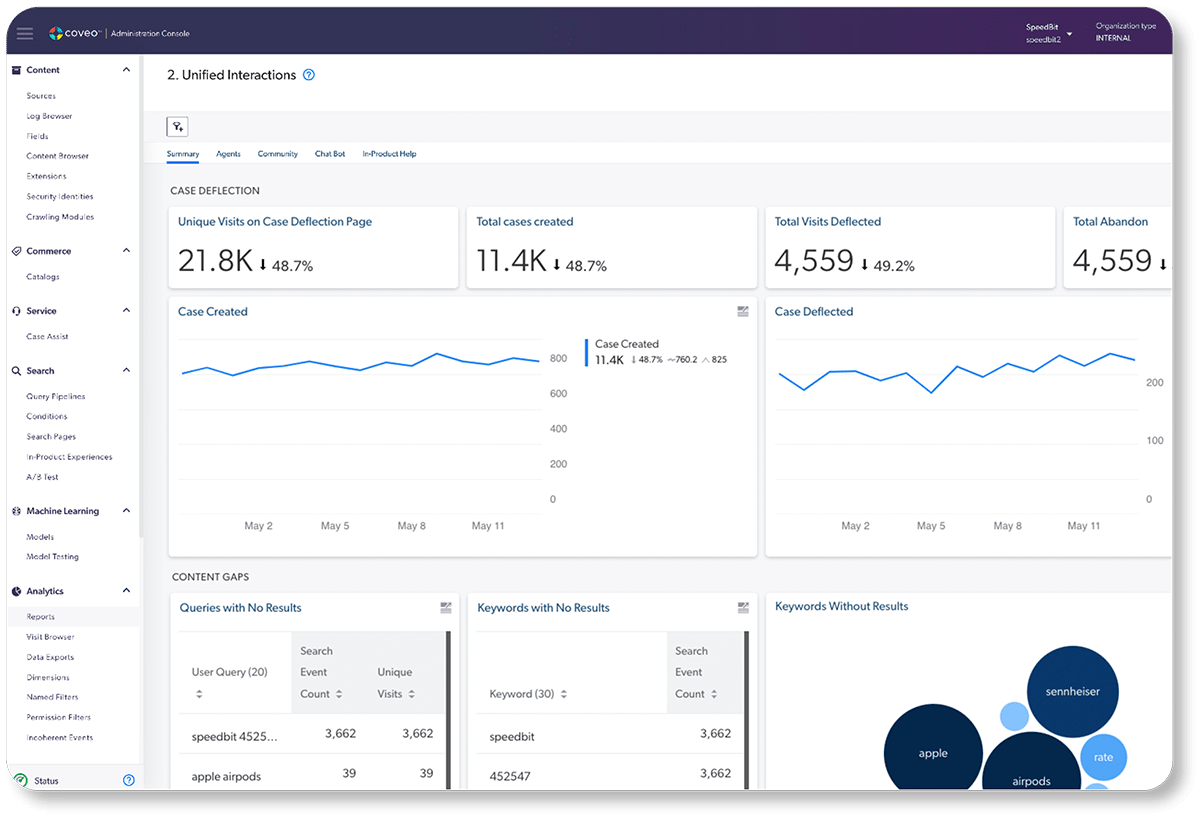 You can also use analytics to evaluate customer sentiment. This helps you understand how customers feel about their experience with your organization. You can use this valuable feedback to improve customer support interactions and align customer-centricity goals across all teams.
To facilitate alignment, consider holding regular meetings with department leaders to discuss goals, analyze opportunities revealed by your data, and keep everyone on the same page. Remember, communication is key. Each department sees different facets of the customer experience and has their own unique (and valuable) insight to contribute.
Customer-Centric Success
If you're not sold on a customer-centric business model, consider this: customer-centric companies are 60% more profitable than companies that don't prioritize their customers. Customer centricity works better when it's driven by your company's leadership — 64% of companies that have a CEO who is customer focused are more profitable versus their competitors. 
With the right data and a customer-centric mindset, you'll empower employees to create great customer experience. But to succeed, you must be customer obsessed and focused on meeting customers' needs, customizing the customer journey, and creating personalized experiences. It's hard work that ultimately leads to more business, customer loyalty, and contributes to your bottom line.
By using data to understand customer needs and preferences, you can create a customer-centric approach that positively impacts customer sentiment, improves customer engagement, and meets customer needs. This requires a deep understanding of roadblocks and frustrations so that a customer's experience with your company is as effortless as it is satisfying. 
Want to see a successful use case? Check out OSIsoft, and learn how they leveraged AI to not just understand but meet their customers' needs better. 
Case Study
Improving Self-Service Search in Salesforce with Coveo
*KCS® is a service mark of the Consortium for Service Innovation™