The conversation about knowledge management has never been more rigorous. Though it has been a while since the Borg of Star Trek fame introduced many of us to the notion of machine-generated information as knowledge, the Borg weren't so far off.
Today, new tech like IBM Watson further pushes the boundaries of what we understand knowledge to be, as have new forays into content services and information-as-a-service.
At the very least, today most people believe in the intellectual capital that can be accumulated with an effective knowledge management system. As such, knowledge management was among the top priorities for customer service and support leaders in 2022, which isn't surprising considering how knowledge creation benefits knowledge retention and knowledge transfer. 
What is Knowledge Management? A Definition
It's useful to frame knowledge management as its own field, akin to sales or marketing, rather than a distinct product or service. As with any discipline, knowledge management has evolved. But the core purpose remains the same: capture, distribute, and effectively use existing knowledge, to paraphrase scholar and subject-matter expert Thomas Davenport.
This aligns with Karen Hobert's notable assertion back in 2018. Writing for Gartner, Hobert said knowledge management isn't a market, but rather a discipline that various technologies, processes, and strategies comprise.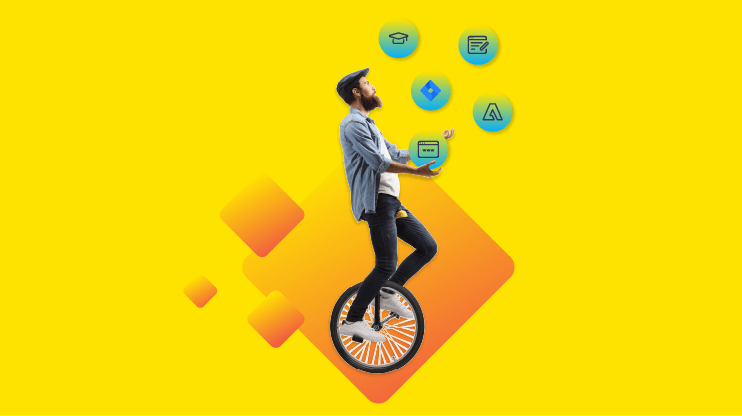 Of course, any discussion about evolving the definition of knowledge management ought to include a definition of knowledge. Here's one definition based on the many attempts that preceded it, from Plato to Mary Adams Oleksak:
"Knowledge is a human capacity to take action under conditions of uncertainty."
That stuff between the ears, as Peter Drucker put it so long ago.
Knowledge Types: Explicit Knowledge, Implicit Knowledge, and Tacit Knowledge
Broadly speaking, existing knowledge can be categorized in three buckets:
| Explicit Knowledge | Implicit Knowledge | Tacit Knowledge (or Expert) |
| --- | --- | --- |
| Knowledge that's set out in some tangible form — a document, book, social media post, etcetera. Also known as codified knowledge. | Knowledge derived from the act of putting explicit knowledge into practice. You could make this knowledge explicit through experience (for example, an agent performs a document installation process and publishes supplementary knowledge that she acquired by going through the process). | Knowledge that one would have difficulty operationally setting out in tangible form. It is woven inside the mind and gained through experience. For example, a sales engineer that not only performs a demo, but does so based on years of experience presenting a particular product within a particular niche. |
Three distinct types of knowledge
At any given moment, people are creating and managing knowledge across an enterprise. While we understand the purpose of knowledge management is to help capture, distribute, and effectively use knowledge, specific use cases vary significantly.
The Difference Between a Knowledge Base and Knowledge Management

To this day, many professionals still conflate a knowledge base with knowledge management. A knowledge base is a repository of information — help articles, documentation, video tutorials, and so on — that people can search through. A knowledge base is just one part of a broader knowledge management strategy.
At a fundamental level, there four pillars of knowledge management maturity :
Corporate culture
People
Process
Technology
What Are the Use Cases for Knowledge Management?
As for knowledge management use cases, let's consider two high-level categories for the purposes of this blog:
service and support;
and workplace enablement.
As you'll quickly find, these use cases directly reflect an organization's maturity. And each use case inevitably extends to and intermeshes with one of the holy grails of a strong knowledge management practice: relevant customer experiences.
For Service and Support
Because service and support professionals use knowledge daily to do their jobs (namely helping partners, customers, and internal employees get help), you'll find knowledge management interwoven throughout a variety of their experiences.
Agent Enablement
A service and support agent is a knowledge manager of the highest order. They're regularly asked to be exemplary multitaskers. Constantly under the clock, they're asked to quickly read and resolve issues in a variety of contexts — sometimes with frustrated customers haranguing them. The more accurate, relevant, and fast their connection to the right knowledge asset, the better they can do their jobs. 
That goes for:
At the low end of knowledge management maturity, you'll find a knowledge worker heavily relying on implicit and tacit knowledge. In the absence of a serviceable knowledge base, or knowledge sharing culture , agents are on their own. Don't be surprised to find high turnover and poor customer satisfaction in such environments.
On the other hand, a strong knowledge management strategy helps agents instantly view personalized content recommendations based on the customer's history, including suggested solutions — ideally without having to switch to a different interface. When they do have to search for something, that search experience is personalized based on their role, as well the history of the customer they're dealing with.
It's relevant knowledge at just the right moment. Indeed, layering data and artificial intelligence (AI) within your knowledge management software to create personalized experiences is a core tenet of Coveo's AI-powered agent experience inside Salesforce.
Support agents with information at their fingertips
Ebook: Create an AI-Powered Agent Experience Inside Salesforce
Self-Service
Sometimes, a customer support agent interaction isn't necessary. Ideally, customers can find the answers themselves before a higher-friction experience (a phone call, for example) becomes necessary. To this end, knowledge management is often what makes a customer self-service experience superior.
A comprehensive information management solution can extend relevant information to a many channels for self-service, including:
Virtual self-service chatbots
Knowledge base
Onsite and Google search
Case deflection and self-service success often go hand in hand. A common example is deflection on the case submission form. With the help of a rich knowledge database and, in some cases, machine learning, an organization can present customers the info they need right then and there. You can also measure case deflection on the case submission form, translating those deflections into hard-dollar KPIs.
Tailor support for every customer
Ebook: 6 Techniques for Self-Service Success
For the Workplace
You might be surprised to learn that employee retention and knowledge management are closely connected. When employees can find the information they need and trust its accuracy, they feel more empowered in their roles. When finding information is a labor, workers tend to hit the road.
That goes for all touch points along the employee journey, including:
Onboarding and training
Human resources and IT documentation
Customer relationship management
Internal knowledge base
Team collaboration and intranets
Enterprise social media
Employee departures
A throughline for all of these touch points is access to knowledge. Especially in hybrid or completely remote working environments , timely access to knowledge is more important than ever. Onboarding looks a little different when you're working from home, as does customer support.
Sure, you can still ping a colleague in Denver from your desk in Chicago. However, enterprises with multiple locations and a large group of employees need a far more scalable KM strategy for extending access to information wherever and whenever employees need it — whatever their role and wherever they are in the world.
What's more, people's expectations are changing . For example, Gen Z is tech-savvy and expect self-service and timely micro-learning experiences, which makes robust knowledge management all the more important.
Create a digital workplace that attracts and retains talent
Ebook: Guide to Delivering AI-Powered Employee Experiences
What Are Some Knowledge Management Best Practices?
Within the knowledge management discipline, you'll find a variety of tools and technologies that can improve the effectiveness of your management system.
A content management system and Wikis can now be joined by new knowledge management platforms. In the What is Knowledge Management Infographic from APQC , for instance, we see mentions of knowledge mapping, communities of practice, and even mentoring.
Here are the four tools and technologies we believe will have the greatest influence on your knowledge management process moving forward:
1. Content Analytics to Evaluate KM Initiatives
It's not enough to dump all organizational knowledge into a flat repository. Savvy organizations are getting more out of their corporate knowledge with advanced content analytics. Content analytics can reveal gaps in content or coverage. For example, you might find that you don't have corresponding support content for your top high-volume support issues. Similarly, search analytics can provide keyword insights that inform new content development.
The idea is to use actual content analytics data to publish content based on what people actually need. In some cases, enterprises can use this data to help inform product improvements (for example, if everyone who views X article submits a case, perhaps this is a hot-button issue we can address in the product).
2. KCS v6 Verified and Aligned Tools
Knowledge Centered Service (KCS) is an approach to knowledge management gaining considerable ground. KCS is premised on the solve and evolve loop, as depicted below: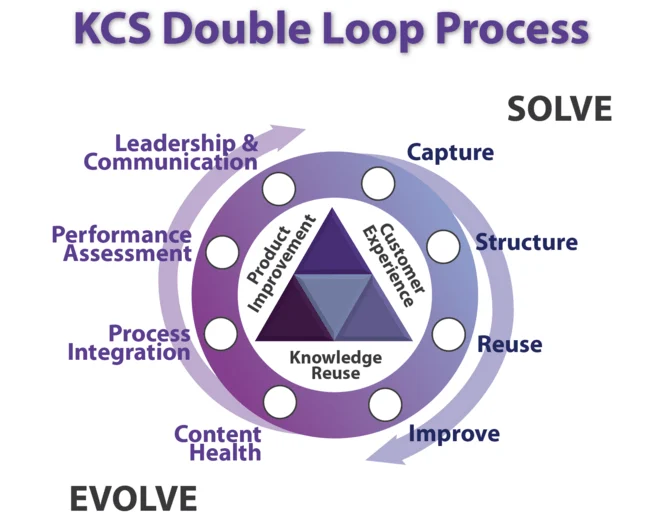 KCS can be a highly effective means for building and operationalizing a culture of knowledge sharing premised on continuous improvements to knowledge, product, and customer experience. As it turns out, there are two lists that can help guide you to solutions that support KCS:
3. Data and Databases
Behind the refrain "relevant experiences, at the right time, for the right people" is a lot of data. With the help of machine learning, AI, and other technology, enterprises can get a lot more out of these data sets, including:
Content recommendations
Keyword insights
Advanced search metrics
Zero-result search data
A/B testing insights
User journey tracking
Customer service analytics dashboards
Coveo, for example, allows for direct data warehouse access so customers can directly query the Coveo database, creating a single source of truth for customer interactions.
In its knowledge management trends for 2021, KMWorld highlights another data technology worth noting here: graph databases (aka "knowledge graphs"). Because graph databases boast fast processing speeds for complex queries, they're well suited to "detect and surface relationships among entities," a critical capability for recommendation engines , in particular.
And because recommendation engines play such a critical role in mature knowledge management practices, keep an eye on the continued proliferation of knowledge graphs.
4. Intelligent Search and AI
In How Intelligent Search Will Transform the Digital Workplace, Gauthier Robe describes a most attainable idyll made possible by intelligent search: all the data you want – from the applications you use during a regular day – automatically presented; the ability to intuitively discover new knowledge and upgrade your skills; and personalized alerts that tell you about relevant discussions taking place on your company's online communities.
That's intelligent search in a nutshell, which relies on artificial intelligence to unify data sources and content into a single source of truth for all people – customers, employers, partners, and otherwise. So, when an agent or any other employee uses the search bar embedded within their console, they're seeing search results personalized in real-time. The same goes for a customer searching the community, or a new customer trying out site search to look for a product.
In addition to personalization, AI helps to keep the latest knowledge article at the forefront automatically. Within the discipline, you'll come across the notion that "knowledge is perishable." That is, it has a shelf life, and holding on to old or redundant company knowledge is bad. While AI isn't a magic bullet for the ongoing perishability of institutional knowledge, you can imagine that as employees start to reject out-of-date search results, they will lose their ranking power organically.
For an in-depth look at all that goes into intelligent search, see AI Transforms Enterprise Search Into Intelligent Search.
How Organizational Culture Impacts KM Initiatives
A key factor in information management and knowledge sharing, regardless of department, is organizational culture. A KM initiative requires people to change their behavior. That is, document and share all their hard-earned knowledge assets and intellectual capital. As such, a strong knowledge sharing culture with a spirit of collaboration is a critical driver for success for most companies, according to the Technology & Services Industry Association (TSIA).
It's not enough to encourage knowledge sharing practices among employees. You need to build a top-down culture around it, supported by executives and driven by a dedicated KM team that helps guide and mentor employees. 
This is particularly important with hybrid and remote work arrangements. According to Gallup, remote work will continue into 2023, with about 75% of remote-capable workers going fully or partially remote. 
Eliminating knowledge gaps and information silos will be crucial for remote workers' success.
Knowledge Management and Coveo
Coveo intelligent search and unified indexing support many of the knowledge management strategies mentioned in this blog. With support for more than 100 content types and 55 indexable content sources , Coveo can bring in knowledge from nearly any system or source. Including, but not limited to:
KB articles
Product documentation
Video tutorials
Community posts
Image files
Google Drive docs
Beyond unifying and indexing all of this content, Coveo AI effectively transforms that knowledge into contextually relevant experiences across customer and employee channels. The use cases for knowledge management and Coveo are myriad:
Dig Deeper
As organizations tackle the complexities of a knowledge management transformation, they must overcome a distinct obstacle: content that supports multiple intents while living in siloed content sources. Get best practices for managing multichannel knowledge management in our ebook:
Managing KM across programs, teams, and departments? Here's our advice
Ebook: 5 Best Practices for Multichannel Knowledge Management
Or see our on-demand webinar, Your Roadmap to Knowledge Management Transformation with TSIA, for insights on the people, processes, and technology that are key to a knowledge transformation.
Listen to the full conversation
Webinar: Your Roadmap to Knowledge Management Transformation with TSIA
---