Delivering millions of unique experiences to millions of people – that's what creating personalized, relevant content achieves.
Coveo's CEO, Louis Tetu, talked with industry analysts and customers about how to do so during the Relevance 360 event on March 25. They agreed that we have moved from the digital age to the experience age – when customers expect to see what they want without asking for it.
"We're no longer in the digital economy; that was a decade ago. We're in the experience economy," Tetu said. "And it's powered by search and AI."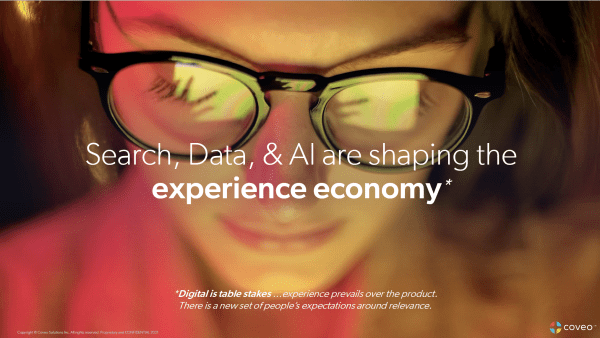 This is because people are drowning in content, and information overload is a reality. How well you know your customers is more relevant than ever, said R "Ray" Wang principal analyst, founder and chairman of Constellation Research, because that knowledge helps you "improve your relevance to survive in the digital world."
The key is decision velocity, Wong said. Machine learning can make enterprises and customers faster at making decisions – it drives the delivery of dynamic content on the fly by the enterprise and context-driven decisions by customers.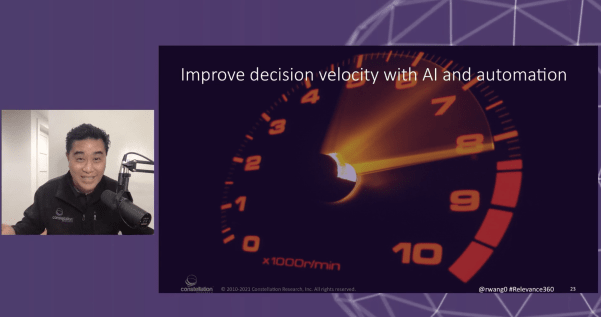 Achieving that velocity is easier than ever – by using AI and machine learning to process thousands of data points so that site users see what they need to see, even if they don't explicitly search for it. Delivering personalization in this manner has allowed Coveo's customers to increase their client base and serve them in more human ways.
Choice Is a Commodity
Coveo surveyed 1,988 consumers and found that 43 percent of customers would pay more if they could find what they're looking for in just a few clicks.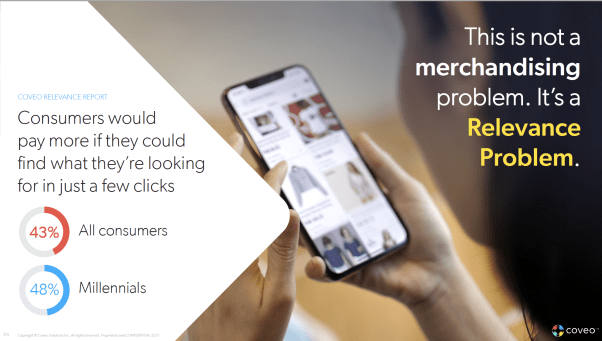 Serving customers with more personalized experiences can help lure and retain customers by following users across properties, understanding who they are, what they like, what interests and what might interest them, Tetu said.
By following the trail of what a customer – and others like him – has done on a site, AI can anticipate what that customer will do next and serve them information and sites that they need, even if they haven't searched for it. This is important in shopping and in customer service – where, when a customer calls, they get the information they need without having to go through a chain of employees before getting someone that kinda sorta might be able to help them.
What should retailers look for in a personalization system?
Tune in to our podcast, The Ecom Edge!
There are three layers to implementing an AI system that can help reach this level of personalization, Tetu said. "Search shows people what they want, the second layer is personalization, and third is delivering to people what they want."
Enterprises can deliver relevant interactions at scale with the Coveo Relevance Cloud™, Tetu said, announcing the release of the cloud-based AI-powered platform that aggregates data from multiple sources to provide insights into individual consumer behavior as they navigate across sites.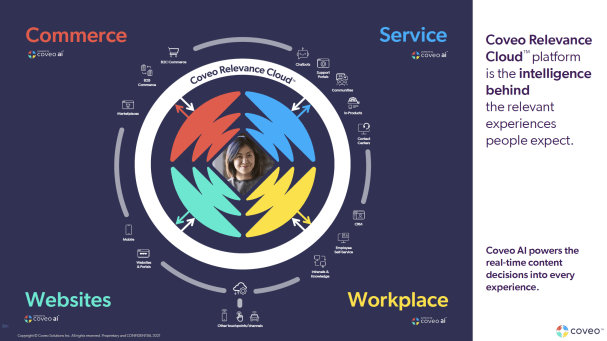 "We become the cloud that makes the decision about which experience to inject into the experience," Tetu said, adding, "We don't own the experience. We power the content and recommendations."
Salesforce AppExchange Personalizes Users' Experiences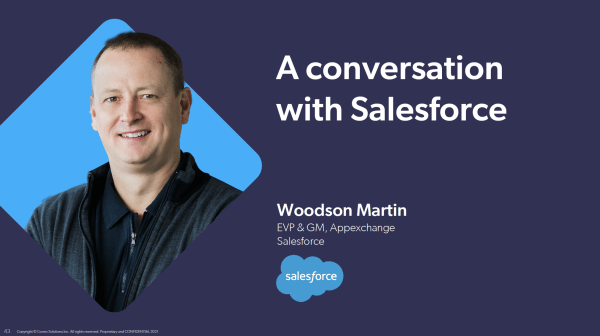 Salesforce uses Coveo to personalize the experience for its AppExchange clients. "Our customers use Coveo to blaze trails, to do new things, to drive innovation, and to delight their customers," said Woodson Martin, executive vice president and general manager of Salesforce's AppExchange, so "they have the same expectation of AppExchange."
Salesforce collects data as their AppExchange customers navigate the site and interact with the community there. Interestingly, AppExchange needs to understand customers as people and as representatives of an enterprise.
They add this data to a profile and use it to suggest apps for those customers.
As the AppExchange marketplace continues to grow and add more solutions, the challenge to find things also grows. The goal is not to keep users on the site or have them browse apps as part of a shopping experience, Martin said. "We're trying to ensure that users can find what they need."
XERO AU Serves Customers With Humanity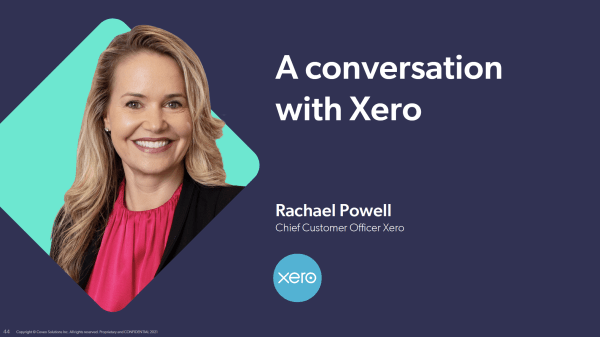 Xero, the Australian accounting software firm, was born in the cloud, which means that customer support functions were good from the beginning, said Rachael Powell, Xero's chief customer officer. With massive adoption of digitization across the Australian economy and 2 million visits to its customer support platform, Xero needed help to scale support.
Coveo put the right technology in place to make user experience on the platform as personalized as possible, Powell said. "Coveo means that all of the transactional information is available so we can give customers the right insights at the right time," Powell added. This is especially important since Xero provides 96 percent of its customer service online.
In fact, Xero has no inbound support calls. Instead, all calls originate from the company to its customers.
The goal of the site is to "sort out customers' needs quickly," Powell said, so Xero can present the precise information the customer needs – even if the customer doesn't always know how to ask the question.
But if a customer can't find the information they need on the site, a Xero representative calls the customer. That way, Powell said, "They don't get passed around, but talk to the right person out of the gate."
This allows Xero's customer service people to focus on the people who actually need human help.
"It's allowed us to be a very efficient organization. One of our values is human, so we don't want to take that out of our organization," Powell said. "We're delivering millions of experiences to millions of people."
"Almost like you're describing data-driven empathy," Tetu said.
With Great Capability Comes Great Opportunity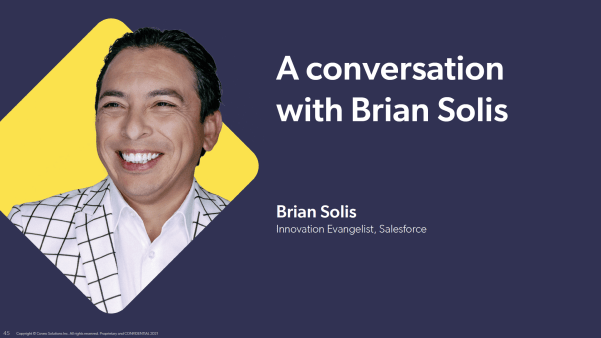 AI's ability to deliver personalized experiences creates great opportunities for enterprises to cultivate more meaningful relationships with customers, said global innovation evangelist and author, Brian Solis.
It is important to understand how each person values engagement, Solis said. Once we do, "how someone experiences engagement is ours to design," he said, and AI can help enterprises make each person see and feel what we want them to.
Solis said that there's no time to waste. "Loyalty is up for grabs," he said, especially since 75 percent of customers experimented with a new brand during the pandemic and a majority said they'll remain with the new brands.
This is a call to action for companies, Solis said. "Any great transformation, any great innovation started because someone like you decided to see things and do things differently as a result," he added.
Now it's your turn to see things and do things differently in order to deliver the personalized experiences that your customers expect. 
Dig Deeper 
Prepare yourself and your organization to take on this rapidly changing digital world of ours by watching the Relevance 360 keynote sessions in full today. 
Xero's Rachael Powell, Salesforce's Woodson Martin, global innovation evangelist Brian Solis, Constellation Research's R "Ray" Wang, and Coveo's own Louis Tetu are ready to help you.