ServiceNow is all about making things work better with digital workflows. Across people, processes, and systems, this platform can quite literally transform the way organizations work (just ask Deloitte). 
As you'll find across many notable ServiceNow case studies, the companies making the most out of their experience are finding ways to surface external content, offer personalized recommendations, and gather cross-channel search and interaction data—all within various ServiceNow experiences.
Of course, this is easier said than done. And not all ServiceNow deployments live up to this expectation.
Not All Intelligent Search is Created Equal
If your organization is struggling to get this kind of value out of ServiceNow, it might be due to limitations to this platform's out-of-box AI-powered search capabilities. In our experience, these limitations manifest themselves in a few common ways: 
High volumes of repeat, low-touch cases that could be solved through self-service
Prohibitively inefficient self-service experiences within Customer, IT, and HR workflows
Irrelevant or redundant content recommendations
Stagnant or rising cost-to-serve metrics
Poor first contact resolution rates
How Coveo Relevance Fixes Your Problems in ServiceNow
Coveo for ServiceNow solves these limitations in three areas that might sound familiar: 
1. Find the Right Content Faster
Most headaches in ServiceNow arise when employees, agents, customers, and others struggle to find relevant information they need at the moment they need it. With Coveo for ServiceNow, you can:
Bring external content into ServiceNow without migration. Your users can find the information they need in knowledge base articles, videos, training, and more without the need to migrate content or data tables. Coveo securely indexes almost any cloud based or on-premise source with more than 55 pre-built connectors.
Surface relevant results with machine learning. Coveo machine learning analyzes which knowledge performs best, then automatically optimizes the search experience based on past successful outcomes, thus reducing time to resolution and improving productivity.
Deliver the robust search experience you envision. Coveo's drag-and-drop search UI components, headless UI library, and native integrations make it easy to customize the search result interface and filters.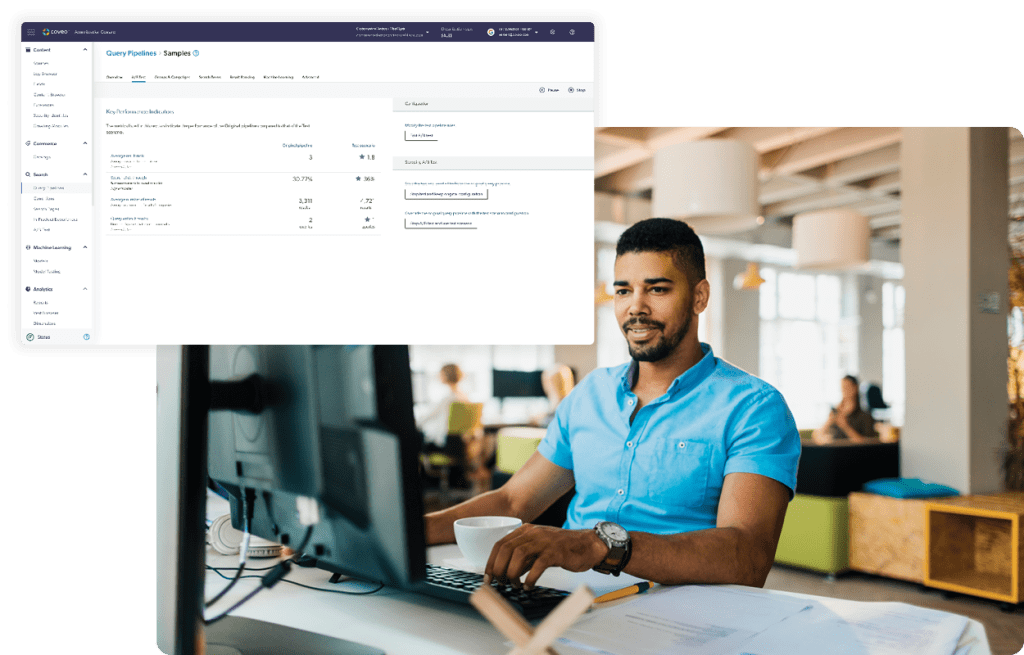 2. Support Every Journey
There's a reason the "choose your own adventure" books were so popular: people have different ways of tracking down the information they need. That makes for myriad journeys that can't possibly be accounted for manually, or through hard coding. Instead:
Keep employees in their flow of work. In environments such as an IT service desk, where people need to respond fast and effectively to deliver on service expectations, switching windows while searching for information isn't an option. Coveo delivers the answers your fulfillers need right within their ServiceNow IT Workflow with an insight panel.
Provide consumer-like employee experiences. Since employees are naturally authenticated within your applications, machine learning can use their profile, behavior, and context to offer personalized results and recommendations for a unique user experience right within ServiceNow.
Give agents full insight into customer journeys. Coveo tracks the complete customer journey across your website, community, and self-service portals to give your agents the full context they need right within their ServiceNow Agent Workspace.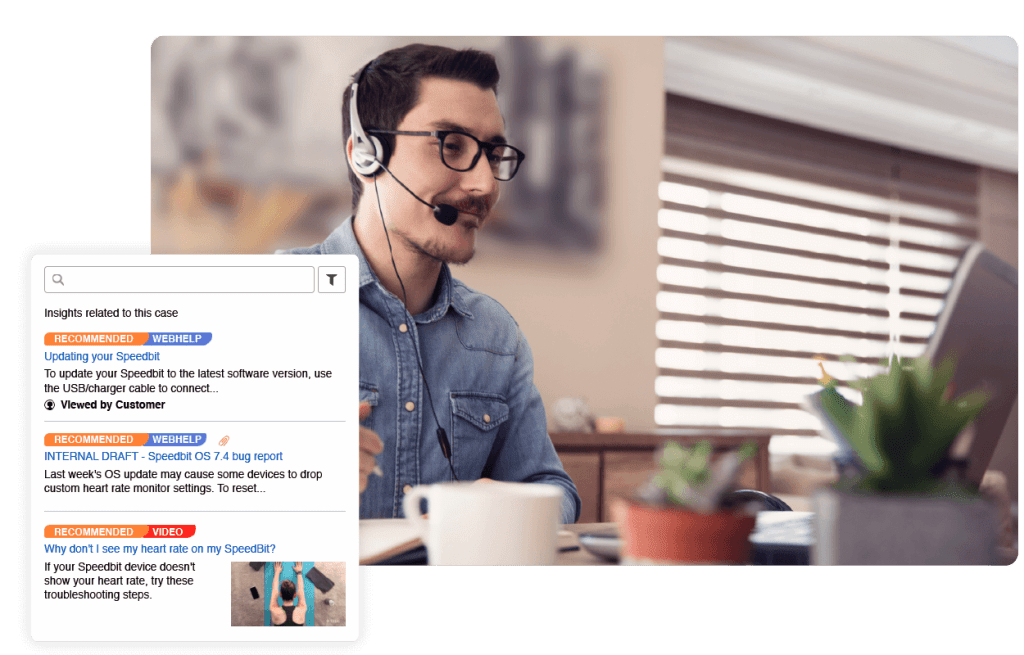 3. Measure Success Across Channels
The people interacting with various ServiceNow workflows are sending thousands upon thousands of signals—if not more—each and every day. They're clicking, interacting, and inputting search language. In short, they're creating a lot of data that can and should be used to continuously improve the experience. Here's how Coveo does that within ServiceNow:
Understand cross-channel behavior. Coveo captures and unifies signals across all your digital channels—every click, swipe, search, and so on—so that you can have complete line-of-sight into how your employees and customers search for and use content. 
Optimize knowledge delivery based on data. Empower your team with the data they need to identify content gaps, understand knowledge use, and measure case deflection and self-service success.
Easily connect to Google Analytics. Feed data to your Coveo Usage Analytics with the Google Analytics protocol, or log Coveo events with Google Tag Manager. Get a fuller picture and offer radically personalized experiences.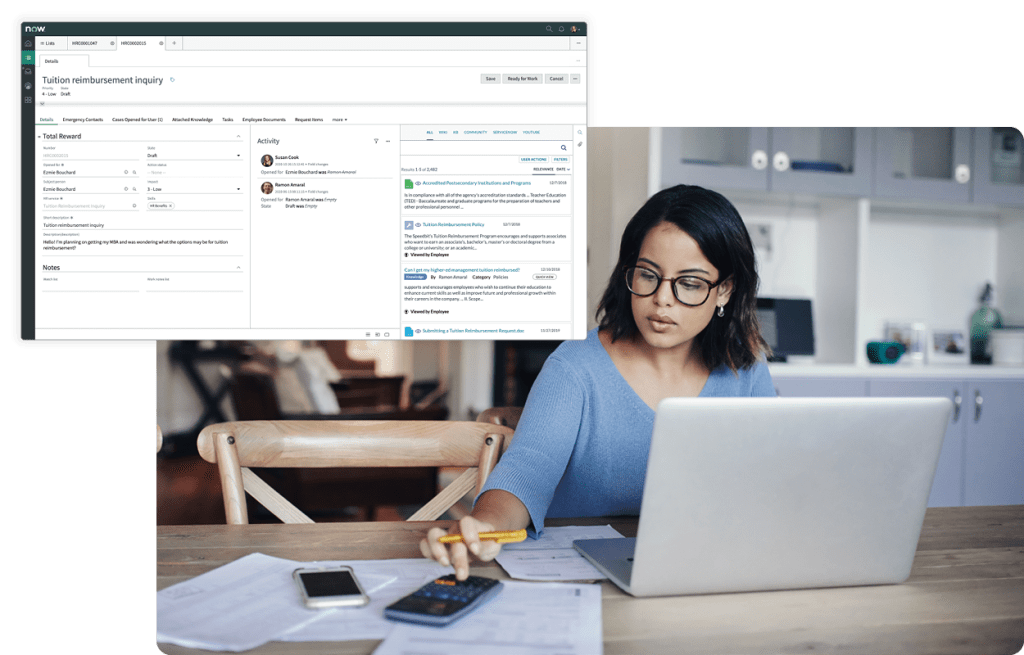 You Can't Solve Enterprise Problems Without Enterprise Intelligent Search
In the end, both ServiceNow and Coveo now share common objectives. Both platforms aim to help customers, support agents, and employees be more proficient. Both platforms offer intelligent search capable of supporting this aim. For many organizations, the out-of-the-box intelligent search included with ServiceNow suffices. 
At the enterprise level, however, Coveo intelligent search can solve some of the common problems that tend to crop up within ServiceNow. And it can measurably improve the service and support ROI for an otherwise terrific platform.
Dig Deeper
Curious how to boost your employee experiences inside of ServiceNow? Check out our ebook, which details how to reduce portal fatigue, create personalized experiences, and capture intelligence to drive improvements.
You can also learn more about how Coveo's AI-powered Workplace can empower your employees to be more productive in the office or at home.