The customer service agent's job is getting more difficult.
Companies have invested in a variety of customer self-service tools over the last 20 years. They know that most customers would rather find the answer themselves, rather than speak with an agent. 
So when a customer is routed through self-service alternatives that don't quite hit the mark — especially for complex questions — they're already frustrated by the time they talk to an agent. And without agent assist technology in place, the frustration only deepens.
Unfortunately, agents are often stuck between a rock and a hard place. On the one hand, contact centers are focused on shortened average handle times, but leave agents to dig through mountains of information to find the right answers. Agent assistance that recommends solutions that the customer has already tried only heightens the pressure (and crankiness).
Not the best scenario if you're trying to improve customer retention, and decrease agent turnover. Wouldn't it be ideal if the agent encountered relevant and timely knowledge insights during a customer conversation?
In this piece, we'll show how you develop this particular agent assistance strategy — including the use of knowledge assist and artificial intelligence. One that eases contact center agents' burden and creates a better customer experience at the same time. 
What Is Agent Assist in the Contact Center?
Agent assist can come in many forms — generally it's thought of as artificial intelligence automation that helps improve agent efficiency, improving the agent experience. 
At Coveo, agent assist comes in the form of features like the Insight Panel. It embeds directly into a customer relationship management or customer service management software, providing relevant information, tailored suggestions, and knowledge to agents in real-time. 
With enhanced functionality, the Coveo Insight Panel now offers a no-code framework that enables business users to tweak the panel to fit their needs without needing to rely on IT.
Let's dig into why the Insight Panel is such a powerful agent productivity assistant.
Wondering what other solutions agents wish their leaders would look into?
Free Download: Customer Service Agent Relevance Report 2023
Start With How Agent Assist Impacts Customer Service
Everything you put into your agent assist affects the customer. Here are a few important examples: 
Shorter Hold Times
Picture this: you're an agent on the clock, with just a few minutes to answer a customer query. You've heard this question before, but you can't find the solution. You open Google and start typing… leaving the customer waiting on hold, wondering why your company wasn't ready with the answer they needed (and the agent baffled by the lack of internal help).
A bad experience all around. 
Fewer Transfers
When agents don't know the right answer, they'll try turning to someone they think does — often leaving customers to reiterate their problem over and over again. While some transfers are inevitable, the lack of continuity from agent to agent is completely avoidable (and a key opportunity for a timely agent assist).
Faster Onboarding
Another example of poor agent assistance is lack of training. According to Middlesex University, 74% of workers cited this as being a major hurdle. In fact, according to LinkedIn, 94% said they would stick out a job if they only had better training.
Turns out, feeling proficient at work is very important to agents. This means support agents need the right tools on hand to help customers solve problems. And in turn, there's plenty of evidence that shows employee satisfaction correlates to overall customer satisfaction.
Lower Turnover
Agent retention, especially in the contact center, has always been a problem. And it's only getting worse post-pandemic: source estimates for overall turnover rates vary widely, ranging from 15 to 45%. 
Regardless of percentage, attrition of any size is a costly indicator of inadequate agent assistance. The Quality Training and Assurance Connection reports:
Turnover costs about $10k-$15k to replace a frontline employee (Human Resource Institute)
It takes about $12k to replace a frontline employee, and that cost is tripled for a manager (Deloitte)
Turnover costs were in the 25 to 30% range of a full salary and benefits package
How will the customer experience fare when the agents supporting it are constantly turning over? Not well. 
An obvious remedy is to create an environment that allows the agent to be more proficient, knowledgeable, and more effective. In a word, agent assist powered by knowledge management
Agent Assist Use Case: How athenahealth Got Proactive with Insight Panel
This was the issue for athenahealth, a provider of cloud-based healthcare products and services. To support its network of 140,000 providers, the company's massive support team handles 60,000 calls and 24,000 online cases per month.
With respect to agent assist, it was finding information that was a central problem.
Solution 1: Unified Search for Agents Struggling to Find What they Need
The company's 400 support agents across the U.S., Manila, and Chennai were searching through siloed repositories, including an in-house platform, Microsoft SharePoint, and an internal hard drive. Agents weren't finding what they needed in a single view, leading to increased wait times and frustration on both sides.
When they retooled to unify their systems, the athenahealth team made sure to offer an Insight Panel embedded directly in the agent portal, and was accessible for all agents. Fed by a unified index, they now had a single search experience to find the right content, quickly and in the flow of work.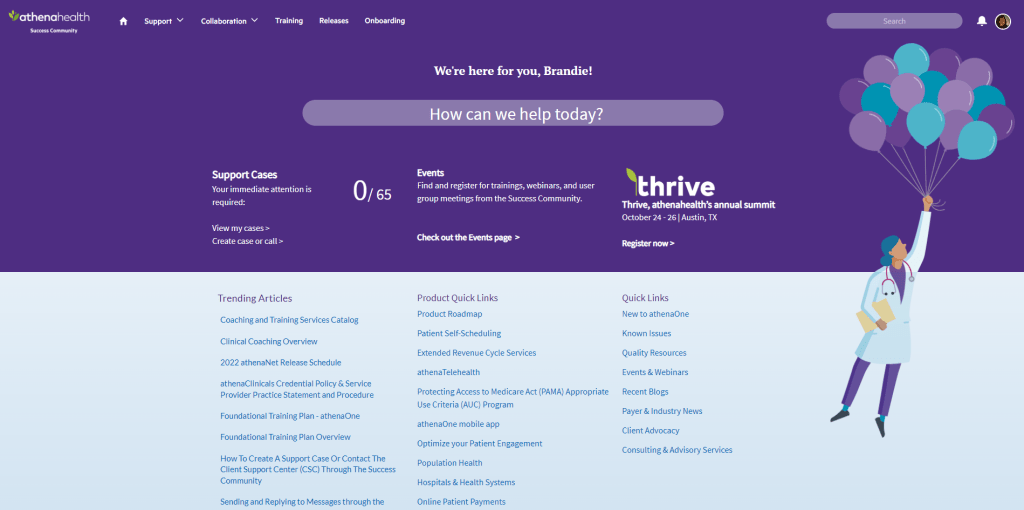 Solution 2: One Panel for All that Agents Need to Train, Work, and Succeed
Using all fields of an open case, athenahealth's Insight Panel now provides agents contextually driven AI-powered recommendations from any relevant application or knowledge source, too, without having to switch windows — the ultimate agent assist.
This integration brings User Actions into the workspace UI. The User Actions functionality provides agents with insight into actions performed by both customers and employees on athenahealth website or portal — viewed searches, clicks and more — and brings together the browsing journey from beginning to end.
Pulling those pieces together allows agents to avoid replying with documentation that their customer, or an employee, has already seen. Chances are, if an individual has already looked at a specific piece of content and is still opening a support case, then they need something else to help solve their problem. So giving agents easy access to User Actions directly within their workspace means less frustration for customers and employees as well as less time to solve for agents.
Solution 3: Centralized Onboarding
"As a new agent, you can't expect the agent sitting next to you, taking call after call, to be your on-demand support person. Without a tool for new agents to learn on the fly, that's exactly what was happening." That's Brandie Rhoda, Process Design Manager for athenahealth Support.
She's describing a common scenario on support teams, one that leads to high turnover — especially for new hires. Now, a new athenahealth agent assisting customers has instant access to Coveo's Insight Panel Search, as well as a highly relevant manual search experience.
The result? Coveo-powered agent assist has created a 50% inflow reduction to Tier 3  teams, meaning Tier 1 agents are finding answers faster. "A new agent out of training will depend on the knowledge base quite a bit. With Coveo, we've retained employees just by making that particular aspect of onboarding frictionless," says Khushnuma Drisko, Sr. Assoc., Support Process Design.
Solution 4: Knowledge Centered Service (KCS)
One and done training is meaningless. The team at athenahealth knows that all agent jobs aren't the same; one size does not fit all. Tools need to fit the situation, be they AI agent assist or otherwise. They also need to adapt to the dynamics of the information environment.
In an industry like healthcare services, where product offerings change rapidly, the knowledge landscape constantly fluctuates. Insight panels can automate the recognition and retrieval of information on new products, saving time and increasing the relevance of the information presented.
Product information from logged-in customers' profiles or previous support tickets can boost search relevance. By incorporating this knowledge into an agent's search query, agents have relevant details when they answer a customer's call. Seeding search queries with relevant information can retrieve the most up-to-date content, including known bugs and workarounds.
In particular, athenahealth relies on KCS to make sure agents themselves keep the knowledge base up to date. With everything in one panel, agents are now far more likely to adhere to KCS best practices, like searching and consuming knowledge (clicks up 50%), attaching docs to cases (up 35%), and quickly filling content gaps (<1% content gap).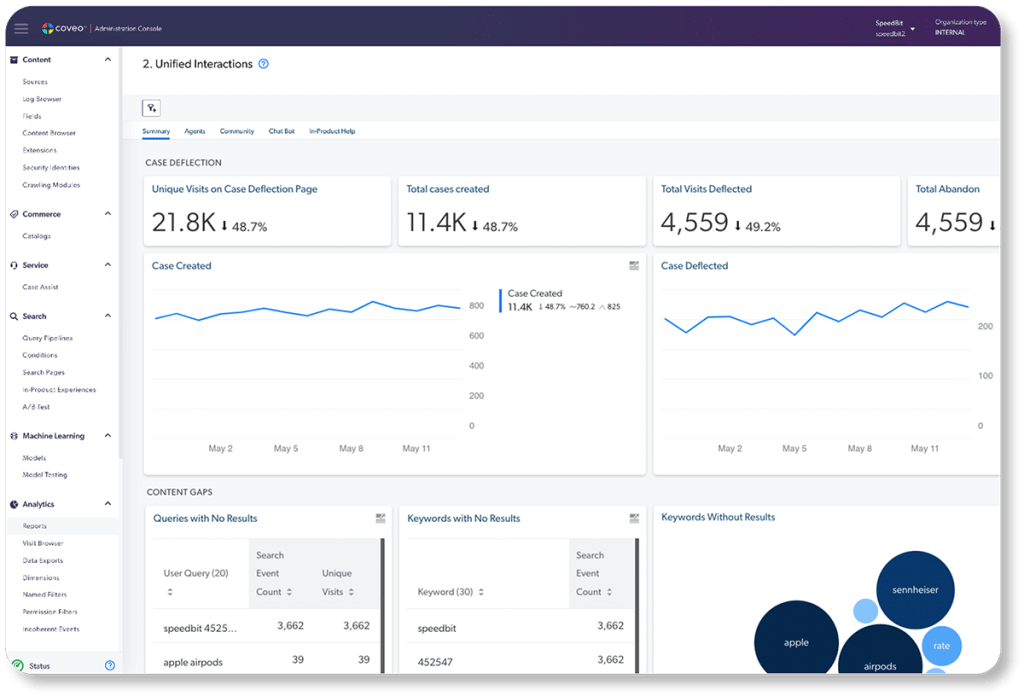 Another Agent Assist Use Case: Capturing and Surfacing Tribal Knowledge
A different example is the customer service agents in the contact center of a major helicopter manufacturer. They need to provide answers to questions requiring knowledge of all helicopters that their company produces that are still in service. Since helicopters have a service life of up to 50 years, this requires a wide span of knowledge.
This span is widened by the fact that solutions vary by region and configuration. In this case, the agents have an engineering background, making them an expensive resource. Giving them a way to pick out the relevant snowflakes in the information blizzard is key to better agent performance.
This can involve furnishing agents with information that previously resolved a similar customer issue. Imagine the power of leveraging what your colleagues and their customers have done to solve earlier problems!
We saw the powerful results of this pillar of KCS above, in the athenahealth use case for agent assist.
This is especially true now, when agents are more isolated from each other, limiting the problem-solving ideas exchanged in informal settings like breakroom chats or over lunch. This situation has an especially severe impact on agent performance for new hires.
While there isn't an out-of-the-box solution that suits every agent, insight panels are a great starting place for sharing tribal knowledge. They offer information that agents' need to understand a customer's problem, what solutions have been attempted, and reveal other avenues to reaching a resolution.
Machine Learning: The X-Factor for Insight Panel Relevance
We've already mentioned increasing a search's relevance by including already reviewed content, which can be achieved with machine learning automation.
Machine learning automation also can adjust search results based on information gained from each customer interaction. For example, if the agent sent an article to the customer, this information is used to adjust the model to retrieve additional relevant results.
Significant power is added to insight panels when we incorporate machine learning automation and analytics based on the large numbers of customer/agent interactions.
Using the cases of more experienced agents can also compensate for agent isolation. It may not entirely replace an informal watercooler chat, but it's a huge step up from leaving them to find the information on their own.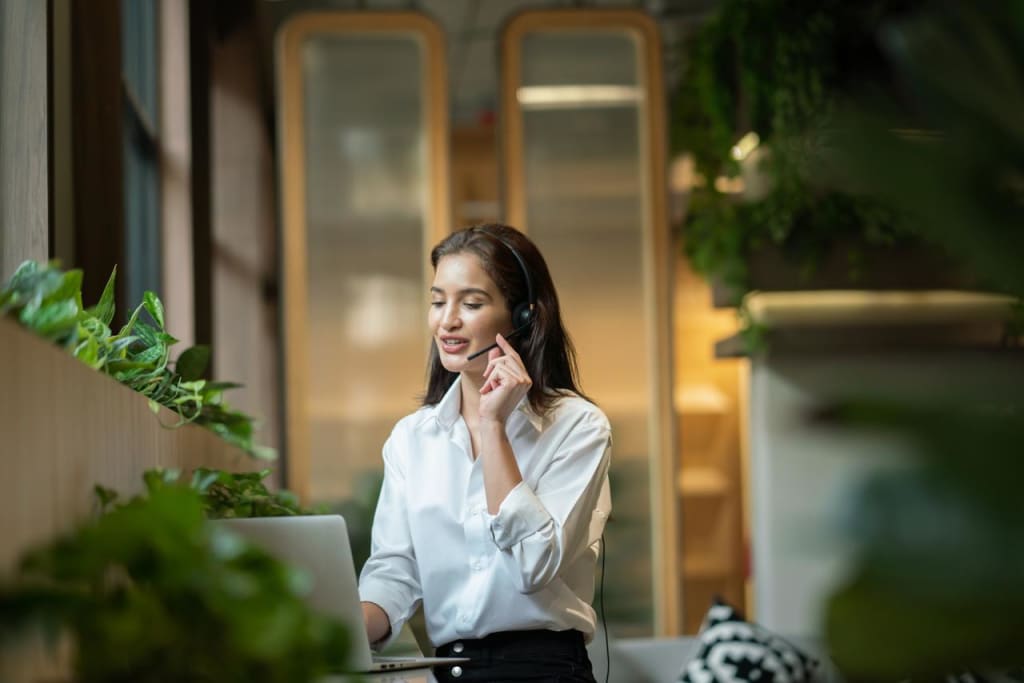 Turn Mountains of Info Into Manageable Mole Hills
Customer service agents have access to mountains of information. Insight panels have proven more than capable in assisting  agents with just what they need to help their current customer. 
All other information is a distraction.
With this in mind, best practices for winnowing down what agents see include:
Focus on relevance to the current customer's issue
Leverage experiences with other customers (i.e., the community at large).
Make it easy for agents to navigate and consume
Provide guided knowledge (e.g., try this, because it worked for another agent)
Collect, analyze, and distribute information from the case to inform stakeholders
In a world where support agents are overwhelmed by cranky customers and irrelevant information. An insight panel can help agents support customers more efficiently. Which in turn can significantly impact agent and customer retention.
And that directly impacts the bottom line.
Dig Deeper
Insight panels are just the beginning of how Coveo can help improve your agents' work experience. Grab a free copy of Creating a Better Agent Experience Inside Salesforce for all the details.
Free Report
6 Strategies for Building Better Agent Experiences in Salesforce