The role of generative AI (GenAI) in the workplace is such a hot topic right now that it can be hard to know what's relevant and what's hype. The technology, how we use it, and the implications of its use are constantly changing. 
Just last month a federal judge in Washington D.C. ruled that AI-generated artwork without "any human involvement" isn't eligible for copyright protection. And while this ruling likely isn't a key concern for most workplaces, the mercurial nature of GenAI in general has many executives twitching. 
Mercurial or not, the technology is alluring — and showing results. But only if you adopt the technology along with change management best practices. A recent Coveo webinar with customers VMWare and HPE provide a potential blueprint for how to improve the employee experiences.
The Power of Generative AI in the Workplace
According to McKinsey, GenAI has the potential to add $2.6 to $4.4 trillion in productivity value across industries. Most of that value rests in four key functions: customer ops, marketing and sales, software engineering, and product R&D.
As such, it's essential for businesses to stay updated on this cutting-edge technology to ensure employees can utilize it effectively in the workplace. 
"The very nature of focusing on productivity value to me means it's meant to help augment our human capabilities and capacity and help us do better in our day-to-day work," asserted Juanita Olguin, Coveo's Senior Director of Marketing. 
While GenAI's various use cases include question answering, tone manipulation, content classification, chatbot improvement, and software coding, it's question answering that Coveo highlights for the workplace. Through this use case, employees can quickly find information by summarizing and simplifying multiple information sources.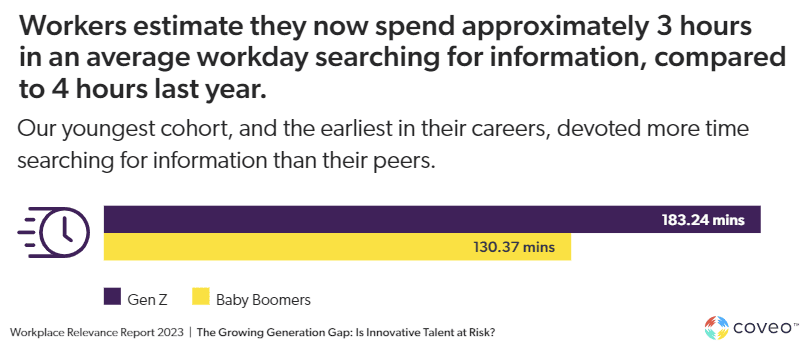 Finding information in real-time quickly is crucial to improving employee experience. In Coveo's 2023 Workplace Relevance Report, workers we surveyed said they spend about 3 hours a day, on average, searching for information. Gen Z workers – those early on in their careers – devoted much more time to this task than their older peers (about 183 minutes a day versus 130 minutes a day).
This data is backed by McKinsey's own findings from a decade ago, which indicate that employees spent about 20% of their time searching for information. That amounts to an entire workday each week devoted to looking for information. 
But finding information quickly is only part of the equation, said Louis Tetu, CEO Coveo. "The key is to provide much better information contextually relevant so you can do much more on your own, solve more complex issues on your own, self-serve, self-act, self-solve, self-create."
If an intranet is more contextually relevant and intelligent, people start much further down the proficiency level, and yes much faster."
"GenAI is helping resolve some of those daily struggles that we have as employees," said Olguin.
In our own research, 52% of respondents think GenAI is a great tool to help them find more relevant information or to create content faster. More than half said they believe GenAI tools could save them at least an hour a day at work.
Relevant reading
GenAI Report: Can Enterprises Catch Up to Expectations?
Key Workplace Functions That Benefit From GenAI
Coveo's particular expertise when it comes to employing AI models in the workplace is in the knowledge management space.
We know from experience that managing knowledge is one of the most promising GenAI use cases. At Coveo, we have 11 machine learning models that work towards helping your employees find relevant knowledge more quickly. These include:
Coveo Relevance Generative Answering
Enterprise Tested. Trusted. Ready.
The Importance of Change Management in AI Integration
It's one thing to test a popular GenAI tool like ChatGPT to see what it can do and quite another to implement GenAI across your entire organization in a way that works for your employees. Do it wrong (e.g., in an ad-hoc fashion) and you're bound to confuse employees and create poor user experiences. 
Since your company's overall employee experience directly impacts your brand, it's essential to consider all aspects of what contributes to a good – or bad – experience for your employees. This is why change management is so important, particularly when it comes to incorporating new technologies into existing workflows.
Greg Epstein, Director of Communications Technology at HPE, emphasized the importance of guiding employees through big changes. 
"With AI solutions, where people are expecting something that's going to be dramatically different, you really need to escort them through why it's important and how it benefits them," said Epstein. "It is about knowledge as well as providing the content that leads to knowledge. It's also about context, so you're providing that information in the context of what somebody's day looks like or how they go about getting an answer to something that helps them serve a customer or a partner or a team or a fellow team member."
Other things to consider when preparing your workplace for using GenAI include:
Employee experience – It's important to recognize the significance of the digital employee experience, especially when it comes to remote or hybrid environments.
Unification – Your goal should be to create a centralized digital workspace so everyone has the same experience regardless of who or where they are. This often means you'll need to combine various information and data sources into an easily searchable unified index. 
Knowledge management – Treat your company's knowledge repository as a business asset and make sure you invest in it. A focus on knowledge-centered service (KCS) requires that you have systems in place for creating, updating, sharing, storing, and retrieving knowledge. 
Feedback mechanisms – Use feedback metrics like customer effort score (CES) to benchmark your existing level of customer satisfaction. Monitor CES as you implement AI tools and make necessary improvements. You should be continuously gathering feedback so you know what's working (or not) and can make iterative improvements.
Personalization – Personalization isn't just for customer-facing experiences. AI tools can help you provide personalized experiences to employees by providing relevant information directly within a given workflow, but this requires a people-centric approach to managing teams and people. Understand your employees, their workflows, and their challenges. 
Training and onboarding – Provide ample training so employees are familiar with the AI tools and systems you want them to master. Training is the ideal time to communicate the benefits and potential challenges employees will encounter when using GenAI in their daily tasks.
Relevant reading
Are These 3 Knowledge Management Myths Weighing Your Company Down?
Employee Feedback and Workplace Investments
With or without GenAI, the best way to improve workplace experience is to ask your employees what's working for them, what they need, and where they're frustrated. This is how HPE and VMware prioritize their workplace technology investments. They assess employee feedback around technology experiences then use this information to guide technology investment decisions. 
"We do rely heavily on our Technology Experience Survey," said Julia Gregson, VMware's Senior Manager of Colleague Experience & Technology. "The feedback has helped us not only understand what technologies people are interested in, it's also helped us sunset some things that ultimately weren't going to be helpful."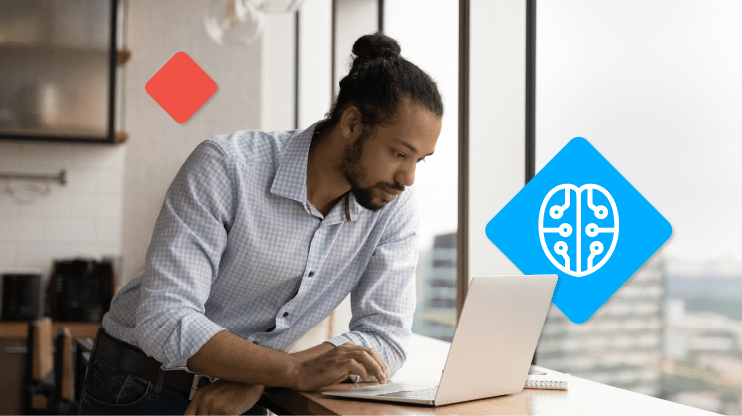 HPE uses their Voice of the Worker (VOW) survey to prioritize investments within departments and the company. "It's actually a companywide program that's happening now," said Epstein. "I'm looking forward to seeing it drive priorities for next year. That's mostly for my team, but there's also the traditional process of bubbling up the biggest opportunities and building partnerships with other divisions about what the right solutions are. That's how we brought Coveo to HPE."
Creating good employee experiences works best when there's shared ownership. Rather than having one specific person or department in charge of a single initiative or technology, companies like HPE and VMware share the responsibility of creating good workplace experiences across their organizations.
Looking Ahead
As the workplace experience continues to evolve, the role of GenAI is bound to evolve with it. There is a growing need for more mature systems and the potential for greater personalization in employee experiences. 
Epstein notes that HPE is looking forward to seeing more maturity across their systems including digital workplace experience, employee experience, and AI, particularly given the numerous changes made over the past year and half. 
"I'm really looking forward to the responses in the Voice of the Worker survey this go round because it will be a marker of where those needs and perspectives have changed," said Epstein. "And I'm very excited to see what our priorities become for next year. On the Coveo side, specifically, I'm thinking of more retailification of our experiences and how we can use search to help people have fun while they're working, make it easier, and keep their deliverables rolling."
Gregson, who is part of the Privacy Council at VMware, is keen on working with legal teams to ensure the responsible use of data, especially employee data. "Being able to work with our legal teams on how we use our data – and employee data in particular – and being able to work with the Coveo administrators and our experts around the company to see how we can create even more personalization is something I'm super excited to focus on."
Watch the live panel discussion to hear insights from the most progressive employers about AI, generative AI, augmenting talent, and how they cultivate workplace excellence.
Relevant viewing
GenAI: The Next Evolution of AI in the Workplace
Dig Deeper
Enterprises who have enabled employees through predictive content and relevant search experiences are once again entering a new paradigm. There's an urgency to incorporate more AI while maintaining the success metrics they've achieved so far.
Learn more about how Coveo Relevance Generative Answering works, and envision how it can help your organization.
Relevant viewing
Live GenAI Product Demo – straight from Coveo AI Experts