At Coveo, AI and product discovery have always gone hand in hand. 
In a world of rules-based solutions, an AI-driven approach to product discovery was necessary to provide personalized experiences at scale. 
With the advent of Generative AI, and our significant investments in this technology, Coveo has enhanced our ability to inspire and inform customers through conversational AI. 
We believe that augmenting current commerce experiences with Generative Answering has the potential to change the way customers shop and buy. It lets companies differentiate their digital storefront experiences from others by putting their domain expertise and knowledge at the forefront. 
It also offers a new way to engage with customers and provide product information in a way that is more dynamic, intuitive, and natural. 
An Even More Empowered Customer 
In traditional in-store interactions, customers naturally ask product-related questions. Replicating this ease of inquiry in an online environment has been a challenge—until now. 
Digital commerce companies with vast amounts of buying guides, inspirational how-tos, and other rich content that is used to inform and inspire, will be able to offer conversational answers to shoppers – that in turn will guide them to purchase the products best suited for their needs.
This capability will have an impact on most segments in B2C and B2B. However, it's easiest to imagine the impact that using GenAI will have on specific verticals such as home improvement, grocery, life sciences, B2B manufacturing, and distribution. 
For example, at a Home Improvement site, a buyer might ask for tips to build an outside kitchen with a barbecue. In addition to providing the set of BBQ product results such a query would generate, Coveo will augment the shopper experience with GenAI.
Coveo Relevance Generative Answering will select the best documents within the index based on relevancy – and then generate a conversational answer that offers tips and various steps that need to be considered.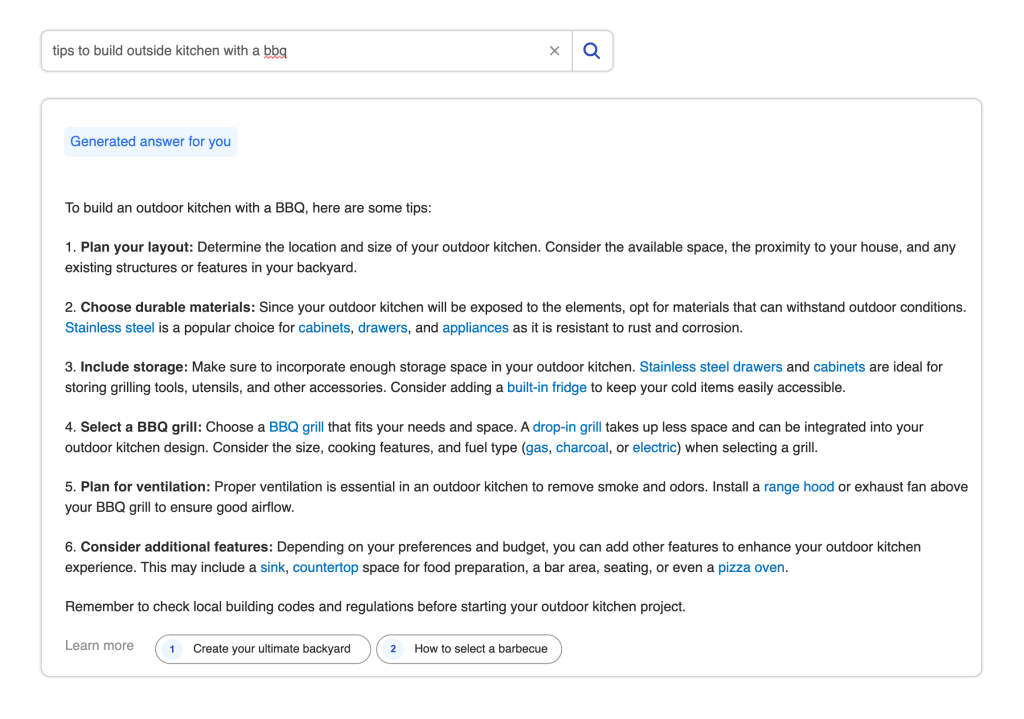 From assisting buyers contemplating high-value purchases to inspiring customers seeking recipe ideas, and even supporting users with post-purchase product inquiries, Coveo Relevance Generative Answering provides limitless possibilities. 
Buyer Enablement
Content is increasingly important in ecommerce. 
Consider, for example, B2B manufacturing or distribution scenarios where the profile of customers coming to the site includes professionals like engineers, procurement specialists, and field service technicians. 
Beyond the simple use case of placing a re-order or finding a specific part, some may be looking to research and understand product features, technical specifications, specific attribute selection, or other such types of details. To do so in the past, these visitors would have to navigate through extensive product brochures, technical specifications, buying guides, and maybe even compliance documentation tofind the answers to their intricate questions about products, compatibility, usage, and more. 
Offering effective buyer enablement is essential, as it can significantly enhance the user experience and is sometimes the deciding factor in a transaction. 
For example, if an engineer finds information needed for a component and decides to incorporate it into their final design, this could result in an order of significant value – whether that goes through the online channel or placed through an EDI channel. 
There are different types of questions that arise when potential customers are exploring products but have not yet made a purchase. For example, what tools and steps will I need to build a new deck? Or, what are the disposal considerations for this lubricant?
With Relevance Generative Answering – and easy-to-understand answers – your company can now offer expert, personalized advice at scale 24/7. 
Inspirational Content
The importance of automatically generating relevant answers extends beyond addressing questions related to specific product features. Often, customers have project-related inquiries where the objective is to draw inspiration throughout their journey. 
Take, for example, the content for recipes on grocery retail websites. Customers might pose questions related to recipes containing specific ingredients, like peanut butter. However, the applicability of this use case extends far beyond just grocery retail. Here are a few examples of relevant queries:
Recipe Ingredients: "Can you suggest recipes that include quinoa and chicken?"
DIY Project Assistance: "What type of paint is best for a wooden deck?"
Home Decor Ideas: "Can you suggest decor ideas for a small living room?"
Generative Answering can provide the answers to inspire and guide customers through their projects, enriching their overall journey and experience.
Post-purchase Support 
But the power of Relevance Generative Answering extends beyond the transaction and the discovery of products. After securing a customer, the next step is nurturing their loyalty. However, continuously providing only live customer service can quickly erode profits. This makes a post-purchase self-service strategy crucial. Customers frequently have questions not just about returns or refunds, but also need support and troubleshooting for the products they've purchased.
Implementing a system for automatically generating relevant answers is an effective post-sale strategy. It not only facilitates customer self-service but also fosters independence from live customer support, promoting efficiency and customer empowerment. 
For instance, customers might have inquiries regarding setup, installation assistance, or resolution to common issues, like "My printer isn't connecting to Wi-Fi. What should I do?"
In streamlining the post-sale support, customers can extract the maximum value from their purchases – with minimal effort.
Coveo Engineers GenAI Responses in the Truth
Coveo has been using and fine-tuning large language models (LLMs) for intent detection for many years. So we are well-versed in the opportunities and challenges with generative answering. 
There is no doubting the allure consumers find in having conversations appear before their eyes. But unless engineered correctly, GenAl platforms can "hallucinate" – or produce answers that are factually incorrect. 
Trustworthy generative experiences provide factual answers at scale. Coveo does so by unifying all content into a single index, using machine learning to query the index and pull out relevant chunks of information, and then passing this small subset of validated text to the LLM.  This process of grounded context ensures that the results being generated are grounded in fact.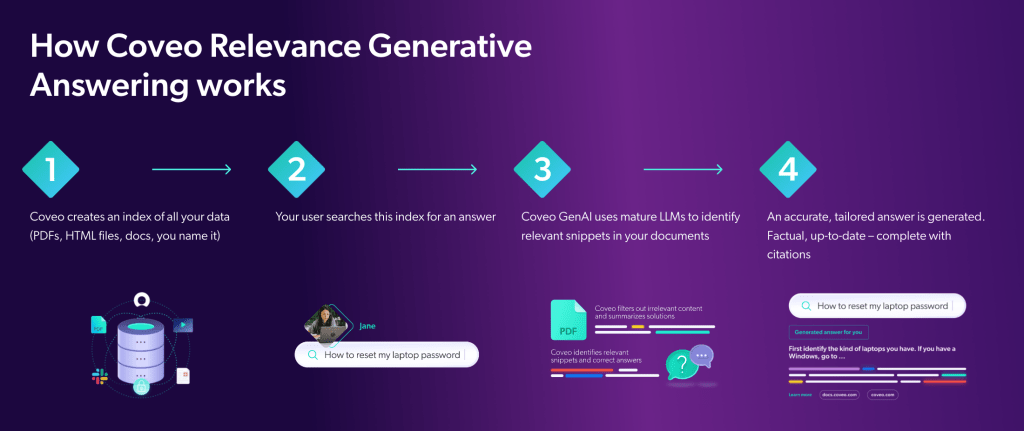 With this in mind, it's important to note that our Relevance Generative Answering employs OpenAI's GPT-3.5 Large Language Model (LLM) to craft answers. Although it utilizes the linguistic prowess of GPT-3.5 to generate responses, it's Coveo that oversees and controls the content used from your indexed data as the foundation for text generation. 
Proven Technology
With Coveo Relevance Generative Answering for Ecommerce, Coveo continues to focus on innovation. Our approach has been to regularly publish in elite, peer-reviewed AI journals and conferences, host data challenges, and be in constant pursuit of driving even greater results for our customers through AI.  (And that pursuit never ends.) 
Since the launch of Relevance Generative Answering for Service in March, we have witnessed significant customer interest and investment in this groundbreaking technology. Numerous clients view us as their strategic vendor and are eager to maximize the value derived from utilizing large language models. 
The appeal of our technology is not only external; we also actively use Generative Answering to enhance our own self-serve experiences, including in-product help, documentation, and community sites. Thus, our technology isn't merely innovative—it's proven and trusted, both by our customers and by us. 
Try it for yourself: https://docs.coveo.com/en/0/coveo-documentation