This is a summary of a presentation given by Xero and Coveo at Salesforce Dreamforce 2023
Not that long ago, the standard in customer service was getting back to a customer about their issue within 24 hours. 
Today, that would be considered a snail's pace. 
Traditionally a reactive business, support is often an afterthought that many tend to associate with break/fix problems. A cost center, where discussion and interaction should be discouraged. 
But you should want to talk to your customers. After all, what is your business without them? Customer complaints are a goldmine of intel, but in a survey of 4,000 consumers more than half of respondents rarely or never complain about a negative experience. That really shouldn't be that surprising, when all a customer has to do to rectify the situation is open a browser tab to Google up another option.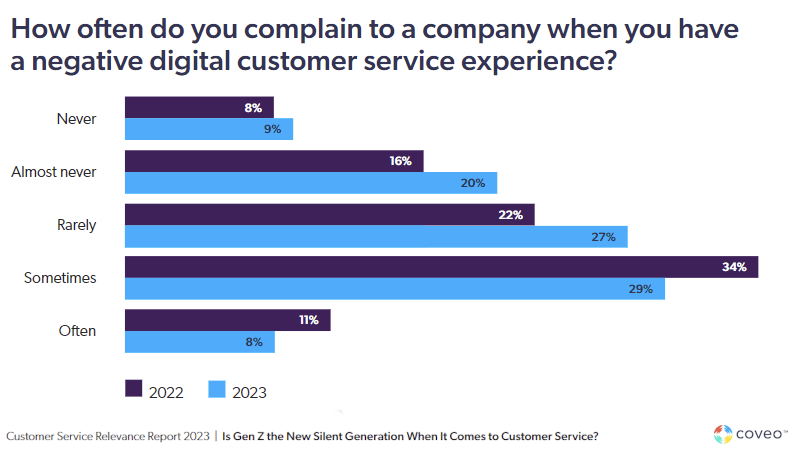 Xero, a worldwide market leader in accounting software, understands this deeply. 
"The interesting thing about Xero is that we don't have 800 numbers," Nigel Piper, Executive General Manager, said during a co-presentation with Coveo at this year's Dreamforce. "We are a digital company, we were born in the cloud. 
"And that means we interact with our customers in a digital format. I have the answer to every question that's ever been asked in support at Xero. That's an incredibly rich volume of data."
Surfacing Self-Service Answers
Xero partnered with Coveo in 2017 to help make that wealth of information available to customers via self-service. Now that the company has grown to 3.7 million subscribers, that's a lot of questions — and a lot of answers. 
What would make your brand's digital experience better? When asked, half of respondents in the aforementioned survey said answers. Specifically, answers delivered to them right within a search result page — no need to dial a number, no need to endlessly assess links for worthiness.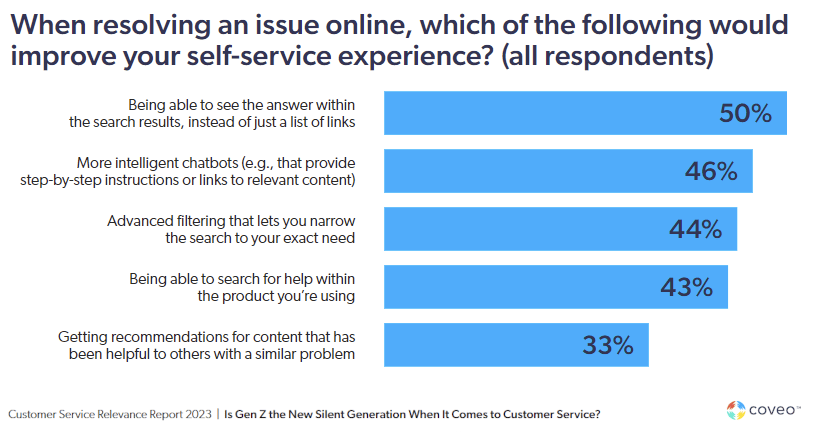 Customers want to be educated about the products and services they're putting their hard earned dollars toward, so they feel satisfied. And when your customer satisfaction scores skyrocket, that's positive for your business in all sorts of ways. 
This brings to mind the idea of proactive support. 
"People usually come to support when they have a problem," Piper said. "How do I set up an account? How do I send funds online? So the past decade has been living in a reactive space, answering questions as they come to us."
With the advent of GenAI, Piper is looking to change the game. Rather than wait for a customer to approach Xero, he wants to leverage their vast amount of data and AI to deliver answers even before customers ask. 
Working with partners like Coveo to leverage AI, Piper continued, has allowed Xero to focus on those they serve: people. And this push to answer questions before they've been asked isn't meant to discourage. Piper says he wants customers to raise more questions, likely because customers can be a wellspring of feedback and innovation.
"Every time someone asks a question, every time we solve an opportunity for someone, they become sticky on our platform," Piper said. "They stay, and that's a really great experience for us."
And now with Coveo's Relevance Generative Answering, Xero has seen a 20% decrease in search sessions needing additional customer experience support since its launch in October 2023.
Flipping the Support Script
Today, Xero leverages Coveo to create personalized customer self-service journeys. This helps customers get the day-to-day done — and frees up Xero's subject matter experts to tackle the really hard stuff that arises. 
But this is still a reactive experience. Piper detailed his plan for flipping the script. 
"We had a vision, on the left side, of what smart answers or conversational answers could look like," he said, explaining a slide that appeared during his presentation.
"We could take other sources of content and data and actually concise that into a personalized answer for the customer. That was our dream.
"Coveo came up with almost the identical solution of what we were looking for. What you see here is what's currently available in a sandbox environment, delivered in a matter of weeks from our friends at Coveo.
With this, we'll deliver a beautiful, conversational answer to our customers."
Coveo's unified index keeps security and access control permissions intact for each individual document. These access controls are kept in mind when a question is asked, so answers are only delivered from documents that a user should have access to. In addition, to mitigate the chance of hallucination, Coveo only feeds relevant chunks of information to GenAI to compose an answer that's specific for that searcher.
Everything is wrapped up beautifully with citations, giving customers the ability to dig in deeper should they want more context. 
Going Omnichannel
Piper has big dreams of bringing customers in through social media interfaces, instant messaging platforms like WhatsApp and WeChat that are popular with customers in Asian countries — creating a truly omnichannel customer support system that interfaces with people where they are, how they want, when they want. For Piper and Xero, this is only the beginning. 
"It's exciting, and this is just the first stage of what we've started to do with our GenAI. This is a new world of opportunity," he said. "How can we actually start having multiple channels now that I can make sure they're really efficient? How can I deliver multiple conversational answers along multiple touch points along the customer journey?"
Piper reiterated that this wasn't intended to drive customers away — rather quite the opposite. He wants customers to ask more questions, because that means more indexed answers. That knowledge can then be surfaced to answer other customer questions, or even brought into a customer service representative's flow of work to solve issues in real time with a human touch.
"This is about, how do we pivot from a reactive environment to a much more proactive environment?" he continued. "People should be asking questions. 
"How can I? How should I? If they haven't asked those questions, we want to reach out proactively to give them the guidance they might need, using AI and personalization. Particularly in the setup and startup phase of their organization." 
Not only answering the first question a customer asks, but provide a next step without needing to be asked. This opens up the idea of nudging customers along their journeys, ensuring they're getting the most out of their products — turning them not only into one-time buyers, but long-time subscribers and company advocates. 
And Then There's Employees, Too
They're also thinking about bringing artificial intelligence internally, to help their employees. Xero is a heavy Slack using company (so are we at Coveo!), and Piper wants to make knowledge available via that channel. In another survey of 2,000 employees, 86% of respondents were eager to get GenAI capabilities in the workplace. 
After all, there's plenty of evidence that employee experience impacts customer experience. Streamlining, integrating, and aligning your organization's overall digital experience via a holistic approach is often referred to as a total experience strategy.
"If I had a dollar for everytime I come in the morning, and somebody says, how do I move over to my new phone, I'd be really rich," Piper quipped. "But this is where we can start using all of that knowledge we have across our organization. 
"We have around 4,000 Xero [employees] around the world. How do I start bringing some efficiency and self-service into that environment internally, and not just our customer-facing environment?"
Interested in applying GenAI to your business? Check out our product page, or request a demo.
Dig Deeper
Wondering if your business is ready for GenAI? Assess your company's maturity for GenAI adoption with a free copy of our white paper.
Learn more about Xero's deployment on their site.