"How do I get a laptop to my employee?" Early in the pandemic, when companies talked about working in a digital world, that's where the conversation started. As for where it goes next… Well, that's a different story.
The conversation is shifting away from digital workplace resilience and continuity toward employee productivity, said Chris McLaughlin, Chief Marketing Officer at LumApps at a digital transformation and next generation employee experience webinar.
"It's around innovation and long-term success from an employee experience standpoint," he said. "How do we enable effective knowledge sharing? How do we enable collaboration in the organization? How do we efficiently think longer-term from an employee experience standpoint? How do we create that culture of innovation? How do we give employees agency?"
That shift is fueled by an overwhelming preference for flexible workplaces. McKinsey reports 52% of workers prefer flexible hybrid virtual-working models. Gallup suggests 91% of U.S. workers who are currently working remotely at least some of the time want the arrangement to stick. In short, McLaughlin stated, "Employee preference is very much digital, remote and hybrid."
And therein lies a massive opportunity to seize a competitive advantage: implementing and supporting a stellar, next generation digital employee experience.
What Is A Next Gen Employee Experience?
Let's go back to basics. Employee experience is a rather broad term that encompasses everything from the physical environment, digital experience, and employee interactions to day-to-day responsibilities and the way employees spend their time. Simply put, it describes what it's like to work within the organization.
But how do you make it "next generation"? That happens once an organization moves past transactional efficiency — providing the necessary tools to get the job done — and step into a company culture that fosters open communication, team collaboration, open contribution and continuous improvement.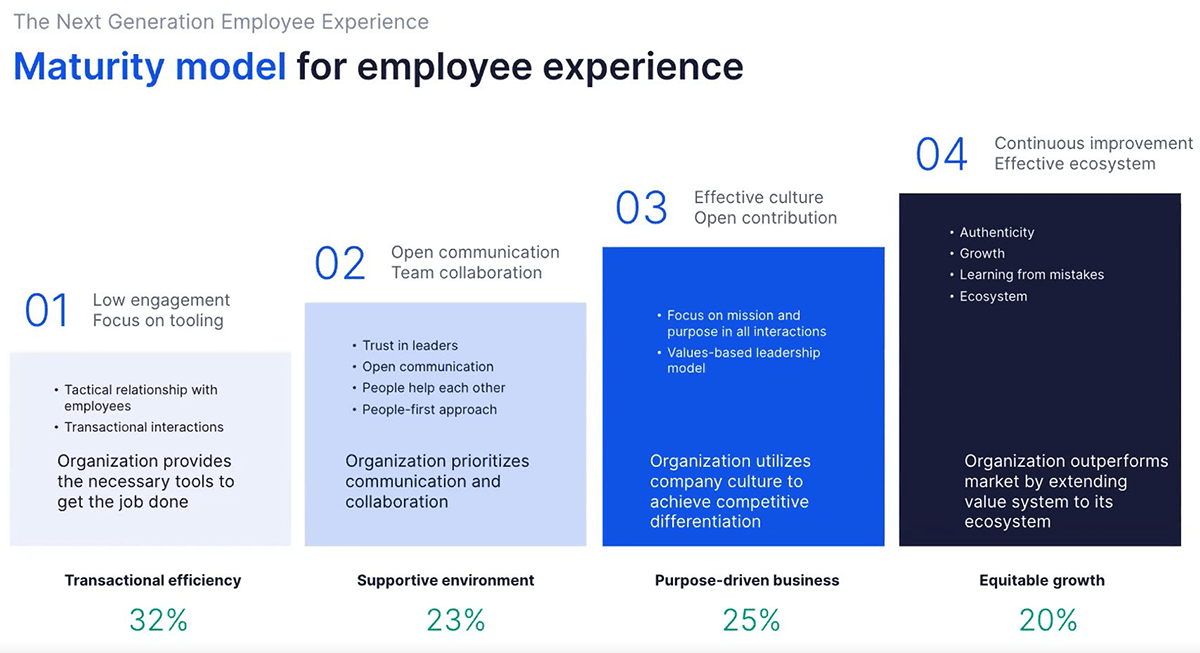 When done well, a positive employee experience doesn't just enable employees to do their job. It empowers them with a sense of agency, identity and belonging, and allows them to feel ownership and responsibility for organizational outcomes.
What's Hurting Your Workplace Experience?
It doesn't take much for employee engagement to slip into disengagement. When employees are using Confluence and JIRA to track projects, collaborating in Miro and Figma, drafting in Google Drive and seeking answers to HR-related questions in Workday or an employee portal, tools that were built to alleviate work seem to pile on even more.
"The experience of the workplace is highly disjointed," shared Olivier Bonneau, Sr. Product Manager, Coveo for Workplace. Adds McLaughlin, "Context switching, moving between multiple applications and multiple search experiences have really been a detractor to the overall employee experience."
Platform overload is matched by information overload. Employees simply can't find what they need in a vast organizational universe of unconnected content that lives across many silos. That's a time-killer and budget-waster – on average, employees spend 3.6 hours per day on average searching for the information they need to do their jobs (up from 2.5 hours a day in 2021).
Add to that, just under half of the information companies provide to employees is irrelevant to their specific roles. "The amount of information that employees are faced with and the challenge of it not being relevant to their role becomes another major impediment," shared McLaughlin.
A Better Employee Experience Strategy
As your organization moves along that maturity model of employee experience, you need to consider their technological ecosystem in terms of a broader fabric that facilitates better engagement, enablement, empowerment, and recognition.
With the help of artificial intelligence (AI)-powered, personalized enterprise search and generative AI, for example, "we can make sure that the most relevant information is distributed to the right employee at the right time," shared Bonneau. "If you scale it to thousands of employees searching for a hundred different topics, we start to improve the overall efficiency for an enterprise."
Relevance and scale aside, there's the more subjective matter of expectations to consider, too. After all, employees are also consumers, and they're used to a smooth customer experience in their daily lives, whether they're binging on a Netflix series, buying from Amazon or simply launching a Google search.
"Features like type-ahead on the search bar and document ranking based on visit history and past search are taken for granted now," said Bonneau. "We bridge that gap [and] meet such expectations, therefore driving a better search, therefore driving a better employee experience."
Creating the Digital Workplace of Tomorrow, Today
To see an example of this kind of seamless, scalable and hyper-relevant next generation employee experience in the digital world, look no further than global fintech platform Intuit. There, customer obsession is deeply ingrained in the organizational DNA… and so is giving employees the same level of care.
You'll find evidence of that care across their organization, including an internal digital recognition page announcing promotions twice a year. It's a hit with employees – so much so, that many click the link simultaneously to celebrate their leaders and peers. "We have to create a very scalable performance application that's easy to redo each year and is a delightful experience," explained Colin Ryan, Product Manager of Intranet and Search, Intuit.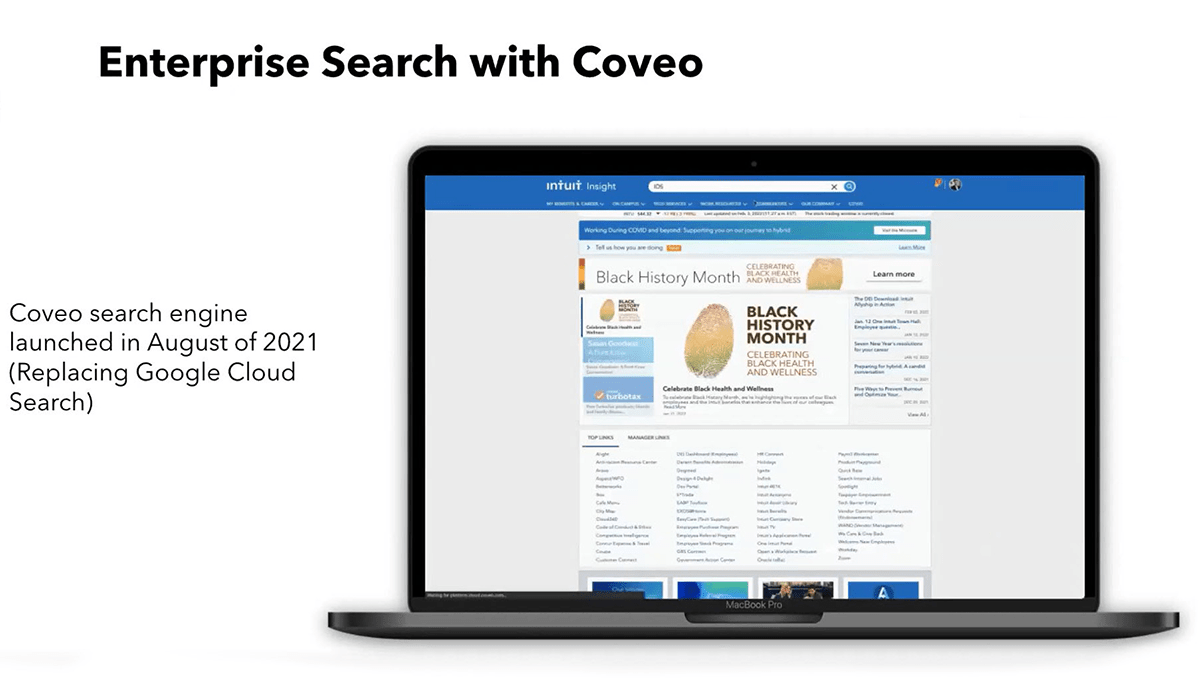 Intuit also launched a new search engine with Coveo last summer, ending their two-and-a-half-year struggle with Google Cloud Search. Today, they use 21 search connectors that bring company knowledge together and make it accessible within the flow of work. Though they may use different apps, employees always receive the same search results – they don't need to know (or figure out) where a piece of information lives first. They just use the search bar, and they get where they're going.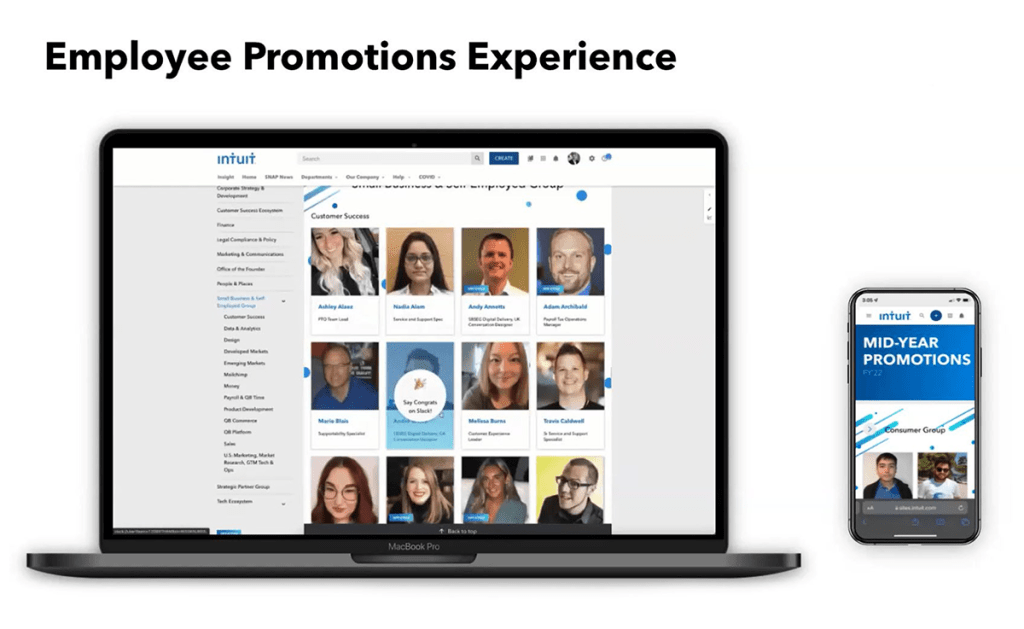 In the context of LumApps, personalization is a powerful enabler. "Personalization starts with identification," said Lionel Moizeau, Product Manager, LumApps. Knowing that a specific employee is based in the U.S. means the platform can boost content about U.S.-related benefits; knowing she enjoys yoga, it can recommend the organization's health and wellness; knowing she's interested in clean tech, it can prioritize green and eco-oriented content in her searches.
"We're able to change the way she's going to access information quickly and create this almost magical experience of having almost nothing to do to get the right information," he said.
The Bottom Line of Next Generation Employee Experience
Providing next generation employee experience sounds great in theory, and it works in practice… but what about the bottom-line results? The proof is in the proverbial pudding, shared our panelists:
Employees who feel a sense of purpose and agency are more likely to stick around – in fact, companies that leverage the right strategies are 5.1 times more likely to engage and retain employees, and create a sense of belonging.
Engaged employees tend to be happy employees – organizations that walk the walk on great employee experience are 5.2 times more likely to be great places to work.
Happy employees lead to happy customers – companies that adopt good practices around employee experience are 2.4 times more likely to delight their buyers.
As for the dollars and cents, "If you improve retention, you have a significant reduction in your hiring cost because you don't have to hire as many employees. You also don't have lost productivity and cost associated with onboarding new employees into the organization," shared McLaughlin.
Better retention is matched by improved productivity, adds McLaughlin. "If employees are able to find information more easily, if their employee experience is facilitating their day-to-day tasks and activities, you can see a significant reduction in time spent on tasks, projects and activities."
Said McLaughlin, "All [possible] through a superior employee experience."
Don't miss the full webinar on-demand!
On-demand webinar
Next Generation Employee Experience
Dig Deeper
Employees are looking for better prospects en masse. To create a digital workplace that attracts and retains talent, you have to understand that search is the throughline of the modern virtual office.
Learn four steps to providing an outstanding employee experience in our ebook, Guide to Delivering AI-Powered Employee Experiences.
Ebook
Guide to Delivering AI-Powered Employee Experiences
---