$1,500,000 per month. This is how much Tableau Software saved after using Coveo to power their self service search portal and deflecting cases from their contact center and customer support. To translate your support strategy into dollars requires first defining and understanding how case deflection and self service success work together.
What Is Self Service?
When you provide customer self service, you are providing a way for customers to quickly search for and find the information they need without submitting a support ticket to your help center. Customer self-service success is the rate at which customers are able to complete their desired transaction and/or find useful information in the customer community or knowledge base.
This behavior may not always mean that a case was avoided. Some minor annoyances are not big enough to waste time trying to create a case for assisted support. However, by empowering customers with the information, they are more empowered to use your product and be satisfied overall and your organization is saving on support costs. This, along with other support trends overall, can be a powerful leading indicator of customer retention rate and overall customer satisfaction.
Ebook
The Guide to Delivering Intelligent Self-Service
We know that customers expect to help themselves before submitting a ticket with an agent. They may search for the answer to their question in product documents, on a knowledge base, or in a support community. They may even leverage a chatbot or live chat.
Organizations have different approaches to assisting customers with self service, according to the TSIA 2019 Knowledge Management Survey. More than nine out of 10 organizations have a search field to assist customers on the self service site, but the capabilities and results vary.
One-third of organizations report that their only searches the .

13% report using

federated

, searching multiple databases and channels.

Just 22% use unified which brings all sources together into a single index, and 19% apply machine learning to rank results according to relevance.
Personalization, however, is not widely used; 51% of organizations provide real-time suggestions during case creation and only 21% reported providing list of FAQs personalized to the customer.
In general, when a customer starts on their self-service journey, they have no intention of contacting a support team. However, once their options are exhausted on service channels and customers still can't find what they need, only then will they submit a case. That's where case deflection comes in.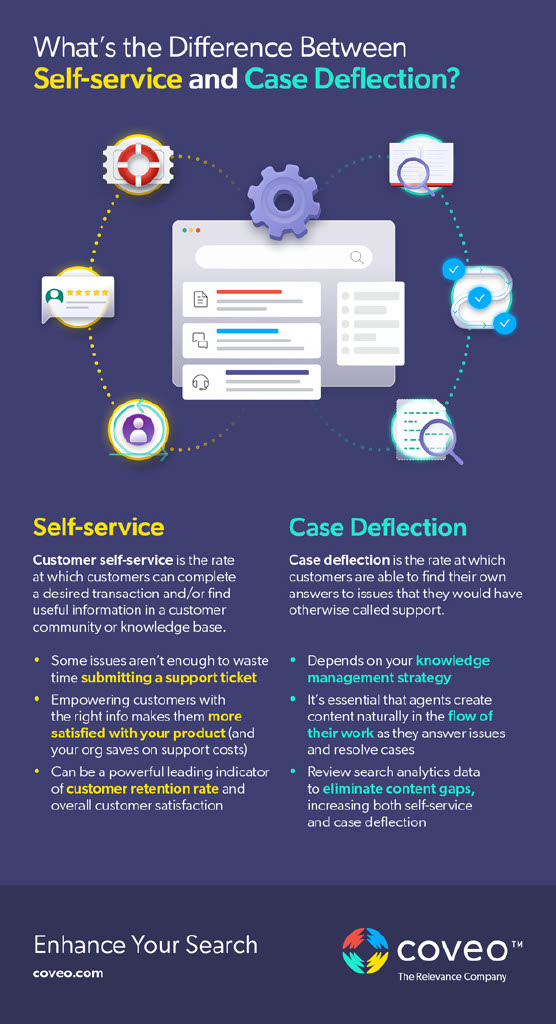 What Is Case Deflection?
While self-service success takes all customer interactions into consideration, case deflection just looks at the interactions where a customer intended to submit a ticket. Case deflection is the rate at which customers are able to find their own answers to issues that they would have otherwise called support. Essentially, they intended to submit a case, but helpful resources or content made available to them eliminated the need for live customer service assistance. In other words, the case was successfully deflected.
Case deflection depends on your knowledge management strategy. Ensuring that your agent created content naturally in the flow of their work is essential. When you are able to review your search analytics data to eliminate content gaps, your case deflection and self-service success rates increase.
Types of Case Deflection
How do you measure something that doesn't happen? Measuring case deflection is easier than you think – as long as you understand how to track and measure the two main types of case deflection.
Explicit Deflection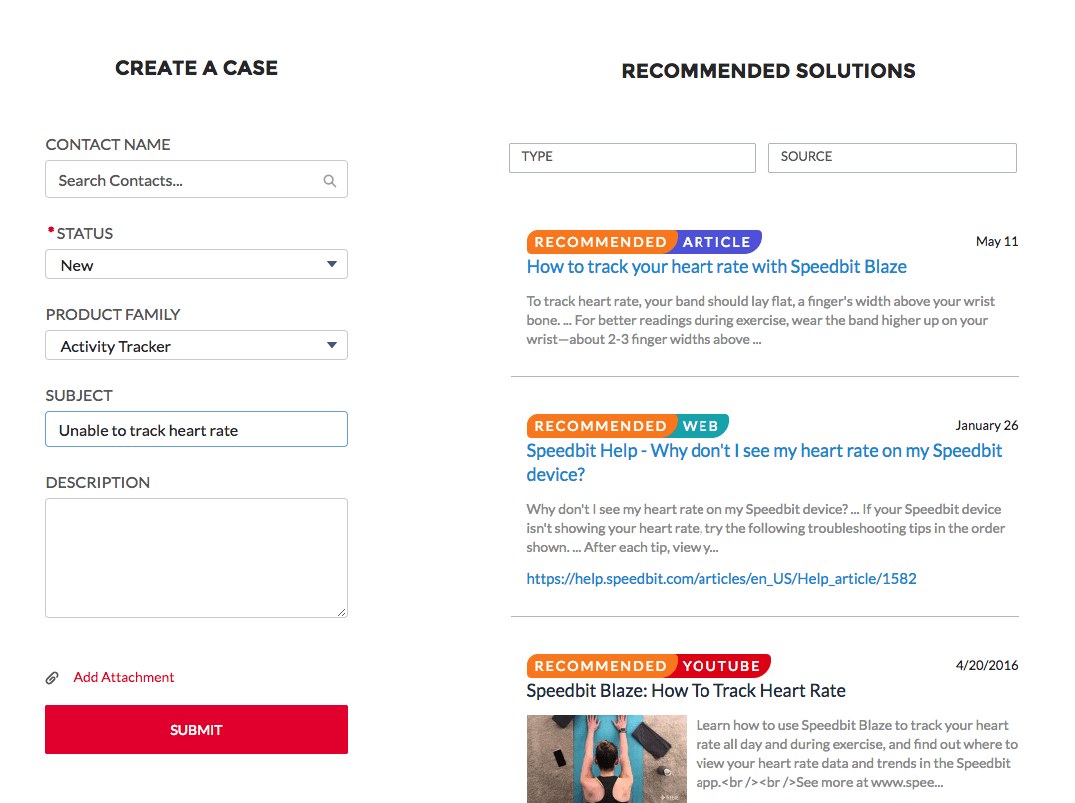 Landing on the Contact Us form or Create a Support Ticket page indicates a strong intent to escalate an issue and create a case. An "explicit deflection" is defined as the user abandoning the case creation and support ticket pages — and resolving the issues on their own.
One of the ways companies can control for this is by providing personalized and relevant content recommendations on the case creation page or the digital channels like your website, based on the customer's intent and context.
Implicit Deflection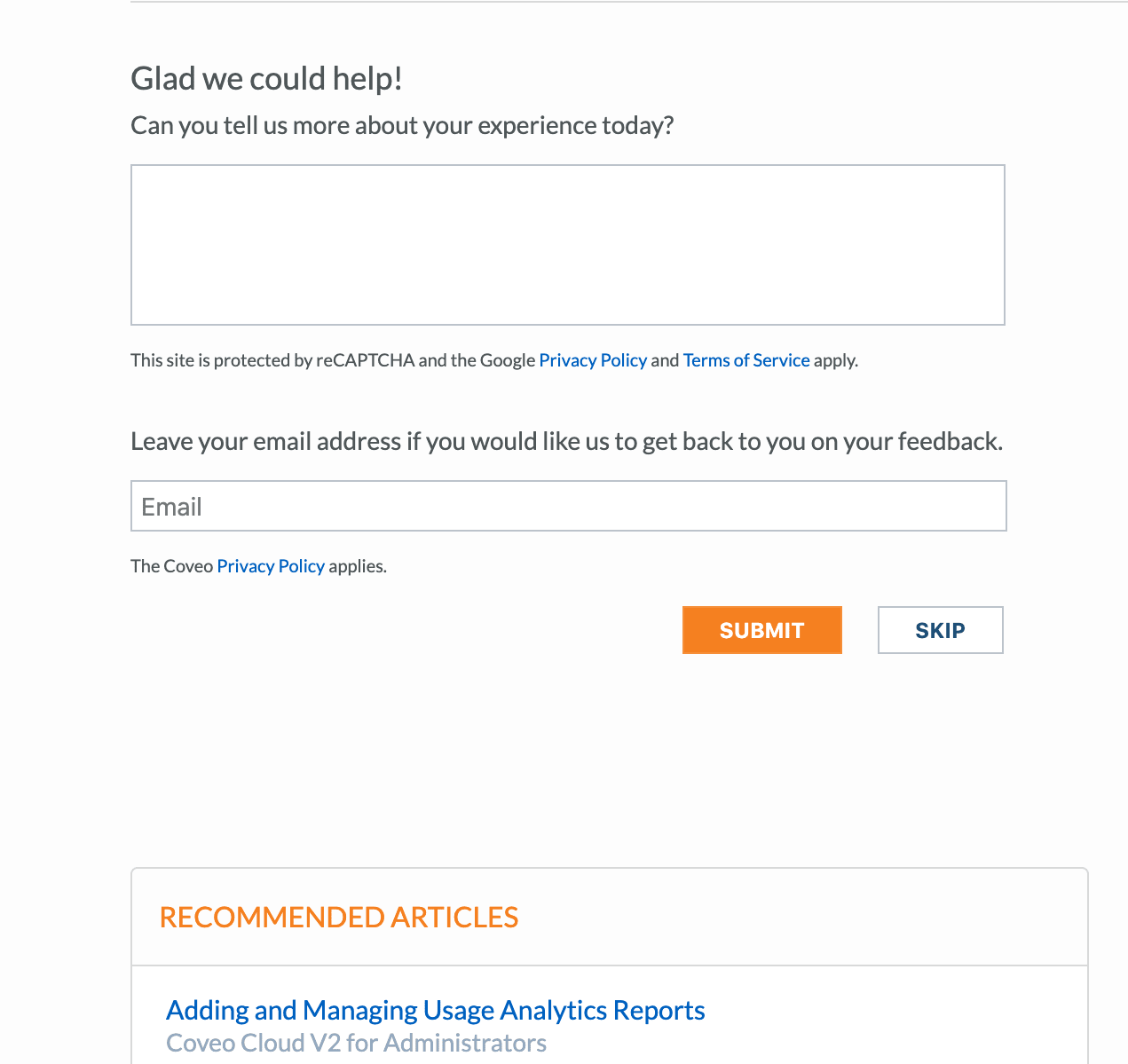 What if you deflect the case before the user even gets to the case creation page? This is where the "implicit deflection" metric comes in, where a user's behavior implies that the case was deflected. Here are some examples of implicit deflection that would qualify:
Pageviews of self-service content that are strongly correlated with explicit case deflection. If it would count if the clicked on the self- page from the case creation page, why should it not count here? Typically, some firms measure this with an equation to allow a portion of the case deflection credit to go to this type of .
Document ratings or feedback. "Did this document help you?" This type of feedback is invaluable in inferring how well the document was able to actually avoid a case being created. A 5-star rating system can add further nuance to a weighting system for the case deflection credit for your online community.
How Case Deflection and Self Service Work Together
Every customer prefers the fastest and most effortless path to getting answers. And for the majority of customers, that's self-service. It's not measuring case deflection vs. self-service success — these two work together to show a snapshot of your digital customer experience.
Great self service is easy, relevant, and smart. The right case deflection strategy is one that enables continuous improvement. When customers are offered proactive insights and are recommended help at precisely the right moment via the right service tool, more cases are deflected. And with a search analytics solution to track these events, organizations can accurately measure self-service success and case deflection rates.
Dig Deeper
The key to remembering the difference between self service and case deflection is that one turns your customers away, while the other builds a relationship. Are you doubling down on the former? Learn why you shouldn't.
Download your copy today
Ebook | The Many Problems With Case Deflection
---