Everyone wants their customers to be happy, right? After all, if they don't feel taken care of, they can easily move on to a competitor's product or service. (Which 12% are ready to do after just one bad experience.)
If moving from reactive to proactive customer care is important to you, it may be disheartening to realize that your customer support efforts just aren't panning out. You've invested in support tech and even set up an excellent support page. What's going wrong?
For one, you could be missing out on the best parts of the customer self service portal, those that rely on the latest search tech, AI, and machine learning. These are the tools that can not only give customers a satisfactory resolution to their needs but can also streamline the process of sending unresolved issues to the human representative team when appropriate.
What Is A Customer Self Service Portal?
A customer self service portal is a website or app that gives existing customers and new prospects access to information so that they can learn about or resolve an issue with a product or service. They can ask a question, like finding out why recent invoices were higher than previous, or report a problem they want to know how to fix, like repairing a broken computer mouse. 
While a customer portal, also sometimes called a help center, can offer links and assistance to human customer service representatives, the general aim is to empower customers to seek out a resolution on their own, on their own time, and to their own satisfaction. Self service and case deflection, however, shouldn't be convoluted because each serves its own purpose.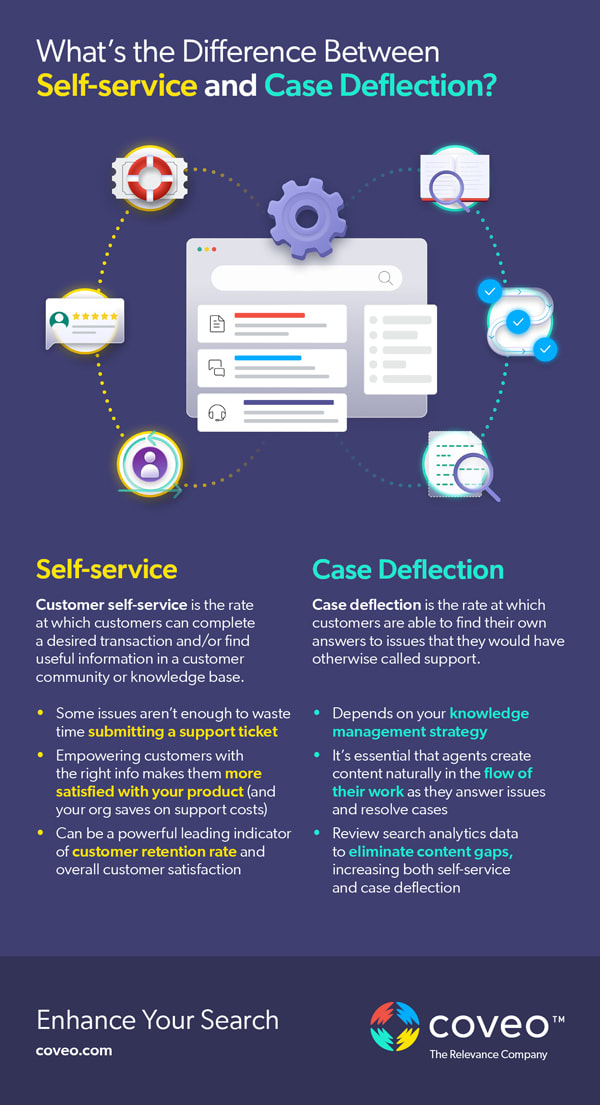 These portals aren't made to completely do away with human interaction, however. In actuality, they complement your customer care center, with both self service and live assistance creating that perfect balance to meet customers right where they are. This ensures a greater overall customer experience, balances the caseload for your support teams, and brings more value to your business.
But let's dig into the benefits a little deeper.
Why Is A Self-Service Portal Important?
Customer self-service portals probably sound pretty great, and when handled with care and supported by the best technology, they can be. Perks of letting your customers take the wheel in solving problems include:
1. Customers like to be independent.
People are increasingly researching answers to their own issues. In fact, Millennials and Gen Z are more likely than other generations to research something online before turning to other, more traditional sources to help. If your self service option can support this desire, you'll find younger shoppers to be at ease when initiating customer requests and less likely to drop you if they can't get the job done. People want to problem-solve, and a customer service portal lets them do that.
2. But they like human help, sometimes, too.
Here's the kicker. While the younger generations do like to do most everything on their own, the Baby Boomer generation is still more likely to pick up a phone for help. (In fact, our stats show that 52% of this generation would drop a brand over not being able to speak to a live person.) So, while a good self service portal is still focused on "self," it should include a way to quickly get a live agent if that's what's preferred.
3. Customers like to learn.
The naturally inquisitive mind of today's customers makes the self-service portal an ideal choice for figuring out how to get what they need. They may even feel accomplished in both learning how to return a purchase and following through on achieving that solution. Plus, it proactively ensures they have fewer problems down the road, now that they know what the solution is!
Portals with how-to videos and guides can do more than solve issues, and they feed into this need for lifelong learning. Customers love knowledge, and you can support this with a strong knowledge management strategy.
4. Self-service attracts site visitors.
If you handle your SEO correctly and make it easy for influencers and other authority sites to share your solutions, you'll find your support pages (like your customer community, community forum, or knowledge base) to be a destination all their own. Bloggers, for example, are known for sharing quick tips and advice on how to enjoy top products, and they often link to the support pages of these brands. Add in the search results you might show up for with a really good solution (which may end up as a search snippet or other SERP), and you have even more visitors coming your way.
5. Personalization is a must.
Did you know that 85% of millennials are more likely to buy something that is personalized to their needs or habits? Not only are targeted ads and product recommendations not a turn-off, but they expect them. Customer self service can also maximize this trend by offering them an incredibly personalized support experience. From a personalized greeting upon entering the app or site to offering suggestions for resolution based on the products they've already purchased, there are many ways to make them feel like the individual they really are. 
3 Customer Self-Service Portal Examples
If you already have a portal, you might have an idea of what they look like. To be clear, they can be as unique as the company creating them and can include a wide variety of plug-ins, tools, and integrations. Some sites to use for reference include:
Tableau, a business analytics and intelligence software company, uses Coveo's relevant search in its customer self service portal to give better answers to individual customers based on context and browsing history.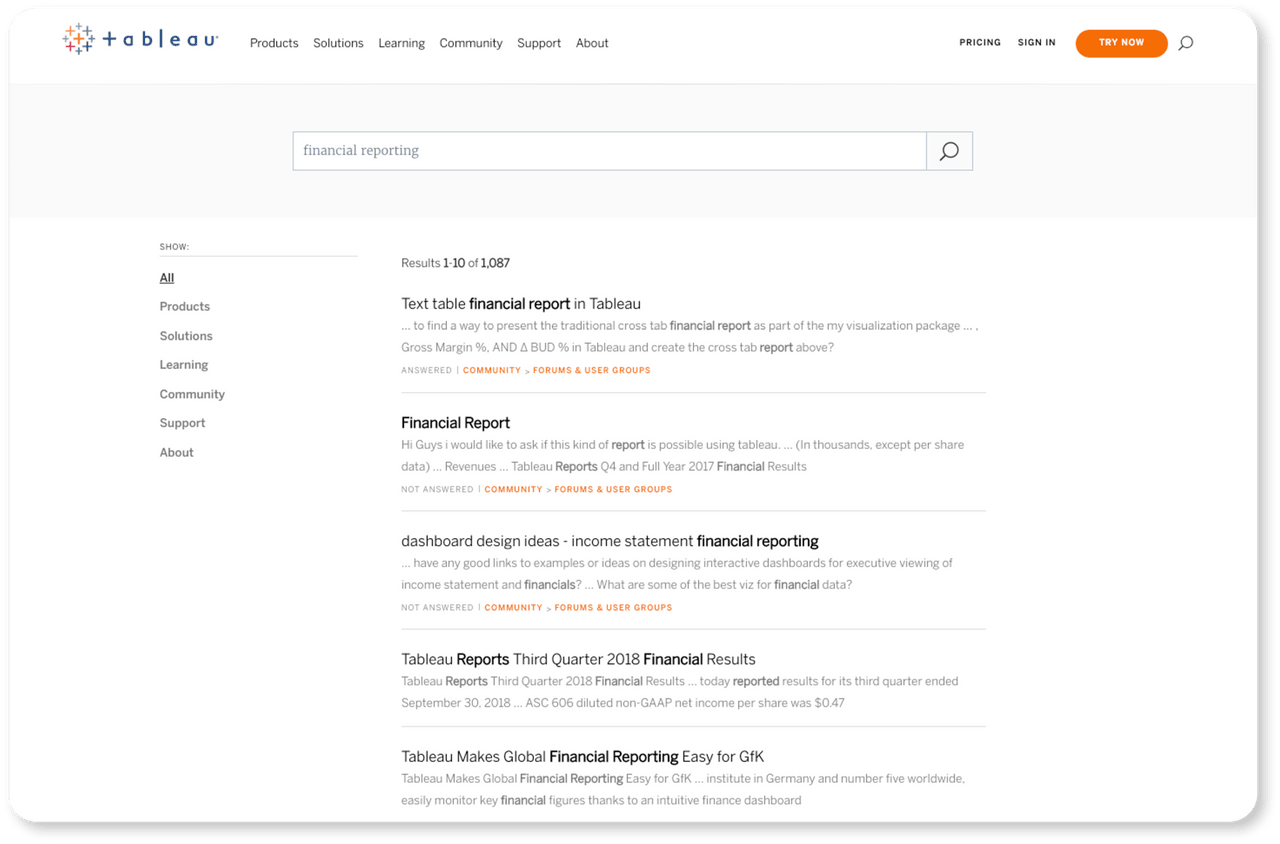 VMWare offers its 75,000 partners a better way to self serve onboarding and sales enablement content by personalizing it based on their partner type.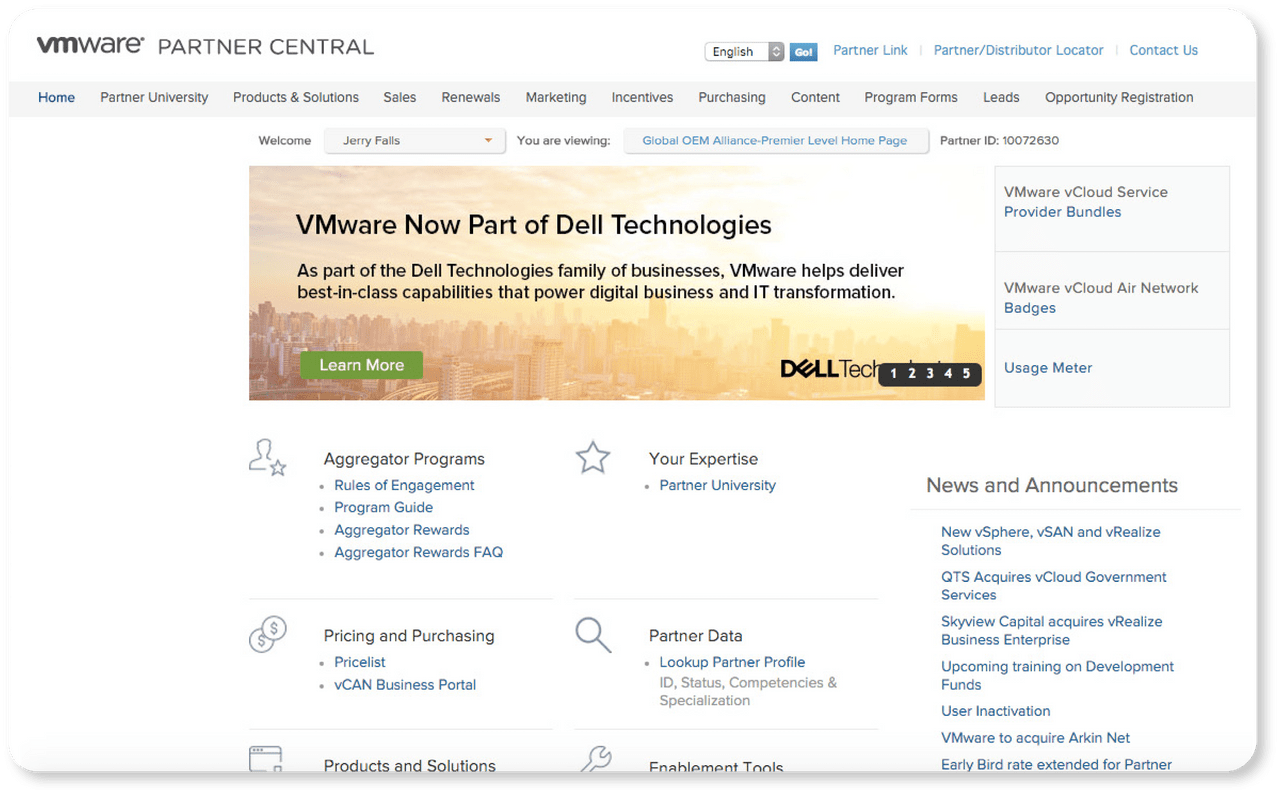 Salesforce's AppExchange uses recommendations and then suggests applications that are most relevant to visitors whether they are authenticated or unknown.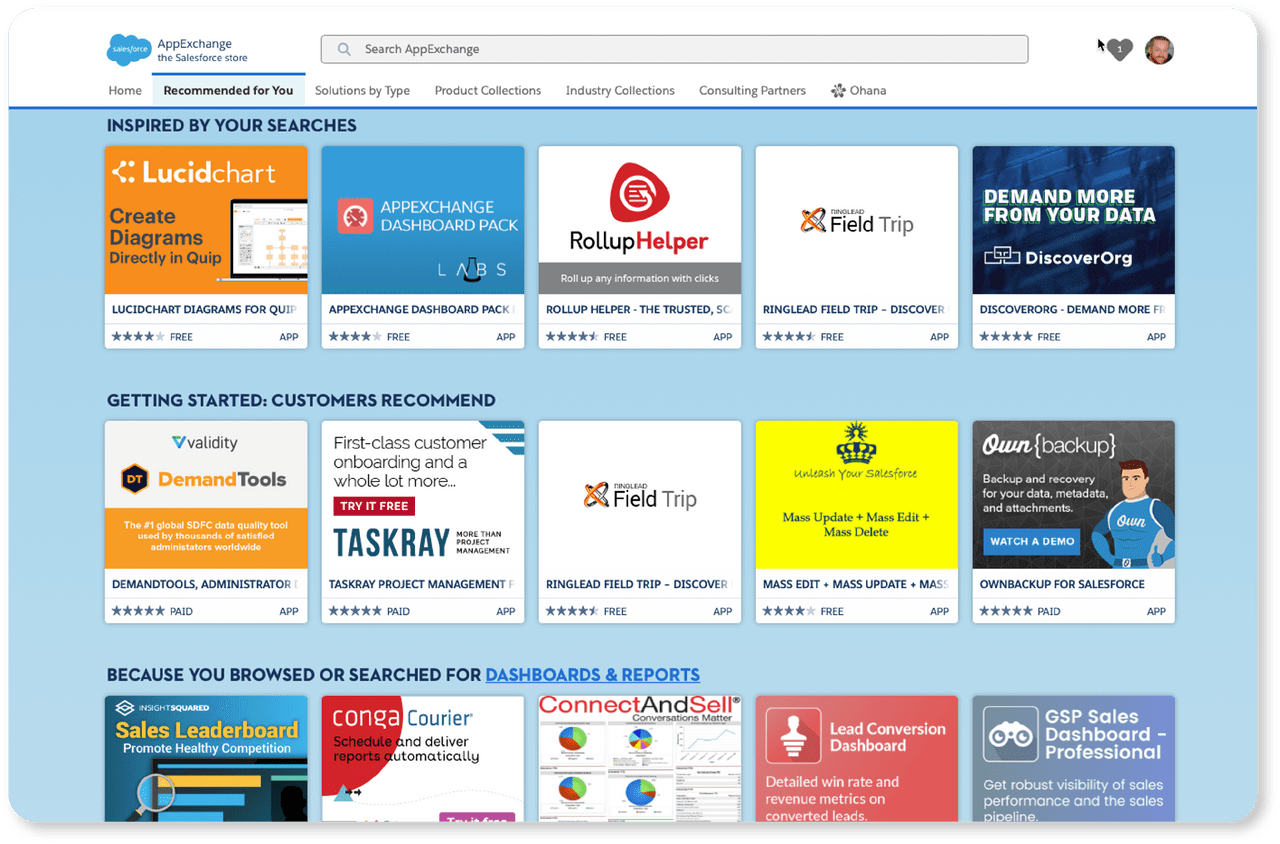 3 Common Self Service Portal Challenges (and Their Solutions)
So, now that we know the importance of a help center, what can you do about the very real obstacles that exist? Is it possible to overcome them and achieve customer satisfaction? We think so.
1. Content (and thus answers) aren't available
The customer search of years past was siloed, meaning it came from a single library or source. If a customer needed to find out something that didn't exist in this singular repository, they would come up empty-handed.
The next step in search technology is federated, something slightly better than siloed but still lacking when compared to what customers are seeking. While federated search can send search requests to multiple search engines and databases within that federation, nothing is unified, and results may often be irrelevant or overwhelming. (Imagine putting in a search term and getting not one, but a dozen bad or confusing results!)
To make matters worse, searches were based on very structured and specific search terms that may or may not have matched what the customer was asking. If they used a regional phrase to search for an item, the search engine might not have known what they wanted.
Combine the problems of limited search data, too much irrelevant search data, and search that doesn't recognize nuance, and you have a lot of frustrated customers.  
Solution: Centralize querying multiple content sources with a unified index
Unified search connects all your databases as federated search does. However, with unified search, the best results rise to the top based on what others have found useful, enabling you to shift from being reactive to responsive to their needs.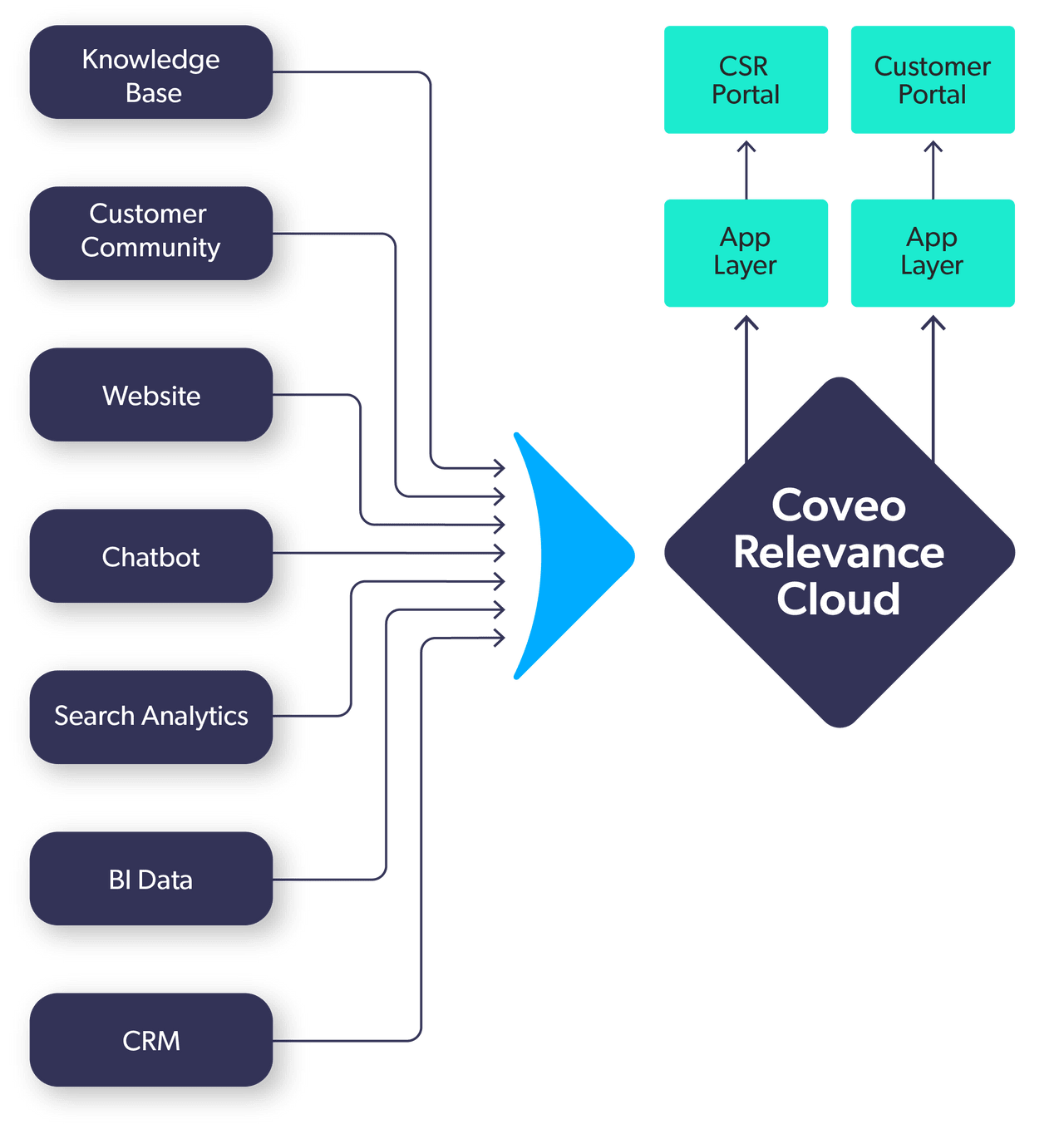 To further enrich your self-service customer experience, allow them to filter the results. Configurable facets allow them to take results and refine to the best one for them. To go along with the DIY theme of this article and the nature of self service, empowering customers to shape their search results can help avoid the submission of a support ticket and enable implicit case deflection.
2. Search relevance is lacking
Centralizing content is step one, but no customer wants to sift endlessly through an overwhelming number of potential answers. With the amount of data collection possible today, there's no excuse for not refining search results specifically for the user at the keyboard.
By taking into account who they are, where they've clicked on your site, and the products they've purchased in the past, you can tailor search experiences to a unique individual — and replicate this 1:1 experience at scale. Not doing so can (and likely will) result in lower customer engagement, which you may see through higher case counts and tickets that go unresolved.
It's important to keep in mind that as your customers evolve throughout their journey with your product or service, their perception of search relevance evolves, too. Your relevance is driven by the situation they're in at that given moment, the challenge they're facing, and the ability to overcome it; in other words, it's contextual. You need to be relevant at every step of their self-service process.
Anything less won't cut it.
Solution: Surface content within a customer's context using AI
No two customers will want the same thing from your site. Your treatment of them shouldn't be identical. Knowing what will be contextually relevant from one customer to the next, however, is all but impossible without a sophisticated technology like artificial intelligence. It not only analyzes your customers' profiles and actions, but also identifies behavioral patterns to respond accordingly.
By understanding how a customer has searched, what they've clicked on within your site, where they are in their customer journey, and what actions people like them have taken gives you a better understanding of what each unique customer hopes to achieve. You can then apply this information to query suggestions, recommendations, and personalization to your support portal.
3. Poor or No Customer Insights
Without analytics or a way to track your customer's interactions with your self service site, you're incapable of seeing the bigger picture of their support journey. You could be getting valuable insights that tell you what content meets customer needs best, how your customers engage with it, and what content gaps you could plug to improve the customer self-service experience.
Instead, your customer journey is a black hole and you're unable to help them achieve self service success. Furthermore, your content strategy is little better than a shot-in-the-dark because you're not making content decisions based on data.
Understanding customer behavior pays off, literally. Cross-selling and upselling are key components of a customer-centric strategy, as it shows you know them and want to help them. However, to be effective, you need to have a solid understanding of your customers and their needs before you suggest related training opportunities or offers.
Solution: Choose a search platform with built-in analytics
That search box on your website is a two-way street — not only can customers look for content, but you can see what they're finding (or not finding). So it's a no-brainer to select a search platform that offers a robust analytics dashboard. From revealing gaps and most-consumed content, to teasing out the full customer journey allows you to better understand the how, what, and why of your audience. 
This means your customer self-service portal becomes the place for your customers to find what it is they need — freeing up your agents to tackle problems with more creativity, cutting down on service costs, and illuminating the potential for your contact center to become a profit center. 
There's a bonus to all this: Intelligent customer self service is often preferred over calling a customer service agent and, when executed effectively, is much more affordable for you in the long run, too. If saving money while promoting customer success is at all an attractive prospect, designing a useful customer self service portal is a step in the right direction. 
Dig Deeper
If you're wondering where to start in rehabilitating your customer self service portal, we've got a handy checklist to use in your evaluation. Download your free copy today.
Ready to craft effortless self-service?
Checklist: Self-Service Health Check
Or if you're curious about the real-world impact of self service, get the scoop on how Connectwise achieved a 45% increase in case deflection and a 28% improvement in clickthrough rate with Coveo. 
Listen to the full conversation for all the details
On-demand Webinar: How to Deliver the Most Relevant Self-Service Experience Every Time