Organizations are facing a huge challenge today – critical knowledge assets reside in various locations, preventing partners, employees and customers from finding the information they need, the moment they need it.
VMware's 75,000 partners generate 80% of the company's revenue and were spending too much time looking for (but not finding) information.
It was critical that these partners find the information they needed quickly, so they could get back to selling and servicing VMware customers.
With Coveo intelligent search, VMware indexed millions of documents from multiple internal and external systems (including video) to provide secure, relevant information to partners, right in the company's Salesforce-based partner portal.  Now, partners are able to find what they need fast.
Watch this 15-minute video from Dreamforce to see David Wylie, VMware's partner portal operations manager, explain how his team is improving self-service engagement (including a 65% increase in click-through rates), satisfaction and sales with intelligent search.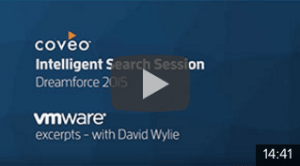 And to learn more about VMware's journey, and to ask David questions live, join our November 5 webinar "Success Story: How VMware Uses Intelligent Search to Boost Self-Service."