Note: This is the second blog post based on Master B2B's 2023 State of B2B eCommerce Report, sponsored by Coveo and SAP. Read story one, "B2B Trends: Digital Is Hot, AI Search Is Key,"here.
Ecommerce is flourishing in B2B — after lagging behind B2C retail for many years. Questions that once hampered ecommerce adoption are being answered in the affirmative: Yes, B2B buyers are willing to do their own research online and complete purchases without the intervention of vendor sales reps. Yes, they will purchase products that cost tens of thousands of dollars online. Yes, the share of B2B purchases made via ecommerce is rising every year — and it will continue to grow because B2B decision-makers are making the shift to ecommerce for good reasons.
According to a recent survey of 120 B2B ecommerce buyers by Master B2B for the "2023 State of B2B Ecommerce Report," sponsored by Coveo and SAP, the top reasons decision-makers are buying on the web are speed, better information, and convenience — but not necessarily for lower prices.
More than one-quarter (27%) of respondents said their chief reason for using ecommerce was to get the job done faster. Twenty-one percent use the web to get more and better information on products and services, 20% for the convenience of 24/7 website access, 16% because online purchases are easier to track for record-keeping purposes, and just 13% to save money.
Half of B2B buyers surveyed report that they are making more ecommerce purchases in 2023 than they did in 2022, while a mere 11% are doing less. Looking ahead to 2024, 82% expect to buy more online.
While Master B2B data shows an increase in the number of B2B purchases completed online, Digital Commerce 360 and Forrester Research find that B2B buyers are spending more, too. More than two-thirds (69%) of the 150 B2B buyers they polled are increasing ecommerce spending overall, with 38% of that group "significantly" increasing spending online. Just 6.5% of the remaining one-third are reducing online spending. 
Looking at the average spend by B2B buyers, Master B2B finds that those, too, are rising. Almost half (47%) of respondents spent more on their average online purchases in 2023 as compared to 2022. Only 9% spent less.
Relevant Reading
Free Download: 2023 State of B2B Ecommerce Report
Profile of the B2B Digital Buyer
Respondents to the Master B2B survey were pre-screened to be online buyers, and the share of their ecommerce purchases, as compared to the number of purchases overall, is significant. 
Two-thirds of respondents use ecommerce for between 25% and 74% of their purchases, almost evenly split between the 35% that buy between 50% and 75% online and the 32% that make 25% to 49% of their purchases digitally. The percentages are lower at the high end of the range, where 14% buy 75% or more on the web, and at the low end, where 18% buy less than 25% online.
B2B buyers also use ecommerce frequently. The preponderance (35%) buys products and services for their businesses online at least weekly. More than one-quarter (27%) is purchasing online at least daily, and 19 percent make ecommerce purchases several times a day.
Channels Used by Buyers to Make Purchases  
B2B buyers use multiple internet-connected devices as they research business purchases. Laptops are used by 77%, desktop computers by 67%, and smartphones by 65%. The least common device is the tablet, used by 32%.
Companies were once reluctant to let their professional buyers make final purchases on mobile devices because of security concerns, but that has changed. 
Today, 89% of B2B buyers use smartphones and/or tablets for ecommerce, although the share of purchases made with these devices varies widely. For 37% percent of respondents, only 1% to 20% of their purchases are finalized on a mobile device. One-third buy between 21% and 60% of their purchases via mobile, with the remaining 19% purchasing more than 60% of their products and services on a mobile device. 
Pricepoint Thresholds Increasing
The price B2B buyers are willing to pay for ecommerce purchases keeps hitting new heights.
An April 2023 report from McKinsey finds that B2B customers "are increasingly willing to spend big on ecommerce transactions." Based on a global survey of 3,800 B2B buyers, McKinsey found that "about 70 percent of decision makers are prepared to spend up to $500,000 on a single ecommerce transaction. At the highest end of the spectrum… the number of decision makers willing to spend as much as $10 million or more has increased by 83 percent." 
About 70 percent of decision makers are prepared to spend up to $500,000 on a single e-commerce transaction.
The Master B2B survey asked respondents how much money they spend for an average business purchase. A small minority, 11%, pay more than $15,000 in a single transaction, on average, but more than one-quarter (27%) spend more than $5,000 but less than $15,000. Thirty percent pay between $1,000 and $5,000, and 31% spend less than $1,000, on an average purchase. 
When asked whether they have made online purchases met or exceeded $5,000 at any time, 98% of respondents answered in the affirmative. However, those higher-ticket buys are not made often. Only 12 percent of B2B buyers spend $5,000 or more on a single purchase more than 10 times per month.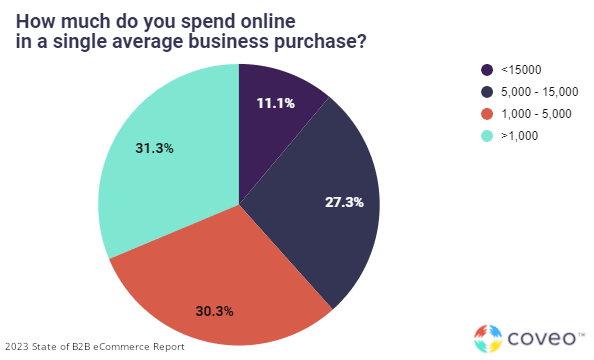 Of the 83% of respondents who make $5,000+ purchases 10 times per month or less, more than half (52%) make those deals once a month or less often.
It turns out that B2B buyers aren't necessarily making decisions about what their companies will pay for products and services; all survey respondents reported that they have pre-negotiated pricing agreements in place for a portion of their purchases. 
One-third report that 50% or more of their buys are under pre-set terms, 36% of respondents have pre-negotiated pricing for 30% to 49% of their purchases, and 31% said less than 30% of their purchases have been negotiated in advance.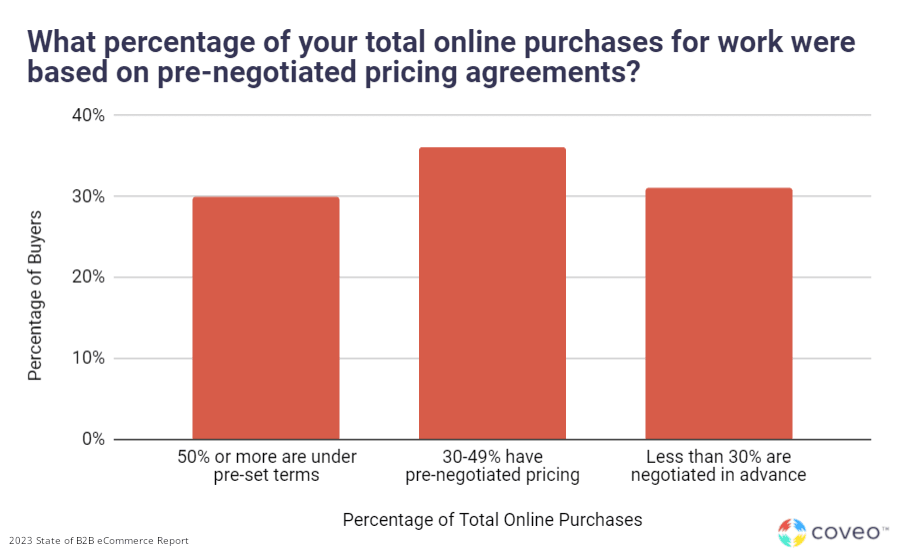 While 31% of buyers say there's been an increase in the percentage of their purchases with pre-negotiated pricing in 2023, most respondents (54%) haven't seen any change over the past year.
Email Tops Influential Marketing Tactics
Even though new solutions come along all the time, the tried-and-true often proves to be the best option. Good ol' email is an example.
When Master B2B asked B2B buyers to choose the top three interactive marketing tactics that most influence their purchasing decisions out of a list of 10, email emerged as the most popular answer, selected by 39%. That's a hefty 6 percentage points higher than the second-most-popular response, online referrals from colleagues, chosen by one-third. Social media ranks third with 31%.
Email marketing allows sellers to personalize the experience for potential customers, whether they access the company online, by phone, or in-person. In the Master B2B report, co-authors Brian Beck and Andy Hoar point out that "B2B sellers have the opportunity to use email to personalize the service experience, too, by creating email flows based on products (or product categories) and sharing links to videos about the product, service reminders, product updates, and cross-sells." 
Beyond those top three answers, B2B buyers indicated they were influenced by sponsored search results (28%), discussions with sales or customer service representatives (27%), organic search results (23%), and recommendations on ecommerce product pages (23%).
In fact, recommendations on product pages have a direct impact on B2B buyer behavior. More than one-third (35%) of respondents say they have bought more online after seeing additional suggestions related to the items they're buying or to their personal purchasing patterns.
Recommendations on product pages have a direct impact on B2B buyer behavior, with 35% saying they have bought more online after seeing additional suggestions.
Master B2B also discovered that chat-based customer service has become table stakes in B2B, with 89% of respondents saying they use it. While 43% of respondents indicated their use of chat stayed the same over the past year, more than one-third (34%) are using chat more. 
Critical Information Key — or Buyers Move On
Whether they're trying to make a purchase online or offline, B2B buyers will abandon a potential vendor if they can't get the pricing or inventory information they need — and it happens surprisingly often.
Sixty-eight percent of would-be buyers abandon purchases at least 10% of the time because they can't get accurate pricing information, and 20% abandon purchases for lack of transparent pricing at least half the time, according to the survey. The figures are almost identical when B2B buyers can't get accurate product inventory status. Two-thirds abandon purchases when they can't get inventory information at least 10% of the time, and 22% abandon purchases for that reason at least half the time.
Even though sellers employ sales representatives to provide a personal, human touch, reps' performance is not much better than the averages above.
Sixty-five percent of would-be B2B buyers report that reps fail to get back to them with timely quotes more than 10% of the time, and 19% say they don't hear from reps more than half the time. 
B2B buyers are buying more products and spending more money on ecommerce, but they still take advantage of many offline touchpoints, including in-person, telephone, and chat interactions with sales representatives. However, human representatives must raise their game or make peace with the buyers' desire to avoid them in favor of self-service journeys.
Twenty-nine percent of Master B2B survey respondents agreed strongly that gathering information online on their own is superior to interacting with a sales representative, but only 19% agree strongly that interacting with a sales representative is superior to gathering information on their own.
What are B2B sellers doing to win back the favor of buyers, whether they are purchasing online or off? Stay tuned for our upcoming article on that topic.
Dig Deeper
In 2023, B2B sellers with underdeveloped digital capabilities face an existential threat.
B2B buyers now expect seamless shopping journeys, across both online and offline touchpoints. And sellers who don't deliver on these expectations will struggle to sell and grow.
Discover the insights to lead your organization's ecommerce digital transformation confidently. Grab your copy of the 2023 B2B ecommerce report.
Relevant Reading
Free Download: 2023 State of B2B Ecommerce Report