The ecommerce channel was an afterthought for B2B companies as long as they could depend on the human-to-human channel. The pandemic disrupted that, forcing digital laggards to change. Those that had already initiated ecommerce needed to redouble their efforts.
Now there is no turning back. B2B buyers have embraced ecommerce and the opportunity to do self-directed research on the web — and now demand that sellers provide better digital buying journeys. 
But three years later, B2B companies are struggling to align their technology and people to deliver digital experiences that live up to buyers' expectations. In a survey of more than 200 U.S. B2B executives, with at least 100 buyers and 100 sellers, conducted by Master B2B in partnership with Coveo and SAP, we uncover buyer wants and seller gaps.
Relevant Reading
Free Report: Insights to create a digital-first B2B shopping journey
First Stop in B2B Buyer Journey: The Web
The survey found that an astounding 99% of B2B buying decision makers today begin their research for potential products and services on the web, regardless of whether they eventually complete the sale online or offline.
While B2B companies' websites — and, increasingly, B2B ecommerce marketplaces run by third parties like Amazon — play an enormous role in the B2B buying journey, only 10% of U.S. B2B product sales are completed online. For now. 
According to Insider Intelligence/eMarketer, B2B ecommerce is on pace to grow 10% to 11% per year, at a higher rate than B2B sales overall, and ecommerce dollars in the U.S. alone will surge 33% between 2023 and 2026, from $1.9 trillion to $2.5 trillion.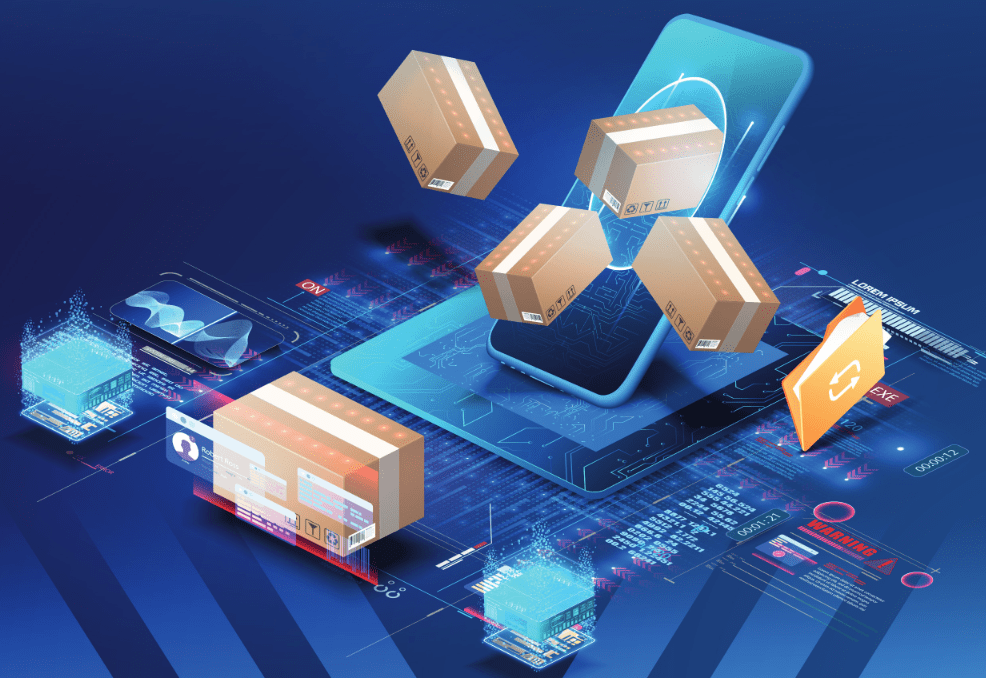 "Success in B2B today is now wholly dependent on artfully balancing self-service online touchpoints with sales-assisted customer-interaction scenarios," write Master B2B Co-founders Andy Hoar and Brian Beck in the "2023 State of B2B Ecommerce Report," based on the survey. "Key to both is digital… digital commerce sites and apps, along with digital sales enablement."
B2B buyers and buying teams look at a variety of ecommerce websites and sometimes peruse brick-and-mortar locations during the research phase of their purchasing journey. Almost three in 10 (29%) say they do offline research before making a purchase online for half of their transactions or more.
Online research is a bigger factor in B2B sales that take place offline, with 51% of buyers conducting web research before completing a sale with a representative of the vendor company or at a brick-and-mortar location — and this trend holds for at least half of the purchases they make for work.
Online Marketplaces: Friend or Foe?
Like the consumers they are, B2B buyers shop around at a variety of websites in the early stages of their journey — tending toward those that are easy to use (33%) or have the broadest selection (21%). But sites with the best prices ultimately win out. Just 12% of buyers surveyed say they start their research at a site known for low prices, but 29% admit that low prices are the reason they make their final purchase at a specific website. 
Although the preponderance of online B2B buyers — 41% — "typically" finalize their purchases on manufacturer and distributor websites, 32% usually buy at B2B marketplaces. Of those marketplace buyers, 75% specifically use Amazon Business.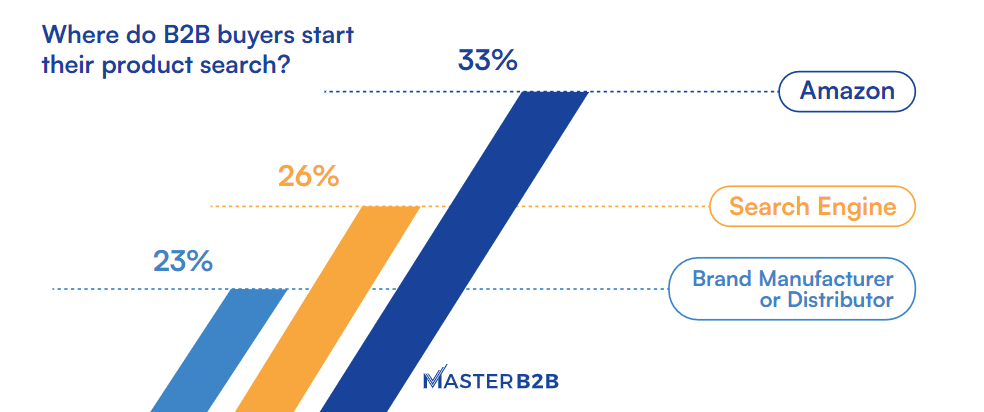 More B2B buyers are starting their research on the Amazon Business site (33%) than manufacturer and distributor sites combined (23%). Hoar and Beck say they believe "buyers will increasingly purchase from the sites where they're doing the research, a trend we've seen with Amazon and a significant concern for distributors if Google develops its own marketplace."
B2B Companies Worried About Amazon Business
B2B companies are rightly concerned about how Amazon Business will affect their bottom lines. 
Almost half (49%) of B2B manufacturers and distributors responding to the survey report that they've already lost sales because they couldn't compete with Amazon Business on price. This is a critical issue because "trend lines continue to point to heightened price competition and increased margin erosion" in B2B ecommerce, the report's authors point out.
Previously, B2B buyers were reluctant to buy expensive products entirely online. But that's changing, too. This means that higher-dollar products and programs will be pulled into the lower-margin vortex.
 38% of buyers reported that the average size of business purchases they make online is $5,000 or more, and 11% say their average is $15,000 or more.
These factors, and Amazon's well documented success, are inevitably attracting more marketplace sellers. Amazon Business is "one of the fastest-growing ventures in Amazon's history," reaching $35 billion in annualized sales in 2023, according to its parent company. 
Archrival Walmart launched its own dedicated B2B marketplace, Walmart Business, this year. And new vertically oriented marketplaces, such as PartsTech for auto repair supplies and Volition for industrial parts, are attracting venture capital funding.
Search Emerges as an Investment Priority
In light of the urgency to make sure their websites can compete, B2B companies are boosting investments in ecommerce technology, with more than half (51%) saying that they are planning to change or upgrade their ecommerce platform/technology solution within 24 months.
In addition, 38% of sellers say technology for site search and/or recommendations is among their investment priorities in 2023. Thirteen percent of respondents currently have a project underway to change or upgrade their site search solution, and 70% plan to do so within 36 months.
B2B ecommerce sellers recognize that providing great search and recommendations is essential to the online customer experience, with a strong majority of 61% saying they consistently lose sales because they don't offer a "good enough" search experience.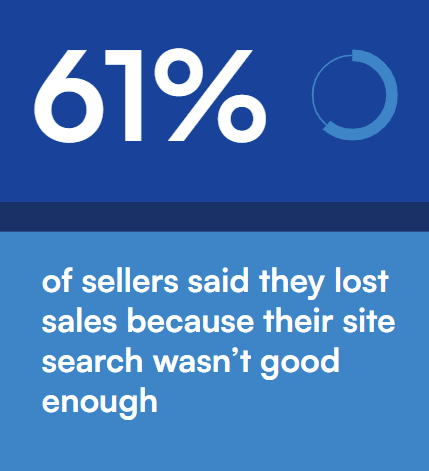 B2B Buyers Want to Control Search Experience
Search functionality must provide B2B buyers with tools they can use to control their own experience, using the site search bar and filters, as well as by automatically providing relevant search results and recommendations using artificial intelligence (AI).
Generative Artificial Intelligence (GenAI) platforms like ChatGPT have unleashed this exciting technology for use by the general public — igniting a firestorm of opinions on how AI will impact education, business, careers, and our daily lives — but AI has been used and constantly improved in search/relevance platforms for some time. Coveo has been building enterprise-ready AI solutions for about a decade, and its use of GenAI is exemplified by Coveo Relevance Generative Answering.
Although generative AI can significantly augment search at the present time, it cannot replace it for a host of reasons that Coveo outlines here.
Gartner has a similar take on GenAI and search: "ChatGPT is a complementary and partial alternative, since it focuses on generative approaches to answers rather than content discovery (this document, this sentence). Many search and insight engine vendors have been using the base GPT technology, but it's currently not a replacement."
Hybrid Approach Is Still a Competitive Edge
Master B2B's report demonstrates that B2B buyers are demanding that sellers provide product and service information that they can access on the web 24/7/365 in addition to the help and expertise humans in vendor organizations can provide. "Buyers are looking for a streamlined hybrid experience, where online and offline interactions blend together seamlessly," Hoar and Beck write. The key to success, they say, "is now wholly dependent on artfully balancing self-service online touchpoints with sales-assisted customer-interaction scenarios."
"Buyers are looking for a streamlined hybrid experience, where online and offline interactions blend together seamlessly."

— Andy Hoar and Brian Beck
McKinsey's twice-yearly survey on B2B buying trends, the B2B Pulse, backs them up. Since the end of the pandemic, B2B decision makers have settled into what McKinsey calls a "rule of thirds," i.e., they are using three types of interactions with vendor organizations — face-to-face, remote, and e-commerce — in roughly equal proportions.
Of those, B2B sellers have a competitive edge in two. Pure ecommerce sellers can't match the offline infrastructure, relationships, customer service, and expertise that omnichannel manufacturers and distributors provide — and it makes sense for them to lean into those advantages while they build out their ecommerce capabilities.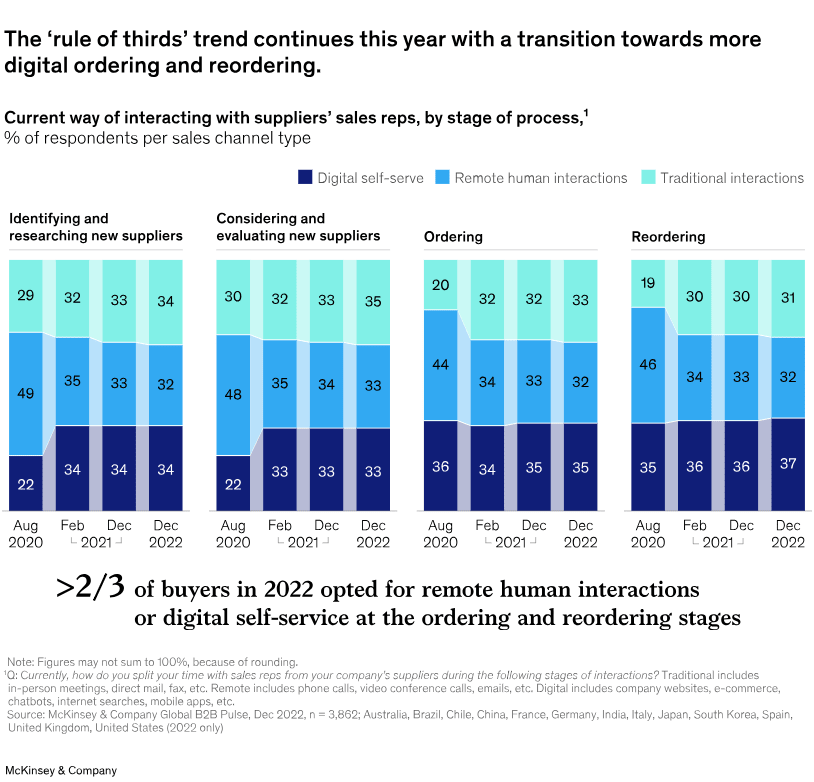 If You Can't Beat Them, Join Them
Besides, third-party marketplaces are opportunities as well as threats to traditional B2B sellers, and a majority are following the philosophy of, "If you can't beat them, join them." 
Three-quarters of the sellers surveyed say they bring in revenue through third-party marketplaces such as Amazon, industry-specific vertical marketplaces, or marketplaces they control — and one-quarter report that at least half of their ecommerce revenue comes from marketplaces.
According to Hoar and Beck, "B2B buyers made two clear points: Amazon and Amazon Business are here to stay, and they expect parity with B2C experiences. Our ecommerce sellers, though, think they're up to meeting Amazon's challenge." 
The authors note that 60% of sellers believe their ecommerce sites provide a "better" or "much better" customer experience than Amazon and a whopping 81% say their website's CX is better or much better than their direct competitors.
"B2B sites can only win if they're among the 'best of the best' and compare favorably with Amazon," the duo concludes. "All other comparisons simply give false hope."
Dig Deeper
This free demo shows how AI-powered search, navigation, personalization & recommendations can remove friction from your buying experiences. 
Experience AI-powered relevant buying experiences with:
Finding everything you need faster, any way you want to search
Dynamic navigation paths that discover relevant products within complex catalogs
Personalized experiences for both authenticated and anonymous buyers
Machine learning models that recommend products for cross-selling and up-selling
Educate buyers by surfacing rich content such as expert articles or videos in a single search
What is your business waiting for?
INTRO TEXT
On-demand: B2B Ecommerce Search for Friction-Free Buying Experiences