I live in San Diego and Google knows it. Whenever I open up Chrome to scout almost anything—a burrito spot, baseball scores, etc.—I'm getting suggestions, search results, and related content based on my location and past activity. Google even seems to know the spots I've clicked on or saved in the past (especially burrito joints). 
I like this experience because it's personalized. It gets me to what I know I need faster. I might like it if I were a support agent looking for answers, too. After all, the stakes are a lot higher than a simple breakfast burrito. According to research from Microsoft, 36% of consumers say that the most frustrating aspect of a poor customer service experience is when the agent doesn't have the knowledge or skills to solve the case.
Creating a Relevance-first Agent Search Experience
Take too long to find an answer and the whole experience becomes a CX tinderbox (saying nothing of the constant frustration and rampant burnout). What's more irritating is that there's no reason for it: agents are already authenticated. The data around their past activity and relevant content is already there.
Coveo's new Personalized Agent Full Search page provides a powerful full search experience that vastly reduces the time that agents waste drilling down, searching, or switching windows. Many agents support only certain customer tiers (business vs. consumer, for example) or a subset of products and features. In many cases, Coveo already knows the content they need to best serve a customer. Now agents can work in a full search page personalized to their own recent searches and documents so they can build proficiency and answer customer questions faster.
Personalized Agent Full Search: How it Works and Highlights
In the work our talented team did in the lead-up to this feature release, they talked to a lot of agents and support managers. By and large, most agents wanted to have more control over their screen real estate, including the ability to save facet selections, control their search results, and see their recently viewed content.
The team got to work on a new solution. Here's how Personalized Agent Full Search works:
Built on Coveo's headless UI framework
Leverages the latest Salesforce technology, including Lightning Web Components 
Shows agents recent searches, opened documents, and saved facets/filters
Personalizes search results with featured and recommended content based on agent profile, activity, and history
Pulls in search results from a variety of content sources
Can provide suggestions based on search language in milliseconds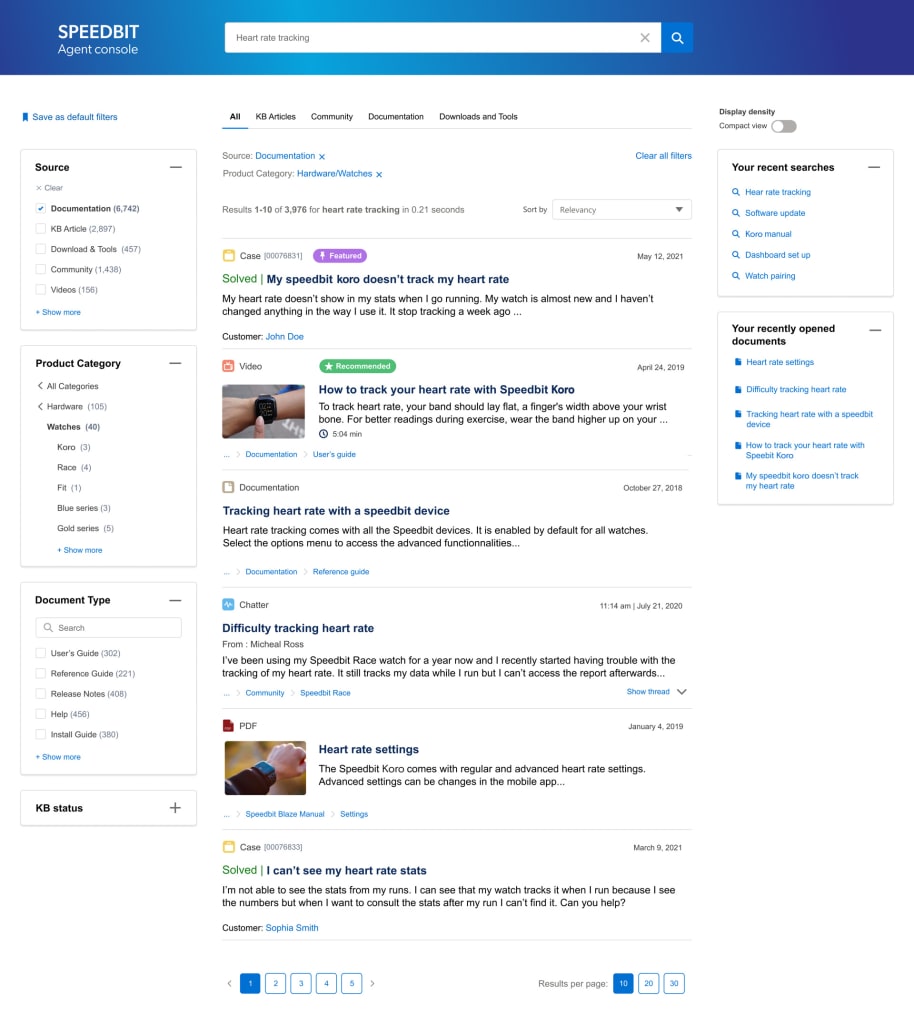 An Antidote for Agent Inefficiency and Attrition
Personalized Agent Full Search does more than group content for better convenience. Using Coveo search AI capabilities, this new feature gives agents the flexibility to find relevance on their own terms. It's one unified search experience that automatically ranks the most relevant answers first. This is in contrast with traditional federated agent search experiences in which content links are essentially tucked under topics and source.
That's just not enough.
Because let's be real: customer service is under more pressure than ever before. For one, a lot of teams are hiring for both in-house, fully remote, and hybrid environments. Support agents are overwhelmed and burned out by the sheer volume of content silos, cases, and support  channels (not to mention pandemic-induced fatigue). In fact, agent attrition is costing U.S. businesses an estimated $13 billion annually.
Now more than ever, agents need the most relevant info at their fingertips so they can provide quality service to customers. They need personalized content gathering that always equips them with the right information.  
Show Love for Customers By Showing Some Love for Your Agents
A little old search engine helps me find good food and it makes me really happy. On a minor level, I feel like my needs have been anticipated. Imagine what the same kind of personalized, proactive search experience can do for a customer support agent dealing with real people—and imagine how this level of personalized access to answers can also enhance the customer experience.
Personalized Agent Full Search is here to help agents contend with the information overload and pressing customer demands they deal with on a daily basis. 
Dig Deeper
Wondering what else you can do to enhance your agents' experience inside Salesforce? Check out our tips and insights in our ebook, Create an AI-Powered Agent Experience inside Salesforce.
Download your copy today
Ebook: Create an AI-Powered Agent Experience Inside Salesforce