Without a doubt, the global pandemic has impacted customer service operations and call centers in several ways. From shifts in overall business strategy, to technology issues for employees working from home, to an unprecedented labor shortage, customer service and call center managers had to pivot extensively to manage the disruption.
While there are encouraging signs of an economic recovery in many countries, (thanks to restrictions easing, booming market sectors, and consumers eagerly looking to spend) call center employers are still grappling with staffing shortages, low show rates, and up to two-thirds of employees experiencing burnout symptoms. 
Compounding HR challenges are shifts in customer behaviors and expectations with respect to a company's customer experience: higher volumes of queries and the timeliness of service are adding unprecedented pressure to teams that are already feeling the strain.
How can managers support their employees to prevent agent attrition (estimated at nearly 33% by some industry analysts)? What strategies can be put into place to provide the level of customer service consumers demand-without a hiring blitz that may break the bank or never occur due to a lack of applicants? 
In the past, case deflection on its own was the answer. Today, organizations need to evolve their way of measuring success. Because of this, we'd like to introduce next-generation case deflection.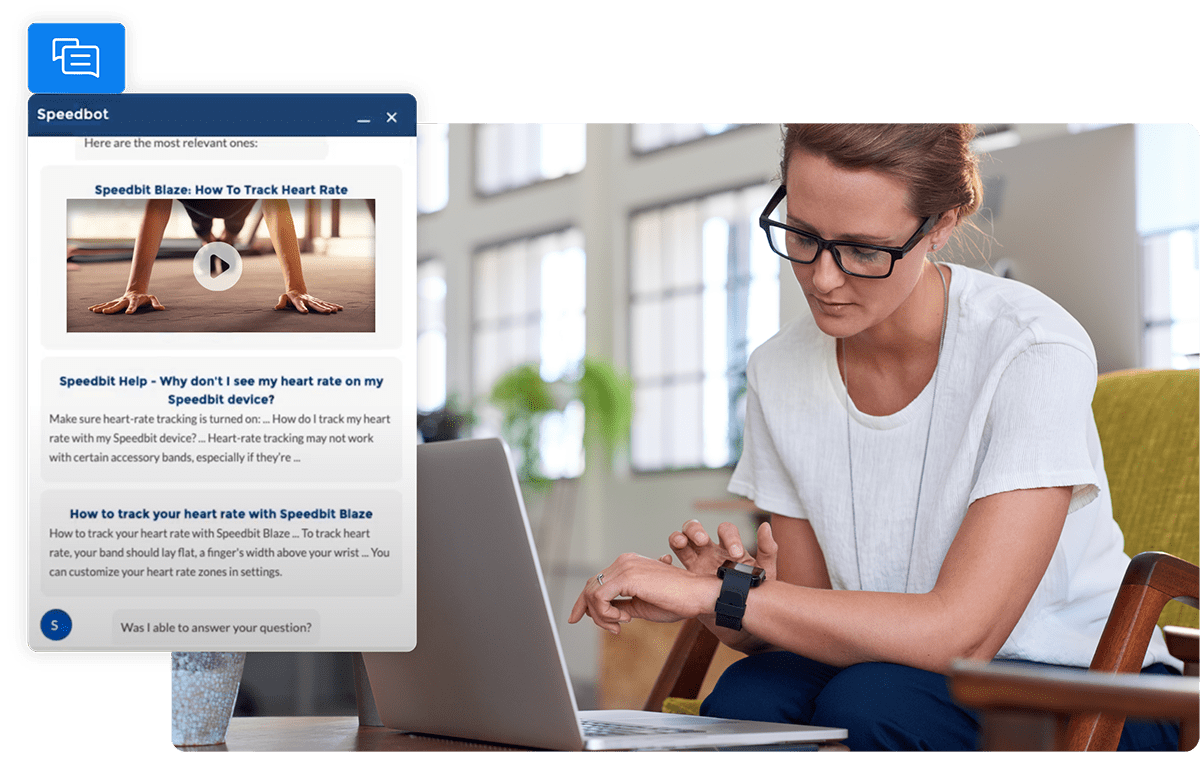 Elevating Case Deflection to Self-Service Success
A recent Gartner study found that, based on more than 8,000 customer journeys, 70% of customers use self-service tools—but only 9% can fully resolve their issues. Gartner even estimates that live resolution (a.k.a. talking to an agent) costs 80 to 100 times more than a complete self-service fix. 
Yet, over 40% of live volume could be resolved through self-service.
So what's the answer? Quality over quantity. According to Gartner, the key is to implement a self-service strategy that prioritizes resolution over channel choice. This includes preventing self-service abandonment with confidence-building design. 
But how do you get there? With strategic knowledge management practices, supported by an artificial intelligence (AI)-powered intelligent search platform that puts the right information at the fingertips of the right people, at the right moment. 
An AI-powered intelligent search platform like Coveo offers unified search capabilities that actually indexes content from multiple repositories (your internal knowledge base, the help center, community forums, and more). It then presents the results in one list, ranked by relevance and what's predicted to be the most useful to the customer. 
This is the beauty of unified search: it's all about taking both employees' and customers' guesswork out of determining which content is truly helpful (which occurs with federated searches) and optimizing the search experience tailored to each individual journey.
As more customers self-serve (meaning support requests are successfully deflected), the platform's AI learns to predict case classifications and solutions with better accuracy. 
By leveraging the information your company has collected over time, customers can resolve their own issues (an ability Forrester reports 72% of customers wanting). This allows you to surface novel issues that no one has seen before: problems that need a human touch to resolve. 
Case deflection is just one facet of an overall well-developed self-service approach. 
Offer Better Assisted Support with Next-Gen Case Deflection
Depending on the complexity of each case or the customer's typical behavior in an escalated support situation, deflection may not occur. 
After all, there are some problems that should reach a human agent. However, this means agents are more likely to get the hardest issues to address, perhaps along with an irate customer at the other end of the line to boot. 
To do better for both service agents and customers, here are four ways an AI-powered intelligent search platform can improve the overall support experience.
Optimize the Case Submission Process
Achieving next-generation case deflection is less about deflecting all cases and instead looking at the larger picture to ensure that each case is receiving the right amount of attention.
A known case should be routed to self-service, so a customer can resolve their issue and get back to their day. A new case, on the other hand, such as something complex or never-seen-before, requires deeper scrutiny and should not be deflected. 
With all of this in mind, you can see how balancing how much information is asked for from customers with what's needed for agents to provide quality service is difficult. 
Aside from pre-filling forms with information from a user's profile, it's also possible to guide the case submission process with a tool like Case Assist. This tool provides machine learning-powered case classification suggestions through analyzing the user's case description and proposes the most appropriate answer-relieving customers from the tedious task of sorting through unrelated options.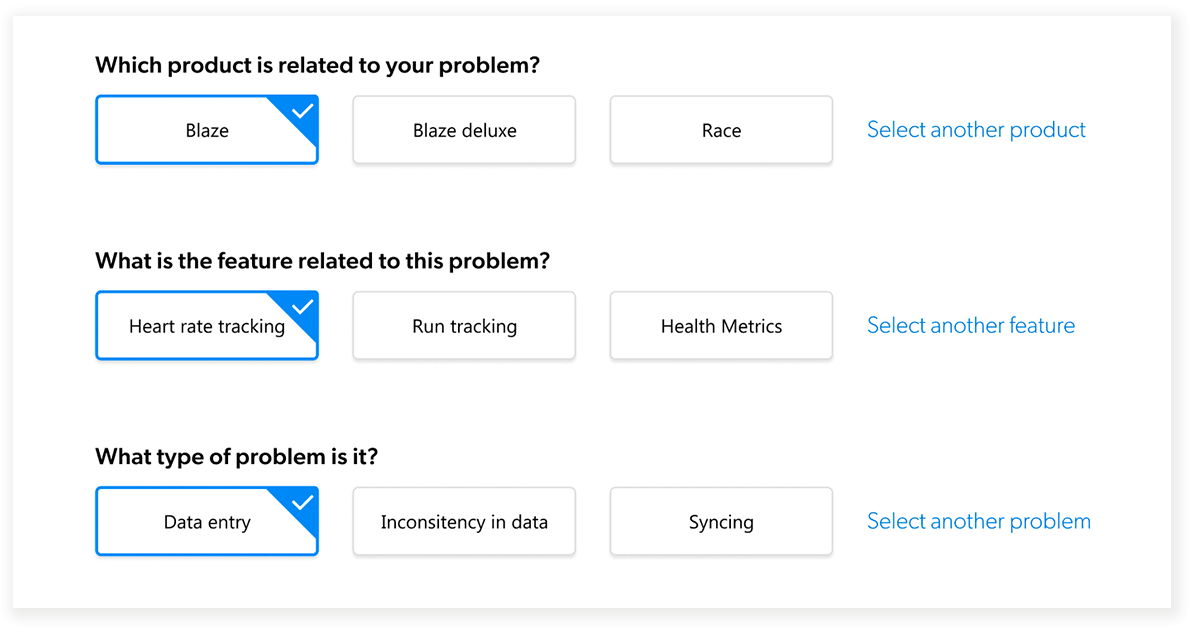 Throughout the case submission process, Case Assist also provides suggestions from existing content to help resolve the customer's issue, and successfully deflect the support case. 
Empower Agents with the Information They Need
Unfortunately, most agents operate from a "swivel chair," meaning they work with multiple screens to access massive amounts of content from the knowledge base, intranet, their local hard drive, etc., for just one support ticket. This slows down the case resolution time and can aggravate customers even more. 
An increasing number of call centers and customer service teams are using insight panels, which are directly embedded into their agent portals.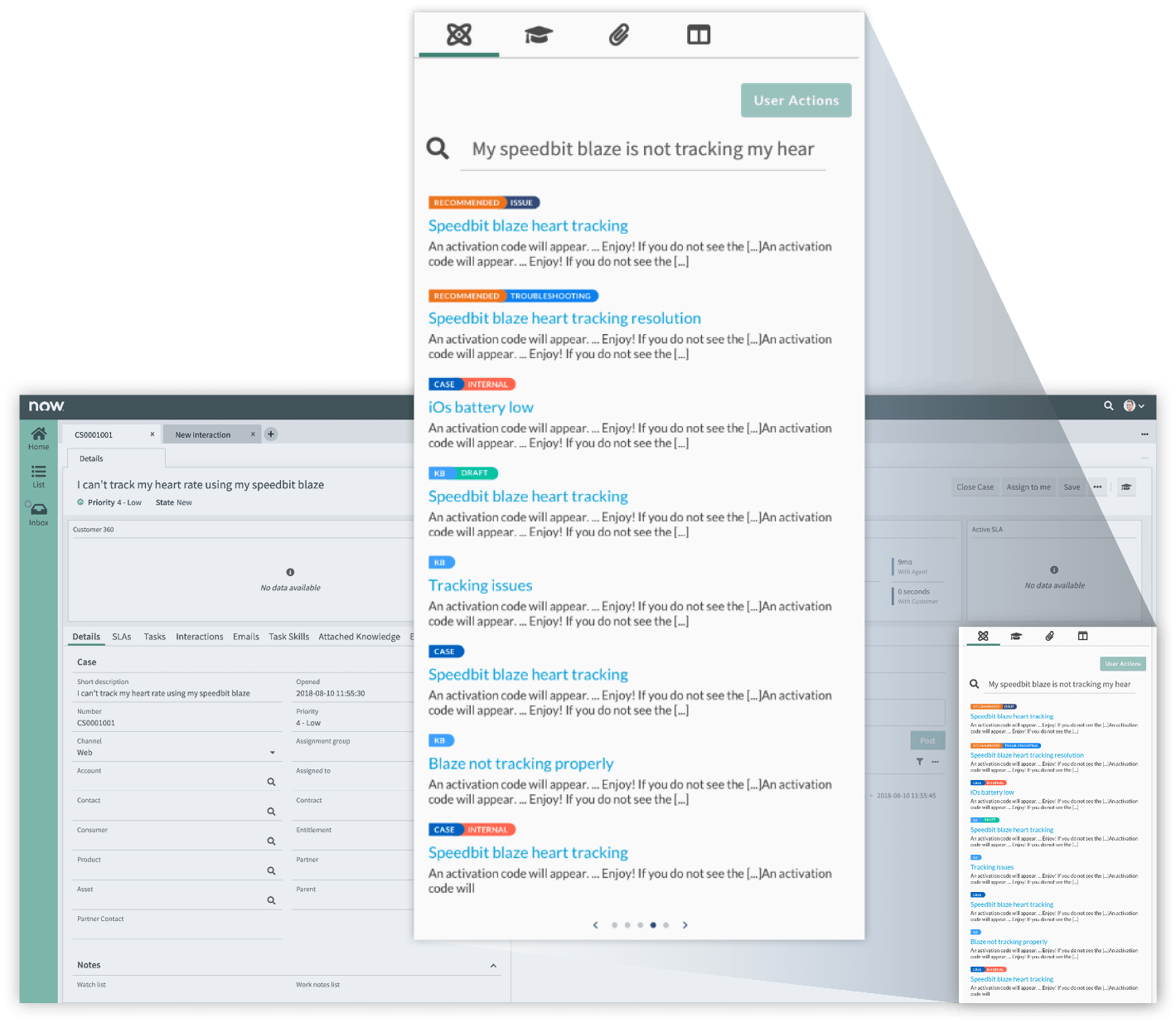 These insight panels, powered by artificial intelligence and unified search features, source all content related to an issue and sorts them based on which is the most valuable and popular among other customers with similar problems. 
Insight panels can also adapt to ever-changing information by automatically retrieving the latest and most pertinent content based on new product versions or policy changes, for example. In a nutshell, agents are always up-to-date!
Let Agents Peek Behind the User Curtain
Insight panels can also be coupled with user actions, which offers agents insight into the actions performed by the authenticated customer and what documents/web pages were viewed prior to the call. 

This literally eliminates the back and forth between a customer and an agent, saving time and exasperation for all parties involved. 
Agents gain the ability to see where users have been, avoiding repeating information and instead positioning them to provide helpful advice and solutions from the first moment they begin to evaluate a support case. 
Promote Intelligent Swarming
Relevant, unified search platforms also contribute to streamlining the entire case resolution process using a more modern approach to tiered support: intelligent swarming, which is basically collaboration between agents and other team members who quickly tackle a case based on their expertise, without any escalation or hierarchy. 
With swarming, agents constantly check incoming calls and support tickets to solve what they can and leave what they cannot to other specialists in the swarm. Swarm members take advantage of their unified search platform and insight panels to efficiently find exactly what the customer needs, alleviating the tension put on solely one agent in traditional customer service setups. 

Even conversational content like Slack messages can be indexed in the right intelligent search platform. Brainstorming between coworkers can be more easily captured and crystallized into knowledge articles, ready for use against similar issues in the future.
Ready to Take Self-Service to the Next Level?
Companies that opt for a unified search-driven solution to empower both customers and agents can dramatically improve many of their KPIs, such as deflection rates, first contact resolution and CSAT. 
Empowering customers to resolve their cases themselves and giving agents more modern tools to effectively carry out their work without being overtaxed elevates everyone's experience with a company. 
Never underestimate the impact of smart, relevant search on customer satisfaction and employee retention!
Dig Deeper
Meet the next generation of case creation and deflection with Coveo's Case Assist. Reduce time spent re-routing cases by ensuring each one gets captured correctly the first time.
Wondering what else you can do to enhance your agents' experience inside Salesforce? Check out our tips and insights in our ebook, Create an AI-Powered Agent Experience inside Salesforce.