Case deflection is a trendy, yet fuzzy concept. This makes it something that many want to calculate, but that is actually pretty difficult to do due to a misunderstanding of what it really is. 
From our discussions with folks from our customers' CS organizations, we noticed that a popular interpretation of Case Deflection is simply a punctual  'deflection panel' on a case submission form. Others folks believe it's a metric calculated from the number of user visits to a  support site and  how many cases get created. The problem this creates is not correctly identifying what constitutes a deflection, and this can lead to a misallocation of resources without seeing value. 
So, can you measure case deflection? Short answer: Yes, but we recommend looking at this in a more wholesome way. Here are some recommendations on not only creating better case deflection, but also promoting customer self service success. 
When you consider self-service success as a whole, you're not just trying to close out cases—you're giving customers what they need, on the digital channel customers prefer, increasing customer satisfaction, and growing engagement overall. 
What's Your Case Deflection Story?  
At a high level, case deflection (whether implicit or explicit deflection) is generally understood to mean avoiding the creation of a support case or ticket. Case deflection isn't found in just one location, such as a submission form. In fact, there are multiple areas where deflection can be optimized, as shown in the following workflow.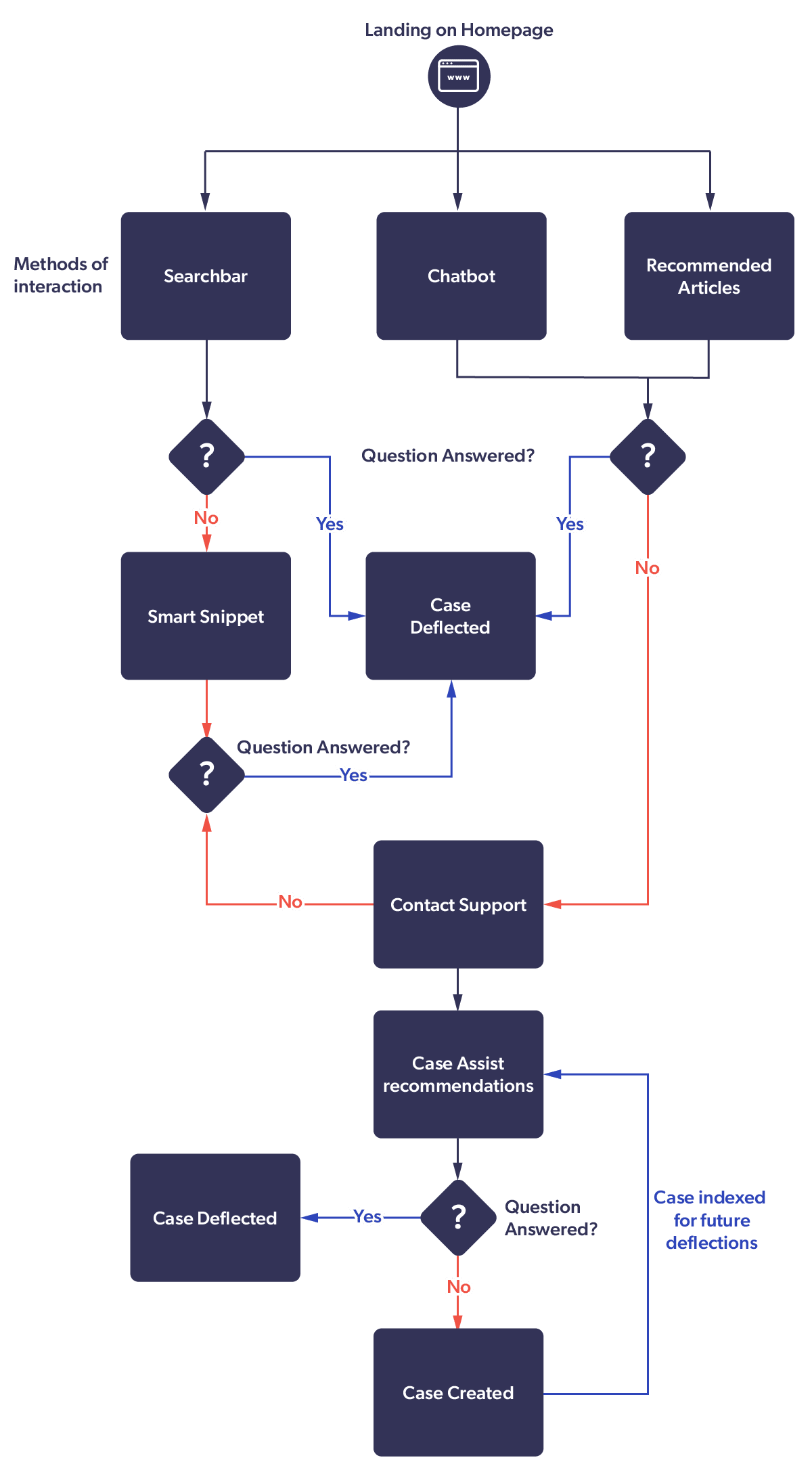 Once you have a solid story around deflection, you can focus on optimizing the experience. What journey are you offering your customers? When a customer navigates to the support site, are you encouraging them to find content or head over to the case creation page? If you make it easy for a customer to create a support ticket, they'll probably create a support ticket! Identify areas where you can inject content to answer their question before they ask. 
Once you understand the journey that you're currently providing, you can then identify the best case deflection strategy. Here are four tactics for improving your case deflection strategy and optimizing for customer self-service.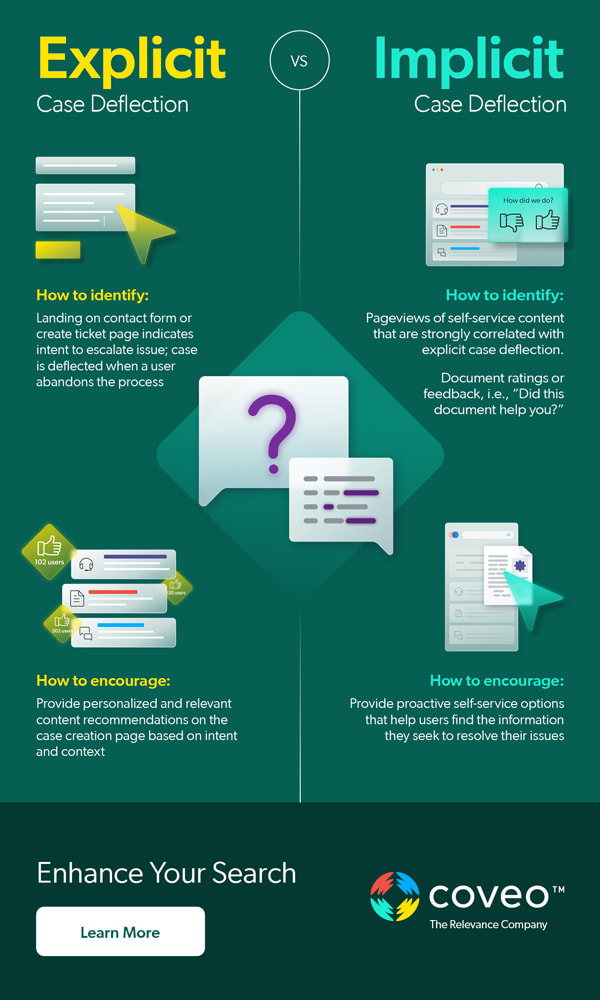 4 Case Deflection Optimization Tactics
Offer a Unified Search Experience
Customers looking for answers will typically start with a search, whether it's on your website or through their preferred search engine (i.e., Google). For the latter, you'll want to ensure your content is optimized to be found by those search engines—on your own website, though, you have more control. 
A common issue we see with homepage search is the location of the search bar. Is the search bar easy to find? Do searchers need to click on a 'magnifying glass icon' to prompt the option for search? Remember, you want to make asking a question easy, because that leads to the customer finding their answer faster. Having the search bar be front and center on the homepage implies that you want the customer to use it.
Unifying your content sources can boost case deflection, because customers can find their answers themselves. In fact, 50% of Gen Z customers say they'll abandon a brand if they can't find the information they're looking for on their own. Your knowledge base must contain all potential content that might help the customer find an answer to their issue—customers can't find what isn't available to them. 
Along with the search bar, you should also include suggested articles in the form of recommendations. When powered by machine learning, recommendations offer answers to similar questions other searchers have asked. This can be a powerful tool when looking to offer a more personalized experience. Providing a static list of top articles is less effective than recommendations that optimize with the searcher's behavior. 
How can you measure case deflection on the homepage? One suggestion is evaluating how many users conduct a search, but then never submit a case.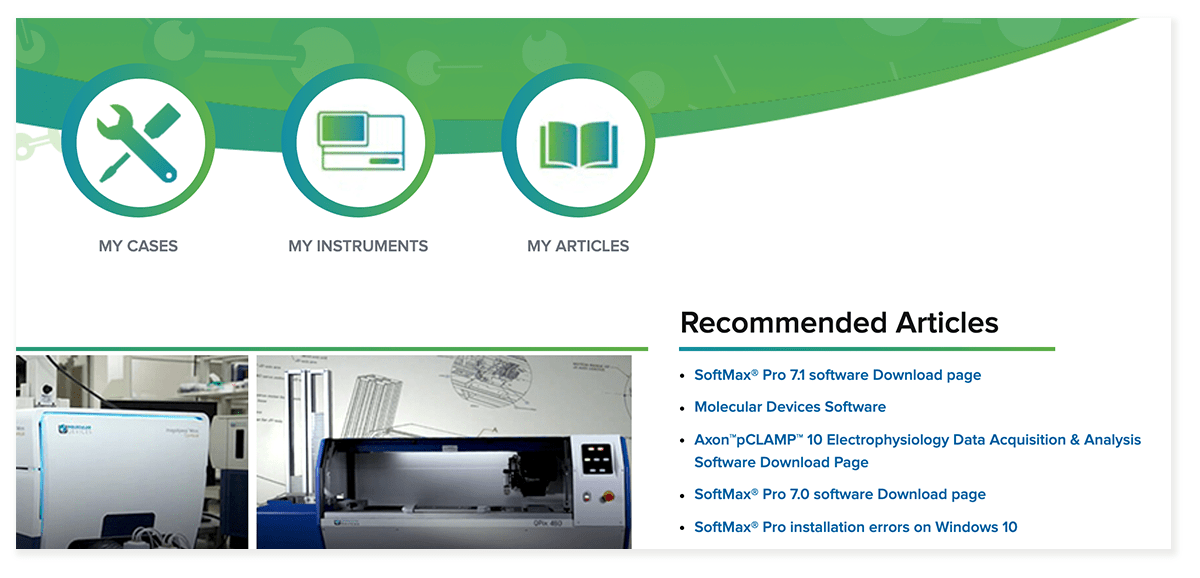 AI-Powered Chatbots
Another case deflection method you can offer is a chatbot. Let's take that same journey we previously saw: a customer landing on the homepage. 
Instead of the customer using the prominently displayed search box, they see a chat notification on the bottom of the screen. They click on it, and begin asking their question to the AI-powered bot behind the chat window. 
Chatbots are designed to be an interaction point for a customer, answering low level questions that don't require a live agent's touch. This can be a very powerful method of case deflection if implemented and configured properly. Many chatbots are rules-based, and can be enhanced with artificial intelligence. 
Placed on the landing page of a support or community site, an AI-powered chatbot can offer curated interactions developed through drilling down into consumer thoughts. Ultimately, they provide a more refined search. Such a chatbot could help identify consumer intent, which is a major addition to your case deflection toolkit. 
Some example metrics to track include how many questions are answered with the chatbot?  How many users discuss with the chatbot and never submit a case? With a chatbot, you can even ask if a searcher's question or issue has been resolved by their conversation.
Smart Snippets
If we continue the journey of the customer who searched from the homepage, we can also provide additional potential deflection with Smart Snippets.
Let's say an article contains the answer to the question that was asked. We want to provide that answer instantly without the user having to open the document and find the answer themselves. This should look and feel a lot like when a question is asked on Google; the first result typically provides a link to the result but also a segment of the article directly related to the query.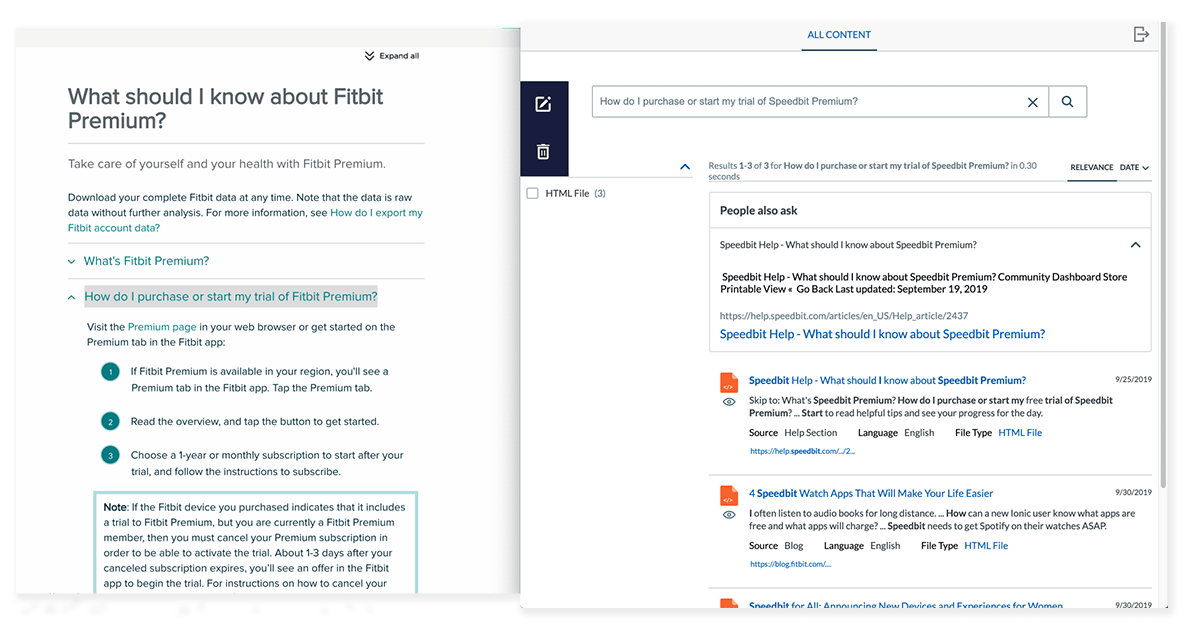 Example metrics to identify in this case include, how many searches led to displaying a smart snippet? How many users say that the snippet was helpful? How many users see a snippet and never submit a case?
Again, we are trying to reduce the effort the consumer needs to take to solve their problem; this is deflecting a potential case from being submitted! 
Case Assist
Even if a user goes straight to submitting a case form, you can offer solutions as they fill out the form with Case Assist. This API-based solution optimizes the case creation process, and can directly impact improving case deflection with two features: document suggestion and case classification.
Document suggestion uses machine learning to provide the most relevant content to customers as they fill out a case submission form, with the goal of deflecting the case entirely. 
Case classification suggests a classification for the case as it is created, based on previous cases. While this feature exists mainly to improve case routing and case time to resolution, helping users accurately classify their case provides you with more structured information about your customer's problem and display correspondingly relevant content with document suggestions, thus boosting case deflection. 
Here's where we'd measure the "classic" form of case deflection: that is, how many users start filling out the form, but do not submit a case.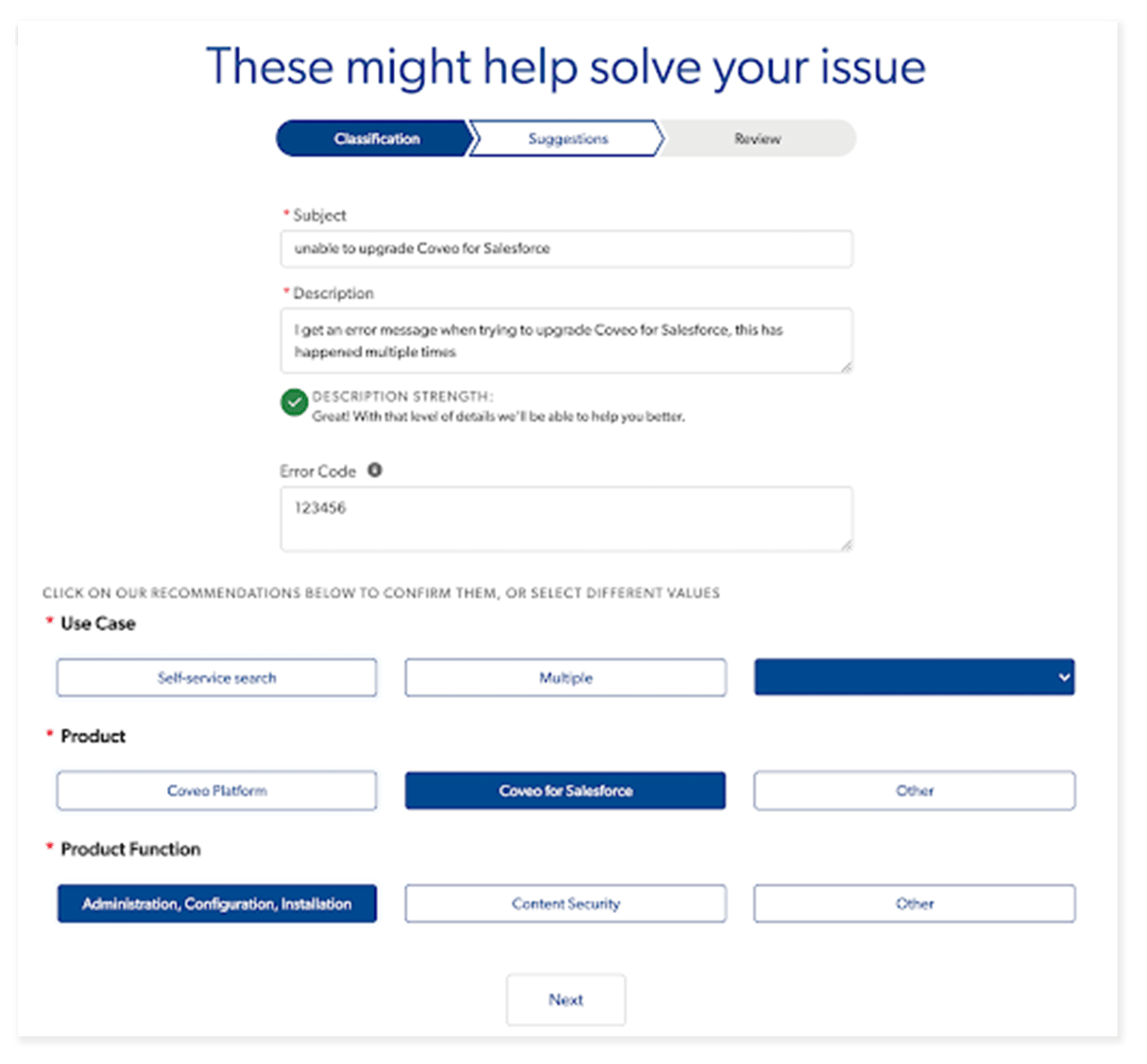 Case Deflection Isn't A Number
As enticing as it might seem, you shouldn't strive for 100% deflection rates. There will always be new, unexplored issues that will have to be examined and resolved by human minds. 
Instead, the focus should be on deflecting every question with pre-existing content, whether that's in the form of knowledge articles in a knowledge management system, posts from your customer community, blog posts, FAQ, a CRM like Salesforce or something else entirely. 
Don't get hung up on a generic case deflection percentage—instead, your metrics should be a reflection of customer experience or satisfaction, rather than a vague and potentially inaccurate number. As we can see, there are a number of interaction points where we can deflect a case.
Dig Deeper
Do you ever wonder if focusing solely on case deflection is actually hurting your business? You might be on to something.
Download your copy today
Ebook | The Many Problems With Case Deflection