A good customer support experience requires a delicate balance of providing great service while reducing agents' workloads. On one hand, a huge number of support tickets are overwhelming  workers, resulting in burned out agents who eventually quit. On the other hand, if customers can't find the information they need, up to 44% may abandon your brand. 
So how do you optimize a customer support experience to meet the needs of both? This is what we set out to answer through research and user tests, including creating three prototypes and testing our solution with six external users. We received tons of delightful insights—and we actually came up with more questions. Don't worry, though! These are questions that you should answer (or at least consider) when developing your overall support experience. Because yes, it's more than just the help request form! 
Through our research, we found three main insights: 
Customers want fast answers to their questions
Their first reaction is to try to find the information on their own
If they have to contact you, they're likely already unhappy
Obvious, right? But designing your support experience with these in mind might require more than you think. Here are six questions to ask yourself to create a truly supportive customer support experience. 
Is Your Support Content Helpful?   
Just showing content to customers is not enough. What that content looks like (we actually perceive things that are visually appealing as more credible) and how easy it is to consume are important considerations. You can have all the bells and whistles in the world as part of your customer service experience, but if customers don't find your content to be helpful, they're only going to be more frustrated. 
Customers want as much information as they can get in as little time as possible. Thus, it'simportant to show value quickly, typically in the form of carefully written titles and excerpts that explain why a piece of content is of use. This includes not just within the document itself, but, most importantly, in search result pages. 
Once you've caught a customer's attention, you have to keep it. Make content easy to consume, with scannable text or a to-the-point video. Chunk text, provide clear headings that introduce each topic, and use bulleted lists to highlight important content and offer clear steps. 
Sometimes one answer might cause a ripple effect, raising another question. Proactively resolve this by offering more information in the form of recommendations and 'See also' sections, like the one shown below. 

Do You Offer a Customer Self-service Portal? (And If You Do, Is It Optimized?) 
Harvard Business Review reports that 81% of survey respondents said they attempt to resolve issues themselves before reaching out to live representatives. Customer centricity expert Steven Van Belleghem found through a global market study that up to 70% of customers expect corporate websites to have a self-service portal. 
It's no wonder, since humans are motivated by autonomy. Behavioral Scientist Susan Weinschenk says : "People like to do things themselves … If you want to increase self-service, make sure your messaging is about having control and being able to do it yourself." 
Our research also confirmed that customers want to find information on their own. One of our testers described a positive experience with a company's self service portal: "They had help articles, FAQs, documentation, [etc.]. I save an incredible amount of time because I don't have to speak to anyone. It's what I liked the most [about a company's support]." 
So what does it take to create an optimized self-service portal? Our Self-Service Health Check checklist has some concrete steps (download the checklist for a complete overview):
Connects to all relevant enterprise content sources, such as Salesforce Knowledge, Sharepoint, or Oracle Knowledge
Unifies content across all channels, including customer communities, forums, ideas exchanges, user groups, and documentation
Surfaces the most relevant result, from across all sources, to the top when a customer performs a search
Even with a self-service portal, customers should be able to reach your support representatives. A common way to do so is by creating  support tickets—which is another process you can optimize to create a great customer support experience, starting with… 
How Much Information Do You Ask For?
Submitting a support ticket  is often a last ditch effort in a user's quest to get a resolution. So if  your customers get there, they're likely already upset or tired of searching. One recent survey had 75% of respondents ranking speed of response as the most important attribute of customer service. And you know what really slows the process down? Asking for too much information.
One of our testers shared a bad experience he had with support: "it could have been shorter […] there were unnecessary text fields before I could reach customer support […] I had to select [a type of issue] but I had to also type in what my issue was."
Simplify as much as you can—one way to do this is by pulling details from a user's profile, if available. This can include the customer's name, any contact details, or product information. Be careful not to ask for the same information more than once. Customers hate repeating themselves! For example, do you have to ask for the product they are using if you know from their profile? If they have many products, can you limit the list of options to what they own? Can some questions be avoided based on previous answers? 
Case classification is a great tool for these situations, like our Case Assist tool, which can help route a case to the agent best suited for the issue. It analyzes the user's case description and proposes the most appropriate answer—relieving customers from the tedious task of sorting through unrelated options.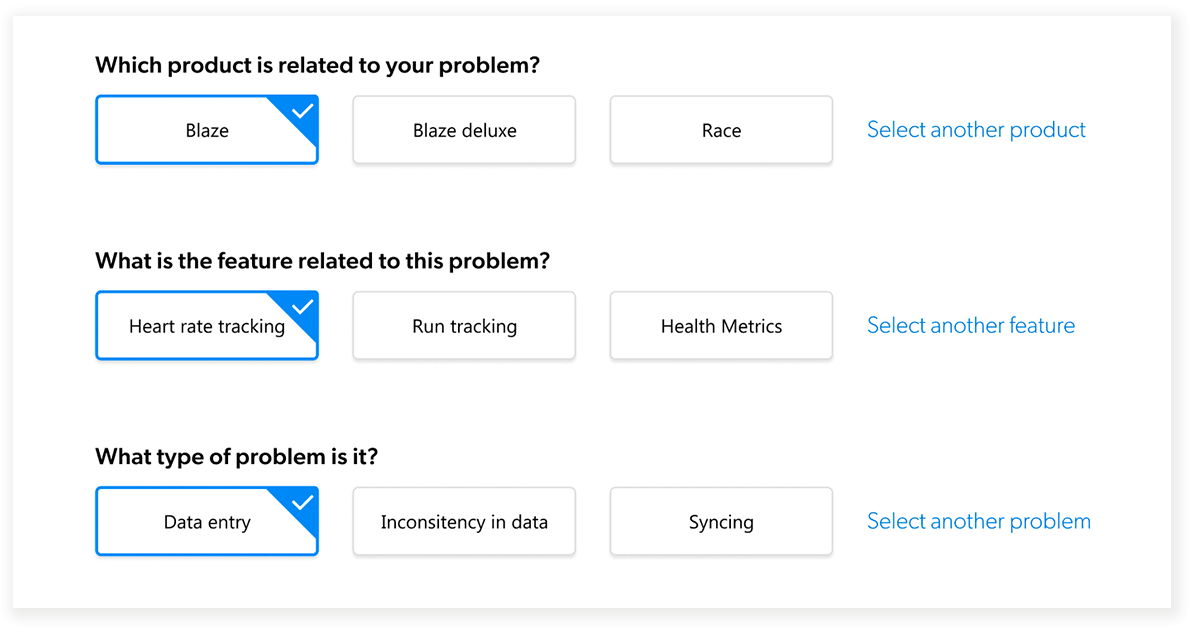 Our testers really appreciated this feature. "I can select them right away instead of looking through a drop list. It's fast!"
How Do You Word Your Customer Support Questions?
Customers don't typically come to customer support for the conversation; they're upset because they have a problem and they want a solution. Show you understand their struggle by using empathy in your support page copy. Your user help form doesn't have to be cold! Try to bring a human touch to the journey, like using the customer's name.
Which is clearer: Product or what is your product? With the first, am I asking if you have a product, or am I asking for a name? Shorter isn't always better; a few extra words can offer the clarity a customer needs to understand what information to provide to get an answer. Write form copy in a language your customers will understand—remember, they're human just like you.  Be careful to not use internal jargon in your request form. For example, terms like case or ticket are not that familiar to people not working in the service industry. You could ask them to submit their request or question. 
When asking for information, explain why you're asking for it. Always frame questions from the viewpoint, how will this help my customer? Group questions logically, with an explanation why those questions and their answers are necessary. If the answer will help a customer get an answer or solution faster, say so! In our research, we found that short descriptions work well. If your form requires sensitive information, it is even more important to explain why it is needed as people have become increasingly reluctant to give their personal information on the web.
Do You Prevent Customers From Completing Workflows? 
While the goal of a case submission form is information gathering , proceed with caution when it comes to making too many fields mandatory or too specific. Some issues may not neatly fit with your form, making it hard for a customer to answer. One of our testers shared a disappointing support experience where his problem wasn't a predefined choice and he didn't have space to describe his problem:  "The form didn't allow me to communicate my problem […] the form wasn't built for me, I found another way to explain my problem through comments in the other inputs."    
Disabling the 'next' or 'submit' buttons due to an incomplete field may cause customers to abandon your product entirely.  When we tested this scenario, our test users became disoriented and confused.  "[…]I have completed the form, […]  I don't know if I could submit the case, I only have these options… Why can't I submit the case?" 
If you must disable a button, explain why. Nielsen Norman Group provides great advice on how to successfully build error messages. Remember: forms are meant to help your customers, not frustrate them! 
Is The Customer Support Experience Tailored For Your Users? 
Put yourself in your customer's shoes. When you're trying to get a solution from a company you've patronized, how would you like to be treated? The needs of customers change according to their context. 
Whether B2B or B2C, customers will have differing support service expectations, different product knowledge and needs—they might not even use the same device to create a case! Think carefully about who your users are and why  they would need to contact you. This will help you develop and optimize the best case form for your customers.  
Answering these questions should put you on the right track to create better customer support experiences. In our next article, we'll dig deeper into the UX design side of the case creation process. 
Dig Deeper
Before you start with Coveo's Case Assist, we have additional advice! Check out our insights on gathering requirements for your case creation experience as well as advice on designing your form.
Did you know that relevant search page design can increase conversion rates?
And don't just take our word for it—learn real-world best practices from Milwaukee Tool, Fasken, and CMSWire in our Ultimate Guide to Site Search User Experience.