When you have a problem with a product or service, where do you turn for the best digital customer experience?
If it's a simple "how do I?" question, you might read a guide or flip on a YouTube video. If it's a quick query, live chat might be your go-to. More complex issues might mean an email… And when there's too much to explain in text, that's when you dial that support number.
Digital customer service is no longer limited to a handful of channels, said John Ragsdale, Distinguished Researcher and VP of Technology Ecosystems at TSIA.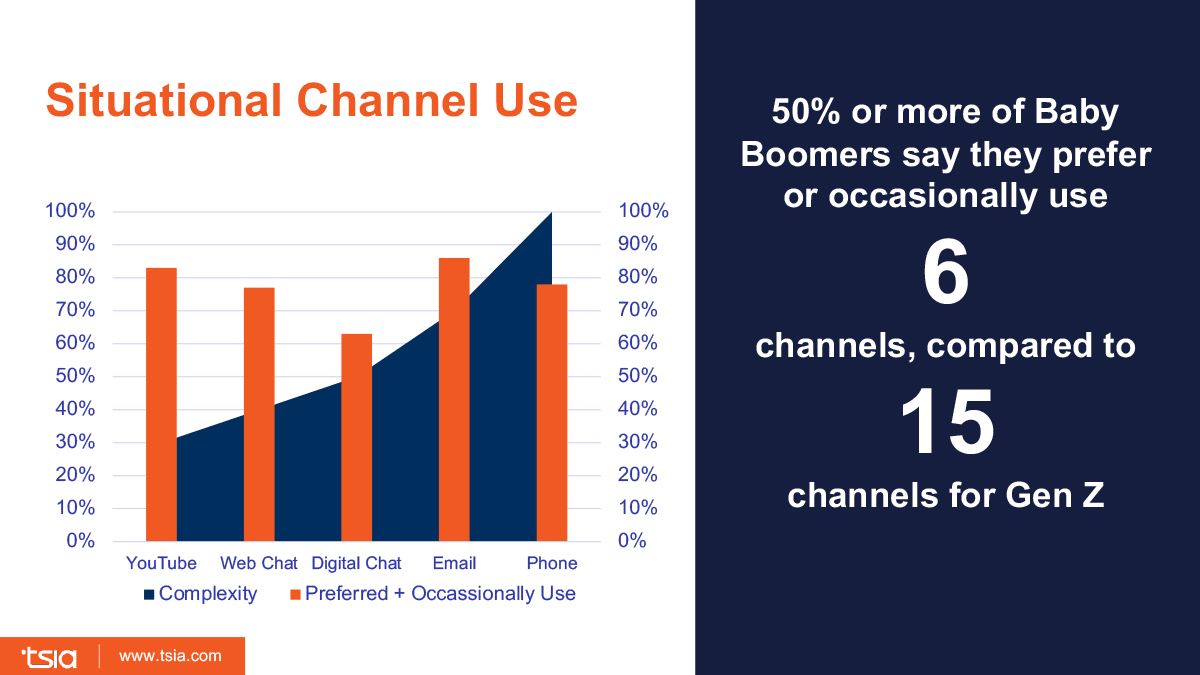 "50% or more of baby boomers say they prefer or occasionally use six different channels," he shared at a recent webinar with Coveo and Salesforce. "But Gen Z, the youngest demographic, prefer or occasionally use 15 channels."
For Salesforce, creating a great customer experience means taking an omnichannel, digital-first approach. Here's how they do it, at scale, for over 150,000 customers.
Putting the 'Digital' in Digital Customer Experience Strategy
Think of your customer service channels as a spectrum ranging from self-support to live assistance. In the middle, you've got crossover channels like your help portal, mobile app, chatbots, YouTube, user communities, and social media.
The missing piece? The user experience across these are disconnected.
Companies have historically focused on assisted support channels with digital as an afterthought, shared Bernard Slowey, VP, Digital Customer Support for Salesforce. And even when companies know they need digital channel support and content to back it up, "they don't manage it with the same operational rigor."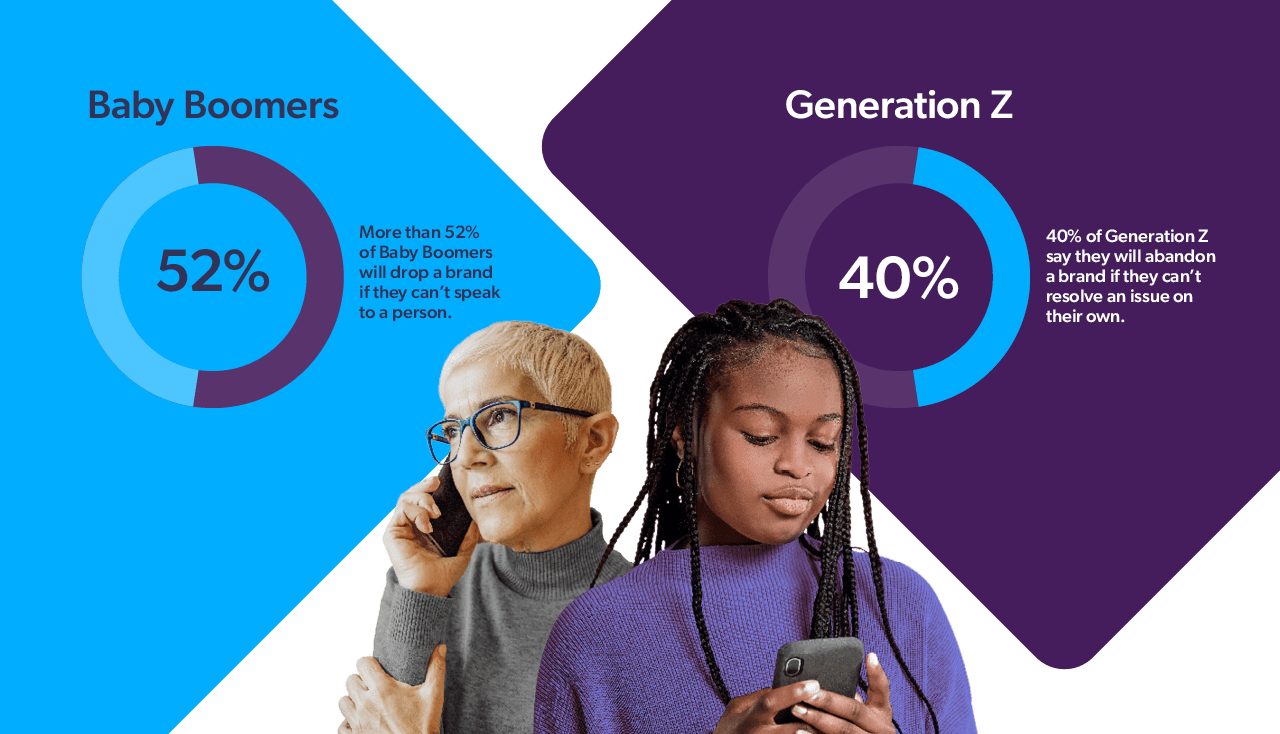 But self-service is the preferred method of support for 40% of customers — and it's expected in some form or another by 70% of those surveyed. 
Yet most digital self-service experiences fall short of customer expectations. "Self-service success is averaging just over 50%, which means about half of the time, when the customer attempts self-service, they're not even finding what they need," Ragsdale said.
Turning attention to digital customer experience management makes sense from an ROI perspective, Slowey added. "If you drive up that self-help success rate, less customers need to contact system support. They're happier, they give a happier digital CSAT and you're driving your case rate down. So you're saving dollars."
Supporting Customer Needs With Great Digital Experiences
Adopting a digital-first mindset also means investing in the team that makes it tick. A year ago, Slowey's role didn't exist. The fact he's in that role today represents an investment and a commitment to digital support.
He leads a multi-disciplinary team of experts who share the same objective of delivering a great digital customer experience:
Experience managers responsible for customer engagement and digital experience on each channel, from the Salesforce help portal to their Trailblazer community. They monitor and manage operational performance and help drive the channel's roadmap.
A digital content team that uses Knowledge Centered Support to get knowledge from support engineers that then is published on their portal. "They take what the support engineers have written and put it in a format that's snackable and digestible," said Slowey.
Digital program managers aligned with delivery and product teams who map and optimize the customer journey all the way from that first digital interaction via Google search.
A business intelligence function fully dedicated to digital support, analyzing customer data in Tableau and providing insights that help direct the rest of the team.
Software engineers who build digital CX functionality into Salesforce products.
An SEO experience manager who helps customers find the right content from their first point of entry.
Slowey and his team work closely alongside other areas of Salesforce to provide a better end-to-end customer experience, too:
With the product team, they find opportunities to drive better in-product customer support experiences.
With support engineers, they tap into vast amounts of customer support knowledge.
With the marketing team, they promote content so customers know it's available.
With the customer success team, they integrate support with the onboarding and education journey.
Measuring Digital Customer Experience Success
How do you know when your digital customer experience is working? For Slowey, three key metrics paint the picture.
Self-service Success
Are digital customers engaging with self-service content and platforms — and did they go on to create a support case? Answer "yes" to the first part and "no" to the second, and you've got self-service success — at least the way Slowey defines it at its core.
A quick caveat: Self-service success is about more than case deflection. "I hate the word 'deflection' because I think it drives the wrong behaviors," he added. "People do things that make it hard for customers to get support so they can hit their deflection numbers."
Digital CSAT
Salesforce measures assisted and digital experience scores for customer satisfaction separately. 
For example, suppose a customer scrolls down to the bottom of a help article and spends enough time there. In that case, Salesforce might pop up a microsurvey with a customer satisfaction question specific to that digital journey.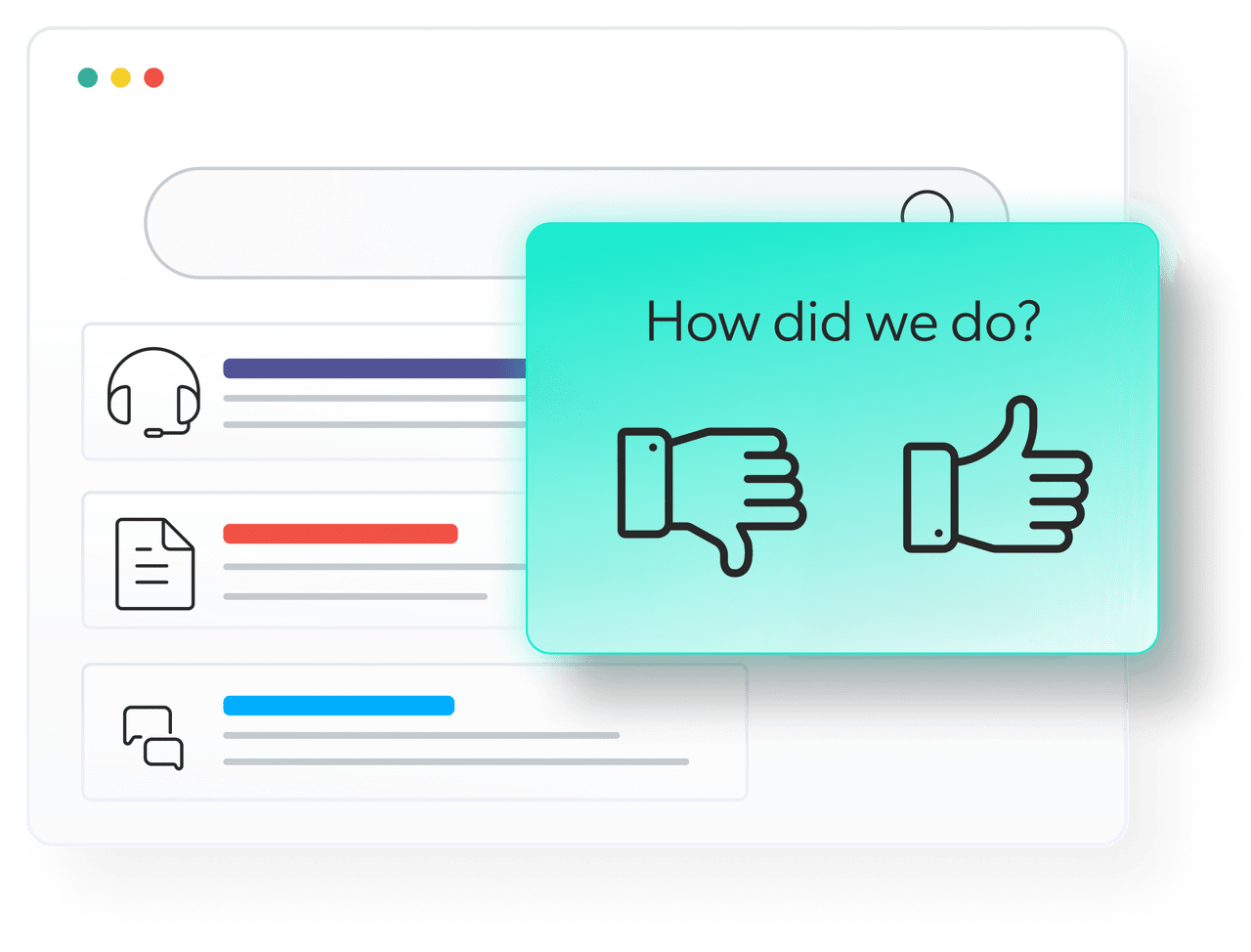 Problem Resolution Rate
"Did we solve your problem?" In addition to CSAT, Salesforce asks for customer feedback within their articles and through their chatbots. The answer tells Slowey and his team which content and dialogues are working well and which ones they need to target for customer experience improvements.
Honorable Mention: Operational Metrics
If your self-service portal takes too long to load, it can be more of a barrier than a boon to customers who don't want to be kept waiting. That's why Slowey and his team count the behind-the-scenes technical data, from authentication rate to load times, as an important part of their customer experience.
The Digital Customer Experience Impact
Since adopting their digital-first approach to customer experience and growing their team, Salesforce now has a digital self-service success rate of 96%, Slowey shared. Their support engineers have an easier time searching for content, too.
Their current digital CSAT currently sits at a 3.8 out of 5 — a bit above the average self-service rating of 3.5 reported in TSIA benchmarking. And by measuring their digital channels with targeted metrics, they're targeting a score of 4.5, which is on par with assisted support averages.
They aren't abandoning customers who choose to open a case with a support engineer, either. Salesforce has streamlined that customer journey from a complicated mix of drop-down menus and selections to a simplified, three-click process: product, topic, and problem.
And they're not stopping the digital experience improvements there. "We want to get it to a point where they can just tell us a description," Slowey said. "Through the power of Coveo AI's case classification model, we can classify that description, then we can provide you search results related to that, as well as using that model to make sure we route you to the right support engineer."
As for digital CX advice, Slowey leaves us with three key thought-starters: Invest in the right resources, partner with industry leaders… and most importantly, "start today!"
Dig Deeper
What kind of customer service results are other organizations finding with Coveo and Salesforce together? Tableau chalks up $18M in annual savings to better case handling. Boomiverse increased case deflection by 300 percent in the first three months.
Five customer stories are waiting for you in our ebook, 5 Companies Using Coveo & Salesforce to Transform Service!
And learn more about how Coveo can help serve a personalized experience for each audience across digital platforms, informed with customer behavior, historical data, and machine learning.
Need better self-service?
Coveo AI lifts CSAT as customers & ​agents find what ​they need
---