Most customers today want a DIY method to solve their problems. According to our own research, 50% of Gen Z respondents say they'll leave a company if they can't find the information they're looking for on their own. 
This introduces a tension between case deflection and self service. You do want both: for customers to solve their own issues, and to relieve your customer support centers of handling cases that would otherwise eat up their time. 
But there's a balance to be maintained: after all, 46% of customers rarely or never complain about a bad customer experience (up from 44% in last year's survey). You can't fix what you don't know about, and that can have a big impact on support agent proficiency, customer satisfaction, and the overall health of your business. 
Let's dig into the concept of case deflection a little more. How can we define it more clearly, and how do you know when it's been successful? 
Insights you can take to the bank
Service Relevance Report 2022: Can You Still Bank on Customer Loyalty?
What Does Case Deflection Mean?
In the middle of using your app, a customer runs into an issue. They go to your product website to research the problem they're experiencing. 
If that customer can find information that resolves the issue (and enables them to leave the website without submitting a case or calling your contact center), then congratulations. A potential case has been deflected.
This is also a prime example of self-service: the information was made available to the customer, and they were able to find it on their own.
By providing content to the customer (from your knowledge base, FAQ, training library, product information, etc.), that customer then has the capability to resolve an issue on their own. 
Of course, it's not as simple as "build it and they will come" (or in this situation, throw it out there and they'll figure it out). You also have the question of making that information findable. That's where great search comes in.
A deflected case is one that meets the following criteria:
Customers had a choice between self-service and assisted support, and chose self-service.
Customers' issues are completely resolved through self-service. Even if they start with self service, the case is not successfully deflected if they have to reach out to your support team.
There are two main types of case deflection in customer service: explicit and implicit. We can also describe a third type of deflection, which can be classified as a subtype of explicit deflection.
Two Types of Case Deflection
Explicit Deflection
When a customer starts to complete a support ticket, they're ready to create a case. They navigate to your support ticket or case creation process, and begin to fill out a ticket. If instead of completing and submitting the ticket, they might click on a piece of suggested content that brings them away from the submission page. This is an explicit deflection event where they stopped their case creation attempt.
You can encourage this by providing personalized and relevant content based on a customer's intent.
Implicit Deflection
Even better than deflecting a customer issue within the case creation process is offering the right answer through regular searching and browsing of your support site.
It's difficult to count this event as true deflection if it's not clear whether the user would have created a case had they not found the answer organically. To know for sure, you can make reasonable assumptions on what constitutes an "implicit deflection." 
Some obvious actions include:
User rates a support document highly (5 out of 5 stars, thumbs up, etc.).
User clicks a "Yes, this solved my problem" (or similar) feedback button.
User provides positive feedback (manual text) on the document.
You should also note that a document viewed during a regular search or browse session is no less of a deflection event than one viewed during a case creation form if it truly solved the user's problem and prevented them from creating a case. 
Repetitive Deflection, a.k.a. Always Be Closing (Cases)
While deflection is more obvious during the initial case creation, you should embed the concept throughout your self service case management workflow.
Any time the customer responds to an open case, they are providing more context. Use this new information and try once more at a deflection attempt by suggesting self-help solutions. 
You might decide to give only partial deflection credit for these scenarios since the case did already enter your assisted service channel.
Enhancing Case Deflection With KCS
You can encourage implicit deflection by implementing Knowledge-Centered Support (KCS)*. 
KCS makes your deflection strategy (and by extension, self service) more impactful, which in turn improves implicit case deflection. Providing content associated with the most common customer issues increases your implicit deflection rates more than regular content. With KCS, you can make it easier for your customers to find the information they need. 
Pro tip: Including KCS in your self-service strategy and giving due credit to those authors who push issues out of the call center and into self-service helps accelerate KCS adoption among your employees. Get more tips for growing a knowledge-sharing culture.
By empowering customers with information, they're more likely to use and be satisfied with your product. This reduces your organization's support costs, crafts a better customer experience, and in the long run, enhances sales. 
Now that we've discussed all of this, what does case deflection look like in the wild wild west of the internet?
Case Deflection Examples
So what does case deflection look like in the real world? Here are a few ideas for developing a deflection strategy that serves relevant answers to knowledge-hungry customers. 
Question Answering
You know how you ask a question on Google, and not only do you get a link to a relevant article, you see the part of the article where the exact answer is? That's how Coveo's Smart Snippets work.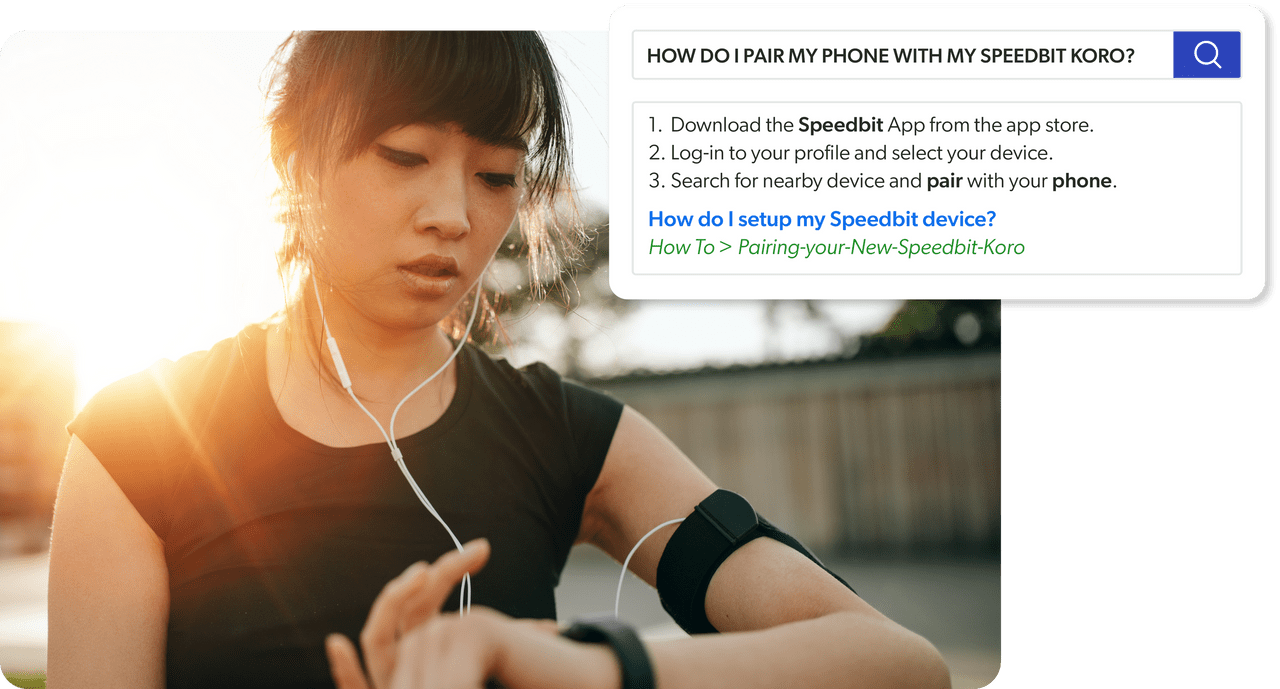 This feature helps the user with a snapshot of the answer to their query without them having to read the whole article. These snippets can be embedded into a search results page, or even served up through a chatbot. You can use this feature to measure case deflection by checking:
How many users say that the snippet was helpful?
How many customers see a snippet and never submit a case?
AI-Powered Chatbot
An AI-powered chatbot interacts with customers at the earliest moment they have an issue. Since they're speaking directly with a customer, they can help identify intent, which is a major assist. 
A chatbot can help you estimate case deflection by tracking:
How many users interact with the chatbot and leave without submitting a case.
How many questions the chatbot answered.
How many users reply "yes" when the bot asks if their question was answered.
Case Classification
All support cases are not the same. How do you make sure every customer not only has the right amount of information, but also the right kind of information? By classifying their issues. 
Classifying customer issues is a fast way to ensure that customers get exactlywhat they need. 
You can simplify this process with artificial intelligence like our Case Assist tool. 
Coveo's Case Assist is an API-based solution that directly impacts case deflection by suggesting relevant documents to customers while they are creating a case. How do you measure case deflection with case assist? By assessing how many users start filling a form but end up not submitting the case. If they click on one of the content suggestions and quit trying to create a case, then the case is deflected. This is best used to measure your explicit deflection rate. 
Evaluate the Search Experience With Analytics
Remember how I mentioned before that simply putting content out there won't necessarily solve customer issues? Content findability is a large measurement of its success. 
By crafting a thoughtful, streamlined search experience, you can create a forum or community where customers not only look to solve their issues, but provide feedback on your product or service. This allows you to build strong relationships with your customer base, and deepen customer loyalty.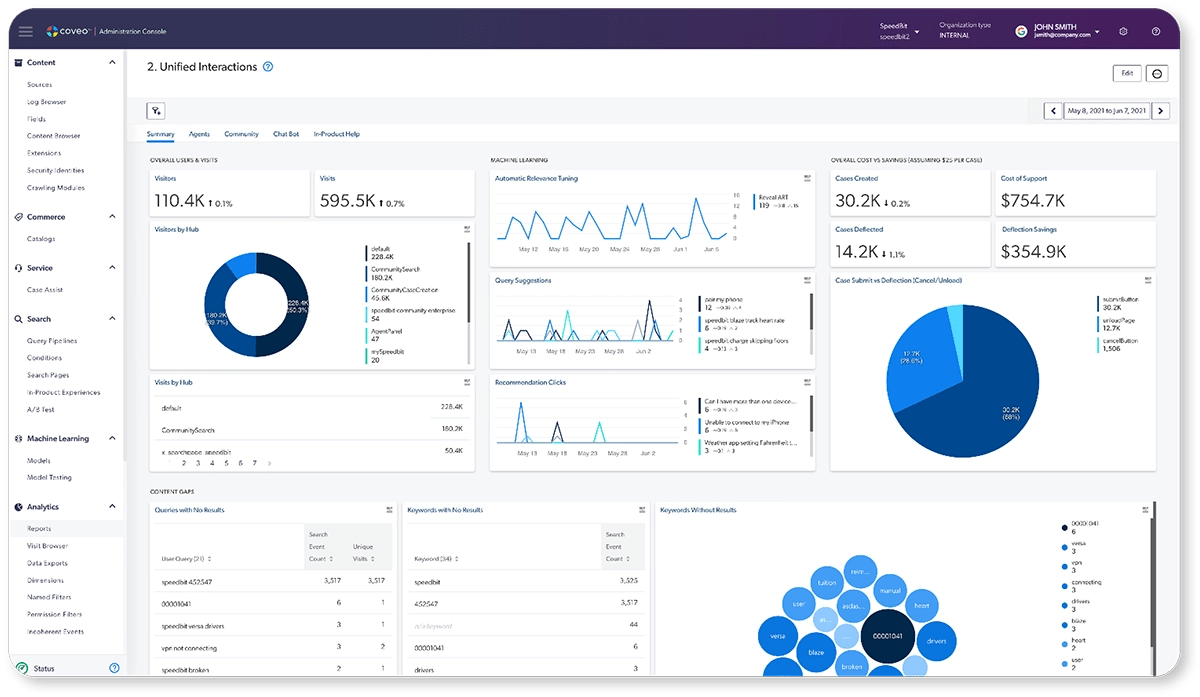 With search analytics, you can reveal insights regarding what users have or haven't found helpful, as well as glaring content gaps that your support team can fill by creating new content. 
You can calculate how many users conduct a search on your support site or community and contrast this with the number of users submitting cases. This method is best for measuring implicit deflection. 
Reading Self Service Signals
Another way you can identify case deflection is by looking at your self-service signals. 
For instance, if the number of satisfied, loyal, and well-informed customers is higher than the number of cases or customer calls coming into the contact center, then it might be safe to assume that your self-service solutions are successful. 
After all, self-service is about helping your customers with the information they need in the easiest and fastest way possible, thus improving their relationship with the company. 
However, this method is not a reliable mode of measuring deflection, as it doesn't tell the exact thing that caused the deflection. 
Customer Feedback
And lastly, you could always talk to your customers. While not the most accurate method, it's one of the most popular.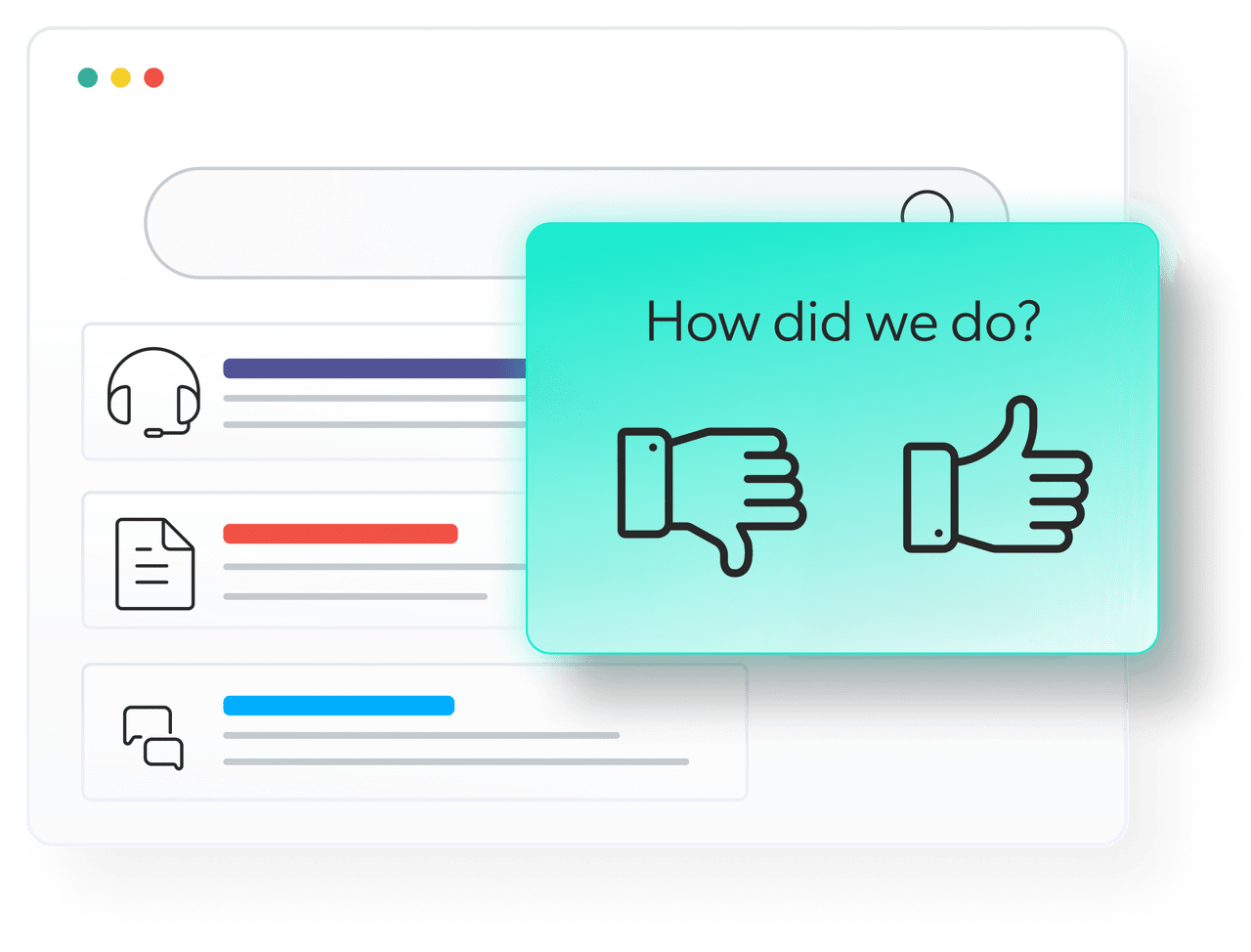 You can identify case deflection by including post-session surveys or automated questions asking the customers if they solved their problems using self-help. 
You can utilize this to assess the rate of implicit vs explicit deflection. 
Deflect Cases Thoughtfully
Well-crafted customer experience is what sets today's successful digital giants apart from everyone else. From Amazon to Wayfair to Netflix, putting information into customers' hands is the baseline. 
Case deflection is important for a lot of reasons, but maximum deflection isn't necessarily the end goal. Customer service should be more about maintaining an open discourse with your customers, and building strong relationships. 
Dig Deeper
The key to remembering the difference between self service and case deflection is that one turns your customers away, while the other builds a relationship. Are you doubling down on the former? Learn why you shouldn't.
Ebook
Ebook | The Many Problems With Case Deflection
Or if you want practical tips for implementing KCS in your roadmap to intelligent self-service, check out our on-demand webinar for Knowledge-Centered Service Fundamentals and Self-Service Success.
*KCS® is a service marks of the Consortium for Service Innovation™
---