This might very well be the million-dollar question for customer service leaders. Or is it? It's fair game to wonder whether an artificial intelligence (AI)-powered search solution really improves call center efficiency, customer loyalty (identified by Net Promoter Score or CSAT), and the other indicators we all care about. Call center operation professionals are right to ask how and to what extent.
It would be a cinch for me to type in a resolute Y-E-S and be finished with it. Court adjourned! While there's certainly evidence to support that conclusion, let's dig into what the numbers and use cases actually say — what AI-powered search actually looks like in the call center.
This ought to give you a better idea of how this technology might improve your call center efficiency and, by extension, customer satisfaction.
The State of Play in the Call Center
At least we can all agree that achieving call center efficiency poses significant challenges. A survey of various industry analyses will reveal a few noteworthy trends, with respect to what the call center agent faces every day:
The Contact Center Experience Could Be Better
No surprise there (and no offense). According to State of the Connected Customer (Salesforce), 53% of customers believe that most of their support interactions are fragmented. And only 13% of consumers feel that little to no effort is required of them to solve their cases. We know for a fact there's work to do with regard to this particular customer experience.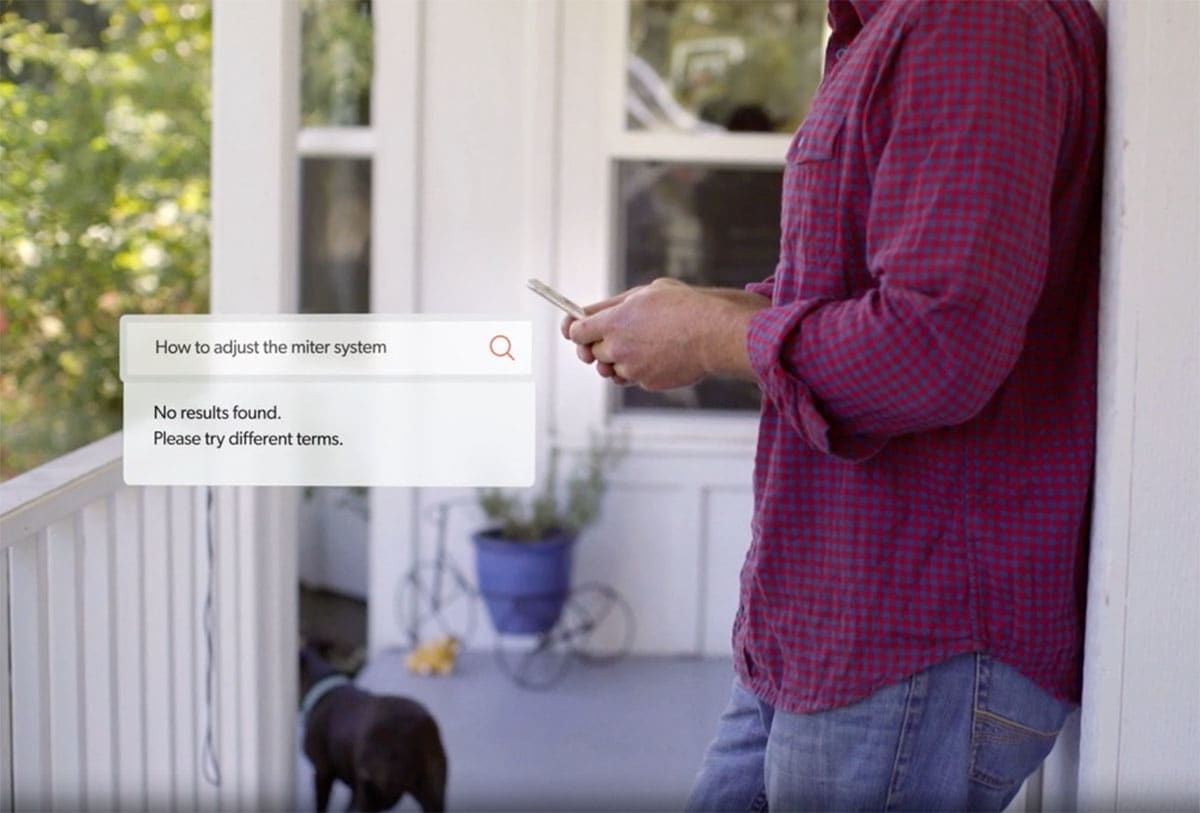 People Want it Personalized
With great technology comes great expectations. Once a customer has tasted AI-powered personalization, they come to demand it. Their customer satisfaction depends on it. Indeed, 73% of consumers expect organizations to understand their personal needs and expectations (Salesforce). This expectation certainly extends to the call center world, where there is ample opportunity for personalization.
It's No Longer the Line from A to B
In the past, the customer support journey might have been: the customer has a problem, then the customer picks up the phone and calls the contact center. Today, 57% of customers prefer online channels of communication (Salesforce). Emails. Chatbots. Search engines. Dialing a phone number is typically the last thing they want to do.
The majority of customers turn to the internet when they need help.
What's more, 78% of customers have used multiple channels across their customer journey (Salesforce). So call centers have an imperative to meet this demand for non-linear, omnichannel support experiences.
It's Expensive to Support Customers on the Phone
Yeah, tell me about it. By some estimates, live chat and email cost an average of $8.01 per contact. Ask a contact center professional for their specific number, and you might see another digit or two. On the flipside, customer self-service channels cost about $0.10 per contact (Gartner).
The good news is that 59% of Gen X, 66% of Millennials, and 61% of Gen Z prefer self-service for routine cases (Salesforce). Naturally, search is a core component of most self-service offerings. And it just so happens to be the best friend of a call center agent and the key for their proficiency.
So Toss the Contact Center?
Well, no. Customers want self-service for routine cases — which leaves the possibility of nonroutine cases. This is where you'll need human creativity to resolve issues never seen before. Call center agents are product experts, and are best positioned to help your customers not only fix problems but also educate them to get the most out of their purchase.
Are you avoiding customers to save money?
Sounds like a great experience, right? Your contact center, contrary to popular belief, is actually a huge asset to your business because it's your front door (whether online or on the phone). After all, it's generally the first place customers come knocking when they have a question. Don't turn them away!
So how does AI-powered search fit into all of this?
Blanket Case Deflection Sacrifices Delight, Trust — And Money. Expand Growth with AI.
Ebook: Diamonds in the Rough – How AI Enables Your Contact Center to Generate Revenue
What the Analysts Say About AI-Powered Search
While those trends and challenges might seem daunting, they all share one thing in common: they're prime targets for enhancement by AI-powered search. Industry analysts seem to agree.
In The Forrester Wave™: Cognitive Search, Q3 2021, Coveo's cognitive search solution finds itself in the Leader category. Of the applicability of cognitive search for call center efficiency, the analysts had this to say:
"It has many sweet spots, and Coveo is certainly a fit for enterprises that want world-class cognitive search integrated in partner platforms such as Salesforce. However, its sweetest spot is for enterprises that want to use cognitive search to boost customer experiences for digital commerce and customer service."
The Gartner Magic Quadrant for Insight Engines reveals similar findings. Here, Coveo is again named a leader of a solution category that Gartner characterizes as follows:
"Insight engines combine search with AI to deliver actionable insights derived from the full spectrum of content and data sourced within and external to the enterprise."
This second categorization is particularly notable, because it seems to support the notion that AI-powered search can help call centers shed their age-old "cost center" moniker. It's a moniker that Max Ball, Principal Analyst at Forrester, would like to do away with altogether:
"The path to transformative customer engagement is a series of small, cost-effective steps that add up to a significantly better customer experience, each with its own solid ROI and benefit to the bottom line."
4 Ways AI-Powered Search Improves Call Center Productivity
Thinking back to The Forrester Wave™: Cognitive Search, Q3 2021, I'm struck by the phrase "make every employee a genius." It's the essence of what AI-powered search can be, not only in service of agent productivity, but the many customers they serve.
The intelligence you need, right in the moment you need it — at your fingertips, per the parlance.
The how behind this opportunity is where things become interesting. In Roadmap to Intelligent Assisted Support, Coveo lays out a four-part path to incorporating Intelligent Assisted Support into the call center:
1. Establish a Knowledge Foundation
Enabling agents and customers to self-serve the answers they need, an AI-powered search function needs a rich index of content to work with. As such, call centers need to bring disparate sources of knowledge content (knowledge base, help center, product documentation, and so on) into a single source of truth; in this case, we recommend a unified index.
From there, it's time to build a process for capturing and reusing knowledge, both agent-facing and customer-facing sides of support. Knowledge-Centered Service (KCS®) , from the Consortium for Service Innovation, provides a terrific framework for this practice.
2. Provide Content in the Flow of Work
One way to reduce average handle time, a key call center metric, is to embed AI-powered search within the agent's view so they can quickly search for answers while handling cases. One example is an insight panel, one that provides them with personalized recommendations for case-solving content (among other key insights) to increase contact center agent efficiency.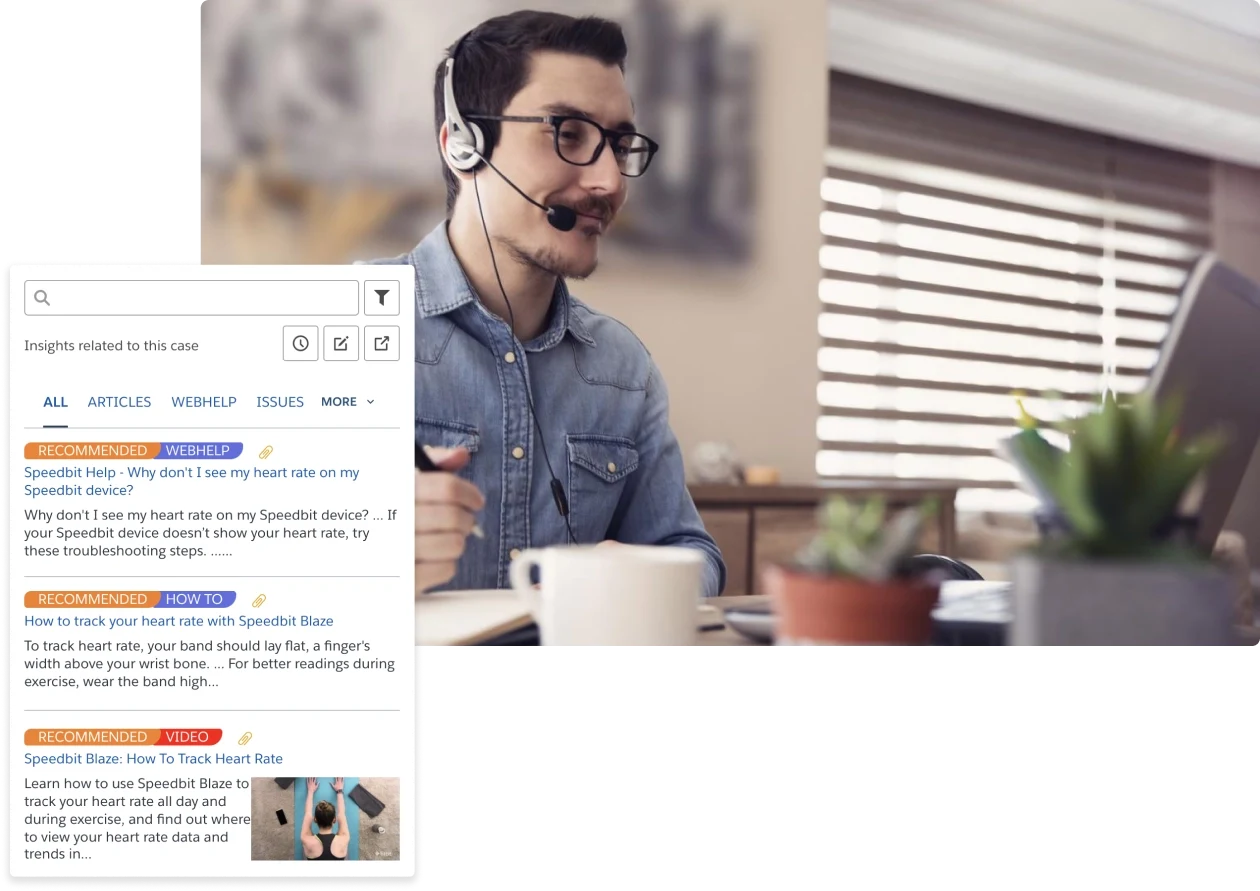 You can also embed the same underlying content experience into the case submission process, presenting customers with recommendations that might help resolve their issue. This is especially helpful if they aren't totally certain what they need to search for in the first place, and instead go straight to submit a case.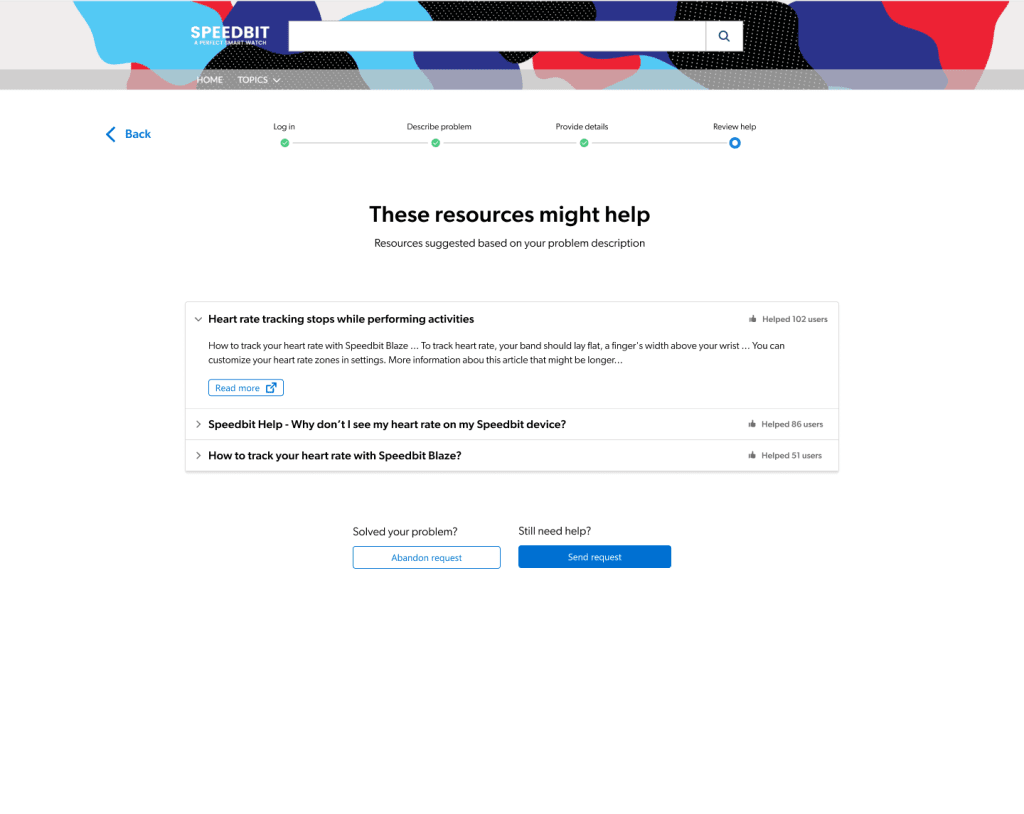 Or you can implement a search option directly in the product itself, so customers don't have to leave the UI.
3. Monitor Customer Behavior and Measure Success
Data is one of an AI-powered search engine's best friends. The better a call center can gather data on each customer interaction, center operations and average handle time, the better the search experience will ultimately be. Why? Because any AI-powered search solution worth its salt will learn and self-improve based on the input it receives.
For example, Coveo Usage Analytics includes dashboards for things like self-service website usage, center agent utilization rate, and customer behavior metrics — every underrated call center metric that AI and machine learning can use to improve operational efficiency and their overall customer satisfaction score.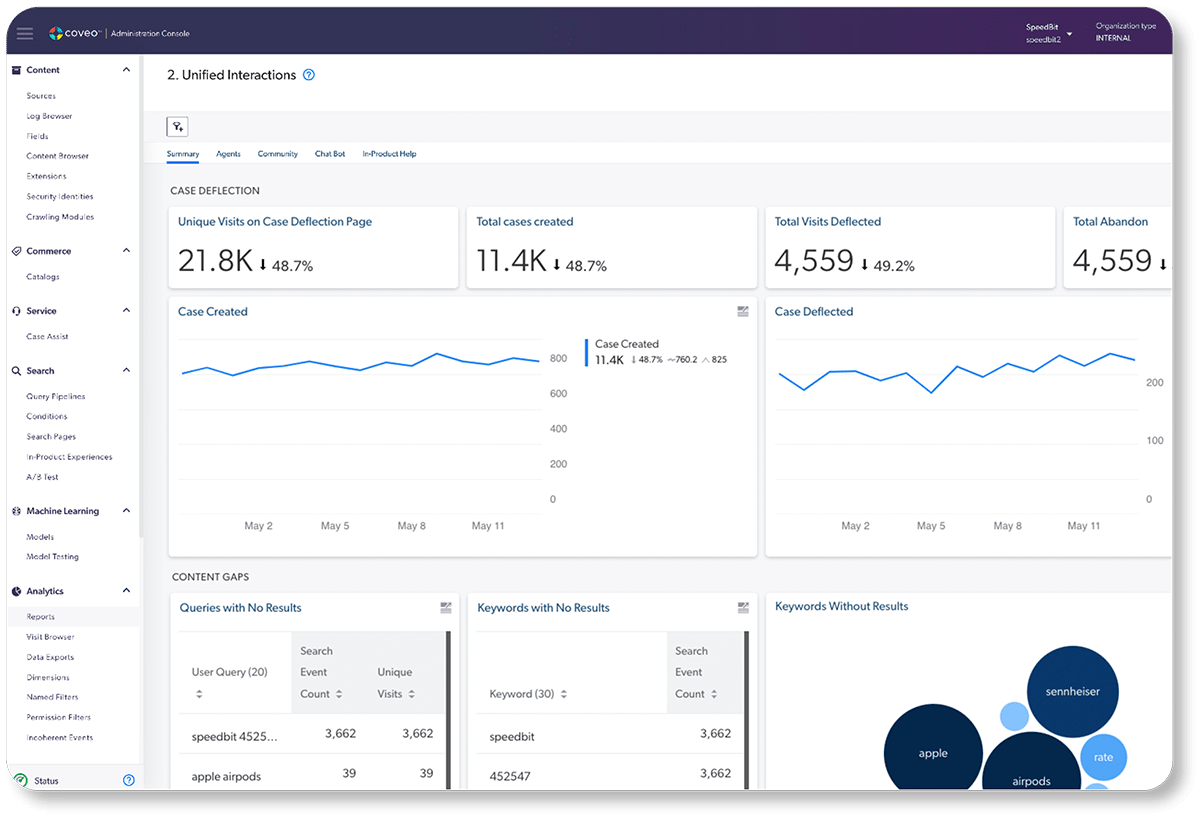 4. Form a Culture of Continuous Improvement in Contact Center Management
No search experience is 100% perfect out of the box. The very best search experiences will improve over time based on what agents and customers are telling it. One way call centers can ensure this continuous improvement is to keep tabs on a few important contact center KPIs :
Top queries by call center staff
Top queries by customers
Most opened documents by source/channel
Search queries leading to no results
Search queries leading to call volume
Over time, these metrics will reveal opportunities for improvement for both contact center agent training and customer experience.
Bonus: Call Tracking
While it's not on the aforementioned Coveo roadmap, call tracking provides more valuable data around how customers interact with the website, contact center, and overall business.
With call tracking, call centers can tie online interactions with call data to further personalize customer experiences, including search. It provides a deep data source for the algorithm to consider, further enriching the overall customer and agent experience.
Real-World Examples of AI-Powered Search in the Call Center
Do these measures actually have an impact on call center efficiency? A number of our customer success stories indicate that they do.
Xero, a leader in cloud-based accounting software, uses AI to deflect one million unnecessary support tickets a month. Quite the call center KPI. Their Coveo-powered search solution helps ensure that more than 95% of questions asked in Xero's customer community are answered automatically — all without agent intervention.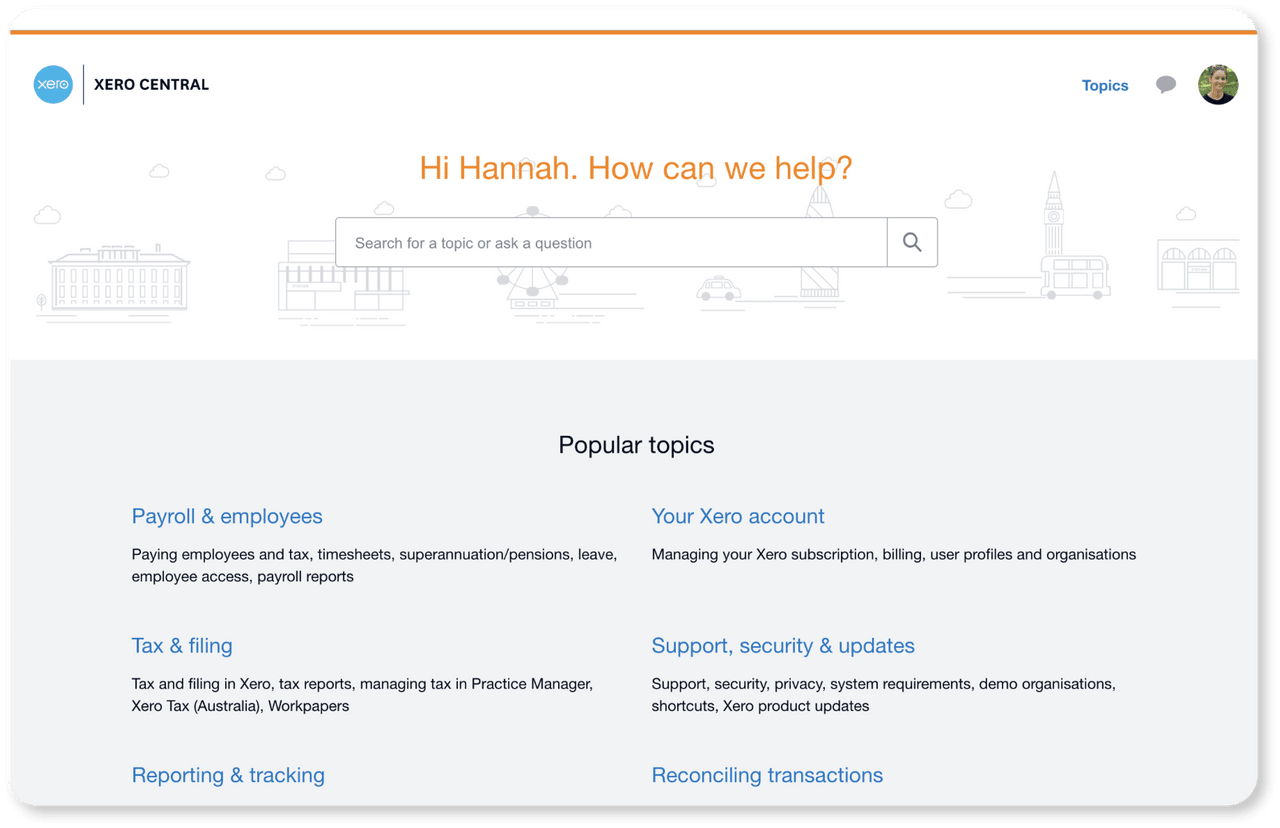 Beyond their self-service search experience, Xero uses Coveo to proactively recommend content based on what a specific caller or agent is trying to do. You can see an example of this personalization in the image below, in which the help content the customer seeks is personalized to their customer profile, behavioral data, and previous customer interaction.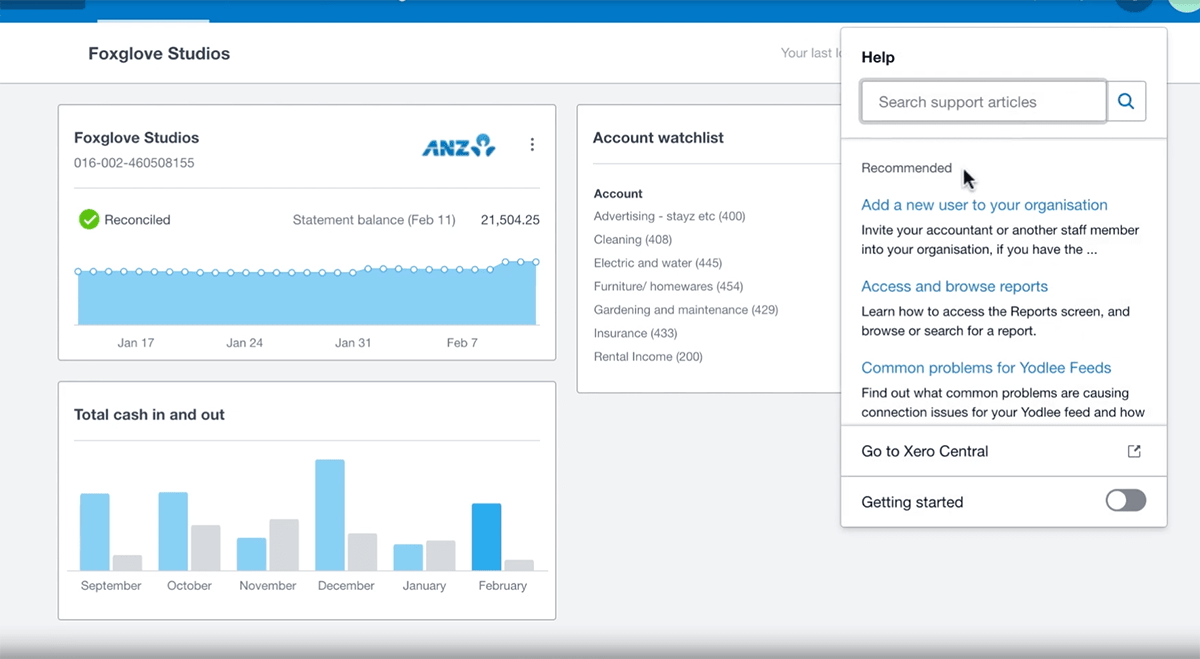 Xero even uses AI search to support other non-support use cases. For example, they tailor the search experience in their app marketplace to make sure visitors can quickly find the best solution for their needs (while increasing the chance of engagement, click-through, and conversion).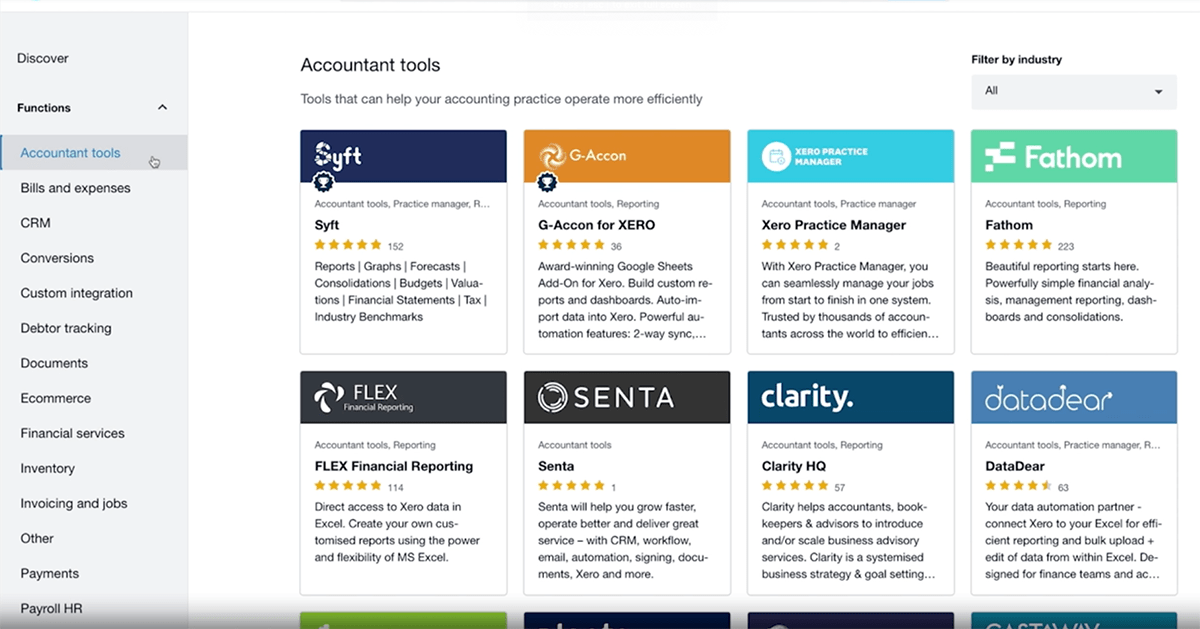 Xero is not alone in their successful use of AI to improve call center efficiency. Boomi saw a 300% increase in case deflection during the first three months after implementing Coveo AI within Salesforce. Today, 97% of Boomiverse sessions involve intelligent search. Their contact center performance has significantly improved center operations.
They've embraced this technology in their contact center, and it's paying tremendous dividends.
It's a similar story for Medallia, who leverages Coveo AI to help out contact center agents already servicing a customer issue. With Coveo AI, Medallia's Tier 1 agents can now handle 34% more cases on their own, without escalating to the next service level.
Last Thought: Solution and Execution is Everything
I'd like to conclude with a figure that gave me pause. No, it's not how AI-powered search cuts average time. Or another glowing customer story. According to Relevant Report Service 2022, 22% of consumers will break up with a brand due to misinformation provided by a customer service agent or support agents.
That tells me two things. 
The first is that the stakes are incredibly high in terms of contact center performance. Increasingly, customers will not tolerate even one bad call center experience. Which begs the question: what's the cost of a single incoming phone call compared to the cost of losing the customer entirely?
The second is that the accuracy and relevance of the information is critical to agent performance. As the aforementioned case studies reveal, AI-powered search can not only help support agent training by equipping them for better contact resolution in the moment, but often prevent the need for that phone call in the first place.
It's on analysts' radar. The roadmap for an AI-powered call center is already in place. Which leaves just one question: can AI-powered search really improve call center efficiency?
Absolutely.
Dig Deeper
Looking for ways to improve your contact center  efficiency? Check out our Guide to Creating an AI-powered Contact Center Experience Inside Salesforce. 
This guide is brimming with insights into how to create an environment that "makes every agent a genius," even in the face of an avalanche of incoming calls. These include:
Nine key data points that agents can view within a single view
The keys to a healthy knowledge management program
What lies outside of Salesforce (and why it's so important)
How to personalize the agent experience without reinventing the wheel
Can't-miss material. Download the full guide here.
Expectations are growing — are your agents prepared?
Guide to Creating an AI-powered Contact Center Experience Inside Salesforce