Looking for ways to amp up your customer experience? According to a recent Salesforce report, 94% said a positive customer experience increases their likelihood of repeat purchases.
A positive user experience doesn't mean needing to leave an application to get assistance or information. The more customers have to work to accomplish their goals within your product, the less happy they'll be.
If it happens often enough, they might start to consider alternatives. In our research, we found that most customers claim to have 'broken up' with a brand after just two bad experiences.
It doesn't have to be this way!
Put AI-powered content findability in your customers' hands by embedding help right within your app, using Coveo's In-Product Experience (IPX).
Related reading
Free Report: Is Bad Self-Service Worse Than No Self-Service?
What Is In-Product Experience? 
Empowering customers to self-serve from within an app, Coveo's IPX is a compact in-product panel that slides into the user's web application, taking up only a fraction of the screen's real estate. With the IPX, your customers get support without opening a new tab or exiting their current application's webpage. This allows users to remain in their flow without disruption — something we can agree makes for a positive experience.
IPX provides a quick and easy way to deploy and maintain a feature-rich, lightweight Coveo search interface, while displaying helpful resources to your customers.
What Does IPX Do? 
IPX lets customers self-serve by surfacing content recommendations that are relevant to the user and page they are on. IPX uses Coveo's Automatic Relevance Tuning (ART) model to analyze user behavior patterns across site visits to understand which clicked results and content led to successful outcomes. Then, it automatically adjusts future search results so that the best-performing content is always presented and at the top of the search results. It also uses Coveo's Content Recommendation (CR) model that understands both the user's location in your app and their past search activity across different pages. As a result, customers are shown resources that's specifically personalized to their current tasks.
Above all else, IPX reduces friction, increases convenience, and encourages continuity. This ultimately increases customer satisfaction and retention, all while decreasing time and costs for support agents. For example, Informatica built their own version of  In-Product Experience based on Coveo's API into their Cloud Data Integration Service. As part of a holistic self-service strategy, they've saved $3.5 million due to case deflection.
"We want to know what the next best thing is for the customer," Informatica VP of Digital Experience Pattabhi Raman said. "The next best step that they have to take. The next best offering that we can put in front of them. To deliver this, In-Product Experience will be key for our product-led growth and consumption model moving forward."
IPX automatically records Coveo Usage Analytics (Coveo UA). Coveo UA generates reports that reveal user insights. These invaluable insights allow you to better serve your customers' needs with Coveo Machine Learning.
Related reading
Learn more about the current IPX's abilities
IPX is not another add-on for customer support; it's a mechanism to help your organization provide proactive self-service. Offering IPX as a critical first step of self-service allows you to control the conversation with your customers — and reap the reward of their interaction data, feedback, and more.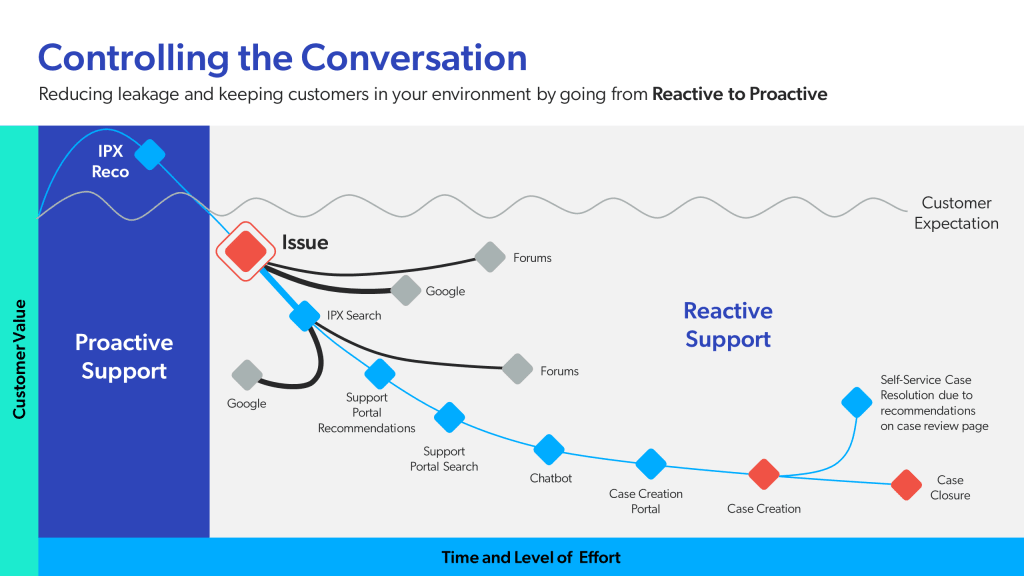 What is next for IPX?
And now the big news: Coveo's IPX is getting a facelift! 
We are planning to update our current IPX using our new Coveo Builder Architecture to not only successfully meet customers' needs, but exceed their expectations. 
Our next version of IPX will be carefully crafted based on both competitive and user research. It will offer a dynamic, customizable, and gold-standard feature that will bring valuable knowledge and insights to all of your audiences, whether customer or agent. 
Let's dig into the research to explain what will make our upcoming IPX so spectacular.
Upcoming Types of IPX Templates
After evaluating existing in-product support panels on the market, we discovered that to best serve users, our upcoming IPX will take one of three forms: 
Help Center
Learning Center 
Resource Center
An area dedicated to solving customers' problems, primarily through self-service, but also with the last resort option to reach live support. 
Users should easily be able to ask their queries, while navigating prominent help topics and frequently asked questions (FAQs). 
An area dedicated to learning. The focus is on educational resources such as short courses and tutorials. 
Only secondary to educational material is providing user support. 
An area dedicated to both solving customers problems and self-learning, with neither being more important than the other. 
This means that the resource center IPX would feature help topics, FAQs, along with education resources, serving a variety of customer needs. 
In other words, for our next IPX offering, we have created customizable templates for each of the three forms described above (i.e., Help Center, Learning Center, and Resource Center) so that your IPX implementation can best serve your customers' needs depending on the context of your company. Not only can you use one of the three templates, but you will also be able to customize the templates, including to remove or add features, all while fulfilling your branding.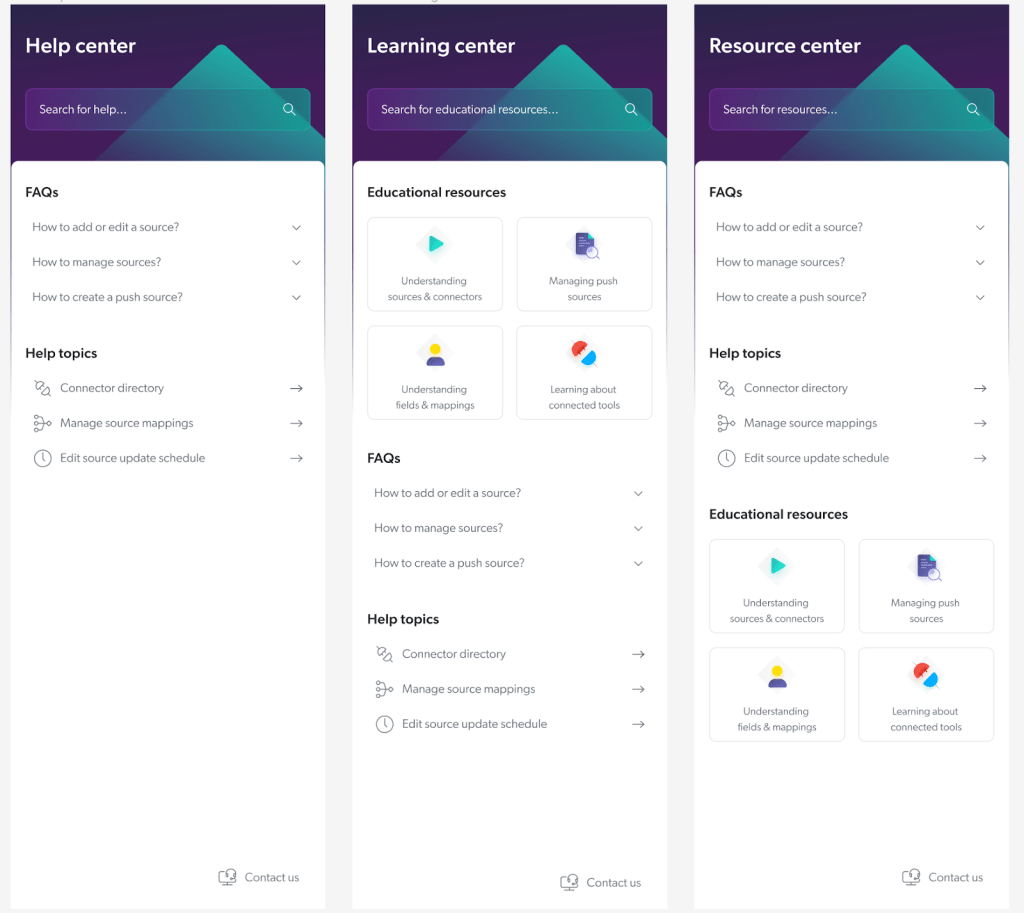 Best Practices for Optimizing In-app Contextual Help
Now that we have a good understanding of the three different types of IPXs we will offer in the near future, you may be wondering what we do with all of this information? We researched best practices for in-app support and applied them directly to the context of the different types of IPXs, with tips or tricks of how you can optimize these templates!
Make search prominent
Most importantly, search should be the most prominent feature of an IPX. The search bar should be front and center, clearly accessible for users to make queries. Don't worry, all of our IPX templates will already place the search bar right at the top for you. 
Setting up categorization
Secondly, categorization is key to help customers efficiently navigate through IPX and find the resources they are looking for. This means that help topics, educational resources, and FAQs should be sorted and separated. Each subsection should take a top-down approach creating a categorization hierarchy that customers can narrow down easily to a resource that best suits their needs. With this being said, when constructing your IPX, you should carefully consider your company's knowledge base, deciding what should be main categories for each section (e.g., for Help Topics), carefully becoming more specific with each level of categorization needed.
Provide tailored recommendations and contextual information
Providing tailored recommendations based on the specific user can make all the difference when it comes to customer satisfaction. In-app support should  provide recommendations according to the page the user is on, such as displaying FAQs that relate to the context of the  current page. Another example would be to have educational resources relevant to the user's journey, such as a new user being presented with educational resources on how to best set up their account. With Coveo's capabilities, we can set all of this up for you in our next generation IPX offering. 
Keep users within the page
Another important aspect of the IPX is to keep users within it. A user should not be thrown outside the IPX to another page, unless they specifically request it. This means that resources, such as knowledge articles, should be readable within the IPX panel itself. At the same time, we make it exceedingly obvious when users can open a link to a resource, by providing a link icon next to the title, indicating that the link can be copied and pasted into a browser. Again, we will ensure that your IPX keeps users within it as often as possible, while being explicit if at any point clicking a button or link will open a new tab. 
Provide live support as a last resort
Last but not least, although we want to empower our customers to self-serve, we should still provide the option to reach live support. You do not want to frustrate your clients that they cannot find support should they still need it. However, a "Contact Us" button does not need to be front and center in an IPX. Instead, it can be much less prominent than other aspects, such as the search bar, help topics, and educational resources, by placing it at the bottom of the IPX. We will help you integrate your contact information within the IPX, while keeping the Contact Us option findable, but not too prominent.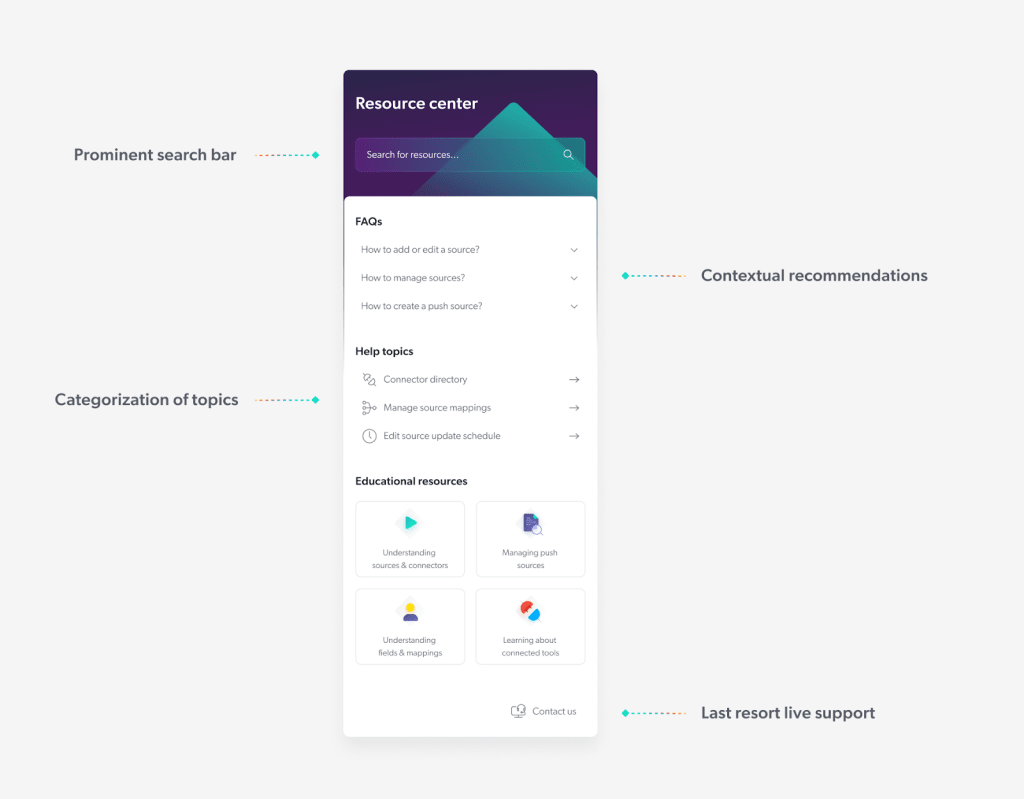 Conclusion
Whether it be a help, learning or resource center, the IPX that is soon-to-come will suit your customers needs. We can exceed customer self-service experiences by following best practices for in-app support. An IPX is a critical component in providing our customers the support and knowledge they need. Stay tuned for the launch of our upcoming IPX and for now check out our already very impressive offering:
In-Product Experience
Relevant content, right inside your application
A special thanks to Southisack Johnny Kounlavout and Gustavo Rodriguez for helping me, Alecia Carolli, with creating the IPX designs. 
Forward-Looking Information
This blog post contains "forward-looking information" and "forward-looking statements" within the meaning of applicable securities laws (collectively, "forward-looking information"). This forward-looking information is identified by the use of terms and phrases such as "may", "would", "should", "could", "might", "will", "achieve", "occur", "expect", "intend", "estimate", "anticipate", "plan", "foresee", "believe", "continue", "target", "opportunity", "strategy", "scheduled", "outlook", "forecast", "projection", or "prospect", the negative of these terms and similar terminology, including references to assumptions, although not all forward-looking information contains these terms and phrases. In addition, any statements that refer to expectations, intentions, projections, or other characterizations of future events or circumstances contain forward-looking information. Statements containing forward-looking information are not historical facts but instead represent expectations, estimates, and projections regarding future events or circumstances.
Forward-looking information is necessarily based on a number of opinions, estimates, and assumptions that we considered appropriate and reasonable as of the date such statements are made. Although the forward-looking information contained herein is based upon what we believe are reasonable assumptions, actual results may vary from the forward-looking information contained herein. Forward-looking information is subject to known and unknown risks, uncertainties, and other factors, many of which are beyond our control, that may cause the actual results, level of activity, performance, or achievements to be materially different from those expressed or implied by such forward-looking information, including but not limited to macro-economic uncertainties and the risk factors described under "Risk Factors" in the Company's most recently filed Annual Information Form available under our profile on SEDAR at www.sedar.com. There can be no assurance that such forward-looking information will prove to be accurate, as actual results and future events could differ materially from those anticipated in such information. Accordingly, prospective investors should not place undue reliance on forward-looking information, which speaks only as of the date made. Although we have attempted to identify important risk factors that could cause actual results to differ materially from those contained in forward-looking information, there may be other risk factors not presently known to us or that we presently believe are not material that could also cause actual results or future events to differ materially from those expressed in such forward-looking information.
The forward-looking information provided in this blog post relates only to events or information as of the date hereof, and are expressly qualified in their entirety by this cautionary statement. Except as required by law, we do not assume any obligation to update or revise any forward-looking information, whether as a result of new information, future events, or otherwise, after the date on which the statements are made or to reflect the occurrence of unanticipated events.