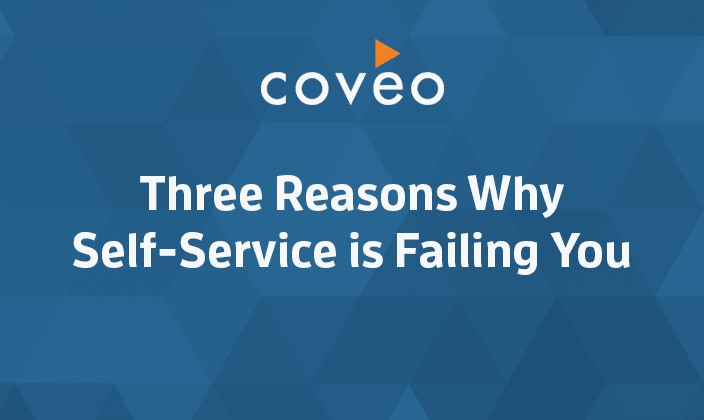 Your organization is likely experiencing a shift in customer expectations – and you're not alone. The reality is, the world of customer service is evolving and is trying to keep up with the ever-growing demands of the modern-day customer. Quality customer service has always been important but it is vital to a company's success, now more than ever. Today's digital customers are accustomed to instant gratification and they're using online platforms as direct lifelines to their vendors of choice.
Customers are becoming increasingly less reliant on agent-assisted support and are adopting self-service channels as their preferred platform; so you've got to get self-service right or you risk losing them. According to McKinsey and Company, an estimated ⅔ of customers have left brands due to poor service experiences.
It's no wonder why 97% of support leaders are investing in self-service this year. However, it's important to know what is broken before attempting to fix it. Knowing how your current strategy is failing you will enable you to plan accordingly and invest wisely, making sure your dollars are working for you and delivering the maximum ROI possible. Before making the investment, consider these 3 reasons why your self-service strategy is failing you:
Reason #1: Outdated search capabilities.
If your existing self-service model is operating on siloed search, you're making it really difficult for your customers to find what they're looking for. Basic, siloed search is reactive to your customers needs and is extremely limited as it only provides results that directly contain specific keyword terms in the search request and is only searching a single source of data, or silo.
If you have a federated search system in place you're one step above siloed search, but you're still well below the waterline in terms of what your customers expect. With federated search, your customers can make a single search request which sends queries to multiple search engines and databases included in the federation. And though your customers will get results from multiple data sources, federated search fails to unify the results according to relevance. The sheer volume of search results is frustrating for your customers and they will likely jump ship to one of your competitors, if they haven't already.
Both siloed and federated search lack the ability to connect and surface knowledge. They offer little to no visibility on what your customers are doing, they require highly manual updating processes and as such, are nearly impossible to continually improve and scale.
Solution: Consolidate your information from multiple sources into a single unified index.
Unified search sprawls all your databases, as federated search does. However, with unified search, the best results surface to the top based on what others have found useful, enabling you to shift from being reactive to responsive to their needs. To further enrich your customer's self-service experience, you should allow them to filter the results. Configurable facets allow them to take the best results and find the best one for them, and is the first step of personalizing the self-service experience.
Reason #2: You're not relevant enough.
Making information available and personalizing it is an essential first step, but it can't stop there. Your customers expect relevant content when they search that takes into account who they are, where they've visited on your site and even what products they own. If your customers are not engaging with your content and case creation continues to rise, you may have a larger relevance problem that needs fixing.
It is important to keep in mind that as your customers evolve throughout their journey with your product or service, their perception of relevance evolves too. Your relevance is driven by the situation they're in at that given moment, the challenge they're facing and the ability to overcome it; in other words, it's contextual to them. You need to be contextually relevant at every step of the self-service process, anything less just won't cut it.
Solution: Put content into context.
Your customers are not identical, but what are you doing to differentiate them? Knowing what will be contextually relevant from one customer to another is near impossible without a sophisticated technology. Intelligent search analyzes your customers' profiles and actions and identifies behavioural patterns. Having visibility into your customer's journey makes it possible to offer relevant content which takes into account who each customer is, what their pain point is, and the context of the interaction or transaction. It then ranks the results accordingly, tuned to each customer's unique circumstances and situation.
In-product requests and task-specific requests can also be used to tune the results. These in-context inputs trigger automatic queries or inject additional relevance clues to a search, to further tune the results.
Reason #3: Opportunities to improve are staring you in the face
Without analytics or a way to properly track your customer's interactions with your self-service site, you are incapable of seeing the big picture with regards to their support journey. You could be getting valuable insights that tell you what content performs best, how your customers engage with it and what information you're missing to improve the customer self-service experience. Instead, your customer journey is a black hole and you're unable to help them achieve self-service success. Furthermore, your content strategy is a shot-in-the-dark because you're not making content decision based on data.
Understanding your customers behaviour pays off – literally. Cross-selling and upselling are keys components of a customer-centric relationship strategy, as it shows you know them and want to help them. However, in order to be effective, you need to have a solid understanding of your customers and what they need in order to suggest related training opportunities or offers.
"The probability of selling to a new prospect is 5%-20%. The probability of selling to an existing customer is 60-70%." –
Marketing Metrics
Lastly, you could be saving money. Intelligent self-service is not only preferred by your customers, it is also dramatically more cost effective than other service channels. According to TSIA, phone and email support are each well over 100x more expensive per incident than web self-service, while chat costs over 30x more. Read more about those stats here.
Solution: Use machine learning to learn from your customers.
With the use of machine learning, you can proactively offer additional relevant information to your customers based on your understanding of what they need, and what other customers similar to them engaged with in the past. Machine learning algorithms auto-tune such recommendations and rankings, which maximize specific business outcomes such as case deflection or conversions on training offers.
Having in-depth analytics on your customers' search interactions will also enable you to identify and address content gaps and emerging trends to continuously improve the experiences you deliver.
In fact, according to Forrester, contextual recommendations are responsible for an average of 10-30% of revenues.
Relevance is no longer an option, it is the foundation of self-service success. Your self-service platforms need to be easy to use, relevant to each customer's individual needs and intuitive in discovering their likely intent. Intelligent self-service makes this possible and undoubtedly has the highest and most compelling return on investment. To learn how your organization can improve your self-service support strategy and plan for success, download our whitepaper, Building Your Business Case for Better Self-Service.