Before digging into customer retention rate, let's consider what it's like being a customer these days. Personally, I find myself scrutinizing companies based on their customer service. The quality of service I receive usually determines whether or not I become a repeat purchaser.
I'm not ruthless, but like so many other customers in the digital age, I've come to expect a few bare minimums; if they're not met, I'm reconsidering my options, at best, or switching to someone else altogether.
What are those bare-minimum expectations?
A consistent experience, whether I'm on my Apple Mac Mini or iPhone. Live agents that can quickly recognize who I am and tailor the experience to my particular profile. The ability to go from zero to "hey that's the answer I was looking for" in a couple of clicks, on those occasions when I'd rather handle things on my own. (Which is 99% of the time, coincidentally.)
Are my demands so particular and unreasonable? Maybe. Maybe not. But them's the breaks, to quote a favorite film of mine. I'm certainly not alone: 96% of people said a negative customer service experience affects whether or not they would buy from a company again.
Spoiler: Customer Retention Rates Still Critical
Which brings us back to the topic of customer retention rates. One of the more important customer service metrics, customer retention rate indicates how well a company is hanging onto and growing its customer base. You'll often find customer retention rate right there next to customer satisfaction (CSAT), net promoter score (NPS), and customer effort score (CES) as the leading customer support metrics.
In How to Calculate and Improve Your Customer Retention Rate, Salesforce gives us the equation for calculating this metric: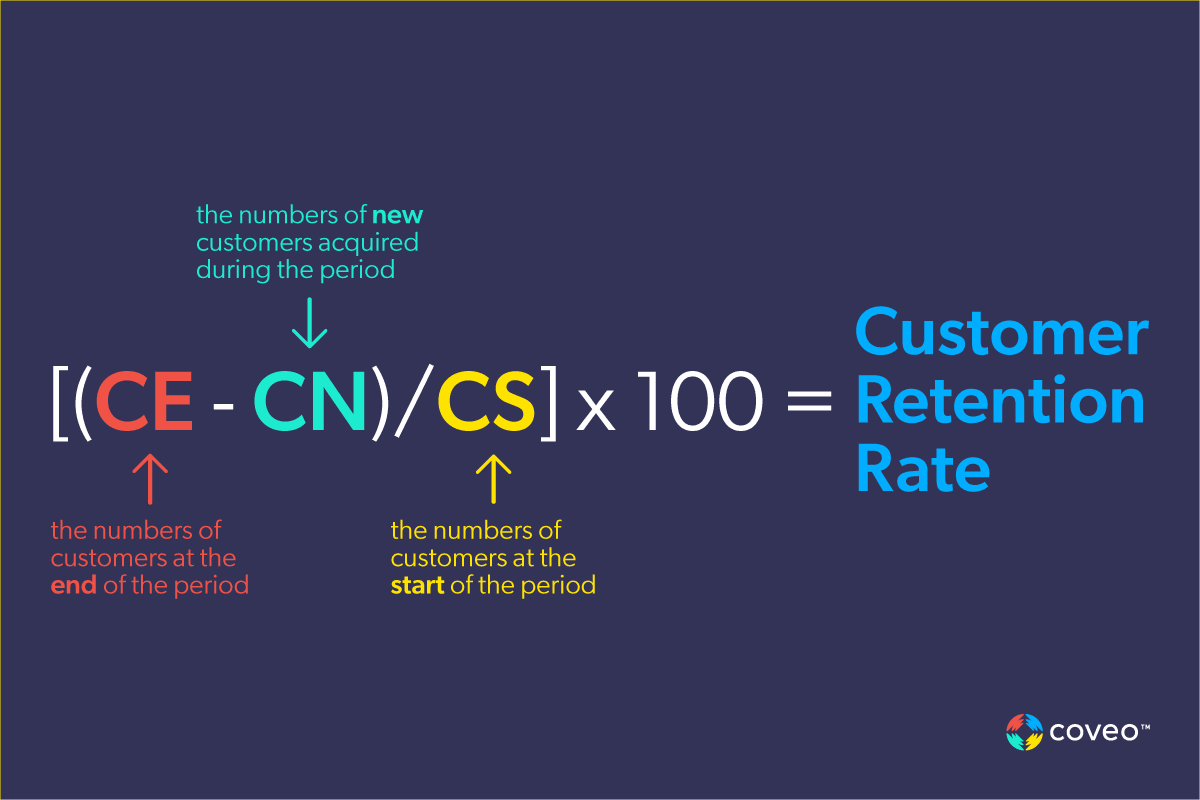 (Customers at the end of a given time period – new customers added during that same period)/customers you began the time period with
So, if my regional paper company ended Q4 with 150 customers, added 10 customers during the same quarter, and began the quarter with 180 customers, our customer retention rate is 77%.
Simple enough.
As my Scranton-inspired example shows, this customer retention metric is particularly useful for evaluating specific time periods, or comparing time periods to reveal broader trendlines. With regard to my regional paper company, a look at the causes behind our lagging customer retention rate might help us turn things around.
More on that in a sec.
Customer Retention Rate Benchmarks
As it turns out, nailing down a benchmark for customer retention rates is less than straightforward. The average customer retention rate will vary by industry. Back in 2018, Statista did release the average customer retention rate by industry. Here's a small sampling:
Media: 84%
Professional services: 84%
Automotive & transportation: 83%
Insurance: 83% 
IT services: 83%
Telecom: 78%
IT & software: 77%
Retail: 63%
Not too bad! But can we do better? Let's dig into the fundamentals of building a customer retention strategy.
The Challenges of Keeping Customers Loyal
People leave brands for a variety of reasons, some outside of anybody's control. Tech breakthroughs, geopolitical developments, and other external variables factor into the customer experience. The quality of customer experience and, by extension, service and support, also influence customer churn rates.
Just look at the customer loyalty data. Fifty six percent of Baby Boomers will wave bye-bye to a brand if they can't speak to a person (Service Relevance Report 2022). According to the same report, 40% of Generation Z will peace out on a brand if they can't successfully self-serve. 
There's plenty to account for, when we're talking about customer experience and customer satisfaction.

The Role of Self-Service in Customer Retention
In its discussion of customer retention rate, Salesforce mentions a few ways to improve this critical metric. These include setting realistic expectations, connecting on social media, and gathering customer feedback. They mention proactively engaging the existing customer, too, a nice segue to self-service.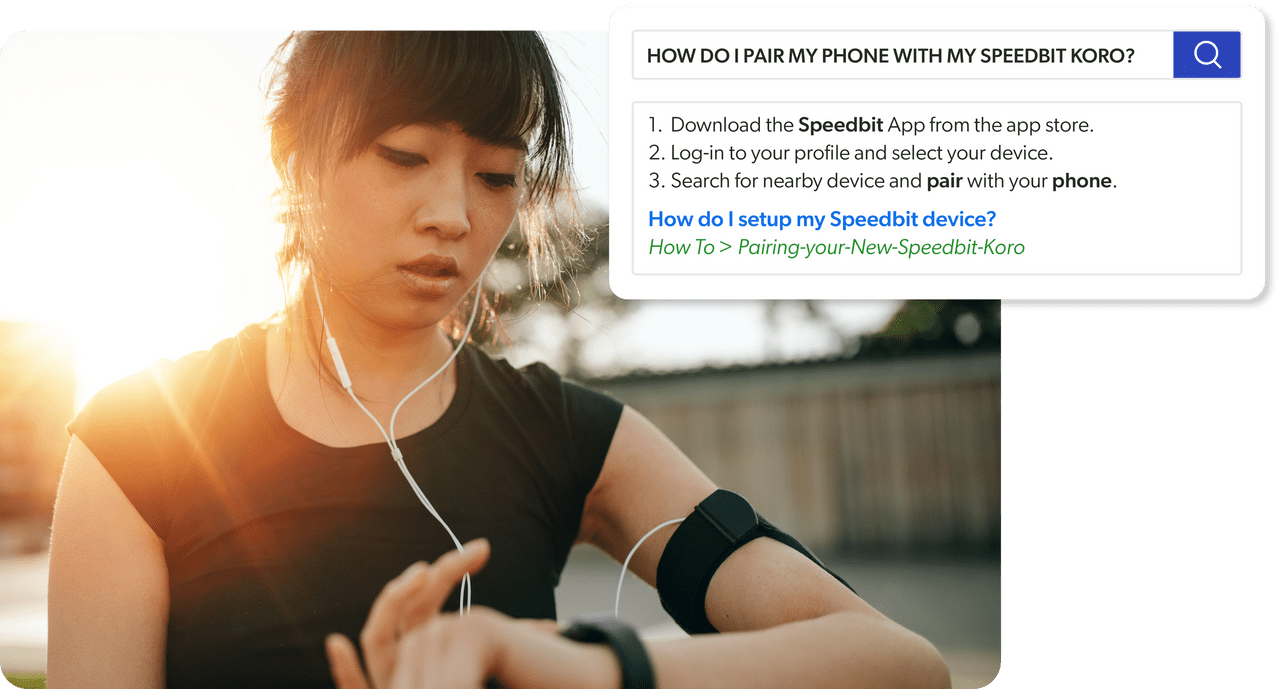 Self-service provides a number of benefits, from the efficient use of enterprise knowledge, to easing the burden on the call center. Its applications are many, including: 
Above all, self-service helps strengthen your customer relationship, while supporting customer retention rates in three ways:
1. Ease the Effort Required of Customers, the Burden on Agents
We've established that customers will leave if they can't find what they need. This creates even greater incentive for service and support professionals to make sure that an active customer only reaches out to support when they absolutely have to.
Most people will recognize this as case deflection, or the practice of ensuring that only the cases that require live-agent support make it to the contact center. Self-service is a critical part of case deflection. With a solid self-service offering in place, companies stand to significantly reduce the volume of low-touch, repeat cases that routinely overburden contact centers, and ultimately harm revenue. This eases the pressure on agents, helping to alleviate agent burnout and turnover.
What's good for agents is typically good for customers.
Case Deflection vs. Self-Service: What's the Difference? Case deflection is the rate at which customers can find their own answers to issues that would have otherwise required a customer support query. Self-service is the rate at which customers can complete a transaction, or answer a question, using site search, community forums, etc. Clearly, both concepts are closely interrelated. 
Informatica is a perfect example. The data management provider knew that its customers wanted self-service, but found that 20% of searches on the support site were yielding no results. So they invested in unified search and AI-enhanced surfacing, which halved their content gaps, while precipitating a 120% improvement in case deflection.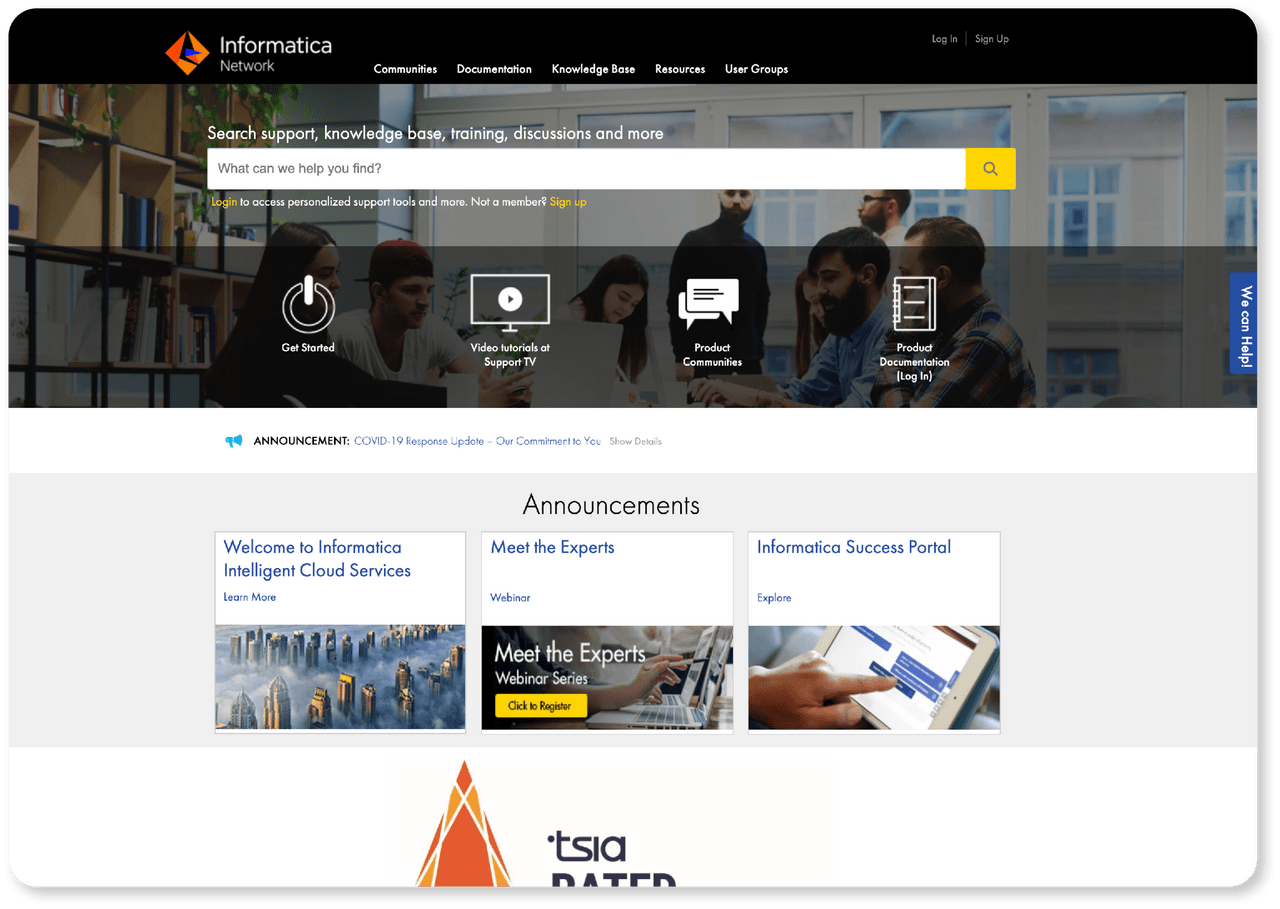 Informatica is not alone. AI-powered self-service helped AARP increase case deflection by 62%. For Tableau, self-service-assisted case deflection helps save $1M per month. On the agent's side of things, self-service helped Medallia's agents handle 34% more cases on their own, without escalating to the next tier of support. 
A much better experience all around.
It's hard to imagine that, directly or indirectly, this significant adoption of self-service isn't contributing to customer retention.
2. Proactive Content and Search Recommendations
When companies can proactively offer contextually relevant information, things go more smoothly for customers.
We've seen this exemplified in the impact that personalized recommendations have on agents serving customers. When agents don't have to poke around, but get AI-powered recommendations served to them right then and there, they're able to serve customers better. Research from Gartner shows that "improved delivery of contextual knowledge reduces a provider's time to answer by 20 percent to 80 percent, raising competency and satisfaction."
Companies have an opportunity to create a similarly personalized experience for customer self-service. You can find an example of this process detailed in How to Turn Your Salesforce Community into a Case Deflection Engine with AI.
Here's what this process looks like in brief:
Unify Content Sources Into a Single, Searchable Index
In our fight to improve customer retention rate, my regional paper company needs to maximize case deflection. Our agents are simply overburdened with the same stuff — password resets, order status, and the like. We've identified our Salesforce Community as the place to do it — the first stop for customers looking to self-serve.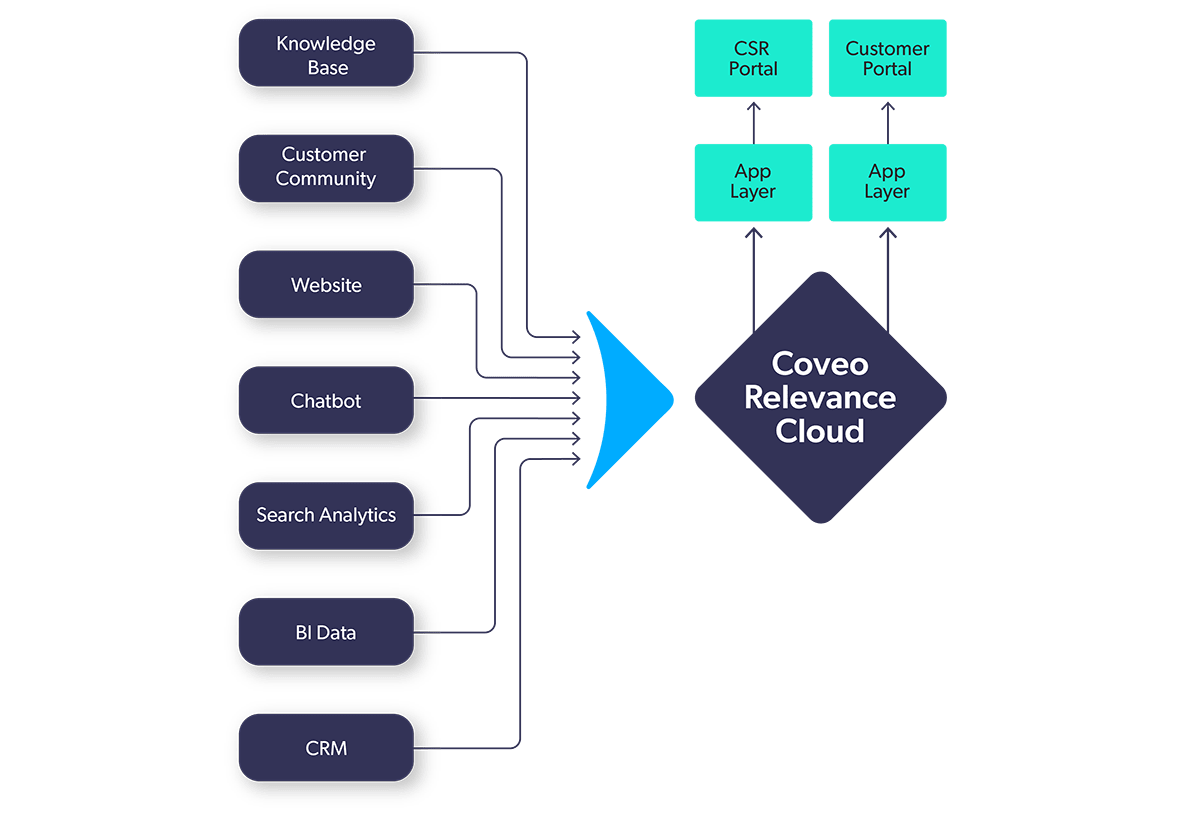 The first step is to bring all of our organization's case-deflecting content — all that good stuff sitting in SharePoint, file shares, knowledge bases, and even Slack — into a unified search index. That index will power the search bar sitting front and center on every page of our community site.
Automatically Personalize Content Recommendations
Next we need to personalize our content recommendations based on real-time analysis of customer site activity, profile information, and other history. For all users, the search bar will actively suggest content as the user types. 
For authenticated users, we can deliver more personalized messages based on similar customer behavior. We can further personalize content based on: 
Product(s) owned
Support plan
Geo-location
Role
Search query
Click path
This is just a handful of the many opportunities for personalization.
Learn and Improve Search Based on Analytics
Lastly, we need analytics that we can act on to continuously improve the experience for both the current customer and to engage prospects. So we'll integrate an analytics engine that helps us see what content people are engaging with, what's missing, and other usage patterns. 
Are there articles that are deflecting more cases than others? What are the most searched-for terms for which we don't have content published? This data will help us refine the community experience for our customers. 
This bodes well for our customer retention rate, too.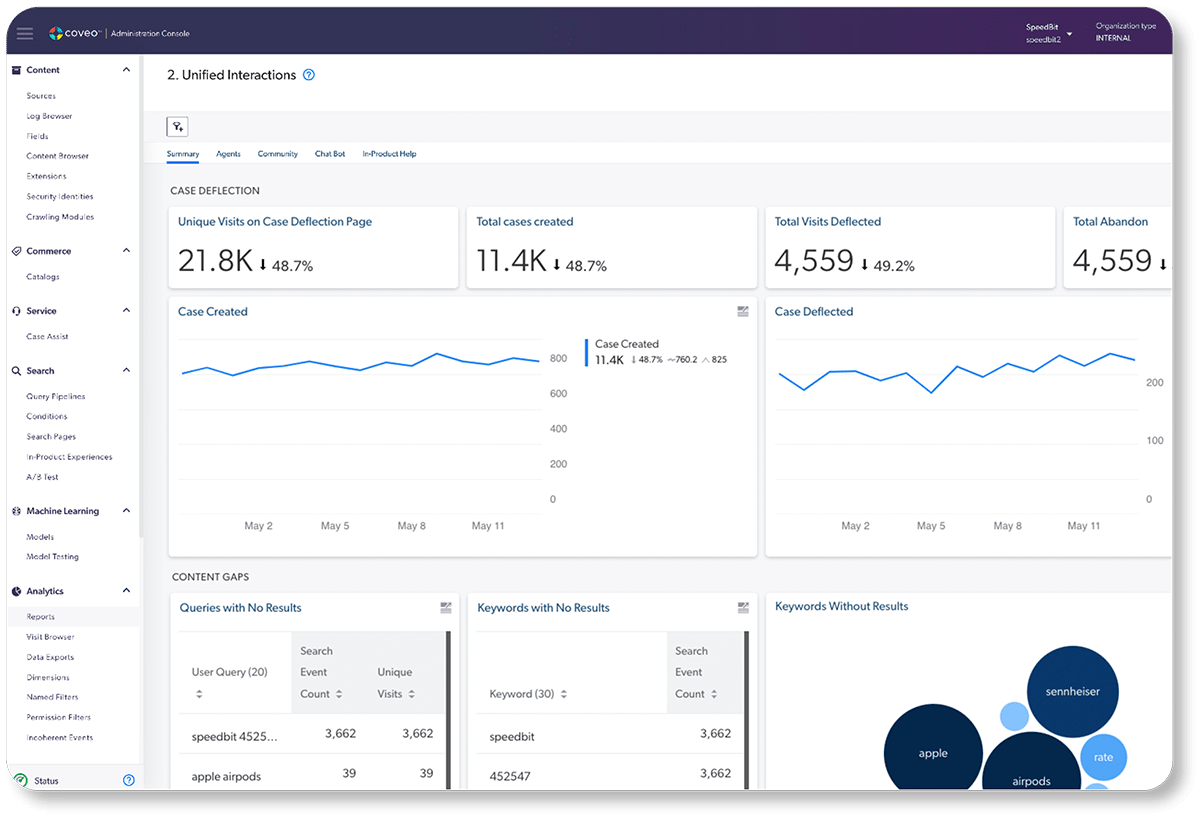 3. Support Customer Journey Mapping
In 6 Techniques for Customer Self-Service Success, the #1 technique is understanding the customer journey. A terrific means for doing so is to build a customer journey map, which details every touchpoint a customer has with your brand. 
Naturally, self-service will be a central part of most journey maps. Given the volume of customer interactions, self-service channels provide a lot of data. For example, analytics on self-service content can reveal what content particular customers frequently engage with on the way to submitting a case. It can also provide clues as to where customers are hitting dead-ends and bailing. 
Here's the thing: 46% of customers rarely or never complain about bad experiences (Service Relevance Report 2022). And while it's difficult to know what you don't know, companies must make the effort to maintain a healthy customer retention rate. Customer journey mapping, supported by strong self-service, is a good way to do so.
Here's an example of a visual customer journey map: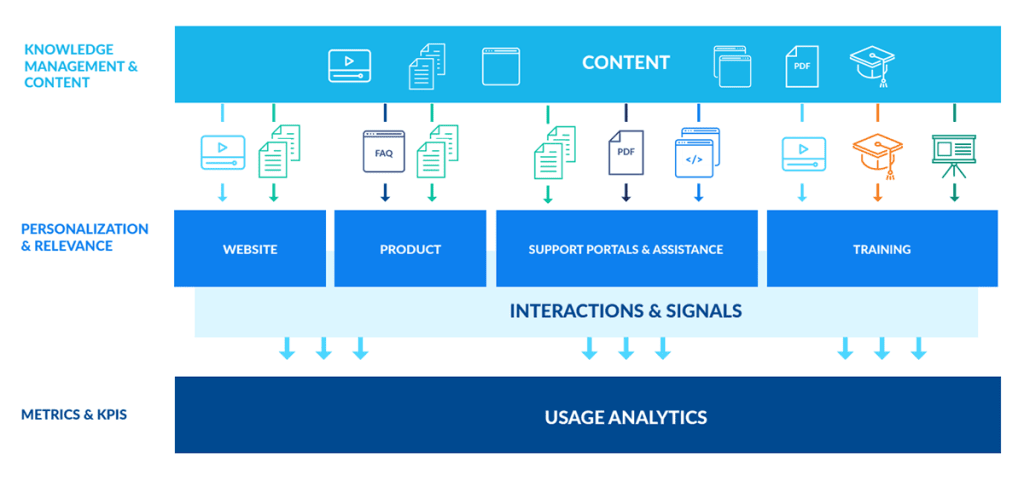 As for my regional paper company, I'm going to begin my customer journey mapping by focusing on our self-service portal (the community). I'm certain that by looking at a defined audience that we already know a lot about, we can reveal some low-hanging fruit with regard to improving the experience.
Download a free copy
Customer Self-Service Journey Map Template
Quick View from the Analysts' Perch
The reason that self-service plays such a key role in customer retention is simple: people want instant, on-point gratification. They want tailored, on-demand help wherever and whenever they go looking for it. They only want to call support if they absolutely have to. According to McKinsey, 65% of leaders consider improved self-service as a key driver of decreased call volume. 
No wonder self-service is often mentioned in the same breath as customer retention. 
That said, there's some consensus around the challenges to delivering on the self-service promise. The analysts at Gartner reiterate some of the challenges we cited above, namely: 
External search
Site navigation
Self-service capabilities
I like to think AI-powered search addresses all three of those challenges in spades. From there, you enter a world of very interesting use cases. Insight-driven health care through self-service analytics, for one. Personalized ecommerce experiences.
My paper company is planning to embed AI-powered self-service right into our mobile app, which customers already use on a daily basis.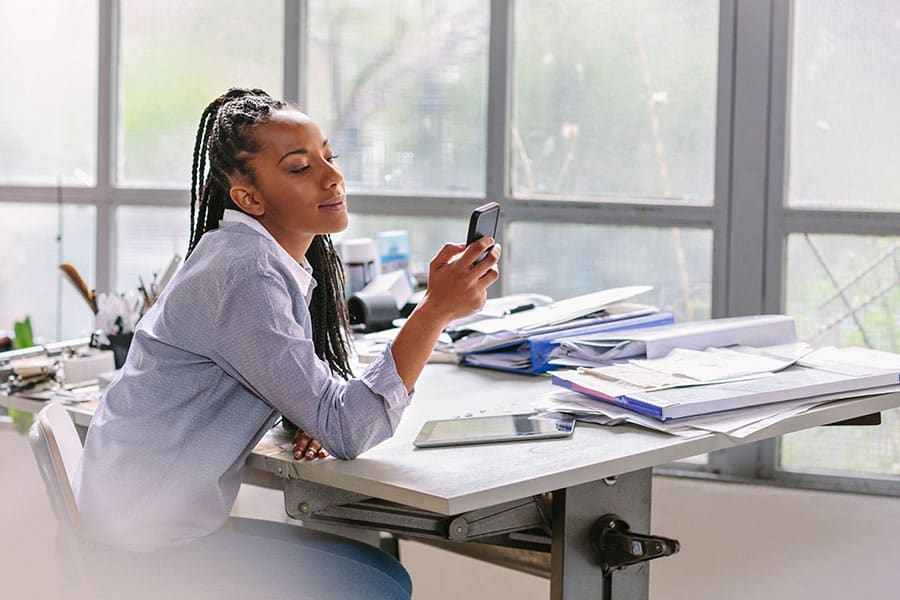 Toward Intelligent Self-Service and Loyal Customers
I'm hardly the doomsday type, but there are some pressing reasons for prioritizing customer retention. Continued economic uncertainty, for one, and evolving workplace environments. Businesses are truly up against it these days, and the circumstances render customer retention that much more important.
Plus, fostering customer loyalty just makes plain business sense. 
One of the most effective ways to show existing customers that they're valued is to help them help themselves. A strong self-service offering, one rooted in data-driven insights and personalization, can pay tremendous dividends, both qualitative and quantitative. 
Just ask Informatica, AARP, and some of the other case studies detailed above. 
What these and other companies understand is that self-service is critical to a scalable support organization that promotes customer success. To see exactly how they pull it off, check out our Guide to Delivering Intelligent Self-Service, which includes seven best practices based on real-world examples.
Get 7 best practices from world-class support experiences
Ebook: Guide to Delivering Intelligent Self-Service