One of our most celebrated core values at Coveo is passion. This passion drives everything we do from hiring the right people to developing the next great product.  And this passion for the Coveo for Salesforce product line is evident with the new "Spring 2018 Release." available now on the Salesforce AppExchange.
We are proud to share it with our valued customers and partners, and look forward to the ongoing dialogue that will help us drive further innovation into the second half of 2018 and beyond.  
Yesterday we showed off all the new enhancements at our customer conference, Coveo Impact 2018, in San Francisco. If you have any questions, I'll be at Coveo Impact all week, or alternatively you can reach out to me in the Customer and Partner Community to learn more about how these new features.  
In the meantime, check out the latest features and be sure to read the official press release detailing the Spring 2018 Release.
New Components for Lightning Console
Lightning Insight Panel
For those considering to migrate to the new Lightning Service Console, we got you covered! With this new release, it's easier than ever to setup your Coveo Insight Panel thanks to our brand new native Lightning Component. Simply drag and drop our component to any Lightning page layout. With this new version, we rethought the way context gets injected and we give you more flexibility on the relevance configuration, now all from the Query Pipelines using context variables. This new Insight Panel will also be compatible with both Lightning Knowledge and Classic Knowledge. This feature is currently in Pilot.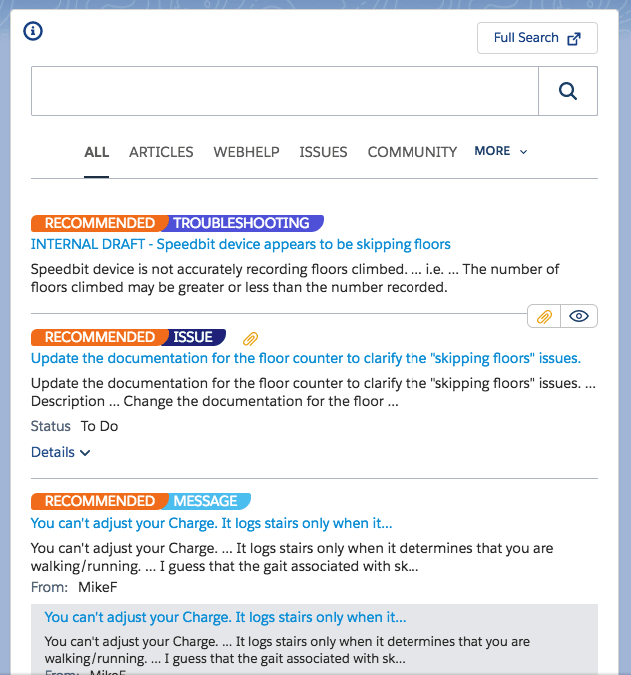 Support for Sales Cloud
The Coveo Insight Panel now supports Sales Cloud objects by recommending the most relevant content for your sales reps as they are working on their opportunity. Content like similar opportunities, top contacts, as well as relevant assets used to close similar opportunities can be surfaced in the Insights Panel using Coveo Machine Learning. This feature is currently in Pilot.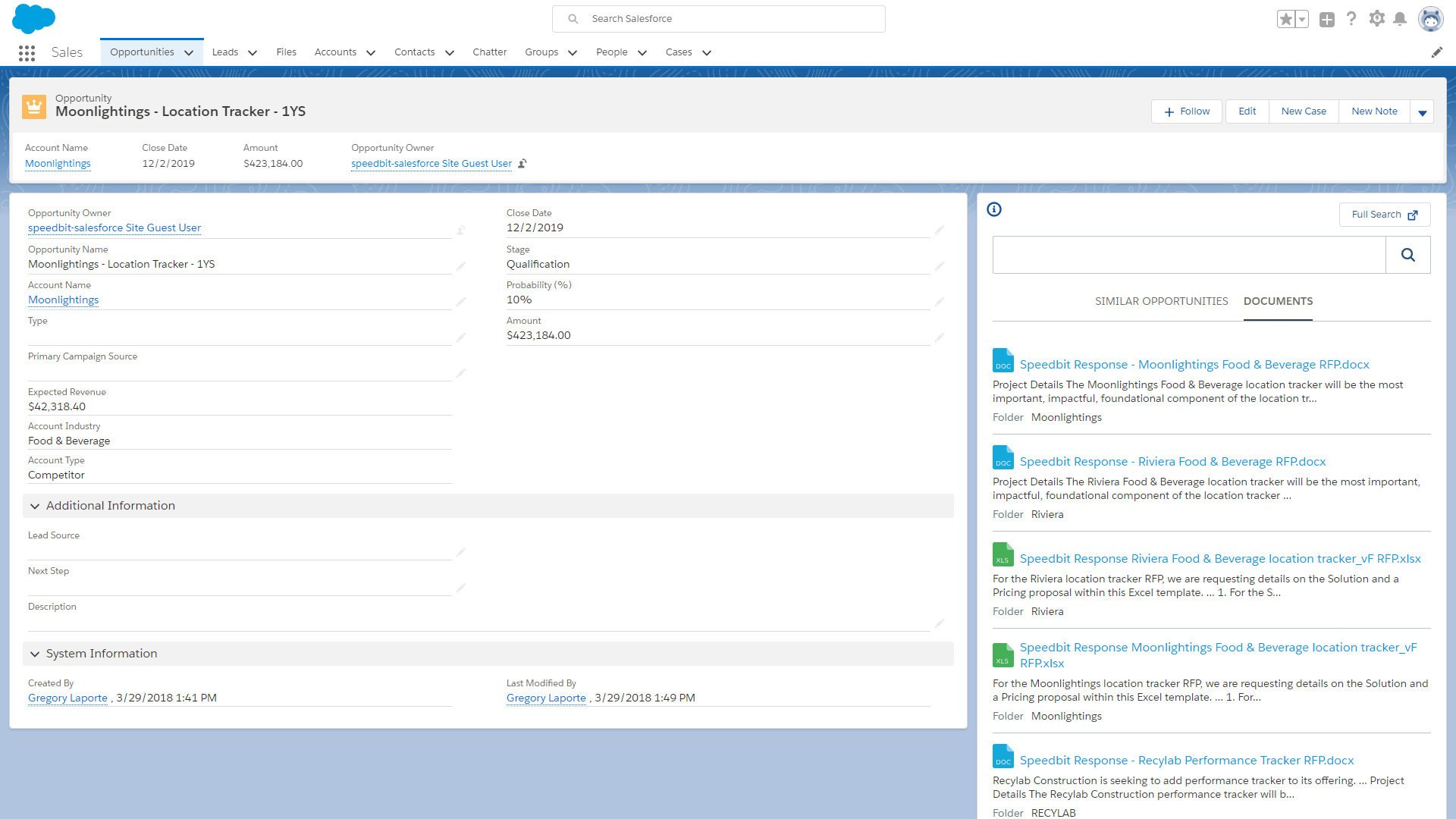 Attached Results
As part of this release, we also included a new Lightning Component to display attached results of any type. You can simply drag and drop this component anywhere in the screen and it gets updated in real time as you attach and detach results. This feature is currently in Pilot.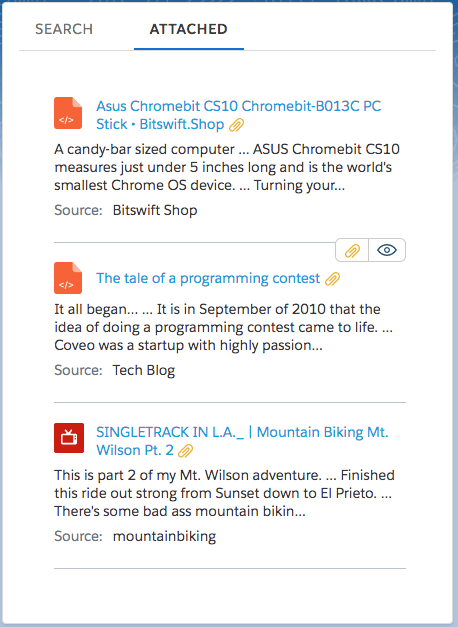 Lightning Full Search
This release will also include a native Lightning Full Search Page. From the Lightning Insight Panel you will be able to launch the Full Search Page, directly within the Console Experience. Take advantage of advanced filtering features such as facets as well as the greater real estate that the Full Search Page provides. This feature is currently in Pilot.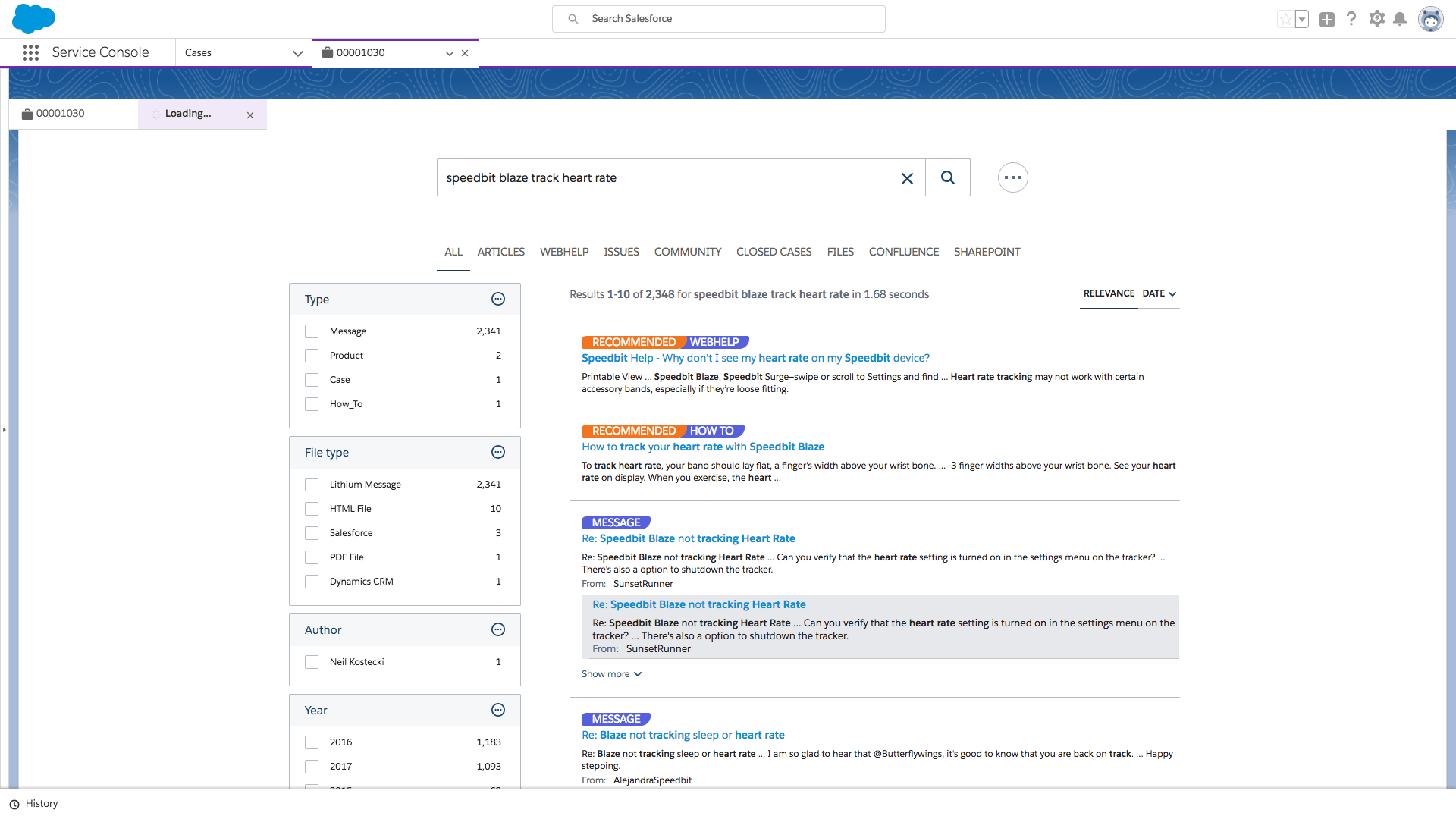 New Components for Lightning Communities
Lightning Case Deflection
With this release, we are making a new component available to simplify the integration of Coveo in your case creation flow. Previously, both the Case Creation form as well as the results had to be configured in Coveo. Now, you will be able to attach our new Lightning Component to Salesforce's default Case Creation form and Coveo will listen to input changes to the default Salesforce form and suggest the most relevant content to solve the issue. This feature is currently in Pilot. Please contact support to get this feature activated.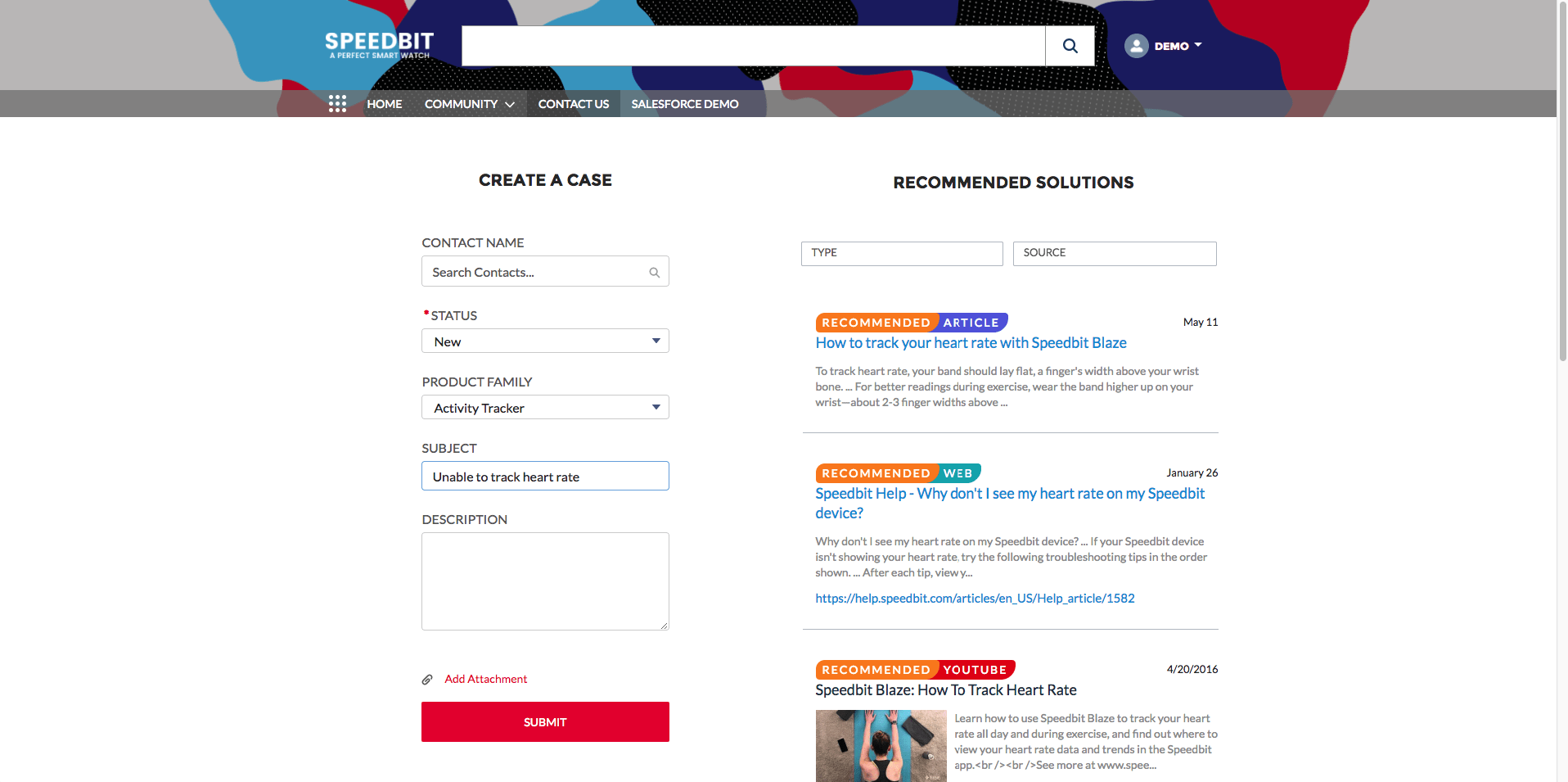 Coveo for Salesforce Pro Edition: Easier Pro Trials
It will be easier than ever to try the Pro Edition. With the new "One-Click Upgrade" feature, you will be able to start a Pro Edition trial directly from your Free Edition instance. Coveo will automatically scan your search pages and pre-configure your index in just a few clicks. This feature is currently in beta. Contact your CSM or support to learn how to join the beta program.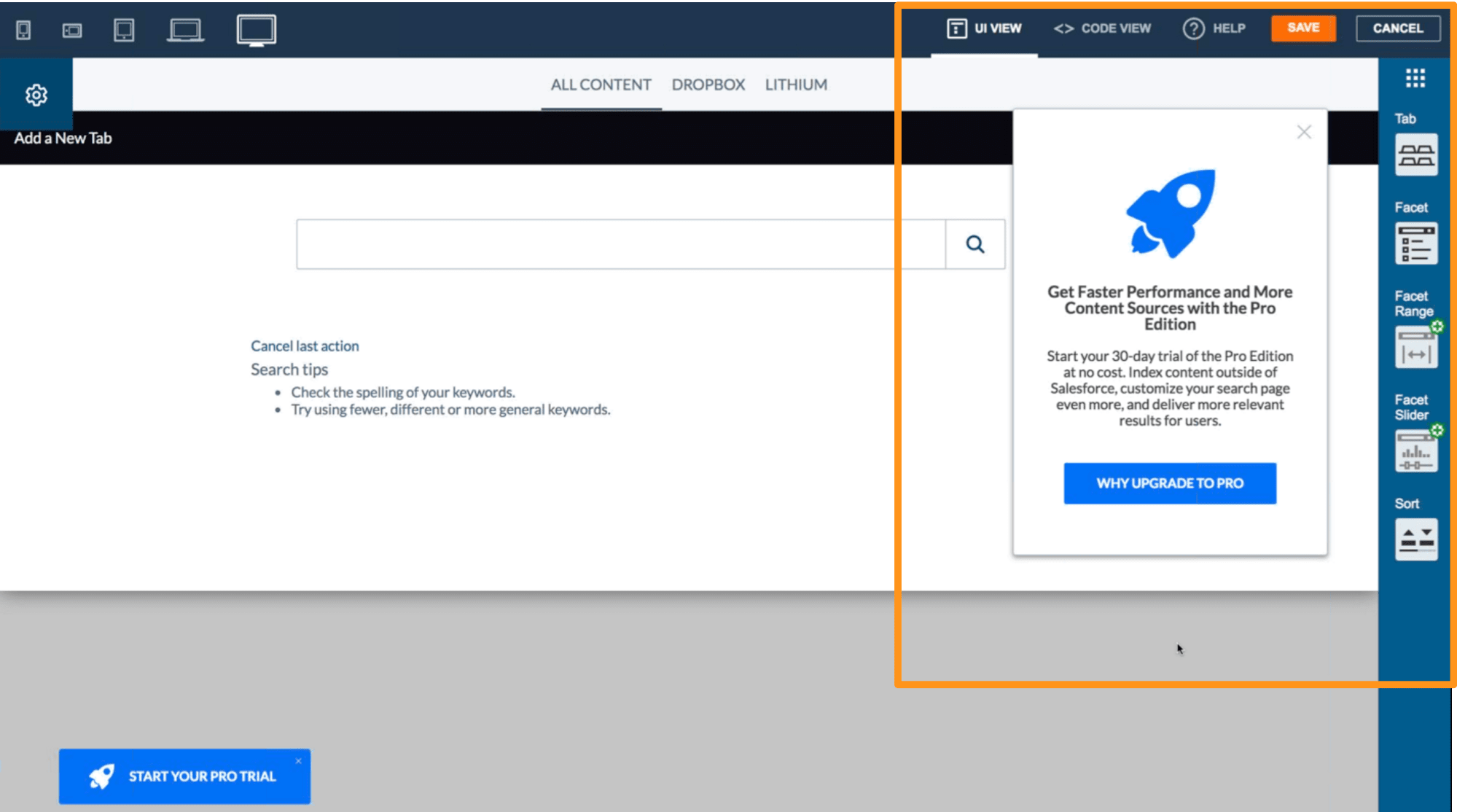 Latest JavaScript UI Framework
As part of the V3 release, we are including the latest version of our Javascript Search Framework. This brings a set of new exciting features such as lazy loading, improved loading animation, improved default result templates and much more. Additional details can be found here.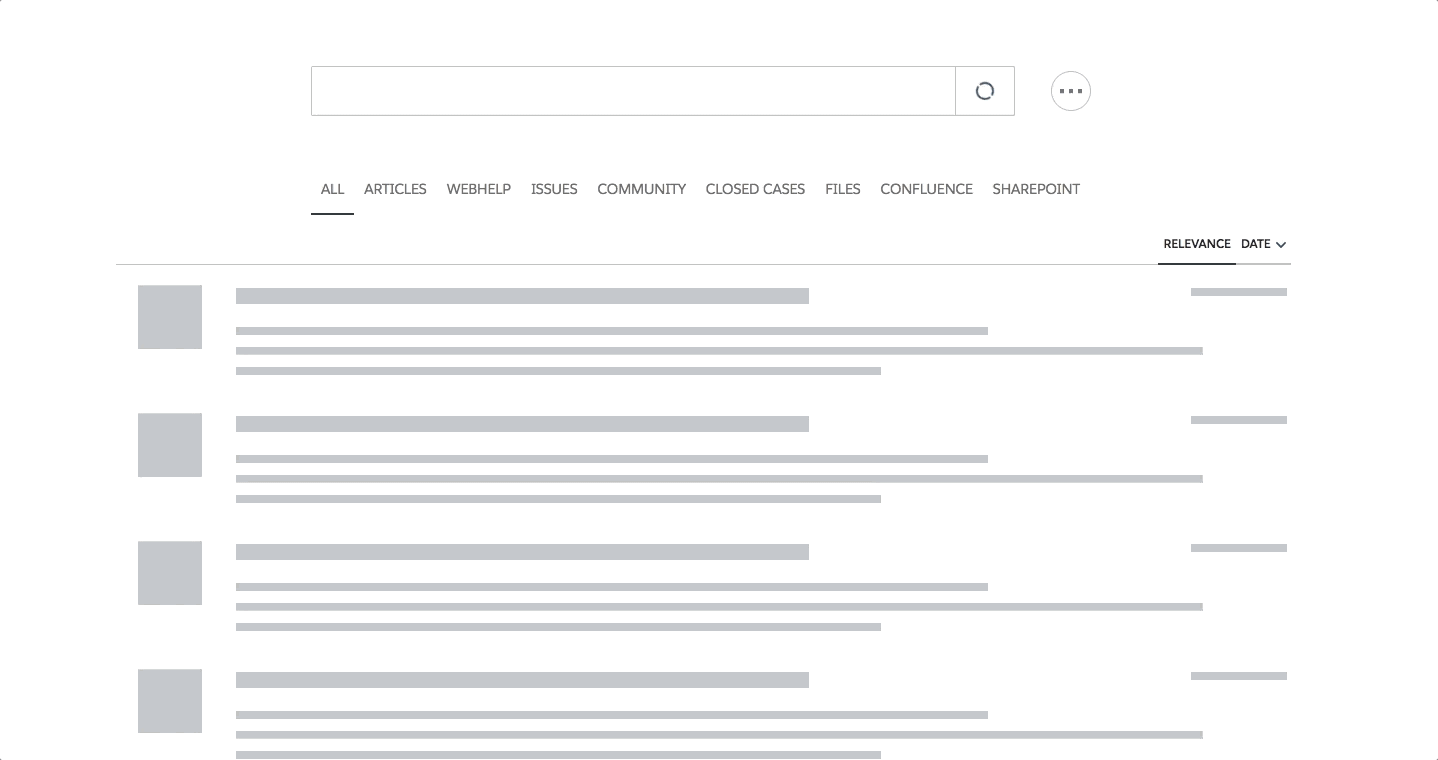 If you want to dig deeper into the Spring 2018 Release, check out the full release notes on our Coveo Community.