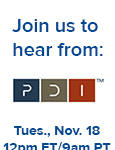 Update: a recording of this webinar on 11/18/2014 is available here.
Support teams face a tremendous challenge when critical knowledge assets reside in various systems and applications. The good news is that leading organizations have successfully navigated these customer service obstacles, and they've leveraged  the power of unified, contextual search natively integrated with Salesforce Service Cloud to do it.
Just ask software and services company PDI, which has seen improvements in its customer self-service and increased productivity from its support agents and knowledge workers since deploying Coveo for Salesforce.
Make sure to join us on tomorrow, November 18 at 12pm ET for a 60-minute webinar to learn more about how PDI and other leading global organizations have harnessed the power of Coveo and Salesforce Service Cloud to dramatically improve customer self-service and contact center performance.
Originally presented last month at Dreamforce, this session will feature Joe Kalmar, manager of internal systems, detailing PDI's story of success, and how the company has used the power of Coveo for Salesforce to optimize customer self-service and make its support agents and knowledge workers more productive.
If you're ready to maximize the performance of your customer self-service and contact center initiatives, this webinar – packed with proven practices backed by real results – is a must-attend event for you and your colleagues. Register Now!