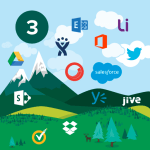 One of the biggest barriers to support agent proficiency is poor access to case-resolving knowledge. Information is everywhere, often in fragments across an ecosystem of enterprise applications, databases, and knowledge streams. For example, tech support agents at high-tech companies routinely need to access between five and 20 different applications to provide assisted support.
Recognizing that information is everywhere, innovative support leaders have also realized that a single knowledgebase can never contain all relevant information that agents and customers need. Instead, they are turning to search-based apps to reach across the ecosystem of record to empower agents with dynamic, contextual, and predictive access to information that helps them solve cases quickly.
The Ecosystem of Record
The ecosystem of record is your organization's entire IT landscape: the enterprise systems you use every day, the apps employees bring to work, and even those outside the company's jurisdiction.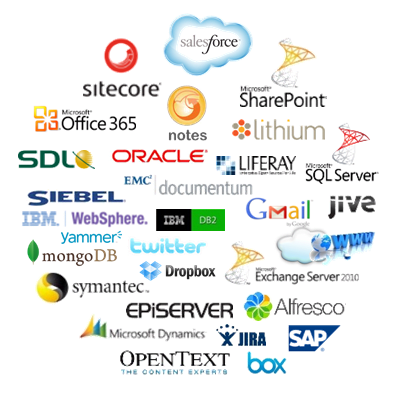 The most relevant systems for customer support likely include a combination of specialized systems for CRM such as Salesforce, case management, knowledge and content management, engineering systems, documentation, customer communities, plus other enterprise applications.

Separately, these systems contain fragments of information that might be useful — if your agents can find them. But together, the ecosystem demonstrates its real power when it's integrated with unified search technology.
How to Access the Ecosystem of Record
Search-based apps like Coveo for Salesforce – Service Cloud Edition reach across the ecosystem of record to anticipate agents' content needs before they arise. They unify information across many systems, rank its relevance, and present the most relevant content to the agent, in the context of the case he or she is working on.
Watch this quick video to see how Coveo can tap into the ecosystem of record to turn Salesforce into a unified, predictive knowledge center for agents:
According to TSIA, 50% of support leaders recently surveyed are embracing this trend, with plans to invest in search for their contact center and customer self-service applications in 2015.
If you missed either of the first two customer service trends we explored earlier, take a look at how search-based apps will improve self-service and boost agent proficiency. What else do you think will make waves in customer service this year?