Last week, Gartner released its annual Hype Cycle, a report that maps and projects the maturity of hundreds of enterprise technologies. At the peak of a curve that maps high expectations, interest and visibility is a familiar phrase: Big Data.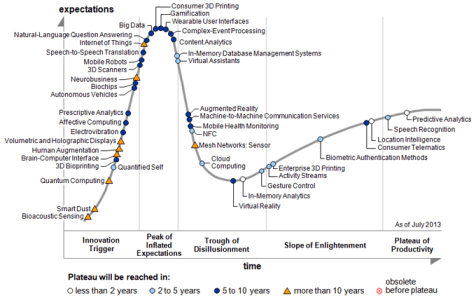 To some in the technology industry, "Big Data" is a loaded phrase. And when hype cycles appear that analyze the phrase's visibility, it provides an opportunity to question whether a technology has any substance; whether there is any reality amidst the hype.
But to us at Coveo, the phrase is simple. As Gartner defines, Big Data is "high-volume, high-velocity and high-variety information assets that demand cost-effective, innovative forms of information processing for enhanced insight and decision making." At Coveo, we utilize advanced enterprise search to help companies derive high-quality insights from a high variety of data.
So while last week was one for hype, here is a window into what reality looks like for some of our two-million users:
So while the hype cycle of Big Data may be at its peak, don't forget to examine what success and reality looks like in our corner of the Big Data landscape.
How has your company implemented indexing to solve its Big Data problem?