Search and information is a commodity.
Search is everywhere, but so is useless information. As Author John Naisbitt wrote in Megatrends, no less than 35 years ago: "We are drowning in information but starved for knowledge".
Relevance, on the other hand, is the true currency of the digital age. In fact, paradoxically, cheap search is a very expensive "commodity"!
New advancements in artificial intelligence, combined with contextual search within accurately mapped ecosystems of information, bring relevance into the equation, finally! CIOs and business leaders alike are paying attention to the emergence of the systems of relevance era.
Report
Gartner Magic Quadrant for Insight Engines July 2018
In simple terms, relevance means "pertinent to the matter at hand". That could be the specific need that an individual customer has, the issue that the customer is trying to solve, the project or task that this employee is trying to accomplish, etc. Information must serve these goals, needs, tasks and transactions, otherwise it fuels an overwhelming waste of time. Companies who understand this idea thrive. Amazon naturally comes to mind as a great example. Companies that disregard relevance will invariably suffer because their customers, partners and employees have come to expect personalization and relevance, and now they have other options.
There is a notion of context in relevance, and context is personal. Context is a function of a person's profile, their profession, their particular need or what they are trying to accomplish at that very moment, online, on the phone, or in the course of work. Context is also understood by looking at the sum of interactions, mining behavioral data of user groups, using AI-powered algorithms to drive relevant information and recommendations.
Because I am deeply involved and care about this topic, as a consumer and in business, I take notice of companies that I interact with that succeed at delivering that personalized information experience which is "relevant to me." I spend more time on their site, become an advocate for their brand and ultimately, end up buying more from them as a result. I value having access to relevant information so I can self-serve.
On the flip side, I also see companies who, even though they can be relevant to me and my needs, fail miserably at telling me what they can do for me, and at putting their best foot forward. Without relevant information, I cannot learn more about their products and services. I cannot engage more and certainly will not buy more. As a result, these companies lose out on a tremendous economic opportunity.
Being relevant to customers is crucial but relevance is just as important for people within organizations. Ill-equipped contact centers and agents who are incapable of troubleshooting problems  cause significant negative financial impact for the company in areas such as contact center performance, first call resolution, rising operating costs, and declining customer satisfaction.
I believe that, in general, companies are relevant; they exist for a purpose. Yet many businesses fail to be effective at making relevant information accessible to everyone who engages with their brand.
Understanding the economics and opportunity of relevance – and thereby lack thereof – is often both a rough and promising awakening for businesses. People who care are mostly in marketing or customer service, because sales and service metrics are visible to them. What many don't know is the astounding revenue, cost and shareholder value impact relevance can have. Poor relevance is expensive, rich relevance powers business.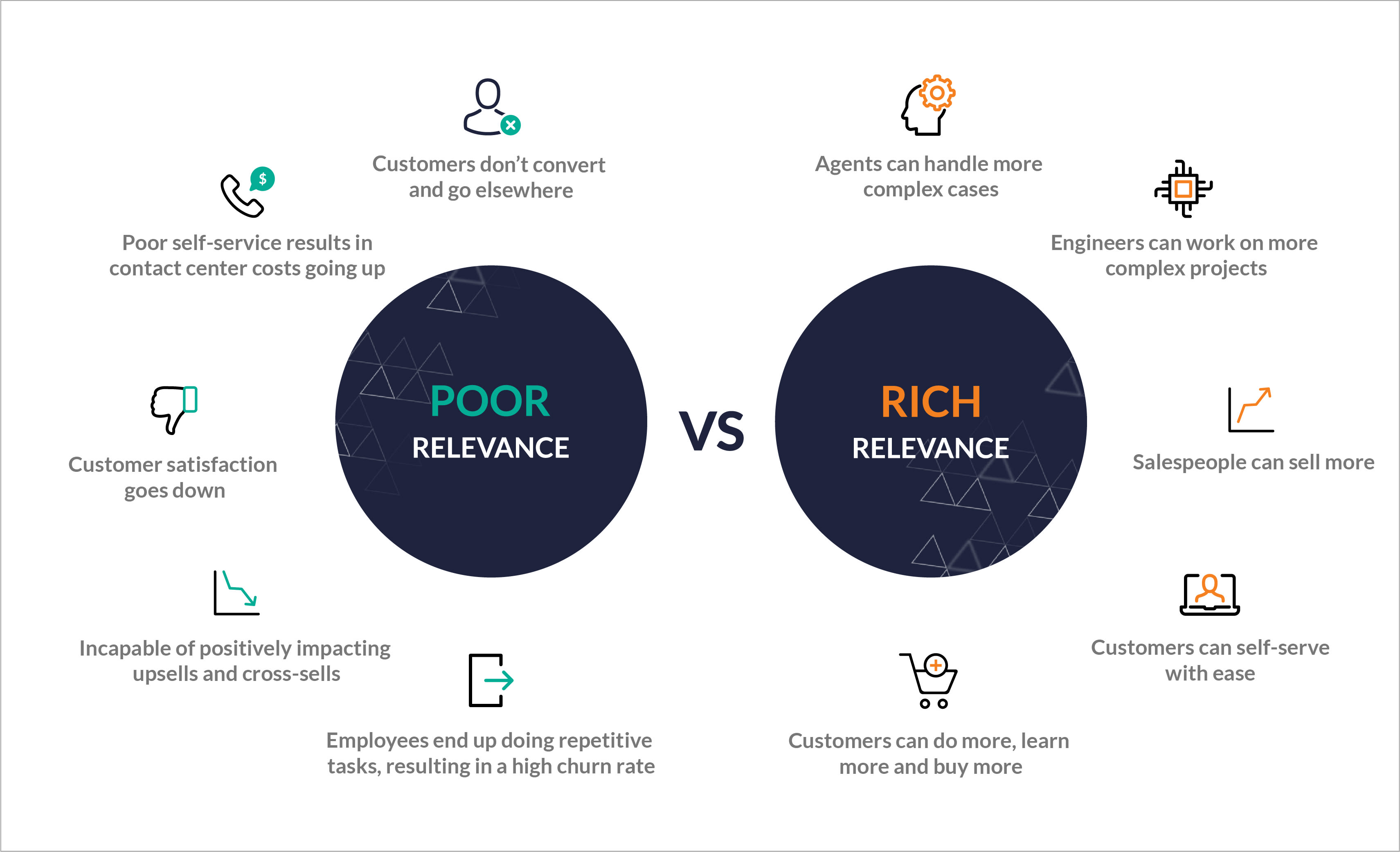 The financial benefit of driving a rich, pertinent, personalized, and relevant information experience cannot be overstated. It pays to empower your customers; relevant self-service can drive 20% call deflection. It also pays to empower agents with additional relevant content available only internally so they can tackle challenging issues. Unfortunately, the opposite is also true when companies ignore it.
A true example, and one that inspired this blog post, came from a recent discussion I had with a manufacturing company executive about improving their contact center. He stated that while relevance was of high importance, it just didn't make the priority list this year. Instead, they prioritized growing their contact center and budgeted a 15% headcount increase, despite the overwhelming evidence that improving the organization's relevance would have a much higher ROI than hiring more employees.
A company with siloed departments and siloed incentives often play against its best interest. Though the economics of relevance are sound, sometimes siloed priorities defy gravity and often lead to flawed economics and negative business results.
In order to be effective, businesses need to offer personalized experiences, and thus, relevance. They need to drive digital experiences designed "for me," relevant for every customer and every employee, every time – on the web, in communities, in their products, within contact centers, on their intranets and everywhere in the workplace. Personalization has been on everyone's mind for years, but with software limitations, we had to settle on segmentation. However, the availability of new contextual search technologies, combined with behavioral analytics and AI, is dramatically changing the game. The benefits of machine learning and AI are not abstract; they can be measured.
People are digital literates and can do more on their own, with relevant information, suggestions and recommendations, as they're interacting with a brand. Similarly, customers become much more autonomous when given access to relevant information and the best part is that they actually prefer to self-serve. It's a win-win and it's time to jump on the bandwagon.
Report
AI-Powered Search Can Impact Your Business: Takeaways from the Gartner Magic Quadrant for Insight Engines