Innovative and exciting developments were unveiled at Sitecore Symposium 2017.
For a new employee, conferences are the best way to learn about the industry and the external perception of the company. As the Product Marketing Manager (PMM) for Intelligent Websites, Sitecore Symposium is, without a doubt, the best event I could participate in. I decided to wear multiple hats (a representative at the booth, an attendee at the sessions and PMM at meetings) during the three days in Las Vegas. So here are my five key takeaways from the three different perspectives:

#1 Experience Economy – It's time to embrace the fourth economy model.
We are in an experience economy. Today, "experiences" are no longer thought of in the context of theme parks or events. Every touch point is an experience, or at least offers the opportunity for one, and organizations need to deliver a memorable and personal experience in every single interaction they have with their customer. Personalization is not a 'nice to have' for companies. According to Harvard Business Review, we're in an emerging experience economy, and there's a major, even detrimental, cost to not being able to deliver.
Providing a memorable experience becomes even more important when you factor in the competition for your customers' hearts and dollars. Customers allow only 3 to 6 brands in their inner circle of favorite brands. If that's not enough of a reason, consider this: they are 4.5 times more likely to pay a premium if you could continuously deliver an excellent customer experience
The moral of the story here is to be in your customers' inner circle. Being able to do so starts with your brand promise Having a strong brand promise that supports a customer-centric culture is the foundation for an excellent customer experience. For Cleve Gibbon, Chief Marketing Technology Officer at Cognifide Limited, Skype's simple promise is to "Connect People." That promise permeates everything Skype does and because they deliver on that promise, Gibbon is  an advocate of the brand and has allowed Skype into his inner circle.

#2 Self-Service – Let your customers self-serve.
Self-check-in at the airport or hotel, self-checkout at the store, and online self-service are growing trends. It just makes sense, both for companies and consumers. Companies save money by cutting down operational costs, and customers get what they need quickly and autonomously. During his keynote, Jay Baer mentioned 72% of customers love to find information online without any assistance.
Kate Leggett, Analyst at Forrester, wrote that customers demand accurate, relevant and complete answers to their question upon the first contact. In their Dec. 2015 "Customer Lifecycle Survey," Forrester concluded that 53% of customers are likely to abandon their online purchase if they can't quickly find the answer.
We can attest to that. Institute of Food Technologies was struggling to make their content accessible, preventing visitors from getting what they needed, when they needed it. It was only after implementing AI-powered search and machine learning that visitors could find what they needed intuitively and efficiently, resulting in a decreased abandonment rate of 45%.
#3 Machine Learning – It's a must-have for innovative marketers.
You probably hear about artificial intelligence, machine learning, and deep learning on a regular basis if you are keeping up on tech trends. It's a reality in the high-tech business and is making its way across other industries as well.
Here is what I learned from Kenneth Cukier, Senior Editor at The Economist and author Big Data: Measure everything in your organization to acquire data on your customers, your product performance, your team productivity, etc. Data is quickly taking the place of gold and oil in terms value. Case in point: Microsoft paid $26.4B for LinkedIn to acquire some IPs and a LOT of data on customers.
Just knowing your data isn't good enough; you have to be able to learn from it. Machine learning will help you to understand and individualize the data and automatically applying insights. With the Experience Cloud, Sitecore introduces xConnect and Cortex. xConnect will play a crucial role in helping you to gather customer data from any source and create a unified view of your customers, as Cortex will learn from this data to deliver meaningful insights to automate personalization or marketing segmentation.
You can read more about Kenneth Cukier keynote on Perficient's blog, a partner of Coveo's. If your marketing technology provider does not leverage machine learning, you might want to reconsider the use of the application.
#4 Customer Experience Maturity Model – Look at your customers in a new way.
Christopher Nash presented the Customer Experience Maturity Model. It is a seven stage model with three macro phases: Attract, Convert and Advocate. You could figure your stage based on the chart below. It is fantastic if your organization has excellent strategies to Attract visitors to your websites and Convert them to customers. However, if that is your sole focus, it's an expensive strategy. With a probability of 60-70% to sell to an existing customer vs. 5-20% to prospect, your customer acquisition cost is way too high compared to customer retention.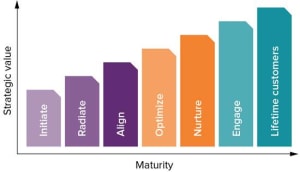 If you reach the Lifetime Customers stage, you will have customers that will continuously advocate about your products and services, and that will come back to you for their next purchase. To reach that stage, you need to use your customers insights with intelligence, prediction, and agility. Psst… this is a good time to think about machine learning.
#5 CoveoBot by TechAspect – Get ready for the next frontier.
Kirsten Newbold-Knipp from Gartner claimed that by 2020, virtual agents will do the majority of commercial interactions.
TechAspect, an avant-gardist Coveo partner,  built a Slack-based Chatbot combining the power of Coveo AI-powered search, Microsoft AI services and Sitecore Commerce to perform actions like find or recommend a product or retrieve analytics. Reach out to them if you want to learn more about Chatbots.