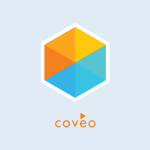 We all know Dreamforce is huge and with so much information created around it, it can get kind of noisy. One of the main goals of attendees is to learn as much as possible about the themes and products they care about. So how can they get a grasp of the overwhelming stream of content that gets created before, during and after the event? We wondered.
Last week, the agenda builder went live. People started registering for sessions – often without a full view of the other sessions, or related content about the sessions they are attending. And what about the sessions they can't attend? Can they still learn from them? As search geeks, we were itching to do something about this.
At Coveo, our goal is to deliver the most relevant and meaningful content to people. A group of our developers had the vision to unify content that was getting created around Dreamforce and make it easily searchable, accessible and discoverable for attendees. We wanted to give you a tool to make the most out of your Dreamforce experience. We had everything we needed: motivated folks, a powerful technology stack, pizza and willing executives that were curious to see what we could come up with.
First, we started gathering data from resources you care about such as the Dreamforce website, SlideShare, Twitter, YouTube and more. We then displayed results based on a speaker, a topic or a session. So if you see an open slot in your agenda, you can search for a theme, see the related sessions at a given time, and navigate through them as the app displays contextually relevant results from these external repositories. Missed a session? No problem, use the app to view the latest SlideShare deck from the speaker!
We built this app for all Dreamforce attendees so you could play with some of the capabilities of Coveo's intelligent search technology while building your agenda. It's built with the same technology that powers our core product Coveo for Salesforce, customized with a fun and colorful Dreamforce-themed interface.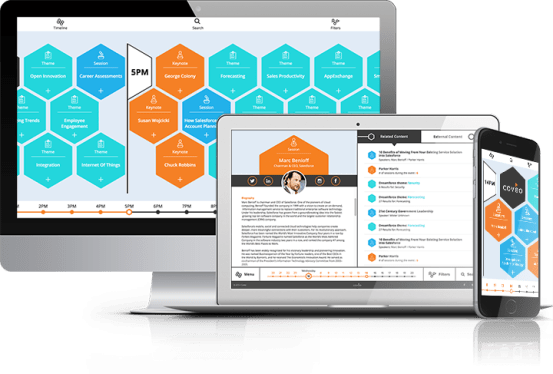 Coveo for Salesforce integrates with both Service Cloud & Community Cloud and delivers relevant, case-resolving content from any source to boost self-service and contact center productivity. Similar to the concept of showing relevant content in the context of a case in Salesforce, the session explorer app shows relevant content in the context of a theme, a session or a keynote.
While the session explorer app uses only a fraction of Coveo's capabilities, we think this app is a fun way for you to browse #DF15 content and experience smart, intuitive search.
We hope you'll have as much fun using it as we had building it.
Try it out on your mobile or desktop now!