A VMware / Coveo Case Study Session
"The VMware Partner Portal is about enabling our partners to be successful, whether that's registering a deal, getting trained, checking on incentives, closing opportunities, etc. Coveo search helps our partners accelerate their ability to find what they need, execute and get to the business of selling and servicing their customers."

– David Wylie, Manager, Partner Central Operations, VMware
If you'll be at Dreamforce, attend "Intelligent Search: Self-Service Experiences that Triple Deflection Rates," a case study session featuring David Wylie, who will share how his team used the power of Intelligent Search to overcome several common self-service challenges with amazing results.

The Company: VMware is a Top 5 virtual workplace software leader with 75,000+ partners.
The Challenge: To support its large number of partners, VMware developed Partner Central, one of the most customized Salesforce implementations in the world. Partner Centra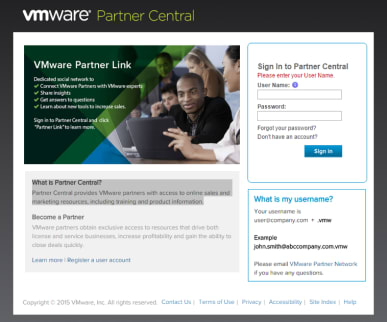 l provides VMware partners with access to online sales and marketing resources, including training and product information.
Despite the investment, site usage metrics revealed that partners were spending far too much time looking for answers; a challenge when VMware wants those partners focused on engaging customers and selling.  With 40-50% of web users ignoring menus and navigation, it was clear that they needed a more intuitive, unified search experience. With search, they can serve their great content (including multimedia) into the hands of partners at their moment of need.
The Solution: Attend this Dreamforce session to meet David Wylie and hear him share how his team made the business case for Coveo intelligent search.  He'll also explain how the technology has transformed Partner Central to allow partners to quickly find what they need on their own and get back to the business of selling.
Register for this session now.
Also, during this info-packed session on self-service best practices, you'll hear how Salesforce increased self-service resolution rates by 30% with intelligent search.
Planning your Dreamforce agenda?  Weed through the clutter with the Session Explorer for Dreamforce. It is a fun, new and intuitive search app that will help you find the best sessions to attend, and discover related content. Learn more and download the app.