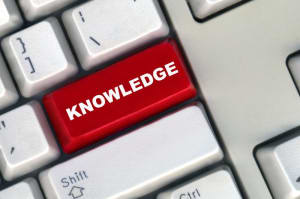 The cover story of this month's Harvard Business Review examines the current imperfect state of knowledge exchange in the workplace. Written by several consultants at McKinsey & Company, the article states that "competitive advantage today increasingly comes from the particular, hard-to-duplicate know-how of a company's most-skilled knowledge workers: talented (and highly paid) engineers, salespeople, scientists, physicians, and other professionals."Noting that the situation is only getting worse, the consultants advocate for identifying skill gaps, redesigning workplace responsibilities, emphasizing professional development and outsourcing less essential work to lower-skill employees, if possible.
Those are all sound recommendations – but is the problem of knowledge transfer only an issue with structure and training? Or is it an issue of collaboration and technology as well?
We think that companies need to examine their entire picture of organizational knowledge before making changes. That should be step one. Take INO, a manufacturer and designer of high-end optical equipment. Eighty percent of its workforce is comprised of highly skilled, highly educated engineers – exactly the type of knowledge environment that can be difficult to duplicate and store. Instead of reorganizing their entire management and training programs, INO consolidated and indexed 99 percent of its corporate knowledge. By doing so, they increased employee productivity by five percent, and 100 percent of employees use the service to find information they need. They now control over 134 groundbreaking patents in optical innovation.
We all agree that knowledge management is a growing problem for companies today. But tackling the problem should be just as much about technology as it is about management and skill building. If your organization is facing this type of situation, take a look at INO's story before embarking on a skill-building overhaul. Sometimes the first step you take is the most effective.
Does your organization face these challenges? What are you doing to remedy them?